London is a vibrant and diverse city and is the perfect place for a city break. It is home to some of the world's most famous landmarks and attractions, as well as a thriving nightlife and restaurant scene. Whether you're looking for history, culture, or just a fun-filled city break, London has it all. No matter if you're young or old, London has something of interest to everyone.
The city is divided into 32 boroughs and is served by five international airports. It's easy to get around with the city's extensive public transport network, which includes the London Underground, buses, trams, and taxis.
London is a city of contrasts and has something for everyone. From the bustling markets and tourist attractions of Central London to the quaint and peaceful neighborhoods of the East End, a trip to London is sure to be an unforgettable experience.
When making your travel plans, here are the 5 best places to stay in London based on your itinerary. Some places have great shopping and nightlife, which is better suited for a couple or a single traveler. If you're planning a family vacation you may be more interested in museums, restaurants, and sightseeing.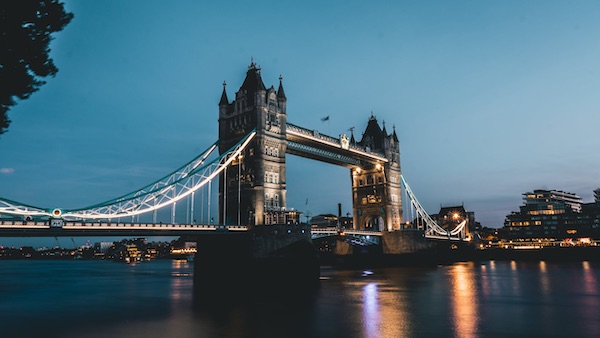 South Bank
If you love to sightsee, the place to go is the South Bank. Located across the river from the House of Parliament, the South Bank stretches between two bridges, the Westminster Bridge and the Blackfriars Bridge, on the south side of the Thames river. Take the family to see a 360-degree view of the city on the London Eye, visit the Southbank Centre, Tate Modern, SEA LIFE London Aquarium, Florence Nightingale Museum, Shrek's Adventure, and for a scary good time visit the London Dungeon (best for 12 years and up).
The Oxo Tower has shopping boutiques where you can find beautiful handcrafted items. If you're a book lover, The South Bank Center Book Market is open every day until 7 pm. Located under the Waterloo Bridge, there is a large selection of used books ranging from contemporary titles to the classics.
A recommended stop for adding a few new titles to your reading library. If you're looking for a place to grab a bite to eat, restaurants and bars are plentiful in the area. It is easy to see why the South Bank is one of the 5 best places to stay in London. There is so much to see and do that you'll never be bored.
Best place to stay in South Bank
Bankside Hotel Autograph Collection. Address: 2 Blackfriars Road, Upper Ground, Southwark, London, SE1 9JU, United Kingdom.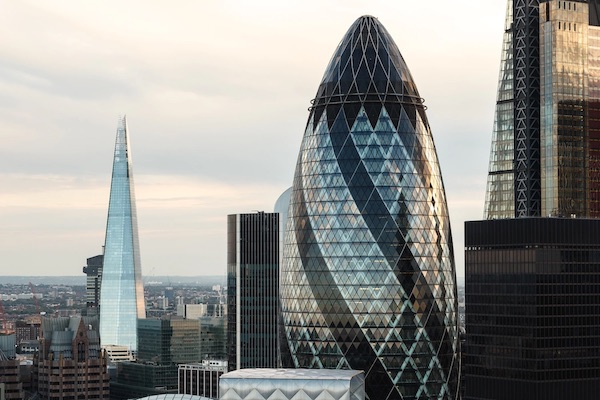 The Square Mile
The Square Mile, as it is commonly referred to, is located in the center of London. This is a historical area that was once the site of a Roman military outpost. It's a great place for families with kids because there are a lot of museums, cathedrals, and public gardens to see and enjoy. This is part of the financial district so it is quiet and subdued, however there are places that have live music and entertainment on the weekends.
Piccadilly Circus is a bustling place full of lights, shops, and the occasional street performer. This is a must-see for a first-time visitor. Relive the story of the great detective Sherlock Holmes and his partner Dr. Watson with a walk down Regent St, the same street that the two detectives chased Mortimer and Baskerville in The Hound of the Baskervilles. Take the Sherlock Holmes 2-hour walking tour around the streets of London where the character lived and did his detective work.
Best place to stay in the Square Mile
The Ned Hotel. Address: 27 Poultry, London EC2R 8AJ, United Kingdom.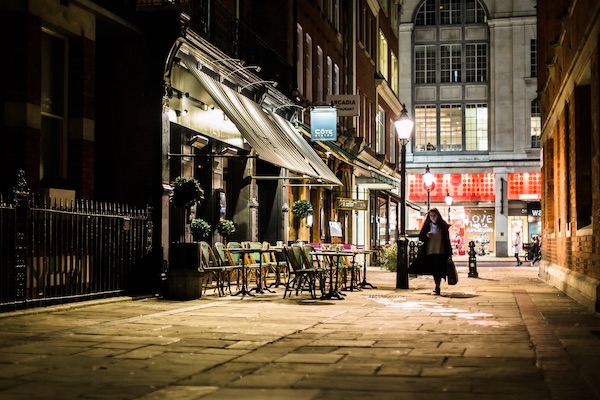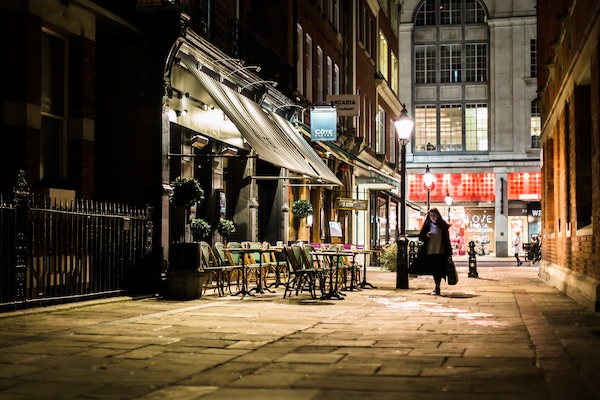 Kensington
Kensington is the place to be if you like to tour museums. For those history buffs, the Natural History Museum, the Victoria & Albert Museum (V&A) and the Science Museum are free sources of entertainment. You'll get exposure to culture, the arts, and years of historical facts and access to some wondrous sights. All three are in close proximity to Cromwell Road.
If you're looking to spend an afternoon shopping, High Street is the place to go. There are a number of shops to buy all kinds of things from purses to shoes. If you get hungry after a long day of browsing the shops there are several cafes and restaurants serving the best food in London.
Kensington Palace is the former home of Queen Victoria, now the royal residence of The Duke and Duchess of Cambridge and their children, as well as other members of the Royal Family. Tours run Wednesday-Sunday: 10:30-17:00 pm.
Best place to stay in Kensington
Hotel Number Sixteen. Address: 16 Sumner Pl, Kensington, London SW7 3EG, United Kingdom.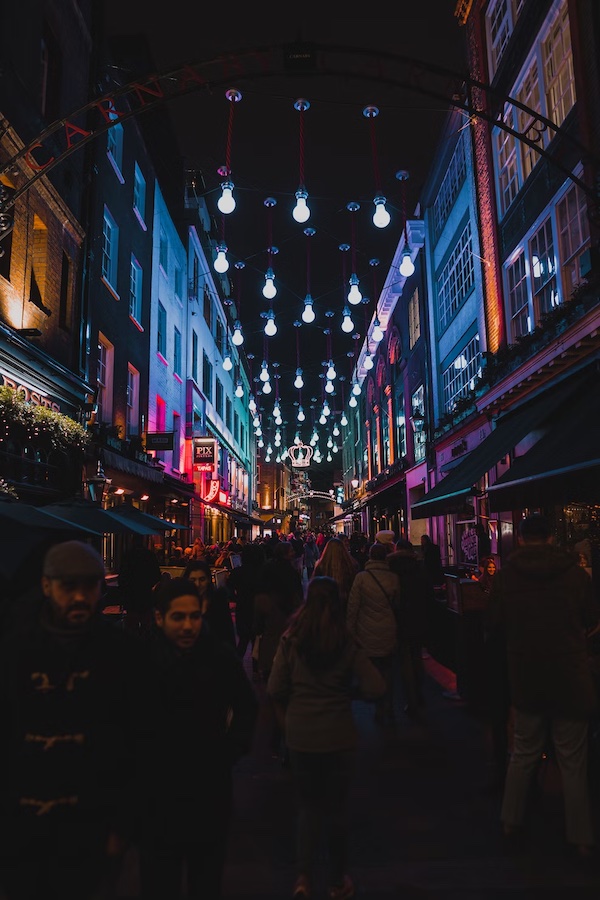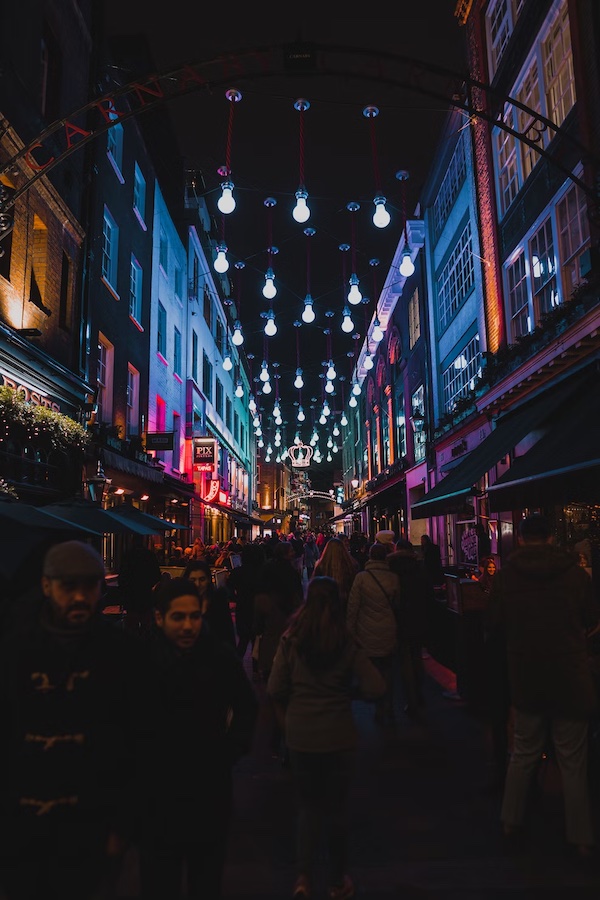 Soho
Soho is one of the top 5 best places to visit in London. If you came for the nightlife, Soho should be your go-to destination. It is a thriving neighborhood in the former red-light district that is filled with restaurants, coffee shops, pubs, and theatres. It is the hub of the artistic community. The nightlife here is diverse and exciting with lots of things to do on a Friday night.
Soho is close to other popular areas of interest such as Chinatown, Piccadilly Circus, Covent Garden and Mayfair. Take in a theater show in the West End or have a drink in the pub like the locals. Getting around Soho is easy as most places are within walking distance. Other transportation options include the double-decker bus or Tube.
Best place to stay in Soho
Ham Yard Hotel. Address: One Ham Yard, Westminster Borough, London, W1D 7DT, United Kingdom.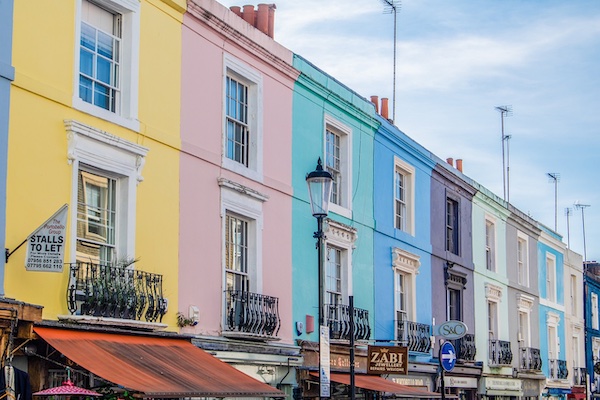 Notting Hill
There are many hidden gems in London, but none as well known as its most famous district. Notting Hill is one of the city's most iconic places and has been discovered by countless travelers from all over the world. Not only because of its beautiful architecture and picturesque views, but also for its very special characters that live there. This small area houses some of the wealthiest people in Britain, but it's also home to a large immigrant community with some extremely colorful characters.
Notting Hill is the site of one of the largest markets in London, the Portobello Market. For old movie buffs, this market was talked about in the movie "Bedknobs and Broomsticks" as they were going to this market on Portobello Road. It is a huge antique market that is a kilometer in length and includes 1,500 vendor stalls. There are all kinds of things to be found on Portobello Road.
Best place to stay in Notting Hill
The Laslett Hotel. Address: 8 Pembridge Gardens, Notting Hill, London W2 4DU, United Kingdom.
Areas to avoid in London
London is a safe city for travelers in general, but it's better to avoid some areas, especially late at night. You shouldn't go to Hyde Park at night. Robberies can occur in areas where a lot of tourists hang out, like Leicester Square and Soho. So be careful there. As a tourist, you also better avoid some areas in Outer London like Croydon, Brent and Haringey.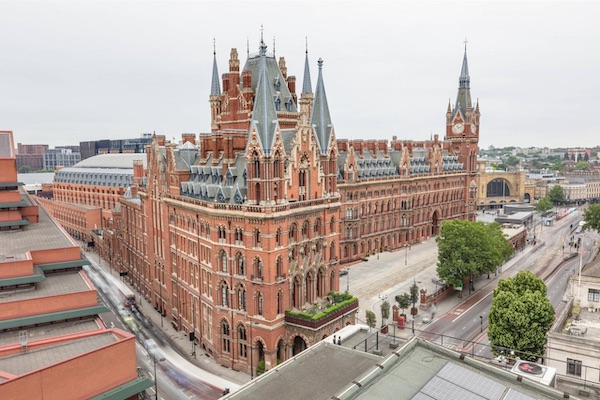 Where travel critics stay in London
Want to know where travel critics from publishers like The New York Times, Frommer's, Fodor's and Lonely Planet stay in London? Check out our overview of all recommended hotels, hostels and B&Bs in London.
Budget
"This 161-room hotel with stylish cafe-bar is a great base from which to explore central London, the entertainment hub of Shoreditch and newly buzzing Bethnal Green itself, with contemporary restaurants and more cocktail bars than you could shake a swizzle stick at." — The Guardian.
Address: 309 – 317 Cambridge Heath Road Bethnal Green, Tower Hamlets, London, E2 9LH, United Kingdom.
Mid-range
"This smart budget option could not be better located, bang in the middle of the capital's most buzzing nightlife area. The Hoxton has been a big hit since it opened in 2006, not least for its famed £1 rooms, which it sells throughout the year." — CNN.
Address: 81 Great Eastern St, Hackney, London EC2A 3HU, United Kingdom.
Luxury
"Step through the glass cube entryway and into the soaring marble lobby with its frothy belle epoque ceilings. Don't let the scenesters in the lobby put you off. The friendly, unpretentious service and beautiful public spaces make for a standout stay." — New York Times.
Address: 10 Berners St, Fitzrovia, London W1T 3NP, United Kingdom.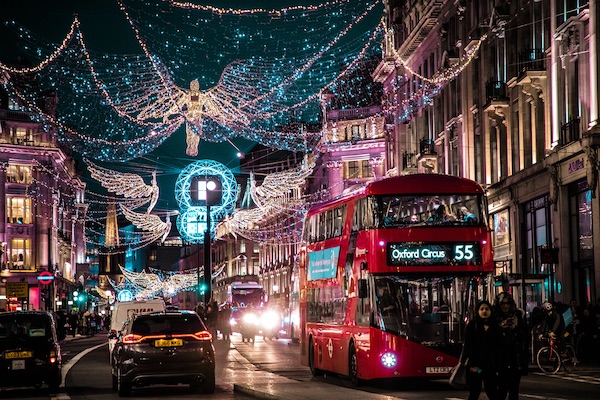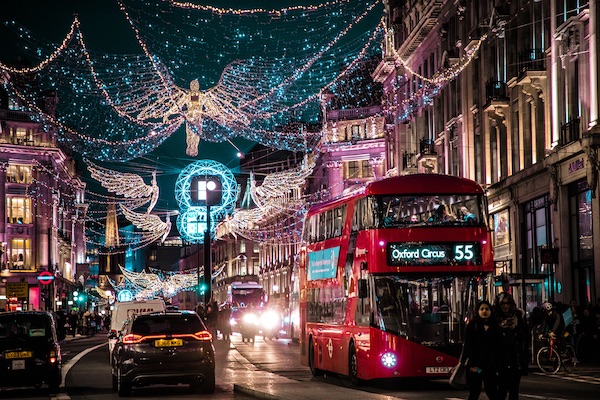 FAQ: London hotel recommendations
If you're looking for a budget, boutique, or luxury hotel in London, or maybe your travel plans require a splendid hostel? Want to know which hotel serves the best breakfast? Here are all those answers and more about where to stay in London.
What is the best budget hotel in London?
If you're looking for a cheap hotel in London, then book The East London Hotel. It's an excellent budget hotel offering great value for money. It's in a good location, it's been recommended by travel experts and the hotel has excellent customer reviews. Make sure you check our shortlist of the best cheap hotels in London.
What is the best boutique hotel in London?
Not a fan of big chain hotels? No problem. If you want to stay in a boutique hotel in London, then you should book Artist Residence Hotel. The hotel has been rated highly by previous guests for its boutique style. It has also been recommended by influential travel journalists. Also check out our list of the best boutique hotels in London, it's a manually curated list of the most unique and romantic hotels in the city.
What is the best luxury hotel in London?
If money isn't a problem and you're looking for a luxury hotel in London, then go for The Savoy Hotel. The hotel offers excellent service, it's in a top location, it has been rated very highly by previous guests and renowned travel critics have recommended it. Make sure you check our shortlist of the best luxury hotels in London, it's a manually curated list of the most exclusive 5-star hotels in the city.
What is the best hostel in London?
If you're looking for a great hostel in London, then you should check out Wombat's CITY Hostel. The hostel has magnificent reviews by backpackers, it has been recommended by well-known travel experts and it's in a good location. Also check out our guide about the best hostels in London.
What is the best bed & breakfast in London?
Looking for a cozy place to stay in London that serves you handmade and fresh breakfast in the morning? Go and check out Hotel Number Sixteen. The B&B has been recommended by well-known travel experts and recent guests have given it top ratings.
How much does it cost to stay in a London hotel?
For a 3-star hotel, you have to pay around $140 per night and for a 4-star hotel, you would be looking at $210 per night. If you're after a luxury 5-star London hotel then you can expect to pay around $370 per night.
Which London hotel offers a great rooftop bar or rooftop restaurant?
Looking for a great view while having your dinner or drinking a beer? The Ned Hotel has one of the best rooftop bars in London.
Which London hotels are the best for families?
If you're looking to stay in London with your family, then try Charlotte Street Hotel. The hotel has excellent review ratings by families.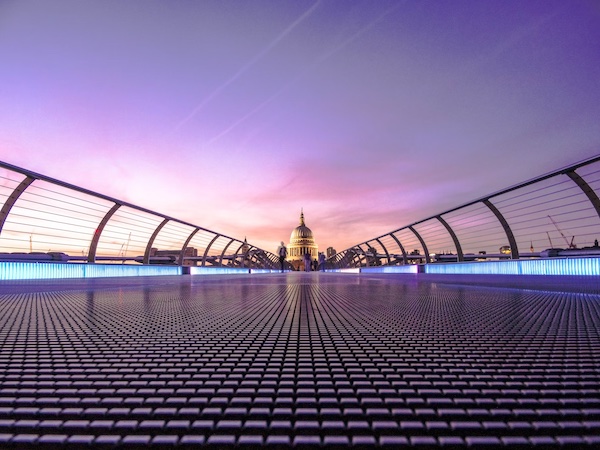 Best time to visit London
It all depends on your preferences and what you want to get out of your trip. Generally speaking, the best time to visit London is during the summer months (June-August). During this time, you'll have plenty of sunshine, warm temperatures, and long days to explore the city. Plus, there are plenty of outdoor events and festivals going on, giving you a chance to experience the city in all its glory.
Winter is also a great time to visit, as the city turns into a winter wonderland and there's plenty of festive cheer to be found. Of course, no matter when you visit, you'll always find something interesting and exciting to do in London. So the best time to visit really comes down to personal preference.

Best things to do in London
There are a lot of things to do in London and surrounding areas, including day trips, attractions, museums, sightseeing tours and many other activities. Here's our list of 3 things you should definitely do when you're in and around London:
Stonehenge, Windsor Castle, and Bath from London
Visit some of the top attractions outside of London on this day trip to Stonehenge, Windsor Castle and the historic town of Bath. Price: $107. More info.
Magical London: Harry Potter Guided Walking Tour
Embark on an interactive Harry Potter tour around central London with an expert guide. Choose from either a boat or London Underground trip for the experience. Price: $27. More info.
London: Westminster to Greenwich River Thames Cruise
Take a 1-way or return cruise from Westminster to Greenwich (or vice versa) and see the sights of London from a different perspective. Listen to an informative audio commentary as you admire monuments such as the Tower of London from the River Thames. Price: $18. More info.
Deciding where to stay in London
In conclusion, this travel guide has covered the best areas and hotels in London and how to get around. Now it is up to you to decide which area suits your needs the most.
Top 5 areas to stay in London
Soho
Southbank
Kensington
Square Mile
Notting Hill
As you have seen in this travel guide, there are a lot of things to explore, and deciding where to stay in London is important. Whether you stay in Soho, Southbank, Kensington, the Square Mile or Notting Hill, all those neighborhoods are in good locations.
The atmosphere of the area, whether you travel for leisure or business, whether you travel with your family or friends, and proximity to the attractions you prefer to visit should probably be the deciding factors. Whatever your preference is, you'll have a great time in London.
More London tips
Check out our other guides about the best places to stay in London: