With centuries of history, London has more than enough to keep any kind of traveler entertained. When planning a trip to the most populated city in the United Kingdom, there are many things to take into account, including where you're going to stay—we suggest trying out one of the many sustainable hotels in the city!
London is a cosmopolitan city that blends the traditional English spirit with a vibrant alternative cultural scene. It has everything from famous tourist attractions like Big Ben, Buckingham Palace, and Westminster Abbey to quintessentially English pubs and restaurants. The city boasts both classical architectures with sleek modern buildings, making for a beautiful and unique skyline (which you can see when you ride the London Eye, a massive observation wheel right in the heart of the city on the River Thames). What's not to love?
With over 27 million visitors per year, London is one of the most visited cities in the world; a whopping six airports are in the Greater London area! With such a large population comes diversity, making for a wide range of amazing restaurants, music, and more. Although it is a massive city, you can get around the city very easily by riding the London Underground.
If you want to truly experience the city, you'll need more than just a few hours, and one of the most important parts of any vacation is finding an awesome place to stay so you can enjoy the next action-filled day. In this article, we will give you an information-packed guide to the most sustainable hotels in London, so you can have a blast while also minimizing your footprint. Although their designs and amenities differ, they all have a commitment to sustainability through their use of materials, energy sourcing, green spaces, and farm-to-table restaurant practices.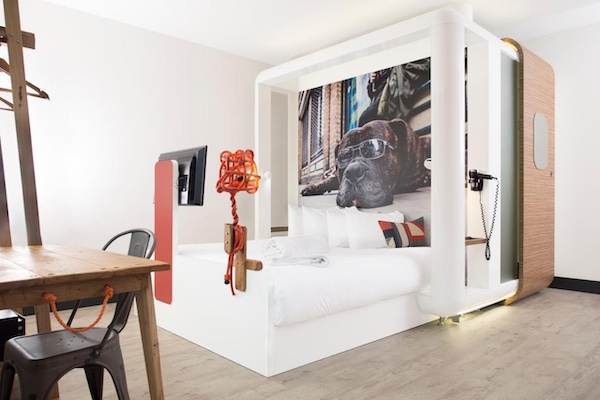 The Corner Hotel
First on our list of the most eco-friendly hotels in London is The Corner Hotel, located in East London. Close to the bustling Brick Lane, the Corner Hotel puts you steps away from art galleries, trendy bars, and boutique stores. When you arrive at the Corner Hotel, you can park in a secure gated parking lot with electric car charging stations and recycled bikes available for guests.
It offers a quirky but sophisticated design inside. Each room has its own character with a futuristic vibe. Guests will enjoy a very comfy handmade and sustainable mattress, a 32-inch TV, and a fully-stocked bathroom. Additionally, The Corner Hotel has a charming bar, a popular restaurant, and several workspaces. It also has a vibrant lineup of events that entertain guests and locals alike. Free WiFi is available throughout the building.
What makes The Corner Hotel sustainable
The Corner Hotel is one of the greenest in London for a multitude of reasons. Reclaimed wood and other recycled materials make up a significant portion of the furniture, all water is in glass bottles, and the kitchen composts food unable to be reused. Additionally, it grows food such as herbs and vegetables, and the hotel plans to have a beehive on the rooftop. There's more on the sustainability front, too—their airdrop showers use an average of 41% less water than normal showerheads, and they have around 40 solar panels on the top of the building.
To make for an even greener stay, you can opt-out of the cleaning service and receive a five-pound voucher for the bar.
Hotel details
Address: 
42 Adler Street, Tower Hamlets, London, E1 1EE, United Kingdom.
Guest rating:
4.1 out of 5
Price per night:
From $125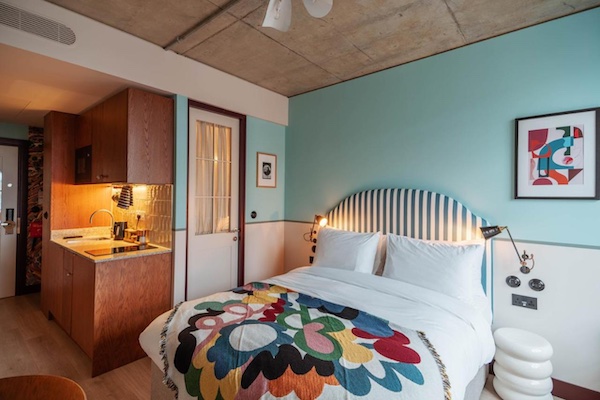 Room2 Hometel
Room2 is another great one of the great eco-friendly hotels in London. Located in central Hammersmith, the hotel is a short metro ride to Westfield shopping Center, Knightsbridge, and West End. There are also several shopping centers just a few minutes' walk away; you'll have many cafés and quirky shops very easily accessible.
Guests have very complimentary things to say about their stays. The stylish rooms are very comfortable with a kitchenette, comfy beds, and amazing bathroom products, and the design is generally modern while still comfy. One awesome and unique thing about Room2 is that you have the reservation for 24 hours, meaning that if you check in at 5 PM, you'll have it until 5 PM the next day. Also on the site is a laundry room, a gym, and a fully-equipped kitchen where you can eat what and when you want. Cook in your room with responsibly sourced ingredients, or simply order in a yummy meal!
What makes Room2 sustainable
There are tons of sustainable initiatives at Room2. First off, there are plants everywhere throughout the hotel, making for clean, fresh air in addition to a beautiful aesthetic. They also source their energy from solar, wind, hydro, and on-premise solar panels and heat pumps. Additionally, Room2 has sustainable products scattered throughout the place; for example, only used books fill the "preloved" library. Room2 has an impressive use of the land—there is a green roof with bees and an herb garden, as well as plant propagation sites everywhere.
They even have a detailed plan to be net zero by 2030, which you can view on their website.
Hotel details
Address: 
10 Windmill Road Chiswick, Chiswick, London, W4 1SD, United Kingdom.
Guest rating:
4.7 out of 5
Price per night:
From $135
Treehouse Hotel
Treehouse London offers a quintessentially British experience infused with an eco-friendly vibe. Located just across from the BBC, the Treehouse London is at the center of the action, very close to Regent and Bond Streets. On the roof, you can see the London Eye, the futurist building known as The Shard, and Regent's Park.
Treehouse London has great amenities, which we'll get to, but we need to start off with the truly unique design, which is inspired all around by nature. It is both playful and rustic; at every turn, you have the fun illusion of being in nature right in the heart of London.
The hotel offers great restaurants, a buzzing rooftop bar called The Nest, and event spaces. The rooms have huge bay windows and sit high up, making for great city views. All rooms include blackout shades, free WiFi, Smart TVs, and luxury rain showers. Madera, the in-house restaurant, uses organic ingredients to make bold reimagined Mexican meals; they also have a pizzeria on-site! Treehouse hotel also has a coffee shop that has the aesthetics of—you guessed it—a treehouse.
What makes Treehouse Hotel sustainable
In addition to its playful natural feel (the elevators have bark in them, making guests feel like they are going up a tree trunk) and awesome amenities, the Treehouse is one of the more sustainable hotels in London. They have resident horticulturalists, organic cotton sheets, locally-sourced bath products, and farm-to-table menu items. Reclaimed wood makes up a ton of the furniture and they have a robust recycle and compost program in place.
Hotel details
Address: 
14-15 Langham Place, Westminster Borough, London, W1B 2QS, United Kingdom.
Guest rating:
4.4 out of 5
Price per night:
From $295
Strand Palace Hotel
The Strand Palace Hotel is an eco-friendly hotel in the heart of London—you're just a short walk from Trafalgar Square and Covent Gardens, two popular tourist areas in the city. Within half a mile, you're close to over 500 restaurants and nearly 200 attractions; you can't be much more centrally located than that!
It's quite large, offering 785 modern art-deco styled rooms for tourists and business travelers. Recently, it launched a new eatery, Haxells Bar and Restaurant, which gets good marks for its modern British menu; people particularly enjoy the traditional breakfast. Additionally, there is a private dining room and an afternoon tearoom. Rooms have everything you need, including a sitting chair, shutters for a quieter night, complimentary tea and coffee, and comfortable beds.
What makes The Strand Palace Hotel sustainable
Let's talk about its eco-friendly qualities. Recently, the hotel went under a "sustainable refurbishment" to improve its footprint. The new carpets are made from recycled materials, including over 84,500 plastic bottles, and all rooms have showers instead of baths. The multi-pound renovation also included a new air conditioning and heating system, particularly good for reducing use in empty rooms.
Hotel details
Address: 
372 Strand, Westminster Borough, London, WC2R 0JJ, United Kingdom.
Guest rating:
4.1 out of 5
Price per night:
From $188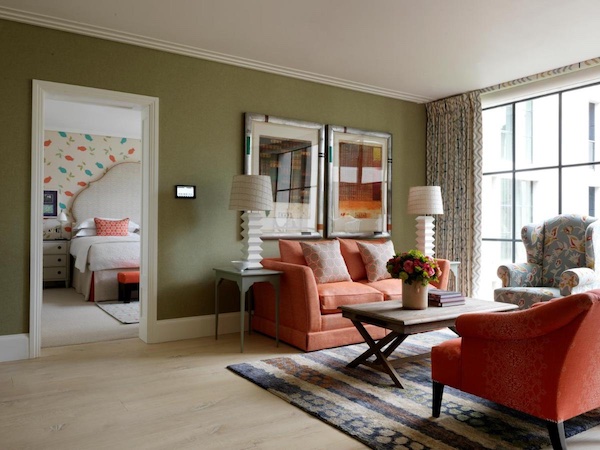 Ham Yard Hotel
Last but not least on our list of eco-friendly hotels in London is the Ham Yard Hotel, located in the middle of Soho. If you choose to stay here, you'll be surrounded by edgy cafés and bars, luxury shopping on Bond and Regent Streets, Piccadilly Circus, and St. James's Square.
There are loads of amenities here. They have both rooms and apartments, all masterfully decorated by an award-winning British interior designer Kit Kemp. There are also 13 stores on the premises and an in-house restaurant and bar with outdoor seating; people come here just for a delicious cocktail or afternoon tea. Additionally, guests have access to a drawing room, rooftop terrace, gym, spa, library, and even a theater. There is even a bowling alley!
What makes The Ham Yard Hotel sustainable
Ham Yard Hotel has a BREEAM Excellent rating, which is a criterion established in 1990 and used for assessing the environmental impact of buildings. The hotel uses sustainable and clean bathroom products, laundry bags are sourced from recycled plastic bottles, and all disposable forks and knives are made of "Vegware," a plant-sourced product that does not contain plastics. Additionally, like many sustainable hotels on this list, Hamyard Hotel uses recycled fabrics, reclaimed wood, and refurbished antique furniture pieces to make up its stylish design. Lastly, it also has a roof terrace green space with its own vegetable garden and beehives, and much of its energy comes from solar panels. This boho-chic hotel is a great option for a sustainable stay in London.
Hotel details
Address: 
One Ham Yard, Westminster Borough, London, W1D 7DT, United Kingdom.
Guest rating:
4.7 out of 5
Price per night:
From $459
How we select the best eco-friendly hotels in London
We are a travel research company. We check a lot of details and guest reviews before making a selection. First, we check which hotels follow eco-travel principles. Are they recycling their waste? Do they work with local communities? Are they using renewable energy? Are they not using single-using plastics?
Secondly, we check guest reviews across multiple websites and only list hotels which have an aggregated review rating of at least 4 out of 5. So you can be certain you will be staying at an excellent eco-friendly hotel in London.
Sustainable travel is becoming increasingly popular and important as we strive to reduce our carbon footprints. There are many easy ways to reduce your impact while traveling, from choosing eco-friendly accommodations to respecting the local wildlife. Here are some of the most important tips for sustainable travel.
More London recommendations
We hope you enjoy the advice we've given to you above. If so, be sure to check out some of our other articles about London: