Beijing is the capital city of the People's Republic of China. Many of the city's palaces, temples, parks, gardens, tombs, walls, and gates are renowned for their beauty and magnificence. The city of Beijing is also one of the most important tourist destinations around the world, detailing the long and storied history of the Chinese empire. Beijing also offers visitors a chance to see seven UNESCO World Heritage Sites, from the Great Wall, the Forbidden City, the Summer Palace, the Temple of Heaven, the Ming Tombs, Peking Man Site at Zhoukoudian, to the Grand Canal.
The best time to visit the city is during the shoulder seasons, from April to May or September to October. Beijing is a very populated city, with 21.7 million people living in the area. That means some of the popular tourist attractions can get fairly crowded at times. However, if you visit immediately after a Chinese holiday, you'll find that these locations are significantly less crowded. Beijing is also not a very expensive city compared to the west, so getting around and lodging in hotels is generally more affordable overall.
For eco-minded travelers looking to visit Beijing, you're in luck. There are dozens of hotels and attractions in and around the city that you can take advantage of while reducing your carbon footprint. Sadly, environmental sustainability is a relatively low priority in the city, but there are companies trying to pave the way forward for a new, more eco-friendly atmosphere. If you're looking to find the best sustainable hotels in the area, read on to learn more about which sustainable hotels made our list.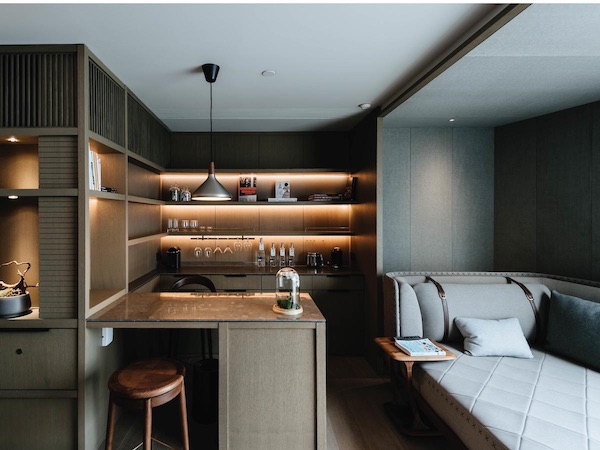 Chao Hotel Sanlitun
This 5-star hotel is located just east of Beijing's city center. Its location also makes it a prime spot for visiting many nearby attractions, either by bicycle or via a quick subway ride. Just a few blocks south, you'll find the famous Temple of the Sun, where ancient Chinese emperors used to pray to the gods. A few blocks northwest, you can visit the Lama Buddhist Temple. A few blocks east, if you're looking to spend some time outdoors, be sure to check out Chaoyang Park.
Given that Chao Hotel offers 5-star hospitality, you can expect best-in-class services and amenities. The modern and sleek style of the interior of this hotel is enough to make you feel like royalty, with lofted suites and opulent guest rooms overlooking the city. They also offer guests access to continental breakfast, a 24-hour fitness center, a barbershop, a functional library, and a workshare space. While Chao Hotel Sanlitun doesn't reinvent the wheel with its design elements, it certainly makes guests feel accommodated with world-class luxury and comfort.
What makes Chao Hotel Sanlitun sustainable?
When it comes to sustainability practices, the hotel has included energy-efficient lighting in the guest rooms and the lobby. They have also removed single-use plastics, they stock eco-friendly shampoo and soaps, and they clean with eco-friendly products. Their dining areas also source ingredients from local farms, allowing them to also create seasonal menus from locally sourced produce. Finally, Chao Hotel measures and strives to reduce its overall carbon emissions, while also training staff on how to practice sustainability at work and at home.
Hotel details
Address: 
4 Workers' Stadium E. Rd., Chaoyang, 100027 Beijing, China.
Guest rating:
4.5 out of 5
Price per night:
From $205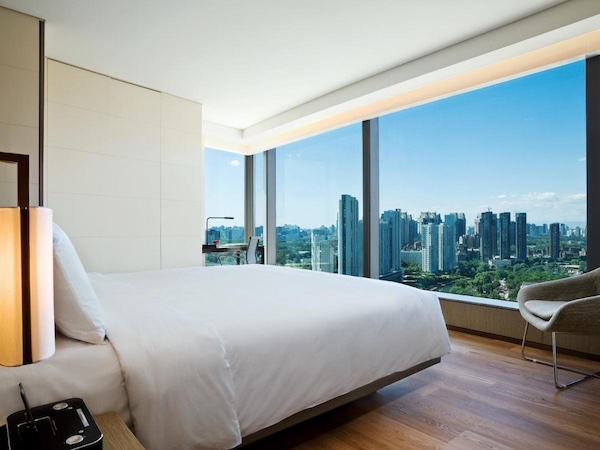 East Beijing Hotel
East Beijing Hotel is located just slightly northeast of Chao Hotel Sanlitun on the banks of the Bahe River. A few blocks north, you'll find the 798 Art Zone, a hip network of artist studios and shops where visitors can pick up unique souvenirs and escape the usual hustle and bustle of Beijing. If you're interested in exploring another attraction off the beaten track, be sure to visit the China Railway Museum. Don't miss out on the Guanfu Museum as well to learn more about China's unique past.
East Beijing Hotel similarly offers luxury 5-star accommodations. Their stylish designs and top-tier service is virtually unrivaled, ensuring that guests feel fully taken care of during their stay. The modern design in the guest rooms and suites uses alluring gray tones and sharp angles in the decorations, making the atmosphere feel clean and extravagant. This lively hotel also offers an infinity pool, a 24-hour fitness center, a sauna, a game room, and a business center for guests to enjoy.
What makes East Beijing Hotel sustainable?
This hotel is also LEED Gold certified, meaning they have achieved outstanding recognition in their sustainability efforts. East Beijing Hotel sources its food ingredients from local, sustainable suppliers. They also focus on making their operations as energy efficient as possible, with LED lighting in the lobby and guest rooms, water catchment for tending to the green areas around the hotel, and recycling bins to distribute waste around the hotel.
Hotel details
Address: 
No.22 Jiu Xian Qiao Road, Chaoyang, 100016 Beijing, China.
Guest rating:
4.4 out of 5
Price per night:
From $99
Rosewood Beijing
Rosewood Beijing is located just slightly northeast of the city center as well. It's just a few blocks from the Temple of the Sun and Chaoyang Park. Further south, be sure to check out the Today Art Museum for one of Beijing's top modern art collections. For a few photo opportunities around the area, stop by the World Financial Center, as well as the CCTV Headquarters. The optimal location of this hotel also means you'll have access to plenty of incredible restaurants in the area.
This premier 5-star hotel also offers guests a stay that is nothing short of awe-inspiring. The decorations in the lobby and common areas alone are enough to take your breath away. They also offer delicately crafted guest rooms and suites with pristine views overlooking the city. Within this large building, often referred to as an "urban village," you'll find that the interior emphasizes the rich cultural heritage of China, along with plush apartment-style accommodations. Their deluxe spa and 5-star restaurant also provide out-of-this-world indulgences for guests.
What makes Rosewood Beijing sustainable?
Rosewood Beijing also takes many steps to provide sustainable and environmentally friendly accommodations for guests. They have removed single-use plastics from their premises, they provide recycling bins in each of the guest rooms, and they strive to reduce food waste. In addition, the hotel uses energy-efficient lighting, has installed water-efficient showers and toilets, and features electric vehicle charging stations.
Hotel details
Address: 
Jing Guang Centre, Hujialou, Chaoyang, 100020 Beijing, China.
Guest rating:
4.6 out of 5
Price per night:
From $270
The PuXuan Hotel & Spa
The PuXuan Hotel is one of the closest you'll find for its proximity to the city center. Just a block away, visitors can easily reach several well-known attractions, from Tiananmen Square, the Monument to the People's Heroes, the Mausoleum of Mao Zedong, and the Zhengyangmen temple. Nearby, you'll also be able to visit the National Museum of China, the China Numismatic Museum, the Imperial City Relic Site, the Imperial Ancestral Temple, and the Palace Museum. Without a doubt, if you're looking for nearness to many major attractions, the PuXuan is going to be your best option.
Another 5-star hotel on our list, the PuXuan is not only esteemed for its hotel accommodations but also its sauna and spa, the UR Spa. Many of the hotel rooms also overlook the Forbidden City just to the west, offering virtually unrivaled options when it comes to scenic vistas. There are two restaurants within the hotel, the Rive Gauche and Fu Chun Ju, and an exclusive inner sanctum lounge, called the PuXuan Club. They also offer a 24-hour fitness center, yoga classes, a garden terrace, and an elegant bar.
What makes Puxuan Hotel sustainable?
While the PuXuan excels at providing guests with luxury accommodations, they also go above and beyond when it comes to sustainability practices. They have removed single-use plastics from their premise, use water-efficient utilities, and have installed energy-efficient lighting throughout the hotel. The PuXuan also invests a percentage of its revenue back into community-led sustainability projects, supports local artists by displaying their artwork, and provides guests with information about the local ecosystem.
Hotel details
Address: 
No.1 WangFuJing Street, Dongcheng District, Beijing, Dongcheng, 100006 Beijing, China.
Guest rating:
4.7 out of 5
Price per night:
From $290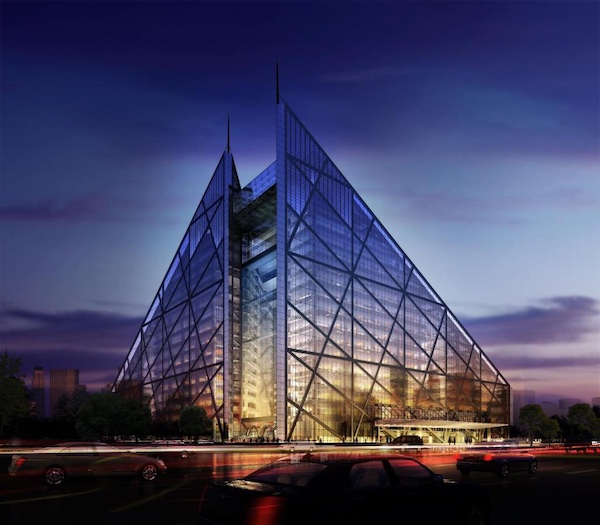 Hotel Eclat Beijing
This final 5-star hotel on our list is another great option for guests interested in exploring Beijing. They are located just slightly east of the city center, just a few blocks away from the Temple of the Sun. Be sure to stop by the Beijing Ancient Observatory nearby to learn more about China's unique contributions to the study of astronomy. Just a short cab ride or subway ride to the west, you'll also be able to visit the famed Forbidden City and many other nearby attractions.
Eclat Beijing is the most artfully tasteful hotel on our list. Everything from their unique building shape to the eclectic interior decorations provide guests with something exceptional and interesting to look at. You'll find original artwork by Warhol and Dali, as well as several contemporary Chinese masters in and around the hotel. The hotel decorations are so rare and appreciable that it's difficult to put words to it; you simply have to see it to believe it.
What makes Hotel Eclat sustainable?
When it comes to sustainability, guests will also be able to appreciate the eco-friendly initiatives that Hotel Eclat strives to develop. For starters, the hotel offers bicycle rentals and bicycle parking spaces. They have installed energy-efficient lighting, double-glazed windows, and water-efficient toilets. The guest rooms also use keycard-controlled lighting to help preserve some of the energy usage. Hotel Eclat also does a phenomenal job at reducing food waste and limiting the number of plastics used in its operations.
Hotel details
Address: 
No.9 Dongdaqiao Road, Chaoyang District, Chaoyang, 100020 Beijing, China.
Guest rating:
4.5 out of 5
Price per night:
From $215
How we select the best eco-friendly hotels in Beijing
We are a travel research company. We check a lot of details and guest reviews before making a selection. First, we check which hotels follow eco-travel principles. Are they recycling their waste? Do they work with local communities? Are they using renewable energy? Are they not using single-using plastics?
Secondly, we check guest reviews across multiple websites and only list hotels with an aggregated review rating of at least 4 out of 5. So you can be confident you will stay at an eco-friendly Beijing hotel.
More and more people recognize the importance of sustainable travel. Not only is it better for the environment and our planet, but it also often leads to more meaningful experiences. If you're interested in learning more about eco-tourism, here are some eco-friendly travel tips to get you started.
More Beijing guides
Get to know the city even better by reading our other articles about Beijing: