Especially in the last decade or so, Bangkok has boomed in the tourism sector. With millions of people traveling through every year, you know that there is a lot to do and see in the city. If you are someone who wants to experience Thai culture, Bangkok is the perfect place to start.
Now, Thailand is known to be a pretty affordable place to visit, although travel costs can really drain the budget. So, if you want to save money in certain areas, the hotels offered that are affordable can be great options.
Today, we will be talking about affordable hotels in Bangkok. When you trade luxury for affordability and simplicity, you can make other areas of your trip more enjoyable.
Here are the three best cheap hotels in Bangkok!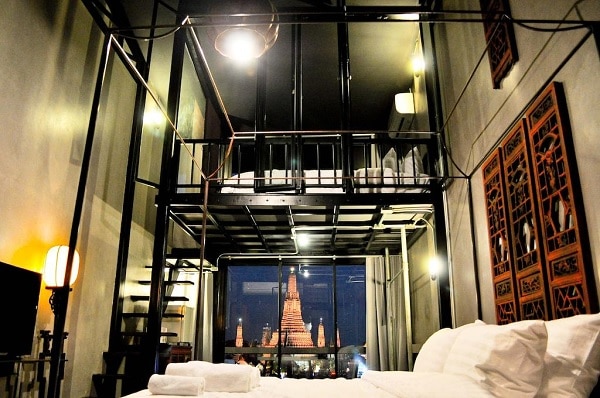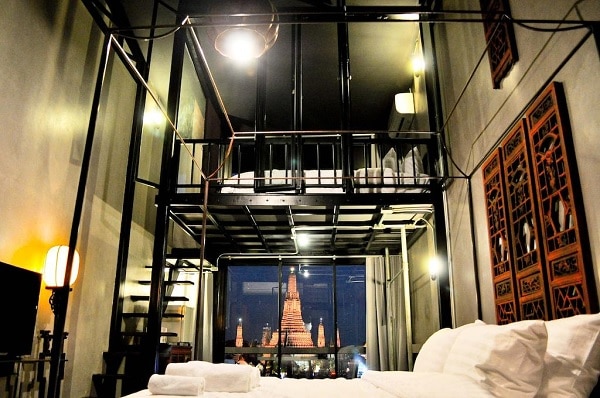 Inn a Day
Inn a Day is the first budget hotel in Bangkok that we will break down. One top aspect of Bangkok is Khao San Road. This is where a lot of the action is. Staying at Inn a Day will keep you just a mile away from that action. This is a huge perk as your physical location is a really important part of the decision. So, if you want to walk it or take a short taxi ride, it is super easy.
There are rooms and suites that are simple, yet clean and subtly elegant. Many of the suites actually have a balcony to look out over the city, which is really cool, especially for such a cheap option.
Many cheap hotels will not have on-site food and drink options, but the Thai restaurant in the hotel is delicious and a guest favorite. There is also a bar to grab a quick drink with your friends at.
At the hotel, there are a couple of perks. A few include free wi-fi, shuttles to and from the airport, room service and more. So, not only are you saving money, you are also not having to completely rough it. The user experience is still of really good quality.
Hotel details
Address: 
57 61 Maha Rat Rd, Khwaeng Phra Borom Maha Ratchawang, Khet Phra Nakhon, Krung Thep Maha Nakhon 10200, Thailand.
Guest rating:
4.6 out of 5
Price per night:
From $65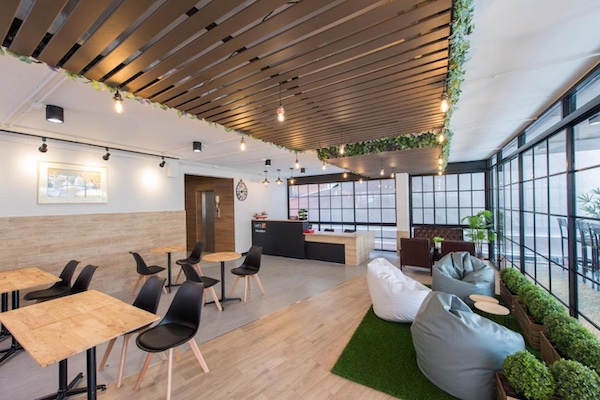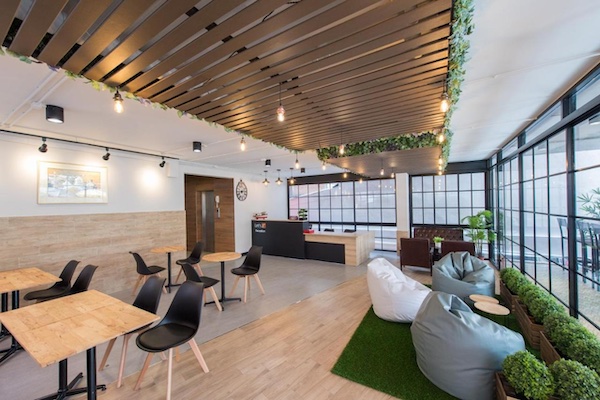 Let's ZZZ Bangkok
One modern and simple hotel is the Let's ZZZ Bangkok. We talked about Khao San Road and how important it is, and this is less than a mile away from that road. So, not only are the rooms great, which we will get to, but you have easy access to Bangkok's top spot. This is a huge perk, so keep that in mind.
There are also some really great attractions nearby that can be accessed on foot or with a short taxi ride. Some examples include the Temple of the Emerald Buddha, Wat Saket, Dusit Palace, and so much more.
The rooms are simple and basic, but they give you a really nice home base for exploring the rest of Bangkok. The furniture is modern and light, so even small spaces don't feel like they really are. They are inviting and a good bang for your buck.
There are four types of rooms, and they are all standard. The only thing that changes is the capacity in terms of bed space. There are no suites or anything fancy, so you have to be good with the basics.
Hotel details
Address: 
85 Soi Samsen 1,Lumphu Rd, Wat Sampraya, Phra Nakorn, 10200 Bangkok, Thailand.
Guest rating:
4.5 out of 5
Price per night:
From $29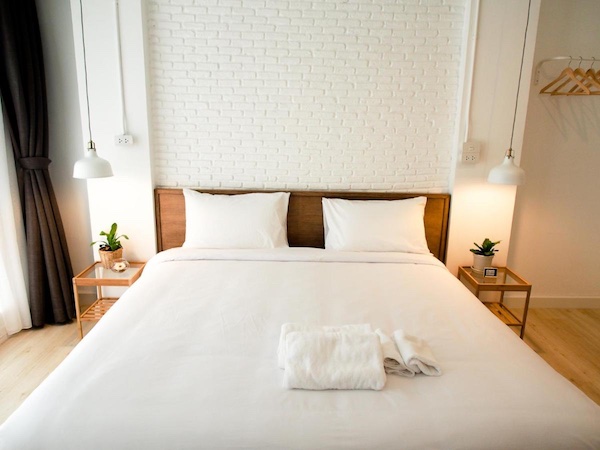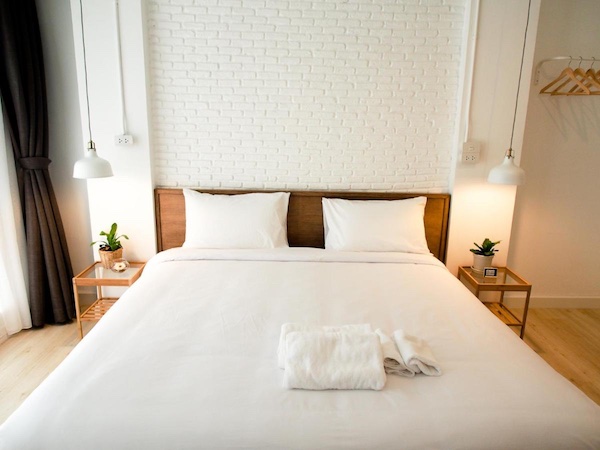 Varmtel
Finally, the last affordable hotel on our list is the Varmtel. This is a budget hotel that has a nice list of features that normally are not found in cheaper options. Before we get to those, it is important to talk about the physical location. Wat Pho and Wat Arun are both three miles away, so a cheap taxi ride is all it takes to connect with some great areas.
When it comes to the rooms, there are options to upgrade, which is something not found in every cheap hotel. There are deluxe and standard rooms that have varying sizes and bed options, so you can pick what works best for you really easily.
Now, let's get to the amenities and features that come with the room. Along with free Wi-Fi, there is a TV in every room and plenty of common places. There is a shared kitchen, so if you want to save some more money and cook your own meals, that is an option. There is also a great garden and terrace area to enjoy the mornings or evenings in peace.
Overall, Varmtel is a budget hotel that does not make you feel like you are being cheap. So, you will have more money for other areas of the trip, but you will still feel good about the accommodation.
Hotel details
Address: 
24 Charoen Nakorn 13, Charoen Nakorn Rd., Klongtonsai, Klongsan,, 10600 Bangkok, Thailand.
Guest rating:
4.5 out of 5
Price per night:
From $25
About our budget hotel recommendations in Bangkok
We are a travel research company. Our team helps you discover the best cheap hotels in Bangkok by researching the internet for you. We have also visited some of these places. Hence, it's not just our opinion, it's the opinion of thousands of travelers who have been there before you. We make it easy for you to find out about the best budget hotels in the city.
Please note, we only list hotels that have an aggregated guest review rating of at least 4.0 out of 5. We aggregate all reviews from different booking sites and other unbiased review websites. Any hotel listed here should have a price of $100 or less per night. Hence, you can be certain all hotels listed above offer you a great and affordable stay in Bangkok.
Lowest price guarantee
We partner with Booking.com and Hotels.com. Both booking websites offer the lowest price guarantee so you can be certain you will always get the best deal for the hotels above. If you have seen a better price elsewhere, all you need to do is contact the booking website and they will refund you the difference immediately. You can price match right up until the day before check-in.
We also recommend you read our guide about how to save money on hotel bookings. It's a list of tips about when you should book a hotel, what tools you can use, and other things you can do to find your preferred hotel at an affordable price.
Top 3 budget hotels in Bangkok
Let's summarize this affordable travel guide. Based on thousands of guest reviews, these are the best budget hotels in Bangkok:
More Bangkok guides
Get to know the city even better by reading our other articles about Bangkok:
Best boutique hotels in Bangkok