Bangkok is one of the must-visit cities in the world. It is a congested capital full of hustle and bustle, but that is part of what makes it so appealing. Although this is one of the sides of Bangkok and a very noticeable one, there is another part to the Thai city. It is home to some glorious history that can be seen on a simple exploration of it.
Temples and long-held traditions are seen on nearly every street. Today, these aspects are combined with a more cosmopolitan city featuring western influences. On one street you will find beautiful old temples and the next is a shiny shopping mall.
The combination of new and old, traditional and modern, makes Bangkok a wonderful place to spend a vacation. If you are looking for a place to stay on a trip to Bangkok, then look no further than the five areas outlined below.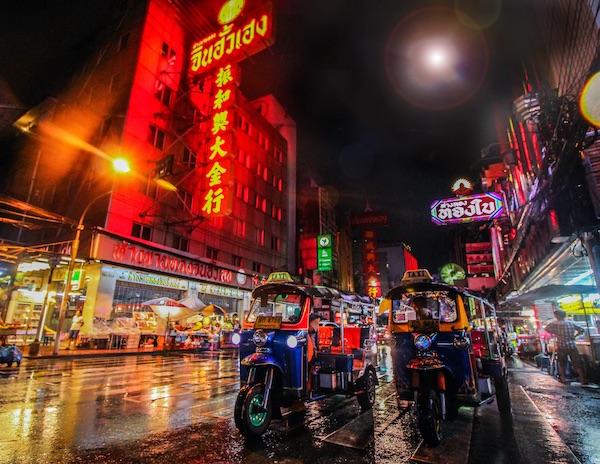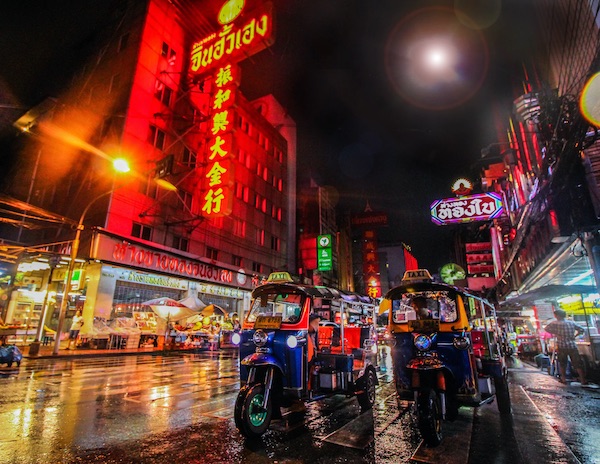 Sukhumvit
Sukhumvit is hands down the best area to stay in Bangkok on a vacation to the Thai capital. The neighborhood lies on an 11-mile road (18 kilometers) and has bars, restaurants, and cafes dotting both sides. What travelers give up in traditional areas in Bangkok, Sukhumvit makes up for with exciting nightlife. Sukhumvit is where people go for fun regardless of being a local or tourist.
Another reason Sukhumvit is a popular place to stay is due to the ease of access travelers have to other parts of Bangkok. The MRT (subway/underground) and BTS (Skytrain) run through Sukhumvit and public transport makes it easy to move from one area to another in a short amount of time.
Sukhumvit is ideal for anyone (solo travelers, couples, or families) on their first trip to Bangkok. Why? The area's central location makes it easy to get around. You don't have to move about, however, as Sukhumvit has everything you need. Sukhumvit is the area in which you will find a number of luxury hotels and restaurants. You can find five-star and four-star hotels in Sukhumvit along with some mid-range accommodation.
Best place to stay in Sukhumvit
Hotel Galleria 10 Sukhumvit. Address: 21 Sukhumvit 10 Alley, Khlong Toei Nuea, Watthana, Krung Thep Maha Nakhon 10110, Thailand.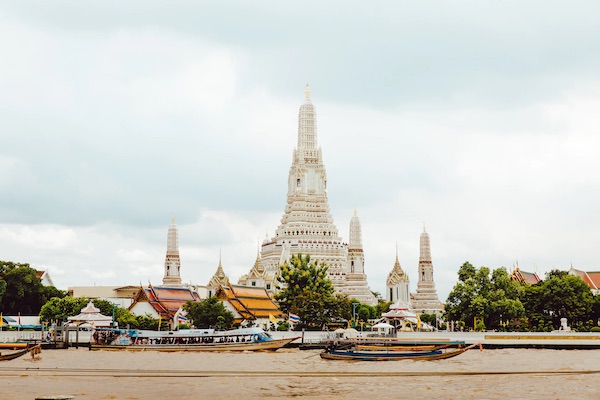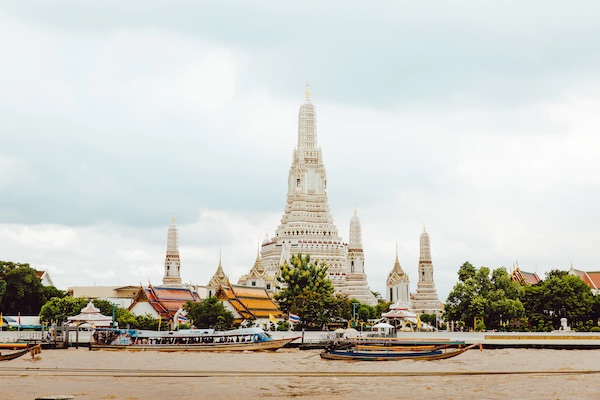 Thonglor
Sukhumvit is great for first-time visitors to Bangkok, but Thonglor is the coolest area to stay in. Thonglor is for the more seasoned traveler that has visited Bangkok previously. If you are the adventurous type, then Thonglor could also be right up your alley.
The area is the trendiest in Bangkok and a destination for young, well-off locals. You can find five-star restaurants and out of this world cocktail bars. Each is well worth your time and money. The area also possesses high-end shopping for individuals looking for the latest fashions. Of course, as part of southeast Asia, the neighborhood also has gaming rooms for school-aged and university students to blow off steam.
Thonglor is just east of downtown Bangkok. Although it is close in proximity, Thonglor does not possess the gritty, dirty streets you would expect. The area is a destination for more than just young, well-off Bangkok locals. It attracts artsy people from the world over thanks to its bohemian vibe. This makes it a diverse section of Bangkok.
There is plenty to explore from the W Street Market to the Wat That Temple. It is easy to find accommodation in Thonglor from four-star hotels to boutique hotels to Airbnb properties.
Best place to stay in Thonglor
LA49 Hotel. Address: 22/2 Soi Phrom Phak (Thonglor 13 Yak Torsak 1), Klongton-Nua, Vadhana, Bangkok, Wattana, 10110 Bangkok, Thailand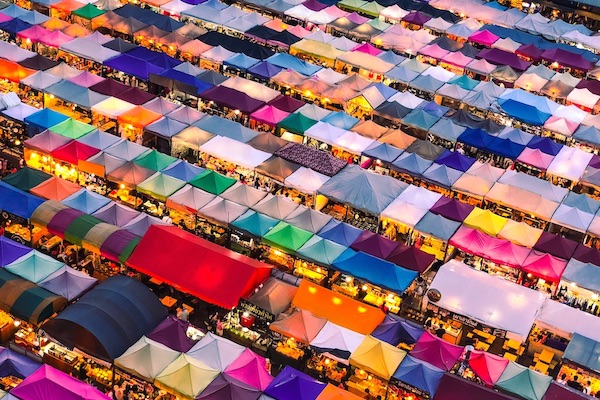 Silom
The best reason to stay in Silom is Lumphini Park. The park is an oasis of green in one of the most congested, busiest cities in the world. It is 142 acres of trees, grass, and a man-made lake. Silom is an ideal area in Bangkok for families to stay due to the park as it offers children the chance to run about and play.
Lumphini Park isn't the only reason people stay in Silom. Patpong Night Market attracts locals and tourists when the sun goes down with its variety of Thai and other Asian foods. Night clubs also open up after dark making Silom a popular choice for individuals looking for a late-night of dancing and drinking cocktails.
While Patpong Market and the nightclubs attract visitors to Silom at night, the area is transformed during the day. Silom is Bangkok's Financial District. As a significant business area, Silom is packed with hotels, restaurants, and bars.
Public transport takes visitors into and out of the area and runs regularly. The efficiency of Bangkok's public transport means you can get from Silom to Thonglor or Sukhumvit in a short amount of travel time.
Best place to stay in Silom
The Sukhothai Hotel. Address: 13/3 S Sathorn Rd, Khwaeng Thung Maha Mek, Khet Sathon, Krung Thep Maha Nakhon 10120, Thailand.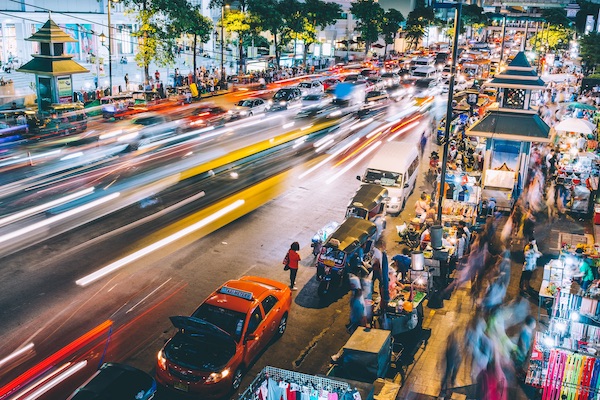 Siam
Siam is technically located off of Sukhumvit Road but further from the center of Bangkok. It lies towards the Chao Phraya River, which is a lovely spot to spend a day walking, running, or cycling. Siam is the place for shopping. It is littered with high-end shops, boutiques, and malls. You will find MBK, Siam Paragon, Siam Discovery, Siam Center, and Central World Mall in this one neighborhood.
Siam is another area to stay in Bangkok that is perfect for families. There are five-star restaurants that serve up world-class cuisines to paying guests. If you have children who are picky eaters, Siam's western restaurants should give them a taste of home.
There are a variety of tourist activities including Madame Tussauds and more. There is something for everyone in the family in Siam. Using it as a base for a vacation allows you to experience some of the best aspects of Bangkok before expanding to other areas.
Skytrain is a popular public transport option that delivers people to and takes them away from Siam. Although it isn't a traditional part of Bangkok, Siam has been modernized with tourists and locals in mind. Siam is a very popular area to stay in Bangkok and hotels get booked up quickly.
Best place to stay in Siam
Siam@Siam Design Hotel. Address: Opposite National Stadium 865 Rama I Rd, Khwaeng Wang Mai, Khet Pathum Wan, Krung Thep Maha Nakhon 10330, Thailand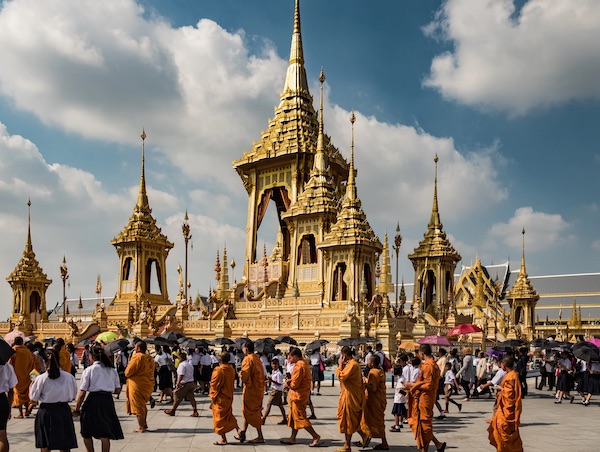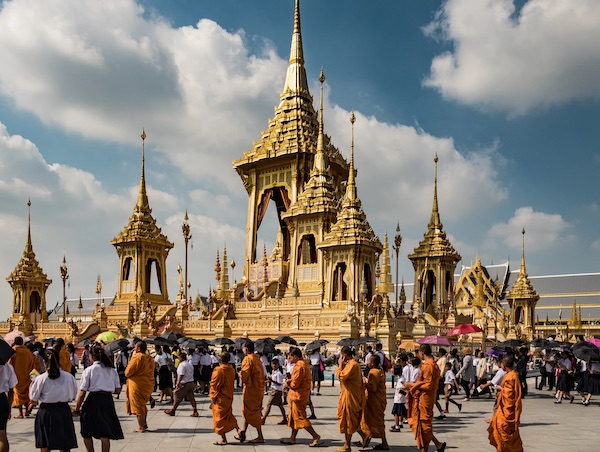 Khao San
If you are looking for a traditional part of Bangkok to base your stay, then Khao San is the place to book accommodation. Khao San is Bangkok's Old Town and a walk down the street takes you back in time. Some of Bangkok's best, most historic attractions can be found here. Culture vultures will love visiting Wat Pho, The Grand Palace and Wat Phra Kaew.
Budget travels tend to migrate to Khao San. As the city's historic area, it offers cheaper accommodation, which is popular with backpackers. There are plenty of bars and restaurants to explore and the nightlife is second to none. Some claim that Khao San has the best nightlife in all of Bangkok. This is due to the diverse collection of individuals from the world over that the area attracts.
While Khao San may not be the best area to stay in Bangkok for families, it is perfect for solo travelers or groups. Eating meals from street stalls, drinking cocktails in the bars, and dancing the night away in the clubs is an appealing option for many 20-somethings that visit the area.
Best place to stay in Khao San
Samsen Street Hotel. Address: Soi Samsen 6, 10200 Bangkok, Thailand.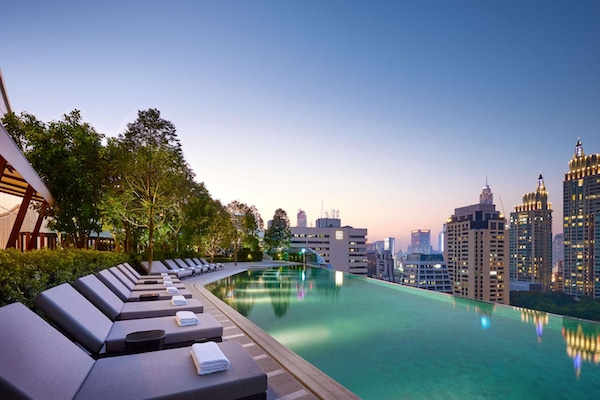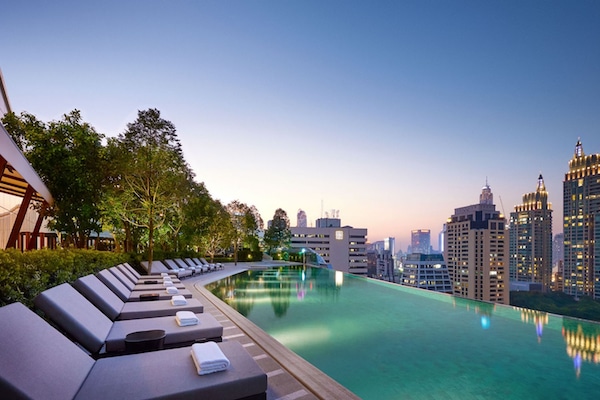 Where critics stay in Bangkok
Want to know where travel critics from publishers like The New York Times, Frommer's, Fodor's and Lonely Planet stay in Bangkok? Check out our overview of all recommended hotels, hostels and B&Bs in Bangkok.
Budget
"The Yard Hostel is an attractive and funky collection of container dorms and rooms located in one of the backstreets of Ari, a hip residential quarter near the famous Chatuchak weekend market. The garden and common areas make this hostel a great place to socialize for solo travelers." — Telegraph.
Address: 51 Phahonyothin Soi 5, Phahonyothin Rd., Phaya Thai, 10400 Bangkok, Thailand.
Mid-range
"The place is crammed with curios, ranging from the intriguing (retro typewriters) to the downright kooky (cheetah skulls). It's got character to burn, not to mention a rooftop pool, a restaurant serving Isaan and Lao cuisine, and prime location just off of Sukhumvit Road." — The Guardian.
Address: 14, 29 Sukhumvit Rd, Khlong Toei Nuea, Khet Watthana, Krung Thep Maha Nakhon 10110, Thailand.
Luxury
"More than 100 years old, the Mandrin Oriental's Author's Wing retains its magical aura with its picturesque parlors, each named for a scribe they once hosted, including the likes of Somerset Maugham, Joseph Conrad and Ernest Hemingway." — CNN.
Address: 48 Oriental Ave, Khwaeng Bang Rak, Khet Bang Rak, Krung Thep Maha Nakhon 10500, Thailand.
FAQ: Bangkok hotel recommendations
If you're looking for a budget, boutique, or luxury hotel in Bangkok, or maybe your travel plans require a splendid hostel? Want to know which hotel serves the best breakfast? Here are all those answers and more about where to stay in Bangkok.
What is the best budget hotel in Bangkok?
If you're looking for a cheap hotel in Bangkok, then try Hotel Riva Arun. It's an excellent budget hotel offering great value for money. It's in a good location, it's been recommended by travel experts and the hotel has excellent customer reviews. Also check out our list of the best cheap hotels in Bangkok.
What is the best luxury hotel in Bangkok?
If money isn't a problem and you're looking for a luxury hotel in Bangkok, then go for Mandarin Oriental Bangkok. The hotel offers excellent service, it's in a top location, it has been rated very highly by previous guests and renowned travel critics have recommended it. Make sure you check our shortlist of the best luxury hotels in Bangkok, it's a manually curated list of the most exclusive 5-star hotels in the city.
What is the best hostel in Bangkok?
If you're looking for a great hostel in Bangkok, then you should check out Hostel Lub D Siam. The hostel has magnificent reviews by backpackers, it has been recommended by well-known travel experts and it's in a good location. Also check out our list of best hostels in Bangkok.
What is the best boutique hotel in Bangkok?
You like some luxury but don't like the famous chain hotels. If you're looking for the best boutique hotel in Bangkok, you should check out Cabochon Hotel. It's a very cool hotel that has been highly recommended by travelers and experts. Make sure you check our shortlist of the best boutique hotels in Bangkok, it's a manually curated list of the most unique and romantic hotels in the city.
Which Bangkok hotel offers a great rooftop bar or rooftop restaurant?
Looking for a great view while having your dinner or drinking a pint? Siam@Siam Design Hotel has a great rooftop bar, while the Cabochon Hotel & Residence offers an excellent rooftop swimming pool and Hotel Riva Arun offers a fabulous rooftop restaurant. It's not a hotel but the Sky Bar offers probably the best views of Bangkok.
Which Bangkok hotel offers the best views?
You can get some of the best views of Bangkok from Inn A Day Hotel and Hotel Mode Sathorn. It's not a hotel but the Sky Bar offers probably the best views of Bangkok.
How much does it cost to stay in a Bangkok hotel?
Hotels are relatively cheap in Bangkok compared to other major cities in the world. For a 3-star hotel in Bangkok, you'll pay around $45 per night. A 4-star Bangkok hotel will cost you approximately $85 a night and a luxury 5-star hotel will cost around $165 per night.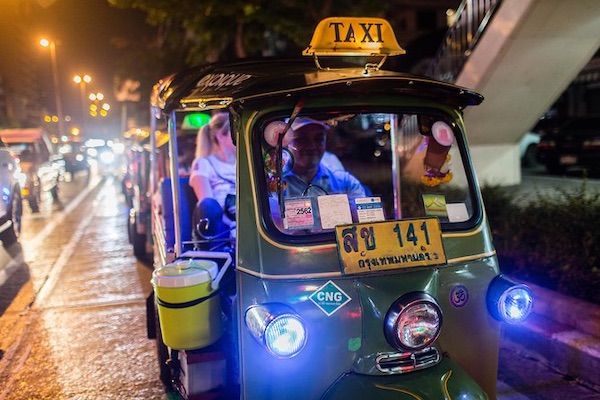 Best things to do in Bangkok
There are a lot of things to do in Bangkok and surrounding areas, including day trips, attractions, museums, sightseeing tours and many other activities. Here's our list of 3 things you should definitely do when you're in and around Bangkok:
Bangkok by Night: Temples, Markets and Food by Tuk-Tuk
This award-winning night tour by tuk-tuk provides a great introduction to Bangkok for first-time visitors, but it also showcases a side of the city that most repeat visitors haven't seen. Price: $74. More info.
Damnoen Saduak Floating Market & Maeklong Train Market Tour
Enjoy the unique experience to reach the iconic Maeklong Railway Market (umbrella pulldown market) by taking a local train. Then, visit Damnoen Saduak, the most famous floating market in Thailand filled with colorful boat vendors to explore. Price: $31. More info.
6-Hour Best of Bangkok City Tour including Lunch
See the top sights in Bangkok with a professional guide who shares key details about each place you visit along with the history of Thailand's capital city. Price: $96. More info.
Deciding where to stay in Bangkok
In conclusion, this travel guide has covered the best areas and hotels in Bangkok and how to get around. Now it is up to you to decide which area suits your needs the most.
Top 5 areas to stay in Bangkok
Siam
Khao San
Silom
Thonglor
Sukhumvit
As you have seen in this travel guide, there are a lot of things to explore, and deciding where to stay in Bangkok is important. Whether you stay in Siam, Khao San, Silom, Thonglor or Sukhumvit, all those neighborhoods are in good locations.
The atmosphere of the area, whether you travel for leisure or business, whether you travel with your family or friends, and proximity to the attractions you prefer to visit should probably be the deciding factors. Whatever your preference is, you'll have a great time in Bangkok.
Check out our other articles about staying in Bangkok:
Best boutique hotels in Bangkok