Bangkok, Thailand, is an immensely popular city to visit. As the capital, Bangkok has a bustling atmosphere and plenty of historical and cultural sites to visit, including palaces, temples, parks, museums, and shopping districts; all of this makes Bangkok one of the most heavily visited metropolises in the world every year.
Some of the most popular places to visit are the Chatuchak Weekend Market, the Temple of the Reclining Buddha, the Jim Thompson House, Siam Square, Lumpini Park, and the Temple of the Emerald Buddha Big Palace. In general, Bangkok has a wide array of things to do and therefore appeals to a very diverse group of tourists.
On top of all this, Bangkok is an affordable city to visit and serves as a logical starting point to explore the rest of Thailand. Although there are tons to experience at any time of the year, you may also consider booking a trip to Bangkok during one of the several festivals it hosts. Many people opt to visit Bangkok between November to February, as it is a drier and cooler climate than the rest of the year. The crowds might be a bit thicker, but the weather will be worth it.
Its delicious street food, vibrant nightlife, and open-air markets will easily fill your days. We're warning you, though: Bangkok is a busy city, so you'll need an awesome place to stay at night when you get ready for the next day's adventures. You can book a room at one of the many hotels in Bangkok, including sustainable hotels, to make the most of your trip to Thailand.
Bangkok Tree House
First on our list of sustainable hotels is Bangkok Tree House, a beautiful place just ten minutes from the Bang Nam Pheung Floating Market and 15-minutes from Central Bangna Shopping Mall. Treehouse hotel gives you easy access to the city but more space to relax and unwind, especially since two rooms allow you to doze outside. The hotel is conveniently just a half hour from the airport.
Bangkok Tree House gives a very unique experience. Guests have the opportunity to sleep under the stars in one of the open air-rooms, or they can opt for the 'Bee Hive' room, a more traditional cozy hotel room; all have good WiFi. The place is decorated in a chic modern aesthetic; even from the outside, the design is stunning. On top of that, the hotel offers a free bike rental service and free ice cream all day. Reflect, the in-house restaurant, serves fusion Thai cuisine that gets high marks; dishes are prepared with organic ingredients. People flock to Bangkok Treehouse for a comfortable and unique experience very close to nature.
What makes Bangkok Tree House sustainable
Bangkok Tree House also has a lot going for it on the sustainability front. First, it's constructed of eco-friendly materials, and natural energy sources power the hotel. The walls are insulated with upcycled juice cartons, there is recycled wood throughout the structure, and wind and solar energy power many of the lights. Additionally, it composts kitchen wastes and uses many locally-sourced products.
Hotel details
Address: 
60 Moo1, Petchaheung Rd soi 26, Bang Nampeung, Phra Pradeang. Samutprakarn, 10130 Bangkok, Thailand.
Guest rating:
4.0 out of 5
Price per night:
From $80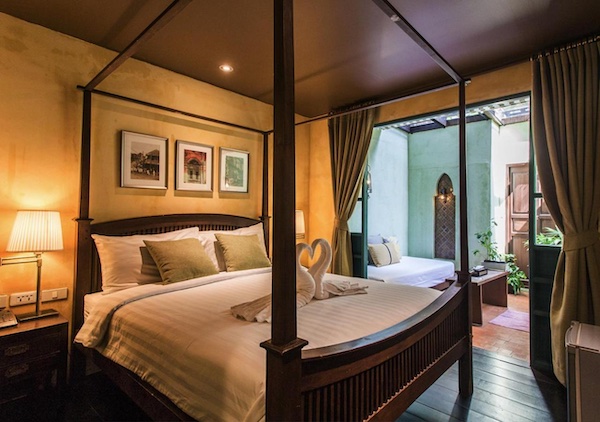 Old Capital Bike Inn
This quirky hotel is right in the middle of the bustling Thai capital, in the Phra Nakhon district. When you walk out of the Old Capital Bike Inn, you're close to many cultural and historical landmarks as well as delicious restaurants. It is just a 15-minute walk to the famous Khao San Road, known for tons of stores, restaurants, and hotels. Old Capital Bike Inn is also just five minutes from Golden Mountain, a Buddhist Temple, and Pann Fah Pier.
Old Capital Bike Inn is a beautifully designed hotel (unsurprisingly, it is inspired by rustic bikes) that houses ten differently-furnished rooms. The innovative design maximizes natural light, and personal touches fill the space, making it feel very cozy. An in-house café serves a yummy breakfast, which you can opt to have in your room. On top of all that, the hotel offers complimentary bike tours on Tuesday, Thursday, and Sunday nights, during which you can absorb the sights in Old Town Bangkok in the calm evening air. If you prefer to go sightseeing solo, you are welcome to use one of their bikes for free.
What makes Old Capital Bike Inn sustainable
This boutique hotel is in a refurbished building that uses energy-efficient lighting and appliances. Additionally, it has a recycling program in place, heats its water with solar energy, and uses salvaged materials in its decor. It's mindful of its waste, too; for example, bamboo is used for straws and ceramic bottles for shampoo and conditioner. All in all, Old Capital Bike Inn fits into the list of Bangkok's most eco-friendly hotels, from biking-centered activities to shampoo bottles.
Hotel details
Address: 
609 Pra Sumen Road, Pra Nakhon, Bangkok, 10200 Bangkok, Thailand.
Guest rating:
4.7 out of 5
Price per night:
From $72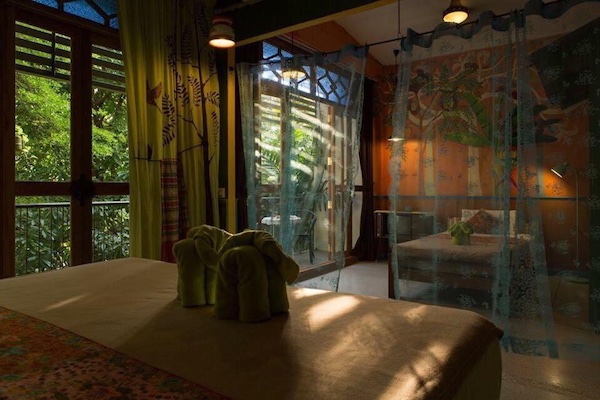 Phranakorn Nornlen
Phranakorn Nornlen is a quaint boutique "shabby-chic" hotel that completely embraces an eco-friendly philosophy, which we will talk more about below. If you stay here, you'll be close to the Grand Palace, China Town, the temple of the Reclining Buddha, Khaosan Road, and more. It's a little off the beaten path which makes for a calm stay amongst the hustle and bustle of Thailand's capital.
Phranakorn Nornlen has a variety of room setups to pick from and offers a delicious breakfast. Rustic charm fills the guesthouse, and every single room is different, although they all have beautiful dark wood floors and large windows. Its in-house café gets high marks, especially for fresh smoothies and fresh salads. From your room, you'll hear the sounds of nature rather than the sounds of traffic, and you can also enjoy some chill time in the lovely courtyard.
What makes Phranakorn Nornlen sustainable
It has many things going for it on the sustainability front. First, it has a rooftop garden where the kitchen gets most of its herbs; this space is also used as a workshop space for people studying urban farming. The hotel also finds its products from local vendors and chooses them partly based on their treatment of the planet and animals. Amazingly, the hotel even has its own laboratory where they make sustainable products such as shampoo, cleaning supplies, and soap, as well as having a shop where goods from local artisans are sold. The list of eco-friendly initiatives goes on and on at this hotel!
Hotel details
Address: 
46 Thewet soi1 Krungkasem Rd, Bangkhunprom Phranakorn, Dusit, 10200 Bangkok, Thailand.
Guest rating:
4.6 out of 5
Price per night:
From $22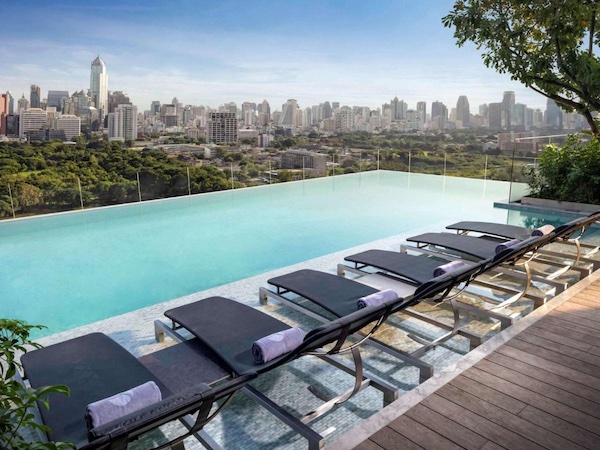 SO/ Sofitel Bangkok
One of Bangkok's other sustainable hotels is SO Sofitel, which lines the beautiful green space of Lumpini Park. Many rooms offer gorgeous views of the park. This central location gives easy access to public transportation, so guests can conveniently reach the heart of the city and different attractions from this eco-friendly hotel.
This luxury hotel is popular for its serene interior design, part of which is inspired by creative interpretations of earth, water, wood, metal, and fire, which come together to create an elegant aesthetic. Rooms have smart TVs, free WiFi, and well-equipped bathrooms with a rain shower and bathtub. SO Sofitel also has a high-end spa, SoSpa, designed to feel like a forest, and guests can relax even more in the outdoor swimming pool and hot tubs. RedOven, the in-house restaurant, boasts traditional market-style recipes with a modern twist. Lastly, guests love the HI-So Rooftop Bar, which gives a stunning view of the sparkling city lights below.
What makes SO/ Sofitel sustainable
As one of Bangkok's eco-friendly hotels, SO Sofitel has several initiatives in place to be green. For example, they are teamed up with a locally-based environmental consulting firm in order to make the Food Waste Prevention Programme. Just one year after its launch, food waste went down from 13,000 to 4,000 kilograms, which demonstrates how serious they are about their sustainable mission.
Hotel details
Address: 
2 North Sathorn, Bangrak, Bang Rak, 10500 Bangkok, Thailand.
Guest rating:
4.4 out of 5
Price per night:
From $140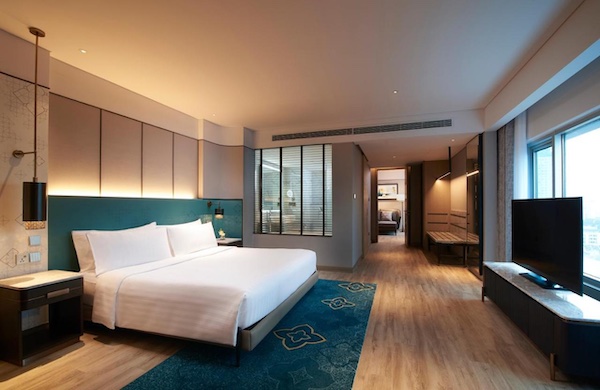 Amari Watergate
Last but not least on our list of sustainable hotels in Bangkok is the very highly-rated Amari Watergate Hotel, located in the vibrant Pratunam neighborhood. Amari Watergate has everything, from top-tier service to a great location. Just outside the hotel, you'll find tons of shopping, Bangkok Old Town, and the Erawan Shrine. You can easily reach popular neighborhoods such as Thonglor by train.
This-five star hotel gives everything you need and more. A warm aesthetic fills the rooms, and unique Thai touches are everywhere. Amazingly, every room has floor-to-ceiling windows that let in an abundance of natural light. Amari Watergate has plenty of dining options, including the Amaya Food Gallery featuring live cooking stations of Asian foods, Prego, a luxury Italian eatery, and an upscale wine bar. Additionally, guests have a complimentary breakfast, a new swimming pool with a bar, and a fitness center.
What makes Amari Westgate sustainable
At Amari Watergate, there have been some recent changes to lessen their environmental footprint. For example, LED lights replaced thousands of standard bulbs, and solar-powered air-conditioning units replaced the old units. Additionally, they use glass as opposed to plastic water bottles. These initiatives have reduced their water consumption by 12% and electricity consumption by 10%. Amari Watergate goes outside the hotel for its mission, too—in the local community, the hotel organizes cleanup days and only works with local suppliers.
If you're a green-minded traveler, Bangkok is a perfect destination. You can see much of the city on foot or using public transportation, and as you now know, there are many sustainable hotels to book for your trip.
Hotel details
Address: 
847 Petchburi Road, Rajthevi, Pratunam, Phayathai, 10400 Bangkok, Thailand.
Guest rating:
4.2 out of 5
Price per night:
From $109
How we select the best eco-friendly hotels in Bangkok
We are a travel research company. We check a lot of details and guest reviews before making a selection. First, we check which hotels follow eco-travel principles. Are they recycling their waste? Do they work with local communities? Are they using renewable energy? Are they not using single-using plastics?
Secondly, we check guest reviews across multiple websites and only list hotels which have an aggregated review rating of at least 4 out of 5. So you can be certain you will be staying at an excellent eco-friendly hotel in Bangkok.
Sustainable travel is becoming increasingly popular and important as we strive to reduce our carbon footprints. There are many easy ways to reduce your impact while traveling, from choosing eco-friendly accommodations to respecting the local wildlife. Here are some of the most important tips for sustainable travel.
More Bangkok guides
Get to know the city even better by reading our other articles about Bangkok: