In South America, there are a few cities that captivate tourists and locals alike. These cities are powerhouses in the global economy and have rich cultures that are there to be explored. Brazil is the biggest country in South America, and Rio de Janeiro is the cultural epicenter of the country.
Rio has been seen by the world thanks to the FIFA World Cup and the Olympics, but there is far more to the city than those cameras can portray. With a rich culture and bustling streets, Rio de Janeiro should be on the bucket list of every world traveler.
Especially if you are from North America or Europe, it can be quite expensive to travel here. Every expense adds up, so you will need to cut down on certain costs to enjoy it all. So, here are the three best cheap hotels in Rio de Janeiro.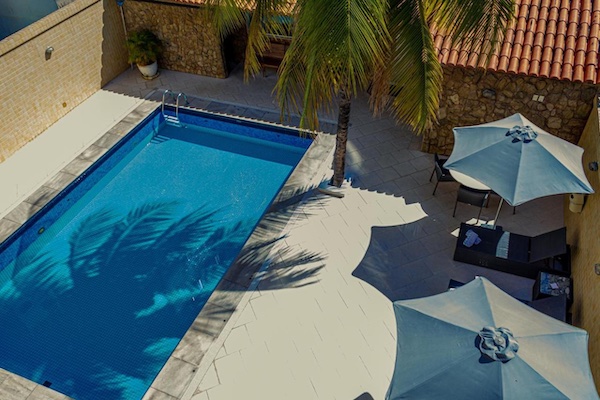 Riale Imperial Flamengo
First up is the Riale Imperial Flamengo. This is a basic hotel for those who need nothing fancy, but something that is still clean and steady. They spare you with the bells and whistles, but it is good enough to stay in on a budget. After all, if the goal is to save money, you shouldn't need anything fancy.
However, this is far from a dump. The Riale Imperial Flamengo has nice decor and an outdoor pool. This is a pleasant perk for those warm summer days. Some rooms even have their own hot tubs and minibars. These are cool amenities that come along with the stay.
The physical location is not bad, as you will be within walking distance of a couple of beaches. Plus, you will be just a few hundred feet from a train station. Connecting yourself with the rest of Rio could not be easier.
There are a few hotel room types being offered here. To save the most money possible, go with a standard room. If you want a bit more room or one with a hot tub, upgrade to a suite for the maximized experience.
Hotel details
Address: 
Rua do Catete, 186, Catete, Rio de Janeiro, CEP 22220-000, Brazil
Guest rating:
4.2 out of 5
Price per night:
From $30
Hotel Ferreira Viana
The next budget location is the Hotel Ferreira Viana. This is not a glamorous hotel, but it can get the job done when in a pinch. The rooms are basic, and the price is low, so you cannot ask for too much more than that. You will have free wifi, air conditioning, and everything you need for a simple hotel stay included. Although the rooms may be small, you will have access to everything necessary for a good experience.
This is the ultimate budget hotel because there are no suites or major upgrade options. There is a single room, double room, and triple room. There is even a small single room to save the most money possible. So, if you are good with the bare basics, look no further.
Finally, there is the physical location. Although it is not super close to the touristy areas of Rio, there are a few hotspots worth mentioning. You will be within walking distance from Flamengo Beach, Guinle Park, Palace of the Republic Museum Catete, and much more. If you want to visit some of the more well-known locations, you will probably need to take a taxi.
Hotel details
Address: 
Rua Ferreira Viana 58 Flamengo, Flamengo, Rio de Janeiro, CEP 22210-040, Brazil.
Guest rating:
4.3 out of 5
Price per night:
From $20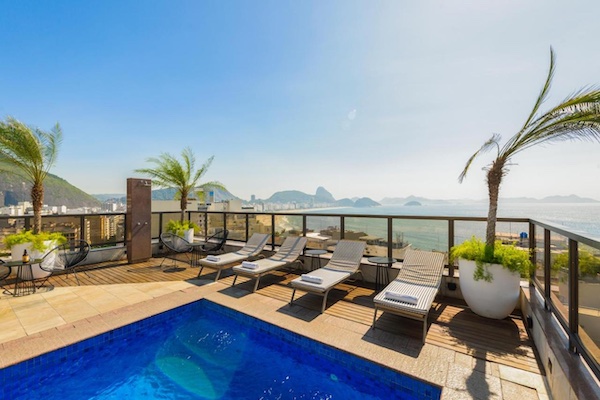 B&B Hotels Rio Copacabana Posto 5
We end our list with the B&B Hotels Rio Copacabana Posto 5. This is a far more modern and luxurious option compared to the others. However, it still comes at a reasonable price, so you will not go broke on behalf of your hotel choice.
One of the unique factors is the outdoor swimming pool and terrace that has awesome views of the coast. This is the perfect place to relax and cool off on a hot day. Plus, it adds a ton of value to your stay. This is a type of value not found with a majority of offerings in the area.
There are also some upgrades you can make to the living situation. There are standard and small rooms, but there are also deluxe and superior rooms. These have better amenities, great views, and a bit more room to relax with loved ones.
It is also important to talk about the location. You can walk to Galeria River, Peter Pan Park, Devil's Beach, and a ton of other hotspots with almost no effort. This is a great location in order to explore Brazil and enjoy every minute you spend here.
Hotel details
Address: 
Av. Nossa Sra de Copacabana, 1256, Copacabana, Rio de Janeiro, CEP 22070-012, Brazil.
Guest rating:
4.3 out of 5
Price per night:
From $27
About our budget hotel recommendations in Rio de Janeiro
We are a travel research company. Our team helps you discover the best cheap hotels in Rio de Janeiro by researching the internet for you. We have also visited some of these places. Hence, it's not just our opinion, it's the opinion of thousands of travelers who have been there before you. We make it easy for you to find out about the best budget hotels in the city.
Please note, we only list hotels that have an aggregated guest review rating of at least 4.0 out of 5. We aggregate all reviews from different booking sites and other unbiased review websites. Any hotel listed here should have a price of $100 or less per night. Hence, you can be certain all hotels listed above offer you a great and affordable stay in Rio de Janeiro.
Lowest price guarantee
We partner with Booking.com and Hotels.com. Both booking websites offer the lowest price guarantee, so you can be certain you will always get the best deal for the hotels above. If you have seen a better price elsewhere, all you need to do is contact the booking website, and they will refund you the difference immediately. You can price match right up until the day before check-in.
We also recommend you read our guide about how to save money on hotel bookings. It's a list of tips about when you should book a hotel, what tools you can use, and other things you can do to find your preferred hotel at an affordable price.
Top 3 budget hotels in Rio de Janeiro
Let's summarize this affordable travel guide. Based on thousands of guest reviews, these are the best budget hotels in Rio de Janeiro:
More Rio de Janeiro recommendations
Get to know the city even better by reading our other articles about Rio de Janeiro:
Best luxury hotels in Rio de Janeiro
Where to stay in Rio de Janeiro
Best hostels in Rio de Janeiro
Best boutique hotels in Rio de Janeiro