Rio de Janeiro is an electric city well-known for its friendly locals, tropical setting, stunning beaches, and buzzing year-round nightlife and festivals. With a mix of settlers over time, including Portuguese, Indians, Japanese, and Germans, Rio is a cosmopolitan blend and a very exciting destination for travelers.
Rio de Janeiro has it all in many ways, from huge mountains for hiking, to international cuisine and great shopping. With famous landmarks such as Christ the Redeemer atop Mount Corcovado, the mosaic stairway Santa Teresa, Sugar Loaf Mountain, the Feira Hippie de Ipanema market, and so much more, you'll have plenty to fulfill your sightseeing desires. When you want to sunbathe and relax, you can head to the white-sanded Ipanema and Copacabana beaches or Tijuca National Park, the largest urban rainforest.
The best time to visit is December–March because the weather is perfect for beach days. For milder temperatures, visit during other times of the year. Additionally, if you go in February, you can experience the one-of-a-kind Carnival, a four-day festival that leads up to Fat Tuesday and is full of massive parties and parades.
As one of the most visited cities in the Southern Hemisphere, Rio has a massive tourism industry. With that comes a wide variety of hotels, tours, and more that travelers can choose from. This article will focus on the most sustainable hotels in Rio for those looking to be the most responsible travelers possible.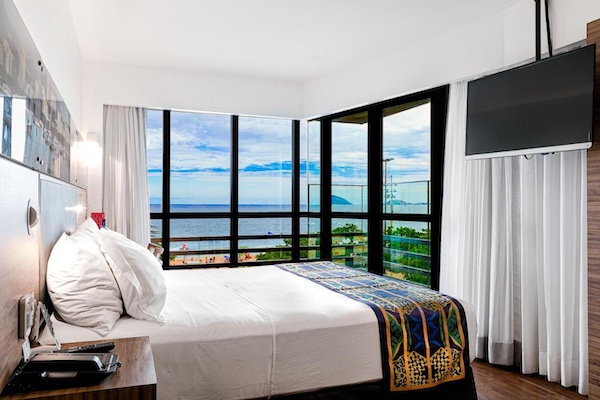 Arena Leme Hotel
Let's start with Arena Leme Hotel, located in a serene neighborhood. The hotel faces the beach, and you're very close to many cafés, restaurants, and kiosks along a beautiful and quiet stretch of Copacabana beach. It's a very quick walk to the water, so if you're going to Rio to sunbathe all day, this hotel is a great option. Additionally, although you're not in the city center, you can easily take a car and get to the most popular attractions in just a few minutes, including Sugar Loaf and Corcovado Mountains.
This hotel gets excellent ratings for its luxury amenities, comfy rooms, and amazing view. Most rooms have awesome views of the ocean and are thoughtfully decorated. There is free WiFi, 24-hour room service, a fridge, a flat-screen TV, and bathroom amenities in each room. Additionally, there is an in-house sauna, rooftop pool and bar, and fitness center. Otaviana, the hotel's restaurant, has a daily complimentary breakfast buffet; you can also enjoy international and Brazilian cuisine for lunch or dinner if you don't feel like going out.
What makes Arena Leme Hotel sustainable
What exactly makes Arena Leme Hotel one of the most sustainable hotels in Rio? For starters, the hotel partners with Zero Waste Movement to collect and properly separate waste. Bathrooms have an advanced shower system to save as much water as possible—shower water is treated and recycled. LED lighting is used throughout, and many use motion sensors, so they aren't being used all the time.
Hotel details
Address: 
Av. Atlântica, 324 – Leme, Leme, Rio de Janeiro, CEP 22010-010, Brazil.
Guest rating:
4.4 out of 5
Price per night:
From $105
Belmond Copacabana Palace
Next up is Belmond Copacabana Palace which boasts direct access to Copacabana Beach. Of course, the beachside location is awesome, but you're also close to plenty of other stuff. As it is right along Avenida Atlantica, you can enjoy nearby restaurants, shopping, and public transportation to get into other neighborhoods of the city easily. You'll also be pretty close to Sugar Loaf Mountain and Corcovado Mountain, where the iconic Christ the Redeemer statue is.
This 5-star hotel spares no luxury. Rooms are spacious and beautifully decorated with unique artwork and antique furniture. Many rooms have private balconies overlooking the sea. As far as eating options, you can dine at the Michelin-rated restaurant Mee, which serves Asian cuisine, Michelin-rated Italian joint Ristorante Hotel Cipriani, or experience authentic South American dishes at Pérugla. Finish off any night at the buzzing Piano Bar. Belmond also has a great spa, pool, indoor tennis court, fitness center, and beachfront facilities such as lounge chairs. Overall, guests are pampered at this high-end beachfront resort—in fact, celebrities and other A-listers are known to frequent the place.
What makes Copacabana Palace sustainable
As one of Rio's more eco-friendly hotels, Copacabana Palace has a number of green initiatives. For example, the hotel runs completely on renewable energy, purchases food from sustainable suppliers, and supports different local charities through fundraisers. Belmond has also opted to undergo a UK-based Sustainable Restaurant Association test. If you're looking for an all-in-one luxury Rio experience that has an eco-friendly philosophy, Belmond is your place.
Hotel details
Address: 
Av. Atlântica, 1702 – Copacabana, Rio de Janeiro – RJ, 22021-001, Brazil.
Guest rating:
4.7 out of 5
Price per night:
From $245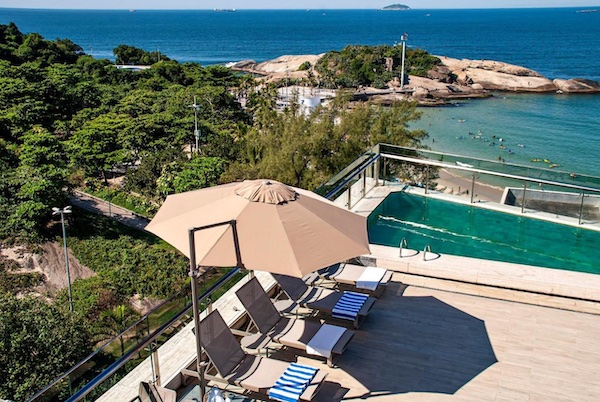 Arena Ipanema
Arena Ipanema is in a super trendy area of Rio, only 100 meters from the shore of Ipanema Beach. If you want to admire the surrounding natural beauty, check out the Garota de Ipanema Park and the Praia do Diabo Park, which is just a few minutes' walk away. You're also fairly close to nearby Copacabana Beach. Finish off the day by watching the sunset from the nearby sport Arpoador rock before heading out to a lively nearby bar!
This hotel has plenty of amenities at a more affordable price and a fantastic location. The rooms are chic and have flat-screen TVs and free WiFi, and all units either have a view of Garota de Ipanema Park or Francisco Otaviano Street. On the rooftop (which is actually split into two levels), there is a pool, fitness center, and sauna. Additionally, the hotel offers a free delicious breakfast and room service. You'll have everything you need while you're at the hotel and will enjoy a vibe of laid-back elegance. Of course, chances are you will spend a ton of time at the beach since you're just steps away from it!
What makes Arena Ipanema sustainable
This is another Arena hotel and therefore has similar sustainable initiatives as the Arena Leme Hotel mentioned above. This property also partners with Zero Waste Movement, which aims to reduce waste to zero. Additionally, the showers have water-saving features, and water is treated for reuse. It also controls the consumption of laundry and only uses LED technology. This hotel gives you serious bang for your buck while still having all the Rio staples—rooftop pool, good breakfast, and proximity to the beach—plus all the eco-friendly perks.
Hotel details
Address: 
R. Francisco Otaviano, 131, Ipanema, Rio de Janeiro, CEP 22080-040, Brazil.
Guest rating:
4.3 out of 5
Price per night:
From $118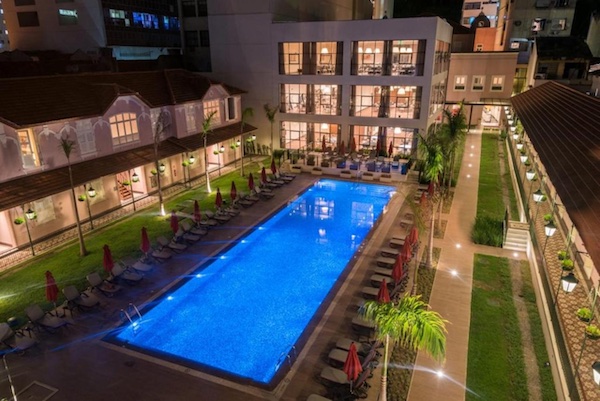 Vila Galé
Next up on our list of most sustainable hotels is Vila Galé Rio de Janeiro, located in the historic city center Bairro da Lapa quarter. Outside the hotel, you'll be immersed in a bohemian atmosphere with musicians and artists. For sightseeing, stroll up to the Arcos da Lapa and the Escadaria Selarón steps. You're also close to the stunning São Sebastão Cathedral, the Museum of Image and Sound, and the Municipal Theater. Make sure to venture outside the hotel, especially in the evening, as you're close to countless busy bars, including the famous Rio Scenarium.
Vila Galé is a unique place to stay as it has two distinct wings. The Collection Wing is in a restored 19th-century palace, and the Lapa Towers Wing is a 13-floor tower decorated in a more modern aesthetic. Overall, the hotel embraces Portuguese-Brazilian culture through its decor. On top of its charm, guests can take a dip in the outdoor pool, relax in the Satsanga spa, or hit the gym. Additionally, the rooms are very comfortable with free WiFi, a bathroom stocked with personal care products, a minibar, and 24-hour room service. Although you're in a great spot to go out, you can also enjoy the Massa Fina Restaurant, the Versatil Restaurant, the in-house bar, and the pool bar.
What makes Vila Gale sustainable
What makes this one of the best eco-friendly hotels? First, it invests some of its revenue into the community through sustainability-focused projects. Single-use plastic containers are not used, including shampoo and conditioner bottles, plates, forks and knives, cups, and straws. Showers and toilets are water efficient. There is also a robust recycling program, and the property makes efforts to reduce food waste.
Hotel details
Address: 
Rua do Riachuelo,124, Downtown Rio de Janeiro, Rio de Janeiro, CEP 20230-014, Brazil.
Guest rating:
4.5 out of 5
Price per night:
From $67
Windsor Leme
Sitting along the beautiful Leme Beach is Windsor Leme, one of Rio's eco-friendly hotels. It's conveniently located on Avenida Atlantica, right across from the Copacabana shore, so you get the best of both worlds. Right outside the hotel you'll find a lot of restaurants, shops, and bars. Additionally, nearby landmarks such as Forte Duque de Caxias, Sugar Loaf Mountain and Leme Palace.
The rooms have a modern vibe—think wooden accessories and contemporary style—and many offer stunning ocean views. There is a delicious breakfast buffet as well as an in-house restaurant, Bistrot du Leme, which serves both local and international cuisine. One of the best parts of this hotel is its stunning rooftop pool, which overlooks the ocean. Lastly, while many hotels have fitness centers, Windsor Leme gets especially good reviews for its gym amenities.
What makes Windsor Leme sustainable
Let's talk about sustainability at the Windsor Leme hotel. First, you're located in a great place on the map for walking, so you can avoid taking a car. They don't use any single-use plastic stirrers, straws, drink packaging, or plates. Additionally, there are water fountains throughout the hotel and convenient recycling stations. On top of just serving yummy meals, Bistrot du Leme also primarily uses local ingredients. Make sure to pick Windsor Leme or one of the other great sustainable hotels in Rio for your awesome trip!
Hotel details
Address: 
Avenida Atlântica, 656, Leme, Rio de Janeiro, CEP 22010-000, Brazil.
Guest rating:
4.4 out of 5
Price per night:
From $81
How we select the best eco-friendly hotels in Rio de Janeiro
We are a travel research company. We check a lot of details and guest reviews before making a selection. First, we check which hotels follow eco-travel principles. Are they recycling their waste? Do they work with local communities? Are they using renewable energy? Are they not using single-using plastics?
Secondly, we check guest reviews across multiple websites and only list hotels with an aggregated review rating of at least 4 out of 5. So you can be confident you will stay at an excellent eco-friendly hotel in Rio de Janeiro.
Sustainable travel is becoming increasingly popular and essential as we strive to reduce our carbon footprints. There are many easy ways to reduce your impact while traveling, from choosing eco-friendly accommodations to respecting the local wildlife. Here are some of the essential tips for sustainable travel.
More Rio de Janeiro recommendations
Get to know the city even better by reading our other articles about Rio de Janeiro:
Luxury hotels in Rio de Janeiro
Where to stay in Rio de Janeiro
Boutique hotels in Rio de Janeiro