Rio de Janeiro sprawls from the inside out. It is a massive Brazilian city and a tourist destination that offers everything you could want from a South American country.
Rio de Janeiro's size and diversity in its neighborhoods give it a feeling of being a large city with small towns inside of it. The diversity on offer makes it a great city to spend a short break or extended holiday in.
The South American city has cool museums, hipster hotspots for nights out, and beautiful beaches like no other country. If you want to visit Rio de Janeiro, choose your base area carefully as each has so much to offer on a visit.
Copacabana
Rio de Janeiro's Copacabana neighborhood is so famous, there was a song written about it. It is one of the most popular areas to stay on a trip to the Brazilian city and perfect for first-timers. Copacabana was at its height during the 1950s, 1960s, and 1970s, and was the destination for travelers and locals seeking luxury.
Today, Copacabana doesn't have the same luxury feel it exuded a half-century or more ago. However, it is still a must-visit location where locals and tourists go to get some Brazilian beach sun.
The beach is the reason to go to Copacabana. It goes right up to the promenade and you can be sitting on its sands in no time – if you can find space. The beach is two-and-a-half miles of shore, but keep in mind, on beautiful Brazilian days, it gets filled up quickly with people.
It is wise to show up before the tourists. So, get to Copacabana early and stroll the nearby streets, boutiques, and stalls. If you want to get away from the beach, ascend the Morro do Leme. The large hill provides great views out across the waters.
Best place to stay in Copacabana
Belmond Copacabana Palace Hotel. Address: Av. Atlântica, 1702 – Copacabana, Rio de Janeiro – RJ, 22021-001, Brazil.
Cheaper alternative:
Hotel PortoBay Internacional. Address: Av. Atlântica, 1500 – Copacabana, Rio de Janeiro – RJ, 22021-000, Brazil.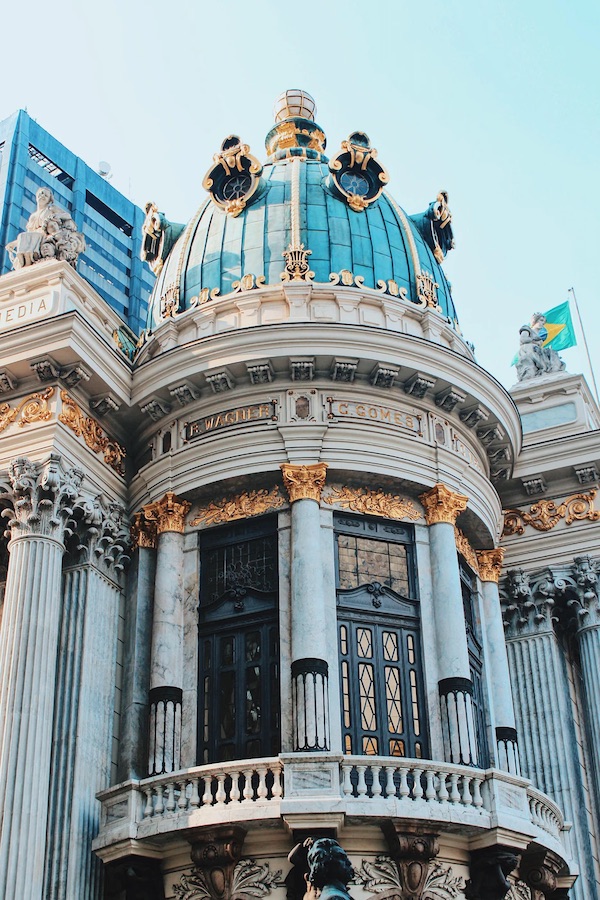 Centro
As the name suggests, Centro is in the center of Rio de Janeiro and is the meeting point for some of the city's best museums. You will find a variety of museums in Centro as it is a historical and cultural epicenter. Culture vultures shouldn't miss the chance to stay in accommodation in Centro. It will allow you to reach the best museums in the shortest amount of time.
Centro isn't just the location for the best museums in Rio de Janeiro. The neighborhood is the business and financial district. While it is now an area filled with movers and shakers, Centro used to be the heart and soul of the city. Due to its past as the center of Rio, Centro is dotted with gorgeous architecture from Portugal's colonial time in Brazil.
Staying in Centro means you are in close proximity to Rio de Janeiro's best tourist attractions. Two of the most famous attractions are the Candelaria Church and the Museum of Tomorrow. Both are must-see venues.
Although it is filled with museums and close to great tourist attractions, Centro is very affordable. If you are on a budget, the neighborhood is the place to book your hotel, Airbnb, or apartment.
Best place to stay in Centro
Casa Nove Hotel. Address: Rua do Riachuelo, 105 – Centro, Downtown Rio de Janeiro, Rio de Janeiro, CEP 20230-010, Brazil.

Botafogo
Rio de Janeiro's Botafogo neighborhood combines culture, beaches, and outside space perfect for families looking for a bit of everything. A stay in Botafogo means you are near one of Rio de Janeiro's top tourist attractions, Sugarloaf Mountain, which is situated nearby at Guanabara Bay.
You are spoiled for choice when staying in Botafogo. There are restaurants, malls, cinemas, hipster cafes and bars, and plenty more. There is also a beach. You can pack your days full of exciting activities with the family and don't even have to travel to another part of the city seeking adventure.
Botafogo's popularity is growing. It has been labeled as Rio de Janeiro's rising star. Think of it like Brooklyn in New York City, where gentrification has led to a hipster renaissance of the area. Botafogo is in the same boat.
As Rio de Janeiro continues to grow and gentrification moves into other neighborhoods around the city, you may look at Botafogo's rival, Flamengo. While Botafogo is thriving post-gentrification, Flamengo is still in the early stages of a rebirth. You may save on cash staying in the area, but unlike Botafogo, it may not be great for families.
Best place to stay in Botafogo
Yoo2 Botafogo by Intercity. Address: Praia do Botafogo, 242 , Botafogo, Rio de Janeiro, CEP 22250-145, Brazil.

Santa Teresa
If it is nightlife you want to enjoy on your trip to Rio de Janeiro, then book your accommodation in Santa Teresa. Santa Teresa has a Bohemian atmosphere thanks to the artsy, creative types that make the area home. The neighborhood is next to Centro, which means you can stay in Santa Teresa and reach the best tourist attractions in the areas around it.
Santa Teresa is an older neighborhood where locals have lived for generations. It has beautiful homes and large mansions filled with Rio de Janeiro's old money. Rio de Janeiro is very different than other major cities in North America and Europe. Rather than move to the suburbs, the wealthiest individuals call the middle of the city home. Large colonial-era homes are on display when exploring Santa Teresa.
Accommodation in Santa Teresa resembles the local area. You can book a splendid Airbnb in the leafy neighborhood rather than a high-rise hotel block. Foodies and nightlife goers have a lot to love about Santa Teresa. Perhaps the only issue is it isn't close to the beach. The good news is Centro is nearby, allowing you to get to the museums quickly.
Best place to stay in Santa Teresa
Santa Teresa Hotel MGallery By Sofitel. Address: R. Alm. Alexandrino, 660 – Santa Teresa, Rio de Janeiro – RJ, 20241-260, Brazil.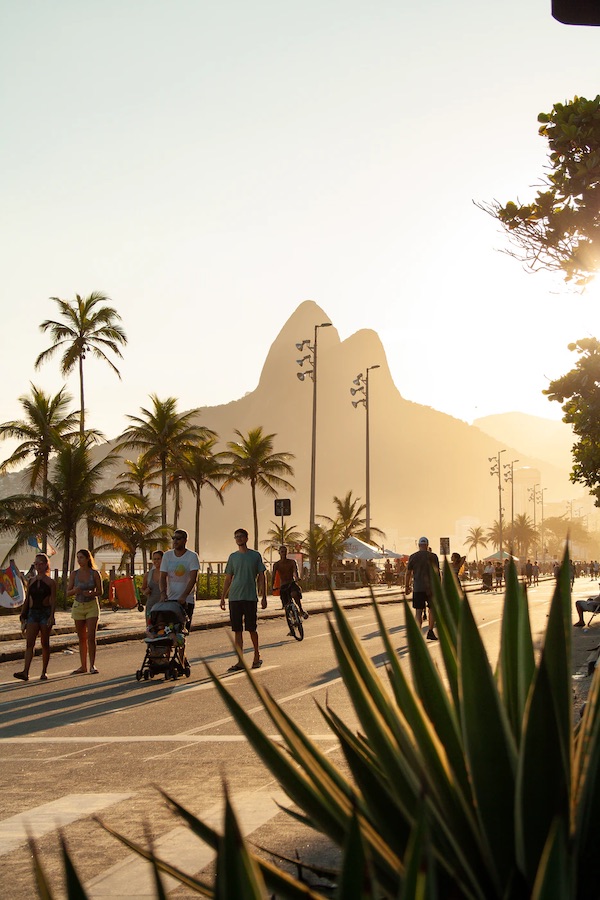 Ipanema
Copacabana isn't the only Brazilian beach to get a song written about it. Ipanema had a tune penned about it years ago. The song "A girl from Ipanema" is still heard around the world today. The neighborhood is situated near Copacabana allowing you to move between the two on a sightseeing adventure.
Ipanema is trendy and locals go to the area to be seen on a day out. The area is upscale with a feeling of exclusivity at its boutiques, restaurants, and cafes. It is a smaller neighborhood than Copacabana but certainly worth a visit. Due to it being an exclusive, ritzy area, Ipanema doesn't see the same large crowds as Copacabana.
If you want to indulge in upscale clothing stores, restaurants, and cafes, the Ipanema is the best place to go in Rio de Janeiro. It is a cool place to stay and gives you a chance to live the high-life.
Best place to stay in Ipanema
Hotel Praia Ipanema. Address: Avenida Vieira Souto, 706, Ipanema, Rio de Janeiro, CEP 22420-000, Brazil.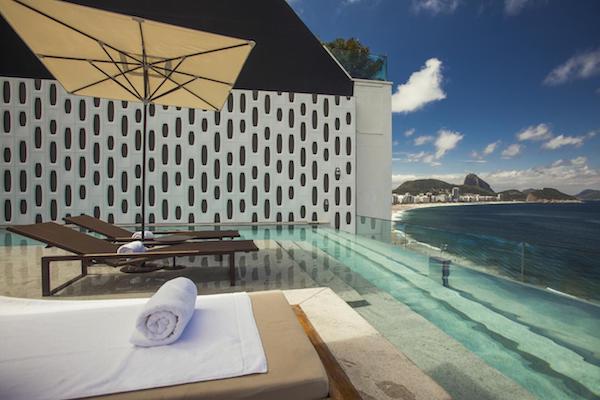 Where travel critics stay in Rio de Janeiro
Want to know where travel critics from publishers like The New York Times, Frommer's, Fodor's and Lonely Planet stay in Rio de Janeiro? Check out our overview of all recommended hotels, hostels and B&Bs in Rio de Janeiro.
Budget
Casa Cool Beans B&B Santa Teresa.
"Casa Cool Beans is one groovy bed-and-breakfast with a great laid back vibe. Set on a quiet street in Santa Teresa, the lovely property boasts beautiful gardens, colorful walls, hip artwork, and a lovely sun deck with a small swimming pool overlooking Santa Teresa." — Frommer's.
Address: R. Laurinda Santos Lôbo, 136 – Santa Tereza, Rio de Janeiro – RJ, 20240-270, Brazil.
Mid-range
"Seven rooms in a 19th-century mansion in the hilltop neighborhood of Santa Teresa give Mama Ruisa a more intimate feel than its bigger neighbor, the Santa Teresa Hotel. Mama Ruisa's draws include eclectic décor, an elegant outdoor breakfast (around 50 reais), a garden pool and views of Guanabara Bay." — New York Times.
Address: R. Santa Cristina, 132 – Santa Teresa, Rio de Janeiro – RJ, 20241-250, Brazil.
Luxury
"A welcome new opening and pace on Rio's Zona Sul. It's more subtle and modern to contrast the go-go party scene of the Fasano, yet without the sometimes stiffness of the Copacabana Palace. It feels young and sophisticated." — CN Traveler.
Address: Av. Atlântica, 3804 – Copacabana, Rio de Janeiro – RJ, 22070-001, Brazil.
Best things to do in Rio de Janeiro
There are a lot of things to do in Rio de Janeiro and surrounding areas, including day trips, attractions, museums, sightseeing tours and many other activities. Here's our list of 3 things you should definitely do when you're in and around Rio de Janeiro:
Full-Day in Rio: Christ the Redeemer, Sugarloaf, Maracana and Selaron with Lunch
Get an overview of Rio's most important sights during this comprehensive 8-hour tour. With a local guide, travel through the Tijuca Forest, stopping at Paineiras to board transportation to the top of Corcovado, home of the Christ the Redeemer statue. Price: $73. More info.
Rio de Janeiro: Rocinha Favela Walking Tour with Local Guide
Discover a more authentic side to Rio de Janeiro on a non-intrusive and respectful walking tour of a favela. Learn about the lives of the people and how you can help break the cycle of drugs and guns through the power of education. Price: $28. More info.
Open Sunset Sailing Tour
Sail along Guanabara Bay just as the sun is setting below the horizon and experience Rio when it starts to come to life. This small-group sailing adventure is a perfect way to relax and see the sites. Price: $42. More info.
More things to do in Rio de Janeiro
Deciding where to stay in Rio de Janeiro
As you can see, there are a lot of things to explore, and deciding where to stay in Rio de Janeiro is important. Whether you stay in Ipanema, Santa Teresa, Botafogo, Centro or Copacabana, all those neighborhoods are in good locations.
The atmosphere of the area, whether you travel for leisure or business, whether you travel with your family or friends, and proximity to the attractions you prefer to visit should probably be the deciding factors. Whatever your preference is, you'll have a great time in Rio de Janeiro.
Check out our other articles about Rio de Janeiro:
Best hostels in Rio de Janeiro
Best boutique hotels in Rio de Janeiro