As one of the most unique cities in Texas and the southern United States at large, Austin is a truly special place that is absolutely worth the visit. When in Texas, there are so many big cities and hotspots that deserve some attention, and Austin is no exception.
As a city that strives to stay weird, it really sticks out against the other big Texas cities. Home to large LGBTQ and millennial communities, many areas are hip, in style, and a ton of fun. So, there is no shortage of things to do and see while in Austin.
Now, one of the best ways to truly take in Austin is by staying in a luxury hotel and elevating that stay to an entirely new level. This nearly guarantees that you will enjoy your stay.
Here are three of the best luxury hotels located in Austin!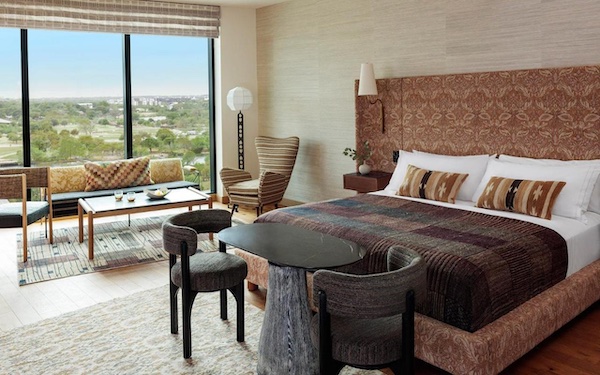 Austin Proper Hotel
The Austin Proper Hotel will be the first accommodation that we will list today. As we already hinted at, Austin is a very unique and updated place. The Austin Proper exemplifies this change in the best ways possible. From the moment you walk in, you will feel welcome and ready to have a good time.
This is a very urban and contemporary hotel, so keep that in mind when wanting to book it. With the younger crowd, food and drinks are super important in a stay. So, this hotel spares no expense when it comes to this part of the accommodation.
The system is run by McGuire Moorman Hospitality, which is one of the leading companies in the entire area. So, you know you will be in good hands on the food and beverage side of the coin.
A big part of the decision process falls on the physical location of the hotel. At the end of the day, you want to be in a place that has a lot to do and see. This is in an area known as the Seaholm District and butts right up against the Colorado River. This is a great place to post up and explore.
Hotel details
Address: 
600 West 2nd Street, Austin, TX 78701, United States of America.
Guest rating:
4.2 out of 5
Price per night:
From $287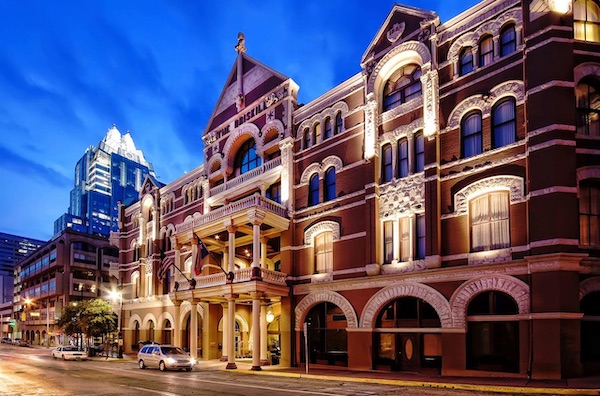 The Driskill
Now, if you want a more traditional Texas stay, The Driskill is the place to go. Even before you go inside, you can tell that this is still a piece of history amidst the modern landscape that now inhabits Austin. Although the contemporary locations are fantastic, sometimes it feels nice to stay in a more "Texas" spot.
When you enter the building, the marble floors and intriguing decor stick out right away. You feel invited, but there is also this old-school mantra that comes out in the aura of the hotel.
There is also a rich history of Texas politics and the Driskill. These two go hand in hand and The Driskill has been the temporary home for Texas's elite for over 130 years. Being situated in a staple of the culture is a nice perk.
In terms of the stay itself, there is a long list of amenities that are coupled with the 188 total rooms. Some examples include a spa with a lineup of treatments, nearby golf courses, a business center, and a restaurant. These are on top of a plethora of other great add-ons.
Hotel details
Address: 
604 Brazos Street, Austin, TX 78701, United States of America.
Guest rating:
4.5 out of 5
Price per night:
From $180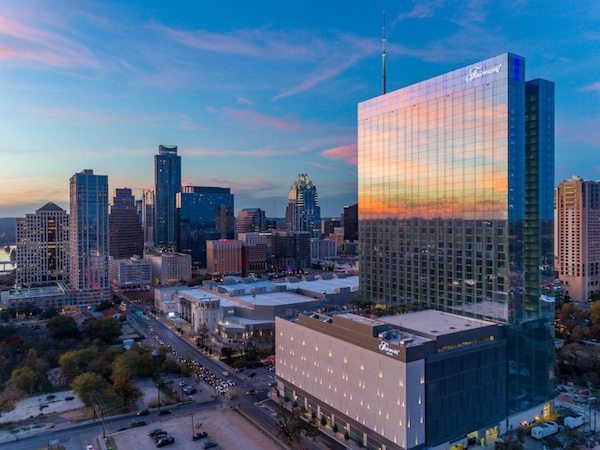 Fairmont Austin Gold Experience
The final location on our list today is the Fairmont Austin Gold Experience. This is a 5-star hotel that really exemplifies quality and luxury with every stay. This is a high-rising hotel that brings all of the contemporary comforts that you want out of a trip to Austin.
Along with the great rooms, which we will get to, there are so many great features that come with the stay. Some include access to a great spa, delicious restaurant, and room service. When spending money on luxury, you want it to deliver. The Fairmont Austin does that and more!
The rooms themselves are super inviting and spacious enough for you. If the budget allows, be sure to upgrade to a suite and take that stay to an entirely new level.
Another luxurious upgrade you can make is with the private arrival and departure package. For a bit extra money, you can get a private experience that includes complimentary alcohol, a private place to relax, and access to high-speed internet. This will give you a much more exclusive experience. You will feel like a true VIP when you and your loved ones can be treated in this way.
Hotel details
Address: 
101 Red River Street, Austin, TX 78701, United States of America.
Guest rating:
4.6 out of 5
Price per night:
From $175
About our luxury hotel recommendations in Austin
We are a travel research company. Our team helps you discover the best luxury hotels in Austin by researching the internet for you. We have also visited some of these places. Hence, it's not just our opinion, it's the opinion of many travelers who have been there before you. We make it easy for you to find out about the most luxurious and exclusive 5-star hotels in the city.
Please note, we only list hotels that have an aggregated guest review rating of at least 4.0 out of 5. We aggregate all reviews from different booking sites and other unbiased review websites. Hence, you can be certain all hotels listed above offer you a great stay in Austin.
Best price guarantee
We partner with Hotels.com and Booking.com to make sure you get the best price for your stay in Austin! Both sites offer price matching. That means you pay the lowest prices for your stay. If you find a cheaper offer on another website for the same luxury hotel in Austin at least 24 hours before check-in, contact them to claim a refund of the difference!
Top 3 luxury hotels in Austin
Now that you've gone over this guide, let's summarize it. We got to know what the best 5-star hotels in Austin are thanks to thousands of guest reviews and tips from travel experts:
More Austin guides
If you like the advice we've given you above, make sure to check out some of our other articles about Austin:
Best boutique hotels in Austin