From abundant green spaces and sculpture parks to fine dining and coffeehouses, Oslo offers something for everyone. Whether you're an outdoor enthusiast, nightlife seeker, seafood connoisseur, or art lover, Oslo's many neighborhoods have a variety of attractions for a variety of visitors.
Oslo's regions offer a range of budget options that fit into many different travel goals. You can stay near the water and indulge in fresh seafood, book a room within walking distance of all the main attractions, or feel like a local in a more residential neighborhood. While Oslo has a reputation for being on the pricier side, don't let that prevent you from visiting. There are several affordable neighborhoods with excellent accommodations and convenient locations.
With so many hotels and neighborhoods to choose from, the most challenging part of planning a trip to Oslo is determining where to stay – but we've got you covered. Keep reading to discover the five best areas to stay in Oslo.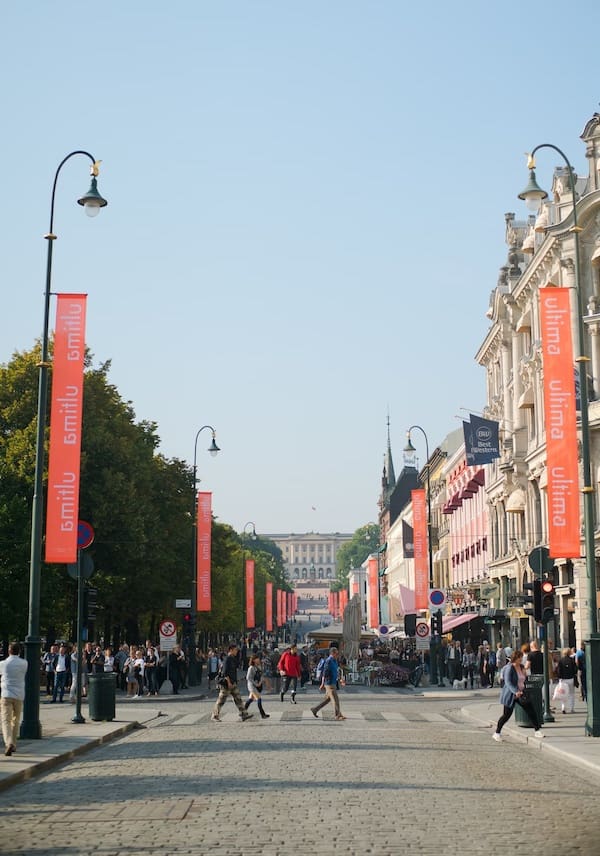 Sentrum
Also known as the city center, Sentrum is ideal for Oslo first-timers. Situated along the main fjord, this waterfront section begins at the central railway station, cuts across the waterfront, and runs east to the Oslo Opera House, one of the most impressive pieces of architecture in the city. To the south of Sentrum, you'll find the main seaport and various ferry terminals, while the Royal Palace is located on the northern boundary.
The Norweigen Parliament is located in this neighborhood, so you might run into several high-ranking officials, diplomats, and business visitors while you're here. Those who stay near the Karl Johans gate will be within walking distance of everything this neighborhood offers – which is a lot. The main thoroughfare next to the gate is lined with chic eateries, cafes, and designer stores. Travelers enjoy Sentrum's several bars, cafes, restaurants, boutiques, art galleries, coffeehouses, and a variety of nightlife.
While Oslo is a mostly low-rise city, you may see a few high-rises in this neighborhood. In addition, historical buildings abound in Sentrum. One of the leading architectural highlights is the 13th-century Akershus Fortress. Visitors enjoy the colorful street art and sculptures, making this area perfect for an entire day of exploring.
Best place to stay in Sentrum
Hotel Continental. Address: Stortingsgaten 24 / 26, 0161 Oslo, Norway.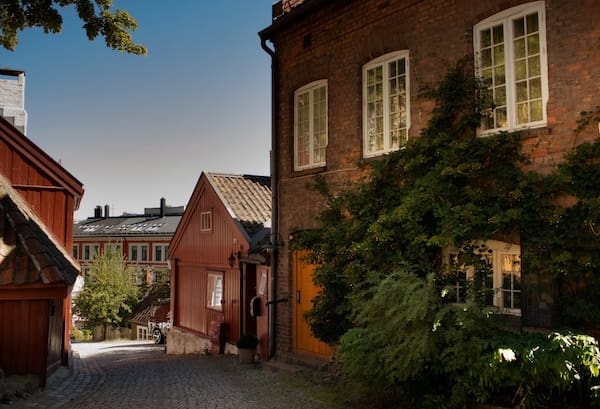 Grunerlokka
If you want to feel like a local while enjoying affordable accommodations, Grunerlokka is a great option. This residential borough is located northeast of Downtown Oslo. While this area was formerly a blue-collar industrial district with a large working-class population and modest architecture, it has recently been transformed into a trendy neighborhood. Many of the area's formerly humble buildings have been renovated and converted into long-term, chic accommodations.
As you stroll Grunerlokka, you'll notice several record stores, vintage shops, charming cafes, shopping streets, and incredible restaurants. Many sidewalks are lined with street art, thumping dance clubs, industrial concert venues, and mellow coffeehouses. Browse through the neighborhood's indie boutiques for unique souvenirs or clothing items. Weekend markets are another popular outing where you can sample artisan foods, find local jewelry, and purchase one-of-a-kind kitchenware.
Outdoor enthusiasts can enjoy the green spaces on the east side of the Akerselva River, right outside this neighborhood. Several hiking trails connect this area to Sentrum, giving you easy access to everything during your stay. While you may not get waterfront views in Grunerlokka, you'll never run out of things to do in this ultra-hip neighborhood.
Best place to stay in Grunerlokka
Anker Hotel. Address: Storgata 55, Grunerlokka, 0182 Oslo, Norway.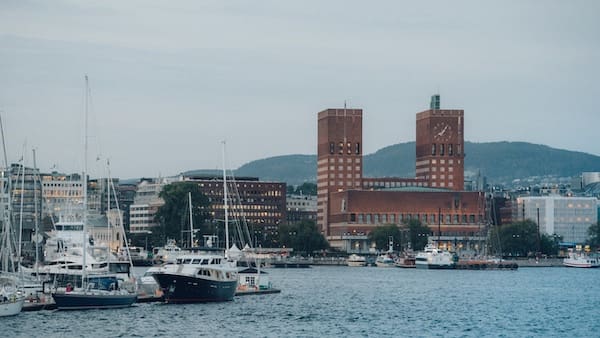 Aker Brygge
Aker Brygge is popular for its waterfront views and cosmopolitan environment. This neighborhood is the waterfront area of the larger Sentrum region, so visitors can enjoy the city center's attractions combined with the lovely views and fine dining of Aker Brygge.
This neighborhood is best known for its culinary scene. Norway is one of the largest seafood exporters, and the majority of good seafood begins in Aker Brygge. This area is one of the best spots in Olso for fresh seafood and al fresco waterfront dining. The pier is home to several high-end eateries serving upscale French and Nordic cuisine, in addition to casual eats ranging from pizza to burgers. Visitors can also enjoy a local summer boat bar, in addition to the ferry rides to the Oslo Fjord.
Aker Brygge is not only home to a variety of outstanding restaurants, but also boasts several upscale boutiques and designer stores, perfect for those who love shopping. This neighborhood is also home to the Nobel Peace Center, featuring exhibits on the world-renowned prize. Travelers also enjoy meandering through the Astrup Fearnley Museum of Modern Art, a privately owned contemporary art gallery and one of Scandinavia's most notable art museums.
Best place to stay in Aker Brygge
The Thief Hotel. Address: Landgangen 1, Frogner, 0252 Oslo, Norway.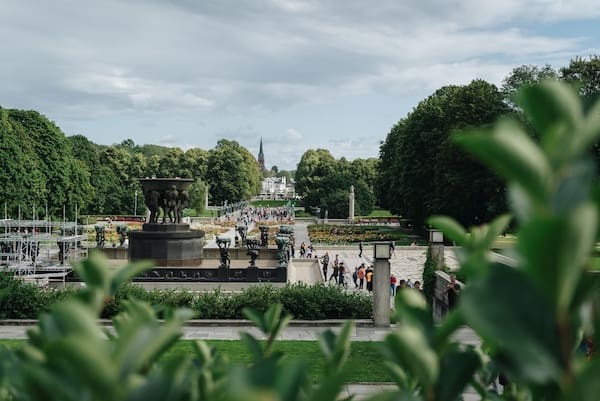 Majorstuen
Majorstuen is an excellent neighborhood in Oslo for family-friendly activities and travelers seeking nightlife. This affluent area is located just north of the Royal Palace, so you'll still be within easy access to several main attractions while also enjoying the tranquility of this neighborhood.
Majorstuen is the access point to the best section of Frogner Park, encompassing over 200 works of bronze, granite, and wrought iron in the smaller Vigeland Sculpture Park area. This park is the perfect spot to enjoy a warm and sunny afternoon. Majorstuen is also a significant shopping and dining hub in Oslo. During your stay, there will be no shortage of incredible Norwegian and French eateries to enjoy.
In addition to the abundance of fine dining, Majorstuen has several boutiques, dance clubs, and pubs that align with the cosmopolitan atmosphere of this region, so make sure to bring your credit card! For even more nightlife, check out the Hegdehaugsveien and Solli Plass districts for great bars and clubs. Families also particularly enjoy the International Museum of Children's Art, featuring the art of children from over 180 countries.
Whether it's day or night, if you're traveling alone or with family, Majorstuen abounds in things to do and sights to see.
Best place to stay in Majorstuen
Thon Hotel Gyldenløve. Bogstadveien 20, Frogner, 0308 Oslo, Norway.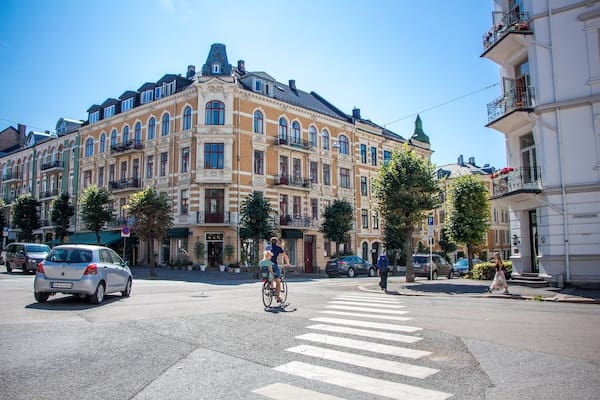 Frogner
In the West End of Oslo, Frogner is a residential and retail borough encompassing Bygdøy, Uranienborg, and Majorstuen. Many wealthy visitors choose to stay in Frogner, and it's a popular spot for those considering a move to Oslo. This neighborhood was named after Frogner Manor, a large house and former estate, but it is best known as the home of Frogner Park. While this park may not be as vast as Central Park in New York City, it is still one of the most beautiful green spaces in Europe.
Because Norway has a heavy taxation system, a significant portion of this revenue goes toward maintaining Frogner Park, and it doesn't go unnoticed. This park is pristine, aesthetic, and spotless, offering various activities. Visitors can hike along the many trails, marvel at sculptures, go ice skating, watch a football game, enjoy outdoor concerts, explore art galleries, and much more.
Check out Bogstadveien, Frogner's most exclusive shopping street for local shops and designer boutiques. After a day of shopping, you can enjoy one of the many eateries along this street. Besides eating, shopping, and park-going, Frogner has a variety of cultural activities, including the Viking Ship Museum, the Oslo City Museum, the Norwegian Maritime Museum, the Vigeland Museum, and the Kon-tiki Museum.
Best place to stay in Frogner
Hotel Guldsmeden. Address: Parkveien 78, Frogner, 0254 Oslo, Norway.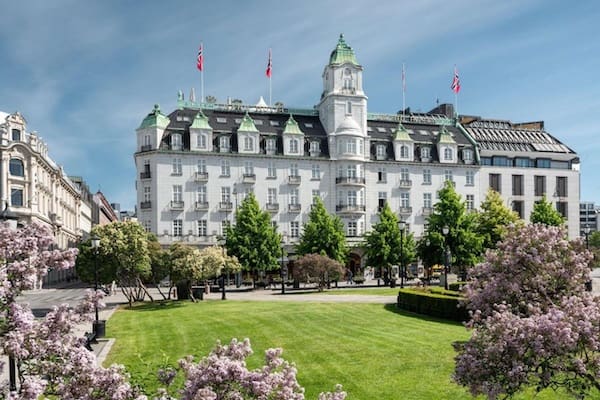 Where travel critics stay in Oslo
Want to know where travel critics from publishers like The New York Times, Frommer's, Fodor's and Lonely Planet stay in Oslo? Check out our overview of all recommended hotels and accommodations in Oslo.
Budget
"Housed in a carefully restored 1890s town house, the privately owned Saga is tucked away in a rare quiet corner of Oslo, is run on eco-friendly lines, and exudes a tranquil air of calm." – Frommer's.
Address: Eilert Sundts Gate 39, Frogner, 0259 Oslo, Norway.
Mid-range
"Oslo's largest hotel (810 rooms spread over 13 floors) impresses with its emphasis on contemporary art; its rooftop garden of herbs and microgreens; Norda Restaurant, where consultant chef Marcus Samuelsson delivers his version of Nordic fusion; and the Bon Bon cocktail bar." – Telegraph.
Address: Biskop Gunnerusgate 3, 0106 Oslo, Norway.
Luxury
"Looking like it would be at home on any street in Paris, this grand dame with a mansard roof and Beaux-Arts entrance is the choice of visiting heads of state, rock musicians, and Nobel Peace Prize winners." – Fodor's.
Address: Karl Johans gate 31, 0159 Oslo, Norway.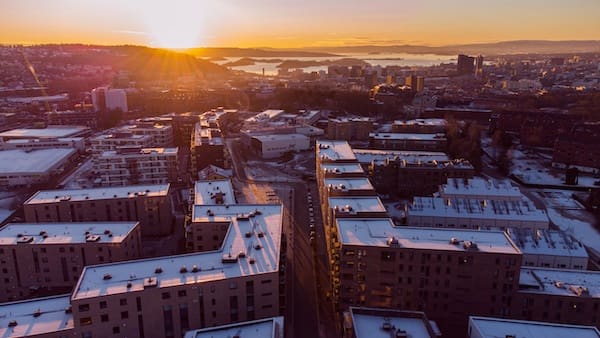 FAQ: Oslo hotel tips
Looking for the best budget, boutique, or luxury hotel in Oslo? Or maybe you're a backpacker looking for an excellent hostel? Want to know which hotel serves a great breakfast? Here are the answers to all those and other questions about where to stay in Oslo.
How much does a night in a hotel in Oslo cost?
Oslo is expensive. If you want to stay in a 3-star hotel in central Oslo, you would be looking at an average price of $150 per night. For 4-star hotels, the average price is around $200 per night. For a 5-star hotel in central Oslo, the average rate is around $330 per night.
What is the best budget hotel in Oslo?
If you're looking for an affordable hotel, then book Citybox Oslo. It's an excellent budget hotel offering great value for money. It's in a good location, it's been recommended by travel experts and the hotel has excellent customer reviews. You should also check out our list of the best cheap hotels in Oslo.
What is the best boutique hotel in Oslo?
You like some luxury but don't like famous chain hotels. If you're looking for the best boutique hotel in Oslo, you should check out Amerikalinjen. It's a very cool hotel that travelers and experts have highly recommended. For more cool hotels, check out our list of the best boutique hotels in Oslo.
What is the best luxury hotel in Oslo?
If money isn't a problem and you're looking for a luxury hotel in Oslo, then go for Hotel Continental. The hotel offers excellent service, it's in a top location, it has been rated very highly by previous guests and renowned travel critics have recommended it. For more 5-star hotels, check out our list of the best luxury hotels in Oslo.
What is the best hostel in Oslo?
Looking for a good and affordable private room or cozy dorm in Oslo? Check out K7 Hotel Oslo. The hostel has been highly rated by backpackers. Also, check out our shortlist of the best hostels in Oslo; it's based on thousands of reviews from backpackers.
Which Oslo hotel serves great breakfast?
Try Camillas Hus if you're looking for a delicious breakfast at a hotel in Oslo. It has excellent guest review ratings for its breakfast.
Which Oslo hotel offers great views?
If you're looking for a room with a view, then try Radisson Blu Plaza Hotel. The hotel offers amazing views of Oslo according to recent guests.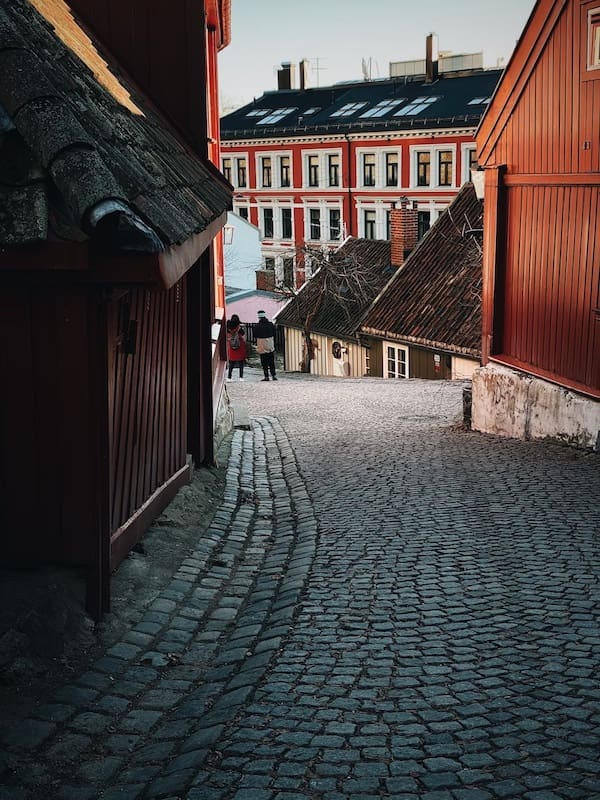 Best time to visit Oslo
If you are looking for warm weather and outdoor activities, then the best time to visit Oslo is during the summer months, from June to August. During this time, the city is alive with festivals, concerts, and outdoor events, and the days are long with plenty of sunshine.
However, if you are looking to avoid the crowds and experience Oslo's beautiful winter wonderland, then the best time to visit is from November to March. During this time, the city is blanketed in snow, and you can enjoy winter sports such as skiing, snowboarding, and ice skating. You can also experience the magic of the holidays, with Christmas markets and festivals throughout the city.
Spring and autumn are also great times to visit Oslo, as the crowds are smaller, and the weather is mild. From mid-May to mid-June, you can witness the beautiful cherry blossom season in the city's parks, while in September, you can experience the colorful foliage of autumn.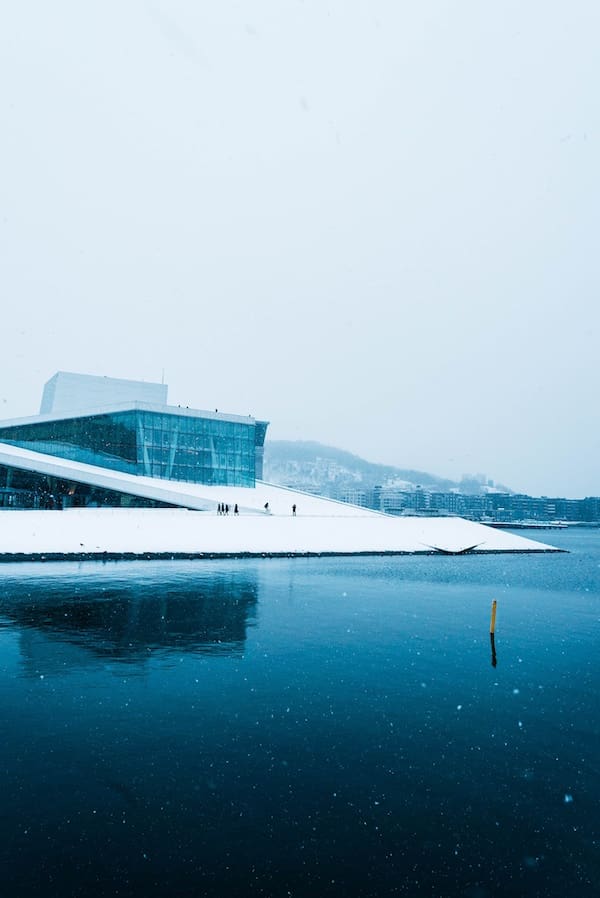 Best things to do in Oslo
There are a lot of things to do in Oslo and surrounding areas, including day trips, attractions, museums, sightseeing tours and many other activities. Here's our list of 3 things you should definitely do when you're in Oslo:
Sightseeing Cruise through Oslo's Fjords
Explore the diverse and unique islands and colorful houses of the Oslo Fjord on a boat tour, discovering charming landscapes, amazing city views, and the beautiful hills surrounding Oslo. Cruise in comfort as you snap pictures of superb scenery. Price: $40. More info.
Hop-On Hop-Off Oslo Bus Tour
Spend a day seeing the sights of Oslo, the oldest of the Scandinavian Capitals, from an open-top, double-decker tour bus. Your pass is valid for a full 24-hour period, and you can hop on and off at your leisure. Price: $28. More info.
Paradox Museum Entry Ticket
Trick your mind with 70 paradox-based exhibits with this ticket to the family-friendly Paradox Museum Oslo. Engage your senses with interactive exhibits and reality-defying optical illusions. Price: $25. More info.
Deciding where to stay in Oslo
Let's recap what we just learned in this article. We've covered the best areas of Oslo above. Now you can decide where to stay while visiting!
Top 5 neighborhoods to stay in Oslo
Sentrum
Grunerlokka
Frogner
Aker Brygge
Majorstuen
As you have seen in this travel guide, there are a lot of things to explore, and deciding where to stay in Oslo is important. Whether you stay in Grunerlokka, Frogner, Aker Brygge, Majorstuen or Sentrum, all those neighborhoods are in good locations.
The atmosphere of the area, whether you travel for leisure or business, whether you travel with your family or friends, and proximity to the attractions you prefer to visit should probably be the deciding factors. Whatever your preference is, you'll have a great stay in Oslo.
More Oslo tips
Check out our other guides about the best places to stay in Oslo: