Chicago, or the "windy city" as it is sometimes known as, is located on Lake Michigan in Illinois. It's one of the largest cities in the U.S. The city has much to see and do. From taking in the views of the many impressive skyscrapers, eating delicious food, and enjoying the city's unique atmosphere and culture. There are so many free things to do in Chicago. The city is very walkable, so there's no need for expensive taxi trips!
The city hosts the largest food festival in the world, called Taste of Chicago, as well as various music festivals that are all free of charge! To have a base for all this activity, you'll need a great place to stay.
Read on to find out about five of the best hostels to stay at in Chicago and start planning your vacation!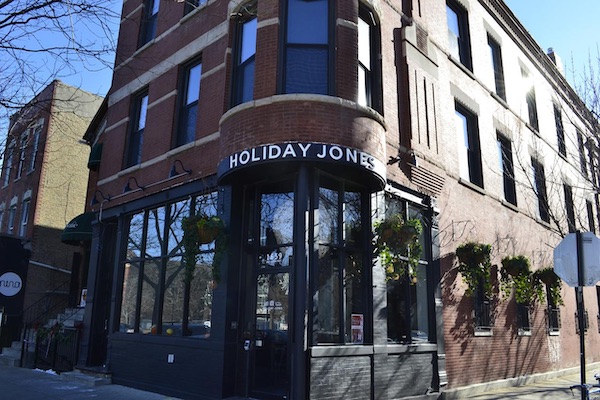 Holiday Jones
Located on Divison Street in the lively and vibrant Wicker Park neighborhood, Holiday Jones has many different options to suit your needs. There are varying room sizes that can accommodate up to 6 guests in one gender-specific room using shared bathrooms, or private rooms with en suites. Wi-Fi is provided for free and the hostel is located a short walk away from a bus stop, so you can easily get around town.
If you prefer your transport to be more active, Holiday Jones provides bikes for its guests to hire. If you're visiting in the warmer months, you can enjoy a cold cocktail and a delicious array of snacks on the outdoor patio while soaking up the sights and sounds of the city.
Hostel details
Address:
1659 W Division St, Chicago, IL 60622, USA.
Guest rating:
4.3 out of 5.
Price per night:
from $17.
Freehand Chicago
If you're looking for a place to stay that has both character and charm, then Freehand is the hostel for you. Freehand Chicago is housed in a classic 1920s building with architecture and styling that stays true to the time period. Located within Chicago's River North Neighbourhood you'll be within close proximity to the action, only two blocks away from Michigan Avenue, and within less than 2kms of both Willis Tower and Millennium Park.
If you're wanting to venture further out, there's a metro station on the same block. Choose from either mixed or female-only rooms for up to 4 people, or your own private room with upgraded features such as a flat-screen TV, desk, and city views. Freehand Chicago also provides free Wi-Fi and a continental breakfast for its guests – so you can check in with friends and family back home over breakfast before heading out for the day.
Hostel details
Address:
19 E Ohio Street, Chicago, USA
Guest rating:
4.6 out of 5.
Price per night:
from $25.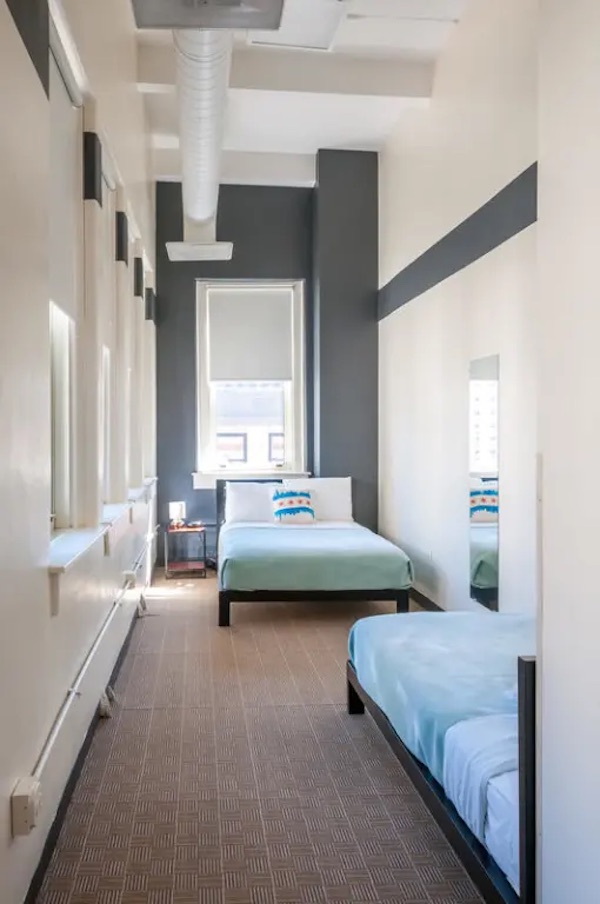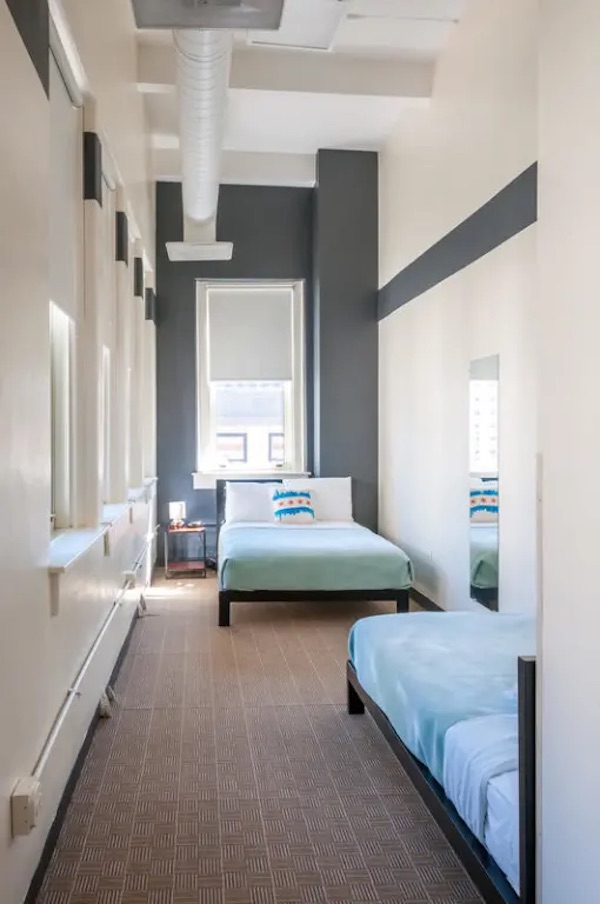 HI Chicago Hostel
This family-run hostel based in a large historical house will welcome you with open arms. Located within Chicago's University district, this is the perfect spot for the young and young at heart and is within a short walking distance to famous sights such as Millennium Park and Cloud Gate. Offering mixed as well as female-only dorms, there are also private twin or double rooms available, with all guests having access to free Wi-Fi.
HI Chicago Hostel offers many activities for guests to get to know each other such as activity nights ranging from a night out at a jazz bar to pub crawls. If you're having a night in, you can have fun while meeting some fellow travelers around a game of pool or ping pong in the lounge or have an entertaining film night in the TV room.
Hostel details
Address:
24 E Ida B Wells Drive, Chicago, Chicago, USA.
Guest rating:
4.7 out of 5.
Price per night:
from $32.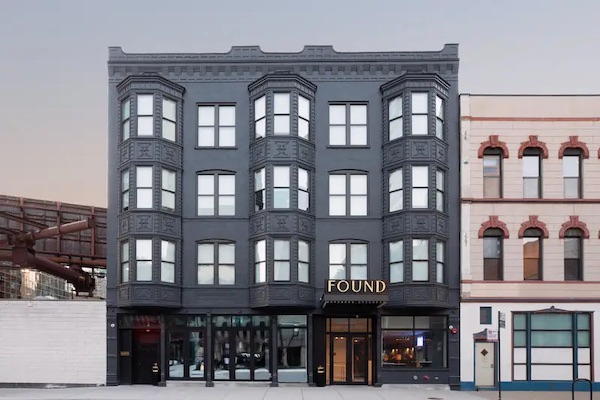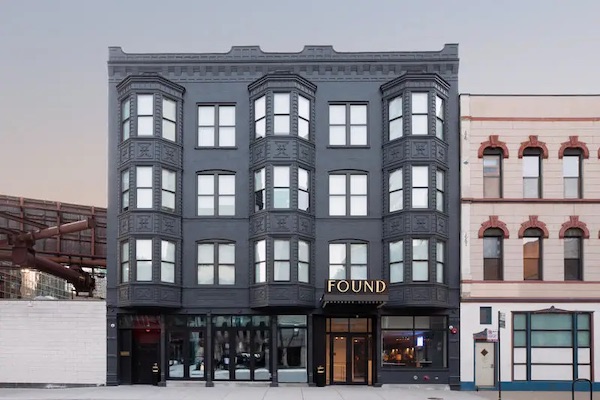 FOUND Chicago River North
FOUND Chicago is unique from the outset, being located in a cast-iron building built in the 1920s. The unique look and feel continue inside with vintage rugs, sculptural chairs, and old books. The lounge is stocked with unique board games from the '70s to complete the vintage appeal.
Located in the River North area, you will be within walking distance to many great spots including Downtown and the Magnificent Mile where you can find upmarket shops and trendy restaurants and bars. Both shared and private rooms are available, with all private rooms coming with Cable TV and all guests have access to free Wi-Fi.
This hostel features a 24-hour reception desk so you can get help at any time of the day or night. If you're a singer at heart, you will enjoy the hostel's karaoke lounge called the Blind Dragon.
Hostel details
Address:
613 North Wells Street, Chicago, USA.
Guest rating:
4.6 out of 5.
Price per night:
from $22.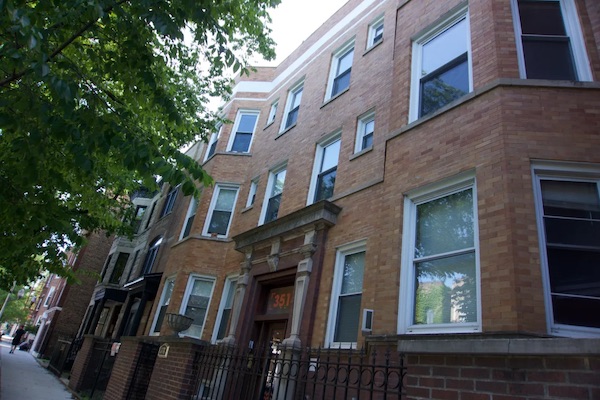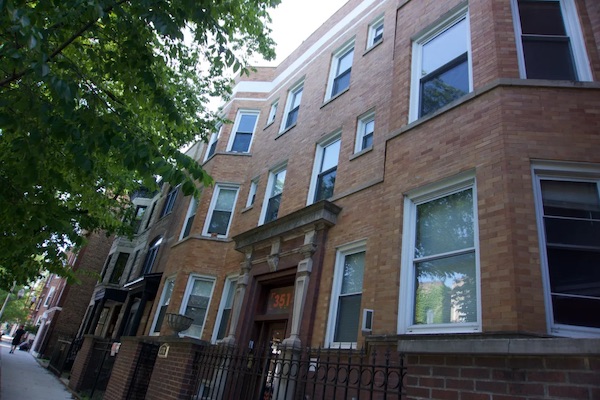 Wrigley Hostel
Named after the historic Wrigley Field Baseball Stadium just across the road, this hostel is perfect if you're a sports fan or like to have a night out. Located in Wrigleyville the party center of Chicago, you'll be spoiled for choice with all the great bars and clubs that are right on the doorstep. Or play a game of ping pong in the common room, or have a chat about the latest game over a glass of beer in the bar.
This fun and colorful hostel provides free Wi-Fi to all guests and private double rooms perfect for couples, or mixed or female-only dorms for those who are wanting to meet like-minded travelers. Wrigley Hostel has a handy 24-hour reception that is always open and ready to help.
Hostel details
Address:
3514 N Sheffield Ave, Chicago, USA.
Guest rating:
4.8 out of 5.
Price per night:
from $21.
About our Chicago hostel recommendations
Whether you're a solo traveler looking for a private room, or a backpacker traveling around in a group wanting to stay in a cheap and cozy dorm, above you will find the best hostels in Chicago for all your needs.
Please note, we only list hostels that have an aggregated guest review rating of at least 4.0 out of 5. We aggregated all reviews from different booking sites and other unbiased review websites. Hence, you can be certain all hostels listed above offer an excellent value-for-money stay in Chicago.
Best price guarantee
For our hostel recommendations, we work together with Hostelworld and Booking. These partnerships don't have any influence on the recommendations we make or on the order in which our recommended hostels are listed. The reasons why we have chosen to partner with these companies is that they're trustworthy, offer excellent service and they both apply the best price guarantee. This means you can claim a refund for the difference if you find your reservation cheaper on another website. It has to be for the same property, accommodation type, dates, cancellation policy and conditions, otherwise, you can't claim the refund for the difference. If you book through Booking.com then all you need to do is contact them at least 24 hours before your check-in date. If you book through Hostelworld you must claim the refund within 24 hours after you made the booking.
Top 5 hostels in Chicago
To summarize again, based on thousands of guest reviews, these are the best hostels in Chicago:
Why you should be careful when booking the cheapest hostel available
The cheapest hostels available are typically not in a great location. If you want to go sightseeing or go for a night out in central Chicago, you probably end up having to pay for public transport or a taxi to get there. So your stay could end up being more expensive compared to a stay in a central location. For first-time travelers, we recommend staying central anyway, but also for frequent visitors, it's probably worth it to pay a bit more to stay in a central location.
Another reason why you shouldn't stay at the cheapest hostel is that the people staying at the cheapest hostels are often not the people that can afford to travel like you. Because a very cheap hostel is often cheaper than renting a flat, these places tend to attract migrant workers or local misfits. That's probably not the crowd you want to hang out with, especially if you're a solo traveler looking for friends.
The third reason why you should avoid the cheapest hostels is safety. Some of the cheapest hostels don't check IDs, don't ask for signatures, or only accept cash at check-in. The hostel won't know who is actually staying there.
Lastly, the service at these hostels isn't great. For instance, if you choose to store your luggage, your bags will be unattended in a public space. It won't be recorded anywhere or tagged and stored in a locked room.
So, it's probably worth it to spend a bit more on your hostel stay in Chicago.
And finally, a tip: always read the latest reviews of the hostel! All places have good and bad reviews, but the most recent reviews matter the most.
More Chicago tips
Get to know the city even better and check out our other articles about Chicago:
Best boutique hotels in Chicago