Denver, Colorado has become one of the most popular destinations in the United States, and for good reason. This city not only offers an amazing downtown region, but it is completely surrounded by staggering mountains and outdoor adventure opportunities that are nothing short of life-changing.
The parks and hiking trails around Denver are some of the absolute best in the country in the warmer months, and in the winter this area is teeming with excited skiers and snowboarders. Denver has an exquisite selection when it comes to delicious food options, as well. If you appreciate all things art, the Denver Art Museum is certainly worth checking out during your time here, too.
Boutique hotels have proven time and time again to offer some of the most relaxing and unforgettable stays to guests, and today we are going to talk about five of the best hotels of this caliber that can be discovered in beautiful Denver.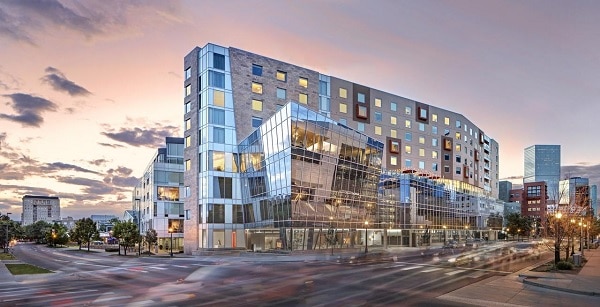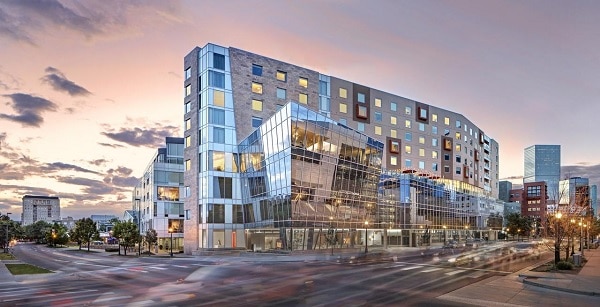 The ART Hotel
The ART Hotel, a Hilton partner, is one of the most unique places to stay in the city of Denver, and it is rooted in the cultural district. This hotel is located in an art gallery and is a short walk from many popular sites in the city. Every wall in the building is covered in artwork, including guests' rooms and common spaces. The 165-room hotel is home to a restaurant and bar that offers a daily made-to-order breakfast and offers a full menu for dining in or enjoying in the comfort of a room.
While staying at ART, guests have access to a 24-hour fitness center and the front desk, free Wi-Fi in shared areas, 8 conference rooms, valet parking, and a free shuttle. The staff also offers dry cleaning and laundry services, help with booking tours and purchasing tickets, and luggage storage. One of the most noteworthy amenities at the hotel is the beautiful terrace that overlooks the beautiful downtown area.
Hotel details
Address: 
1201 Broadway, Denver, CO 80203, USA.
Guest rating:
4.7 out of 5
Price per night:
From $178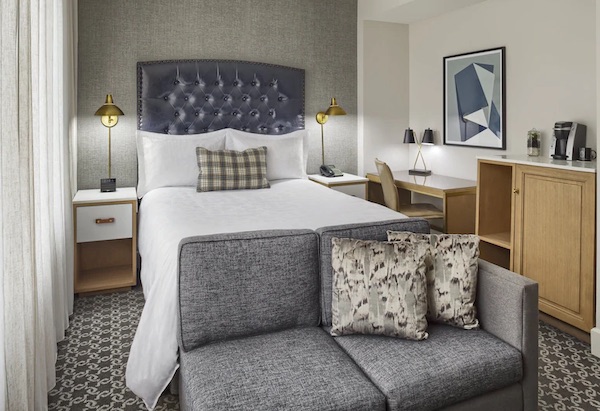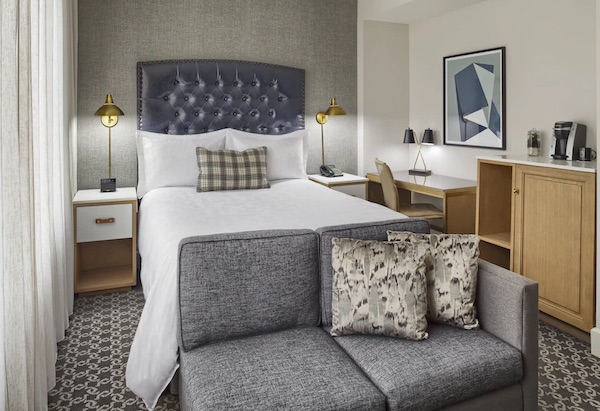 Hotel Teatro
The Hotel Teatro, located in downtown Denver, is a luxury boutique that houses 110 rooms in a historic building. Though the building is an architectural antique, the rooms are frequently updated with top-of-the-line amenities and contemporary décor. The Teatro is extremely dog friendly, and it does not charge guests an additional fee to bring their fur babies to stay with them. The hotel partners with local businesses that offer spa services for their four-legged guests.
The Hotel Teatro has an on-site restaurant called The Nickel that is open to the public and hotel guests alike. The Nickel is known for its barrel-aged cocktails and charcuterie menu, and it offers a vintage, woodsy ambiance. In addition to the on-site restaurant, the hotel is also home to a library-themed bar and café. The Study is filled with tall ceilings and high wingback chairs that offer a cozy, private feel.
Hotel details
Address: 
1100 14th St, Denver, CO, 80202, United States of America.
Guest rating:
4.6 out of 5
Price per night:
From $111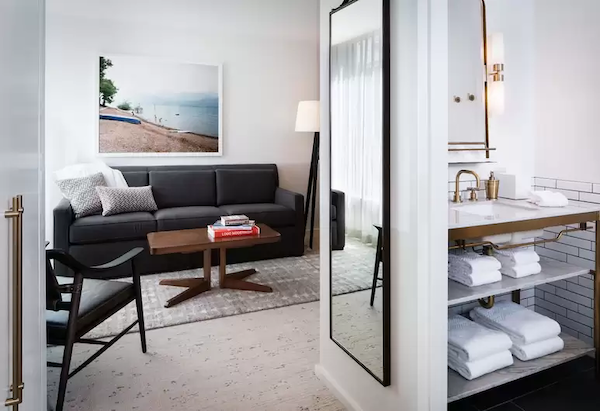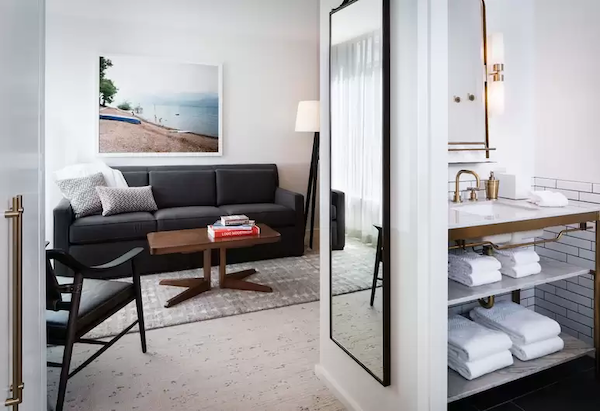 Halcyon Hotel Cherry Creek
Alluring and modern, Halcyon, a Hotel in Cherry Creek is comprised of sharp lines, white brick walls and shining golden edges. It is located right in the heart of the Cherry Creek North shopping neighborhood. Guests have the opportunity to experience an extended happy hour at the hotel's stunning rooftop bar or a memorable meal at one of two award-winning restaurants. The bar offers immaculate views and an extensive menu of fresh cocktails. The rooftop is also home to a heated pool and views of the Rocky Mountains.
The dove-white rooms each offer a homey welcome and contain a record player as well as a cocktail cabinet. With a $30 amenity fee added for each day that guests stay, it is important that guests take advantage of everything Halcyon has to offer-from a car service that will take you anywhere in Cherry Creek, to the complimentary baked goods and lattes at the Kitchen Counter.
Hotel details
Address: 
245 North Columbine Street, Denver, CO, 80206, United States of America.
Guest rating:
4.6 out of 5
Price per night:
From $195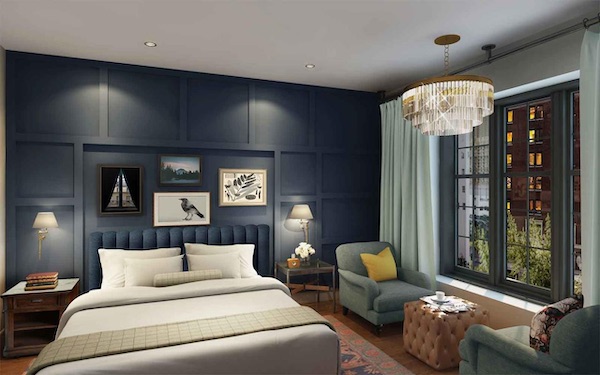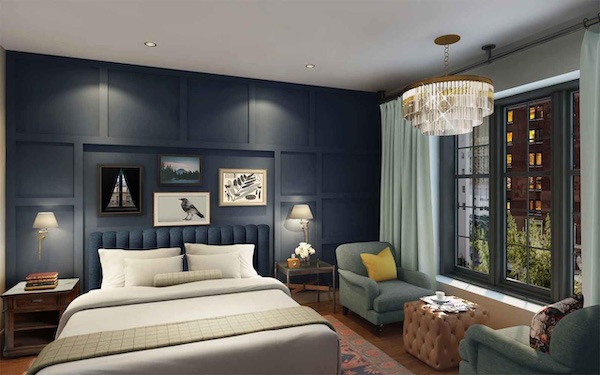 The Ramble Hotel
The Ramble Hotel was the first to open in River North with new construction designed to feel historic. Shimmering chandeliers hang from vaulted ceilings and accompany velvet couches and oriental rugs in the hotel's lobby. Upon entering the space, guests immediately enter Death & Co, a cocktail bar that started in New York City. When arriving at the Ramble, it feels as though you are in the well-decorated home of an old friend, rather than just a hotel. Room keys are real keys attached to faded leather straps, giving guests a more welcoming ambiance than a simple plastic card.
Every room is soaked in light and decorated with brass and mismatched accents, creating a vintage but classy look. Housed among an endless stream of modern hotels, the Ramble offers a pleasant break into the common design and an ambiance of a home away from home. This is a great choice for those who are tired of common hotel aesthetics.
Hotel details
Address: 
1280 25th Street, Denver, CO 80205, United States of America.
Guest rating:
4.7 out of 5
Price per night:
From $209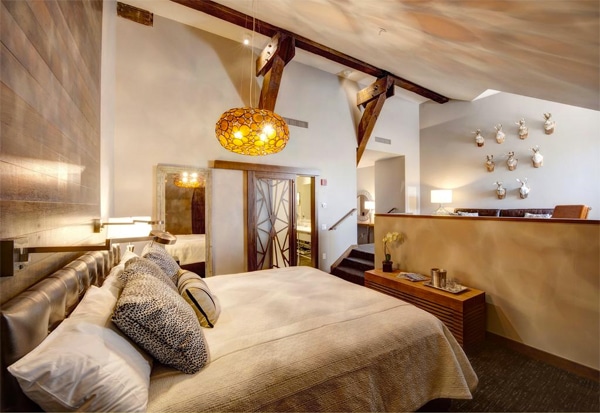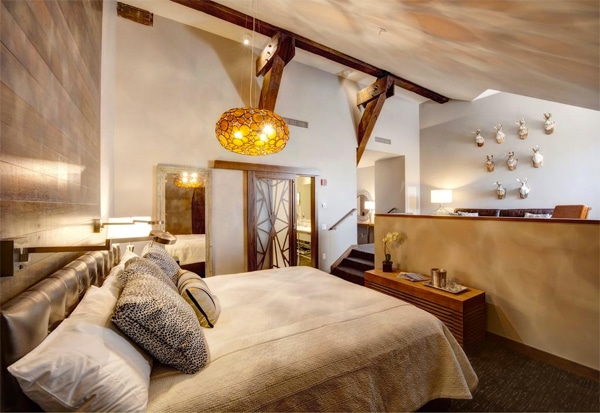 The Crawford Hotel
The luxury Crawford Hotel is located in Denver's historic district of Union Station. It is a few miles away from the city's downtown nightlife and extensive dining options. The hotel-style is a combination of historic charm and modern hues. The Crawford has been noted as one of the most exciting places to stay in Denver with a lobby located in the Great Hall of a once-neglected train station.
The Cooper Lounge is an above-ground speakeasy that serves unique cocktails and high-end dishes. The rooms are located in what was once the station's offices that were renovated and given a stunning Victorian elegance. The hotel is so much more than just a unique experience of the lobby and the rooms, as it also offers a number of shops, bars, and restaurants. Guests are literally surrounded by the best that the city of Denver has to offer.
Hotel details
Address: 
1701 Wynkoop St, Denver, CO 80202, USA.
Guest rating:
4.6 out of 5
Price per night:
From $249
Colorado is one of the most stunning states in all of America and it has so much special charm embedded within it, as well. This artsy city is seeing so many more travelers each year, and boutique hotels are the perfect route to go when coming to experience this place for yourself.
About our boutique hotel recommendations in Denver
We are a travel research company. We help you discover the best boutique hotels in Denver by researching the internet for you. It's not just our opinion, it's the opinion of many travelers who have been there before you. We make it easy for you to find out about cool design hotels and unique design hotels in the city. Some of them might be so romantic you might not want to leave your room.
Please note, we only list hotels that have an aggregated guest review rating of at least 4.0 out of 5. We aggregate all reviews from different booking sites and other unbiased review websites. Hence, you can be certain all hotels listed above offer you a great stay in Denver.
Best price guarantee
We partner with Booking.com and Hotels.com to provide you with the lowest price guarantee on your stay in Denver! Both those websites offer price matching. That ensures that you are paying the lowest price available online. If you find a cheaper offer on another website for the same cool hotel in Denver at least 24 hours before check-in, contact them to claim a refund of the difference!
Top 5 boutique hotels in Denver
Before you go, let's summarize this guide. Based on thousands of guest reviews and tips from travel experts, these are the best boutique hotels in Denver:
More Denver tips
If you like our guide above, you should also check out our other articles about Denver: