Spain is an extremely beautiful country, but if there's one place in Spain that takes the cake, it's Mallorca. A gorgeous island, Mallorca or Majorca is one of the Balearic Islands in the Mediterranean. Mallorca is very popular for its beaches and beach resorts, so it gets its fair share of tourism in the summers.
But there's more to Mallorca than its beach resorts; you'll find romantic sheltered coves, vibrant nightlife and ethereal limestone mountains that make you feel as if you're in heaven.
When it comes to hotels, Mallorca brings out the best of the best. Whether you're looking for a stay that's simple and rustic or if you're hoping for a lush experience, Mallorca does not hold back.
So, if you're planning a vacation on the island and want to spend your time lounging around in the luxurious hotels with flexible services and royal amenities, you simply cannot pass out on these 5 best boutique hotels in Mallorca.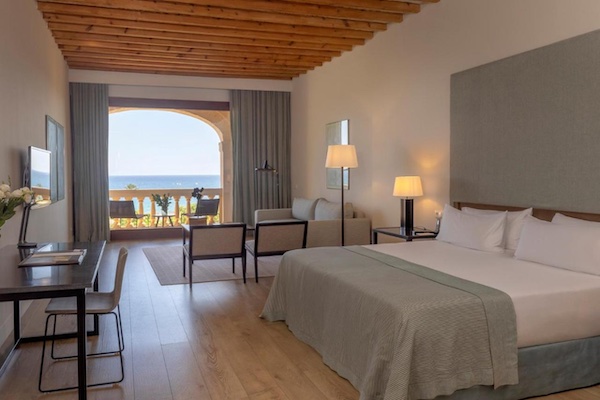 Boutique Hotel Calatrava
Offering unparalleled sea views from its rooms and bringing a service that would make even the wealthiest around jealous, Boutique Hotel Calatrava is one way to take your vacation up a notch. Boutique Hotel Calatrava brings extremely luxurious rooms that are dressed in contemporary style and open out to the Mediterranean sea. When it comes to cuisine, the Boutique Hotel Calatrava invites you on a heavenly adventure; imagine dining out in the open air, while the sea breeze soothingly caresses your face and playfully catches your attention while you munch on the best Spanish cuisine.
At the hotel, you get to enjoy various amenities; from complimentary WiFi to fully stocked rooms, you'll find everything that you desire here. Boutique Hotel Calatrava's Wellness and Spa center is the perfect way to unwind after a long day of exploring the island. And you can even request the hotel to set you up with one of their sailboats and get your hands on a well-crafted, personalized, and detailed guided tour of the island. Talk about having it all!
Boutique Hotel Calatrava is the perfect way to get to know Mallorca; and if you haven't yet decided on where you'll be staying, you best believe your search has ended.
Hotel details
Address:
Plaza Llorenc Villalonga, 8, Palma de Mallorca, Spain.
Guest rating:
4.6 out of 5
Price per night:
From $220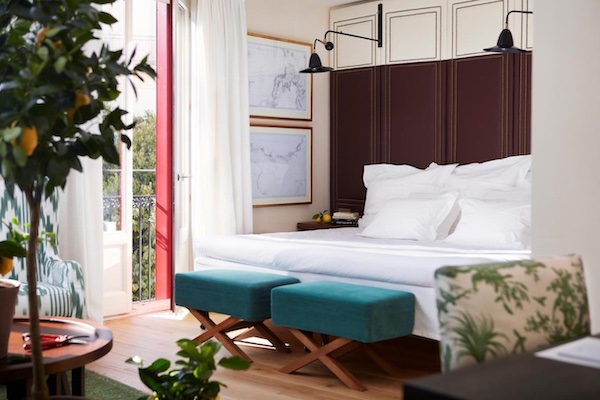 Hotel Cort
A 4-star hotel that sits cozily at Palma Bay, Hotel Cort is an amazing place; truly made for everyone. Whether it is introverts looking for a private and serene break, whether it's naturalists hoping to explore all of what Mallorca has to offer, or even if it's business people and entrepreneurs looking for a soothing place to work from, the Hotel Cort is everyone's best bit.
You'll find the Hotel Cort one of the best in not only Old Town but in Mallorca itself; from its extremely luxurious and contemporary style and an environment that truly pays homage to its Spanish roots, Hotel Cort is more than just your ordinary place to stay.
If you need more reasons to stay at the Hotel Cort, you'll find this destination travel sustainable. And if that doesn't tick all your boxes, you're definitely doing something wrong. But let's talk about why Hotel Cort is one of the best boutique hotels in Mallorca.
At this hotel, you can choose to stay in the various luxurious rooms, each offering breathtaking views and flexible amenities. The hotel also boasts a rooftop with a swimming pool and bar, just the right place to unwind and unbundle your troubles. And when you get hungry, you'll have a variety of delectable Mediterranean dishes to choose from.
Hotel details
Address:
Placa de Cort 11, Palma de Mallorca, Spain.
Guest rating:
4.4 out of 5
Price per night:
From $170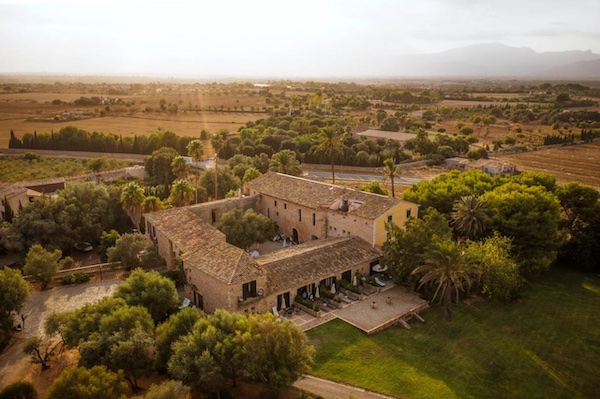 Casal Santa Eulalia
One of the highest-rated hotels in not only Mallorca but Spain, Casal Santa Eulalia will give you a glimpse of heaven. It is set perfectly against a beautiful landscape, boasting some of Mallorca's best views, and it promises to bring satisfaction to each and every visitor. Casal Santa Eulalia is ideal for a family vacation, a romantic weekend getaway with your partner and even a wild week out with your friends.
Whatever you need, Casal Santa Eulalia promises to deliver. Full of charm and dressed in both contemporary and rustic styles, Casal Santa Eulalia is a refreshing breath of luxury. It offers excellent amenities and even brings out the big guns by offering onsite swimming pools, a relaxing spa, a round-the-clock gym that is stocked with every possible thing you could ever need and a massive sport courts.
For those who are here on business ventures, the Casal Santa Eulalia offers room for events and complimentary WiFi. And while we're talking about perfection, who could ever miss out on Casal Santa Eulalia's mouth-watering, exquisite cuisine? All you need to do is make a simple booking and transform an ordinary vacation into a memorable one. And if you're not in Mallorca making beautiful memories with Casal Santa Eulalia, you might want to rearrange your priorities.
Hotel details
Address:
Ctra. Santa Margalida, Alcudia, Km 6, Mallorca, Spain.
Guest rating:
4.6 out of 5
Price per night:
From $195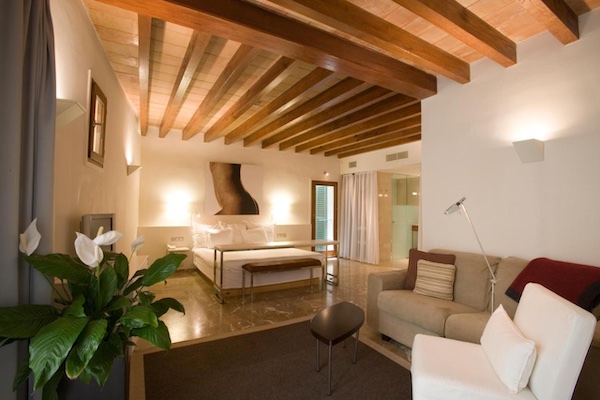 Petit Palace Hotel Tres
Housed in a former 16th-century palace, the Petit Palace Hotel Tres combines traditional Mallorcan and 21st-century contemporary décor. This boutique hotel is located in an ideal location right in the historic center, close to many popular landmarks. The rooms at the hotel are spacious enough, decorated in bright colors that you hardly see in Mallorca, and allow plenty of natural light to come through. There are many on-site activities to keep the guests entertained, such as a rooftop pool with a sun terrace, a sauna with stunning views, a gym, and a sky bar where you can enjoy a refreshing cocktail or a cup of coffee.
If you are looking for comfortable accommodation within budget and in a nice location, Petit Palace Hotel should be your choice. The historical value of this property alone should convince you to spend at least a night here that you'll not regret.
Hotel details
Address:
Apuntadores 3, 07012 Palma de Mallorca, Spain.
Guest rating:
4.5 out of 5
Price per night:
From $135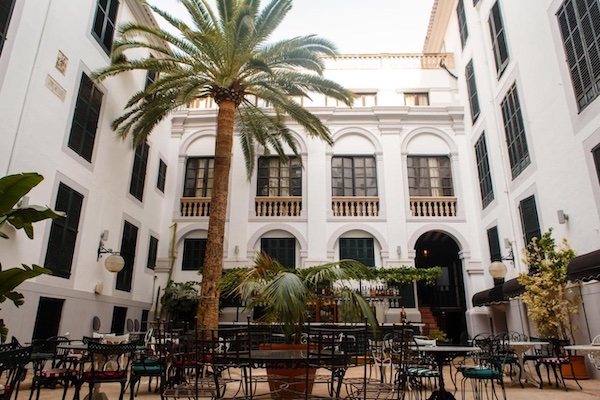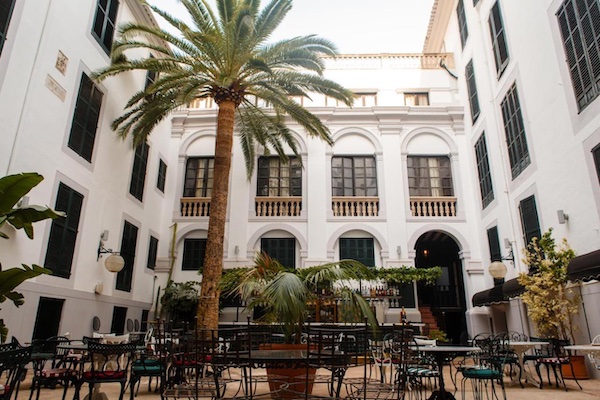 Hotel Born
Located in the famous Old Town of Palma, the Hotel Born is an ideal property to stay in the capital with proximity to many landmarks. This is not another ordinary hotel in Mallorca. The property was once a palace dating back to the 16th century. Today, it holds great historical and cultural significance that is evident from its architecture. The hotel is only 8 minutes of walk away from the Royal Palace of La Almudaina, a few minutes away from Font del Sepulcre and the Centre of Palma de Mallorca is only 1 km away. The rooms at Hotel Born are decorated with beautiful Mallorcan furniture. Some offer stunning views of courtyards.
Along with free Wi-Fi, the hotel offers many other facilities such as breakfast in bed, laundry services, relaxing massages, 24-hour reception, and a bar terrace. They also offer airport transfers on request. There is a typical Mallorcan restaurant on the hotel's ground floor offering delicious Mediterranean cuisine on a patio full of palm trees.
Hotel details
Address:
Sant Jaume, 3, 07012 Palma de Mallorca, Spain.
Guest rating:
4.5 out of 5
Price per night:
From $205
About our boutique hotel recommendations in Mallorca
We are a travel research company. We help you discover the best boutique hotels in Mallorca by researching the internet for you. It's not just our opinion, it's the opinion of many travelers who have been there before you. We make it easy for you to find out about cool design hotels and unique design hotels on the island. Some of them might be so romantic that you might not want to leave your room.
Please note that we only list hotels with an aggregated guest review rating of at least 4.0 out of 5. We aggregate all reviews from different booking sites and other unbiased review websites. Hence, you can be certain all hotels listed above offer you a great stay in Mallorca.
Best price guarantee
Get the best deals and prices for your stay in Mallorca with Booking.com and Hotels.com! They offer price matching, which means you'll be getting the lowest price available online, guaranteed! If you find a cheaper offer on another website for the same hotel room at least 24 hours before check-in, contact them to claim a refund of the difference.
Top 5 boutique hotels in Mallorca
Let's quickly summarize this guide. Based on thousands of guest reviews and tips from travel experts, these are the best boutique hotels in Mallorca:
More Mallorca tips
Get more great content like the guide above! Check out these other articles about Mallorca:
Best luxury hotels in Mallorca