Mallorca, an island in Spain, is truly a dream destination that you should visit at least once in a lifetime. The island of Mallorca is an ideal destination with spectacular beaches all around you, surrounded by huge mountains. This medieval island offers much more than just beaches. Mallorca is so diverse that you'd never want to stick to only one place here.
When booking your accommodation in Mallorca, research carefully the areas and what you wish to do there. The five major regions of Mallorca offer a unique vibe and attractions that separate them from one another. What you experience in the north may be entirely opposite to your experience in the south and vice versa.
Depending on what your vacation priorities are; adventure activities, mountain viewing, beach lounging, nightlife, Mallorca offers pretty much everything, not in every area, though. So when deciding where you are going to stay, consider choosing areas, attractions they feature, hotels, and all other aspects for a comfortable yet enjoyable stay. Below are five of the best areas to stay on this island, and they all have their own unique charm and ambiance: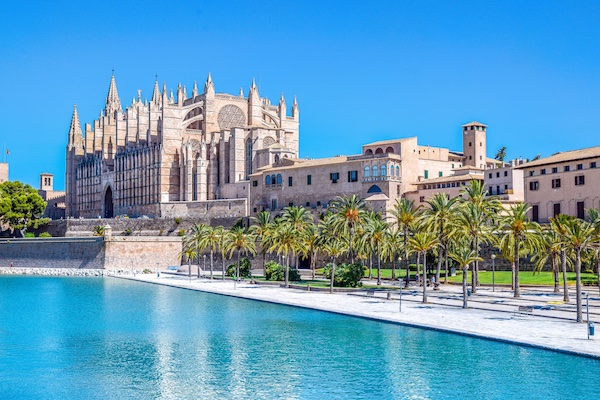 Palma de Mallorca
The capital city of Mallorca is the number one choice for travelers who want to have the best experience on this island. Though, the Palma has many districts to choose from. Among them, the most suitable and preferred among tourists are Paseo Marítimo and the famous Old Town.
The Paseo Marítimo is an ideal district for those who love long walks, would like to taste the best Mallorcan food, enjoy bike rides, and the vibrant nightlife. The district runs along the seafront, and it's lined with beautiful palm trees, walkways, and a cycle lane.
The Old Town rather offers a different experience; it draws history fanatics more. The town is surrounded by beautiful archways, grand palaces dating back as old as the 16th century, cobbled streets, huge squares, and much more.
You can look beyond these two districts as Palma is huge and is a main travel hub for the island. The capital features many attractions to discover in all of its areas. There is the magnificent Royal Palace Almudaina, now serving as a military residence and official home to the King of Spain whenever he visits Mallorca.
The city is full of medieval churches, such as the Church of Sant Francesc, which is a must-visit, and the 13th-century Castell de Bellver overlooking the beautiful El Terreno district. No matter where you choose to stay, you'll find many accommodation options, from hostels to boutique hotels to private villas and more.
Best place to stay in Palma de Mallorca
Nakar Hotel Palma. Address: Avenida Jaime III, 21, 07015 Palma de Mallorca, Spain.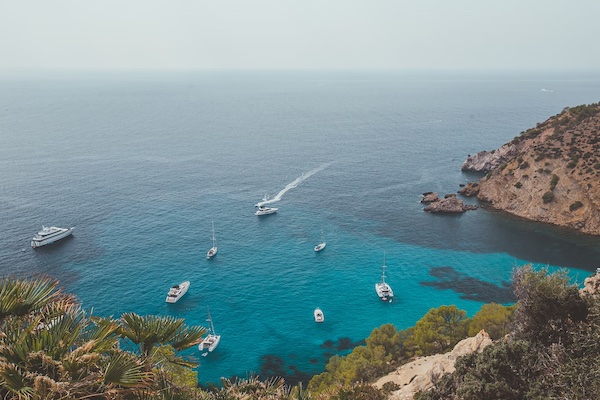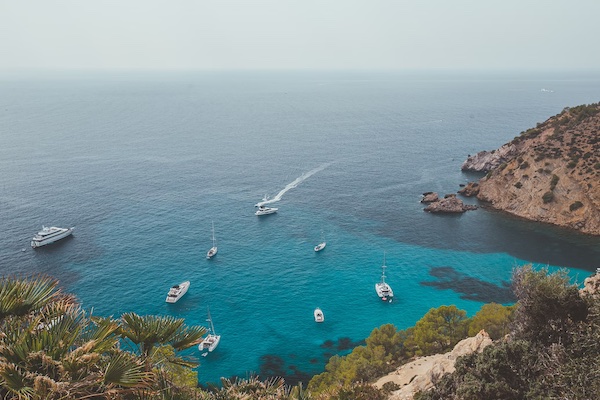 Santa Ponsa
Just 13 km away from Palma lies the stunning Santa Ponsa, a family-friendly resort town of Mallorca. The town offers accommodations suited for both families and adults. While Santa Ponsa is not as developed as its neighbor Magaluf, the town has an edge for having plenty of space on Blue Flag Beach.
The major attraction is Santa Ponsa Beach, that is about 1000 meters long and offers a plethora of facilities such as parasols, sunbeds and water spots. The beach is surrounded by plenty of cafes, restaurants, bars, and souvenir shops if you are interested in buying some local Spanish gift items to take back home. On the outskirts of town, you'll find three golf courses with challenging holes for both experienced players and beginners.
The main beach is often crowded and not recommended for those who are after quitter places. If you like isolation and fewer crowds, head off to Castellot Beach or Pellicer Beach. Though both of them offer tranquility and beautiful scenery, there are hardly any amenities.
Santa Ponsa has a laid-back environment with not many exciting things to do other than enjoying a peaceful beach vacay with your loved ones. However, there is a Jungle Park with zip-lines and rope walks, especially for families. If you are traveling with your loved one and want some partying till late at night, there are many clubs and bars at Ramon de Montcada – famous for vibrant nightlife.
Best place to stay in Santa Ponsa
Iberostar Selection Jardín del Sol Suites. Address: Huguet des Far, s/n, 07180 Santa Ponça, Spain.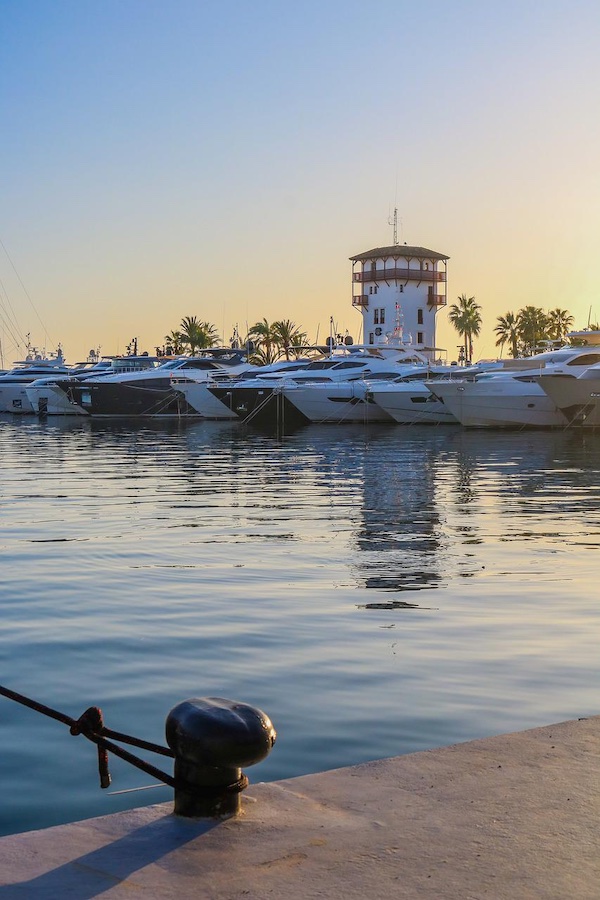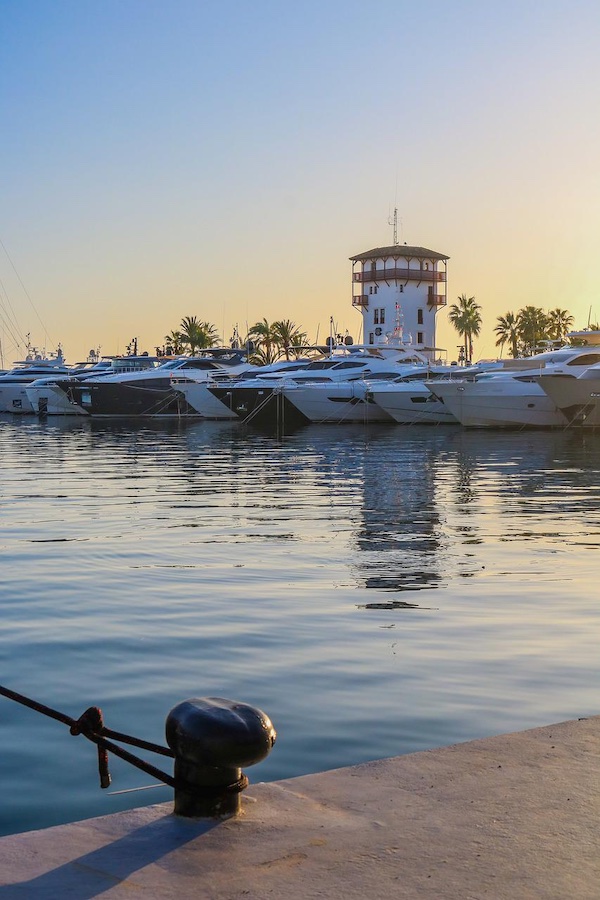 Puerto Portals
Puerto Portals is considered one of the most expensive and high-end areas to stay in Mallorca. This is the haven for luxury travelers, and celebrities are also often spotted here. Just a short distance from the capital, the town of Puerto Portals is located around a spectacular marina.
The town is home to many luxury shops, upper-class hotels, and Michelin-starred restaurants. There is a series of docks, a cove, and two beaches to explore here. The most popular beach is Playa Punta featuring surreal turquoise-colored water located in a bay that is surrounded by rocky cliffs. This beach is where many famous celebrities have been spotted, including Leonardo di Caprio, Michael Douglas, and Antonio Banderas.
If you are not hesitant to spend money, then Puerto Portals is a must-visit place. However, if you wish to stay within budget, you must avoid it at all costs. The town is mainly frequented by rich and famous people who come here to enjoy the luxuries that it offers.
Some of them enjoy their own luxury yachts, while others love to spend some peaceful time in their private villa. The area of Puerto Portals is undoubtedly everyone's dream place to visit, especially if you want to spot rich and famous people or sample the finest cuisine at some top-class restaurants here.
Best place to stay in Puerto Portals
Tomir Portals Suites. Address: Miguel de Cervantes, 4, 07181 Portals Nous, Spain.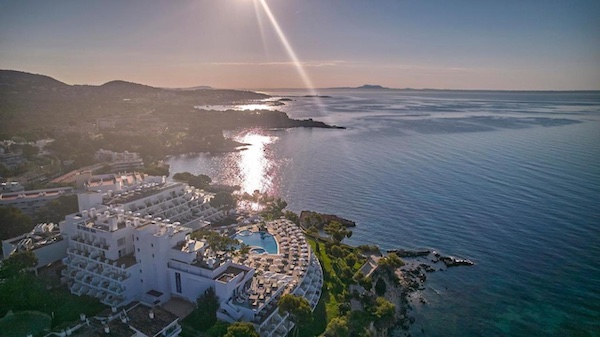 Palma Nova
Don't confuse this with the Palma city of Mallorca! Palma Nova is another family-friendly town and is also home to many British ex-pats. The town offers many nature and ocean excursions, fishing trips, and much more to visitors.
The three beaches, Es Carregador, Son Maties, and Na Nadala, are widely popular among families especially. Other than beaches, there are plenty of other things to entertain your kids, such as theme parks and water parks. However, if you are after nightlife, there is not much to do in Palma Nova. For that, you can just take a taxi to Magaluf and enjoy the vibrant nightlife there.
For thrill-seekers, the mountains of Tramuntana are great for hiking. Accommodation here includes both adults-only hotels and family-friendly properties. If you are after water sports, then there is no better place than Palma Nova. The town is also famous for its excellent shopping range.
There are many unique boutiques, book shop, leather goods shops, souvenir shops, and perfumeries to explore. You'll also find large supermarkets nearby that can be accessed via taxi. The Porto Pi – a lively shopping center, is also less distance from Palma Nova. You'll find almost anything that you desire to buy here.
Best place to stay in Palma Nova
Aparthotel Ponent Mar. Address: Marqués de la Torre, 9, 07181 Palmanova, Spain.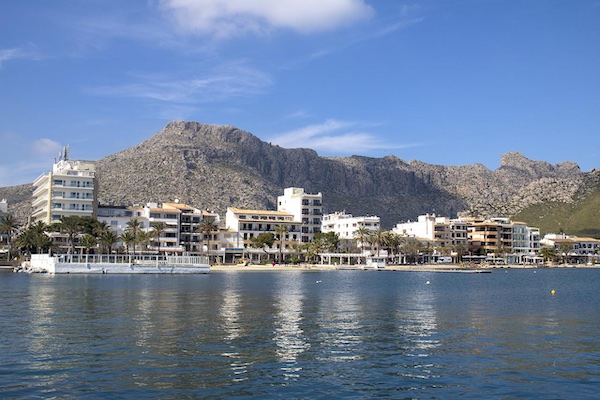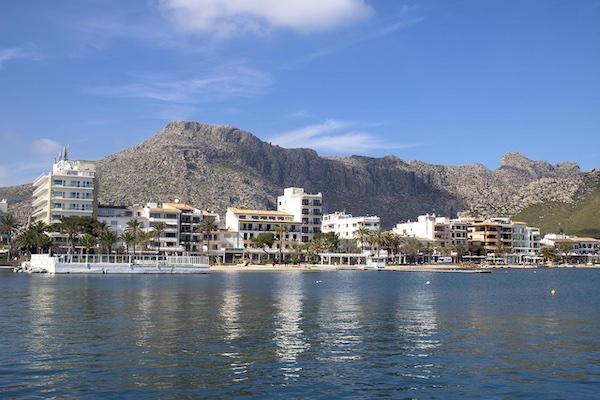 Puerto Pollença
If you are traveling the north coast side of Mallorca, and looking for an area to stay within budget, then Puerto Pollença should be on your itinerary. This laid-back but beautiful town is centered around two main beaches. One offers plenty of water sports and other activities, while the other beach features more shallow water, best for weak swimmers.
There is a stunning marina surrounded by restaurants and bars offering fresh seafood. The marina is a wonderful place to unwind yourself while enjoying a drink or meal and watching the boats go around. You can check out other attractions here such as L'Arenalet, Platja d'Albercutx beach, Serra del Cavall Bernat and Mirador des Colomer.
Don't miss out on the weekly market in Miquel Capllonch Square that is hosted every Wednesday. The market features over 200 stalls selling pretty much everything from clothes to art and craft to local produce and souvenirs. There is another Sunday market that sets up at Plaza Mayor town square.
Both are worth a visit, especially if you want to invest in some local items. Stay in Puerto Pollença if you want to live in a laid-back, traditional town where you can enjoy history and nature both. Accommodation is reasonable here to suit every budget.
Best place to stay in Puerto Pollença
Hoposa Daina. Address: Atilio Boveri, 2, 07470 Port de Pollensa, Spain.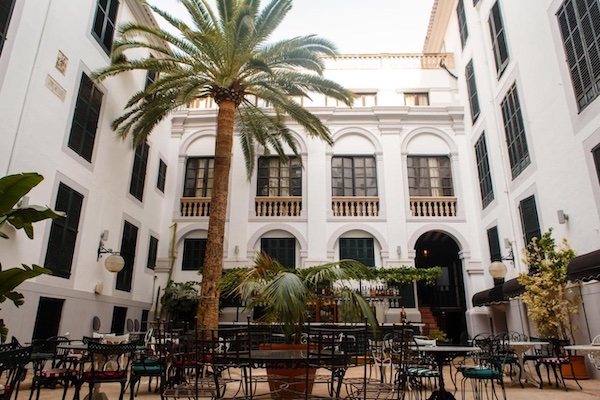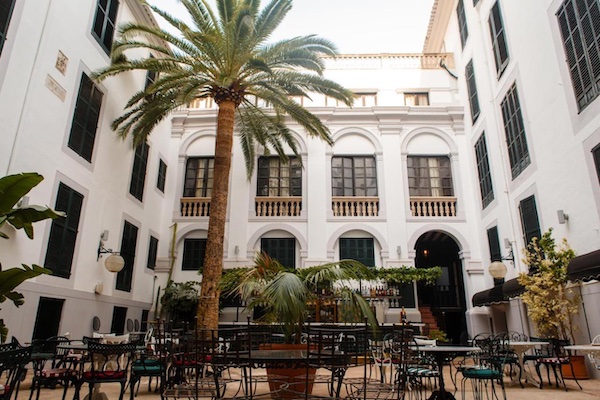 Where travel critics stay in Mallorca
Want to know where travel critics from publishers like The New York Times, Frommer's, Fodor's and Lonely Planet stay in Mallorca? Check out our overview of all recommended hotels and accommodations in Mallorca.
Budget
Protur Naisa Palma de Mallorca.
"Opened in 2019, the 99-room Protur Naisa Palma Hotel is on a quiet street just outside the old town with an inviting lobby lounge and restaurant, an indoor pool and spa, and a rooftop pool with sun beds and lounge chairs." – New York Times.
Address: Carrer de Simó Ballester, 07011 Palma de Mallorca, Spain.
Mid-range
Nakar Hotel Palma de Mallorca.
"Situated on Avenida Jaume III, arguably Palma's smartest, most emblematic shopping street, four-star deluxe Nakar Hotel, is a technophile's paradise combining luxury with technology. Modern, friendly and relaxed, it has a rooftop pool and terrace with panoramic vistas, thermal spa and destination restaurant." – Telegraph.
Address: Avenida Jaime III, 21, 07015 Palma de Mallorca, Spain.
Luxury
"The Res to its habitués, this is where the rich, famous or merely cashed up rub shoulders. A short stroll from the village centre, these former 16th- and 17th-century manor houses set in 12 hectares of manicured lawns and gardens offer every conceivable luxury – uniquely designed rooms, tennis courts, spa, two outdoor pools, a sculpture garden and three excellent restaurants." – Lonely Planet.
Address: Son Canals s/n, 07179 Deia, Spain.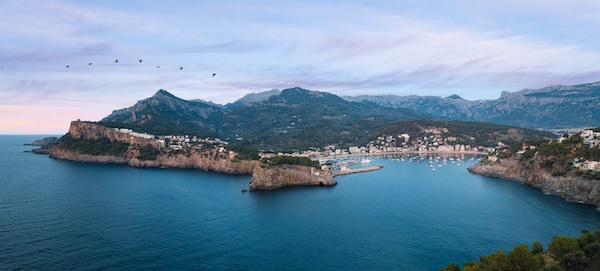 FAQ: Mallorca hotel tips
Looking for the best budget, boutique, or luxury hotel in Mallorca? Or maybe you're a backpacker looking for an excellent hostel? Want to know which Mallorca hotel serves a great breakfast? Here are the answers to all those and other questions about where to stay in Mallorca.
How much does it cost to stay in a Mallorca hotel?
For a 3-star hotel, you have to pay around $100 per night and for a 4-star hotel, you would be looking at $135 per night. If you're after a luxury 5-star Mallorca hotel then you can expect to pay around $320 per night.
What is the best affordable hotel in Mallorca?
If you're looking for an affordable hotel, then book Hotel Villa Singala. It's an excellent budget hotel offering great value for money. It's in a good location, it's been recommended by travel experts and the hotel has excellent customer reviews. Also, check out our list of the best cheap hotels in Mallorca.
What is the best boutique hotel in Mallorca?
You like some luxury but don't like the famous chain hotels. If you're looking for the best boutique hotel in Mallorca, you should check out Boutique Hotel Calatrava. It's a very cool hotel that has been highly recommended by travelers and experts. For more cool hotels, check out our list of the best boutique hotels in Mallorca.
What is the best luxury hotel in Mallorca?
If money isn't a problem and you're looking for a luxury hotel in Mallorca, then go for Hotel Can Cera. The hotel offers excellent service, it's in a top location, it has been rated very highly by previous guests and renowned travel critics have recommended it. For more 5-star hotels, check out our list of the best luxury hotels in Mallorca.
What is the best hostel in Mallorca?
Looking for a good and affordable private room or cozy dorm in Mallorca? Check out Hostal Atlanta. The hostel has been highly rated by backpackers. Also check out our list of the best hostels in Mallorca.
What is the best Mallorca hotel for couples?
If you're looking for a romantic hotel in Mallorca, then check out Finca Serena. The hotel has great reviews by couples, it's an adults-only hotel and the accommodation has been recommended by leading travel experts.
Which Mallorca hotel serves great breakfast?
There are plenty of hotels in Mallorca that serve a good breakfast. Try Boutique Hotel Posada Terra Santa if you're looking for a delicious breakfast. The hotel has excellent customer review ratings for its breakfast.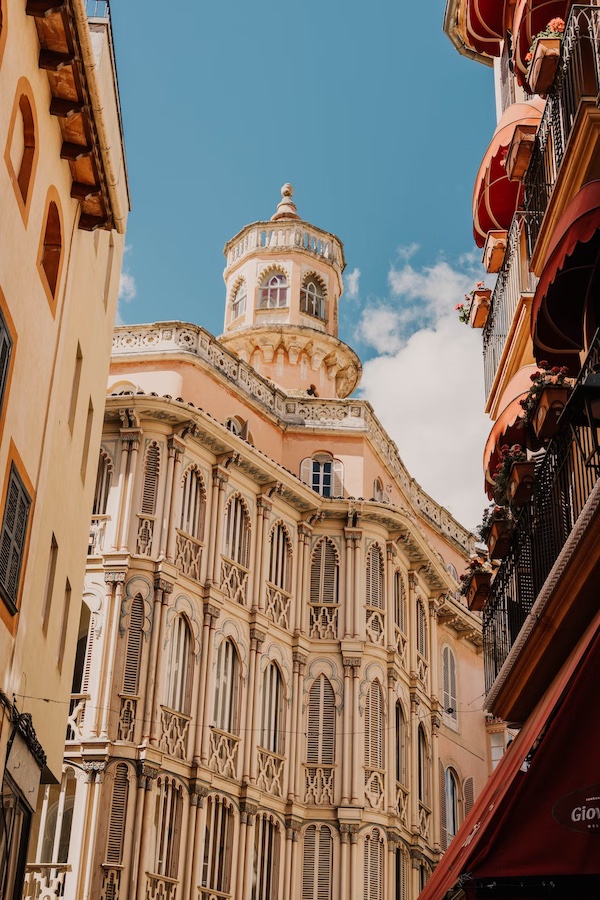 Best time to visit Mallorca
The best time to visit Mallorca truly depends on what you seek in your ideal vacation. If you're after sunny days, warm waters, and endless beach fun, then the summer months of June through August are perfect for you.
During this time, you can expect temperatures averaging 28°C (82°F) with highs reaching up to 32°C (90°F)! The island is buzzing with energy and excitement, as tourists from all over the world flock to the island to soak up the sun and indulge in the vibrant nightlife. Plus, with 10-11 hours of glorious sunshine per day, you'll have ample time to explore the island's countless attractions.
However, if you're keen on avoiding the summer crowds and discovering the island's authentic charm, the best time to visit Mallorca is during the shoulder seasons – April to May and September to October.
During these months, the weather is still warm, with average temperatures ranging between 18°C (64°F) and 25°C (77°F), making it perfect for outdoor adventures, hiking, and cycling. With fewer tourists around, you'll have the opportunity to immerse yourself in the local culture and experience the island's hidden treasures at a relaxed pace.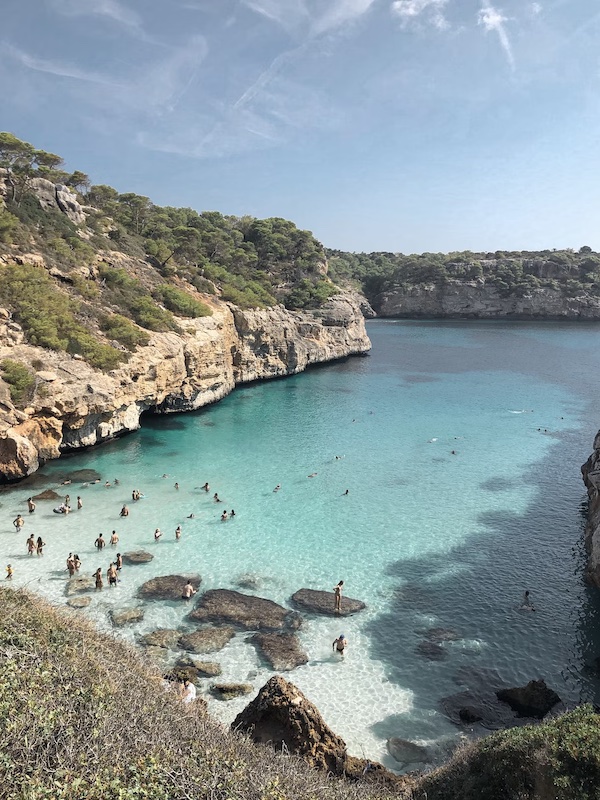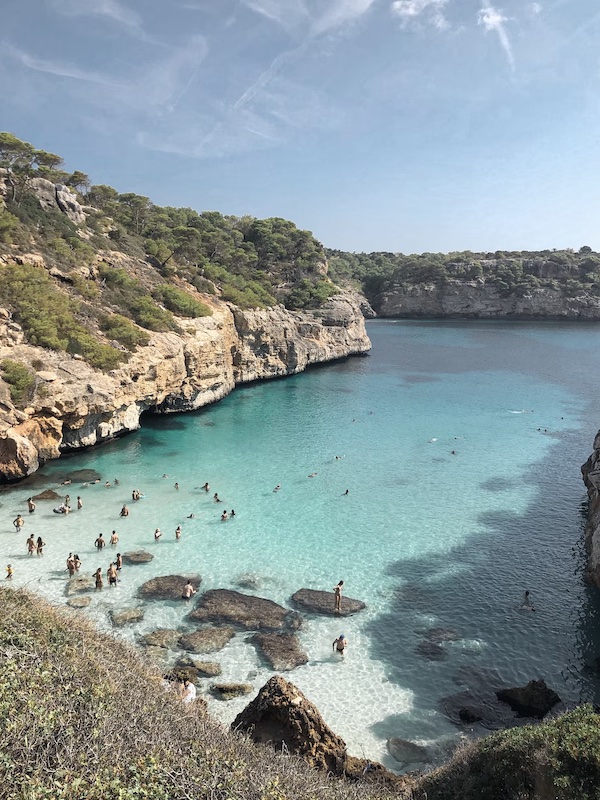 What are the best things to do in Mallorca?
There are a lot of things to do in Mallorca, including day trips, attractions, museums, sightseeing tours and many other activities. Here's our list of 3 things you should definitely do when you're in Mallorca.
From Palma de Mallorca: 5-Hour Catamaran Cruise
Cruise along the spectacular south coast of Mallorca by catamaran with two stops along the way. Drop anchor in Portals Vells or Cala Vella to swim and snorkel in the turquoise waters while a delicious barbecue meal is prepared on board. Price: $59. More info.
Mallorca: Off-Road Quad Biking, Snorkeling & Cliff Jumping
Enjoy an adventure in Mallorca and explore the area around Palma during an exciting quad bike tour. Experience the ride through rough terrain and take advantage of the opportunity to cliff jump, snorkel and swim. Afterwards enjoy a cool drink. Price: $100. More info.
Mallorca: Visit the Caves of Hams
Enjoy a walk through the Caves of Hams and walk through 850 meters of extraordinary caves with 15 different areas. Be amazed by the Magical Mozart show in the underground lake called The Sea of ​​Venice. Price: $20. More info.
Deciding where to stay in Mallorca
Let's recap what we just learned in this article. We've covered the best areas of Mallorca above. Now you can decide where to stay while visiting!
Top 5 areas to stay in Mallorca
Palma
Santa Ponsa
Puerto Pollença
Palma Nova
Puerto Portals
As you have seen in this travel guide, there are a lot of things to explore, and deciding where to stay in Mallorca is important. Whether you stay in Puerto Pollença, Palma, Santa Ponsa, Palma Nova or Puerto Portals, all those areas are in good locations.
The atmosphere of the area, whether you travel for leisure or business, whether you travel with your family or friends, and proximity to the attractions you prefer to visit should probably be the deciding factors. Whatever your preference is, you'll have a great stay in Mallorca.
More Mallorca recommendations
Check out our other guides about the best places to stay in Mallorca: