Perched at the Rocky Mountains base, the "mile-high" city of Denver, Colorado, is an exciting place to explore. It started as a small town in 1858 when settlers discovered gold flakes in the area. While it did not ultimately become a gold mining town, it has gradually grown into today's thriving metropolis.
Visitors love the city's walkability, beautiful natural spaces, sports teams, food, and entertainment. There are many sights to see in Denver. Downtown Denver has some excellent pedestrian, eating, and entertainment districts.
Two particularly famous areas include the Sixteenth Street Mall and Larimer Square. The Sixteenth Street Mall is a mile-long pedestrian street that has various restaurants and stores. In the center of the road, there are delicious food carts where you can sample international cuisine. A free tram transports people up and down the mall.
Larimer Square is an offshoot of the Sixteenth Street Mall with independent shops, fun nightlife, and chef-driven eateries. Denver is also very well known for its outdoor spaces, including the Denver Zoo and Denver Botanic Gardens, which have a combined 103-acres of open-air land.
Sports fans can catch a baseball game at Coors field or a football game at Empower Field. Besides that, culture lovers can spend time at Coors Brewery, the Art Museum, Denver Union Station, and the Red Rocks Amphitheater.
There is an activity to suit every type of traveler in Denver! If you are looking to visit this exciting city, here are the three best hostels you can stay at: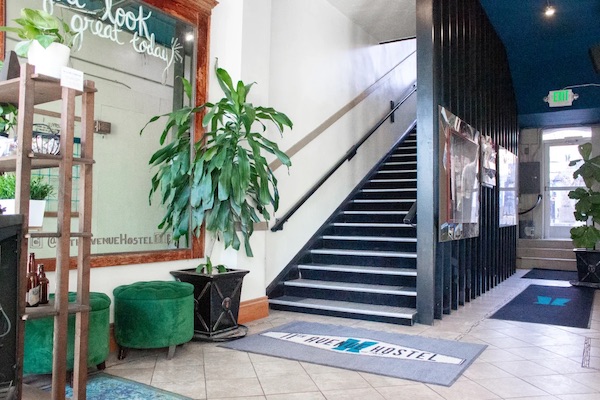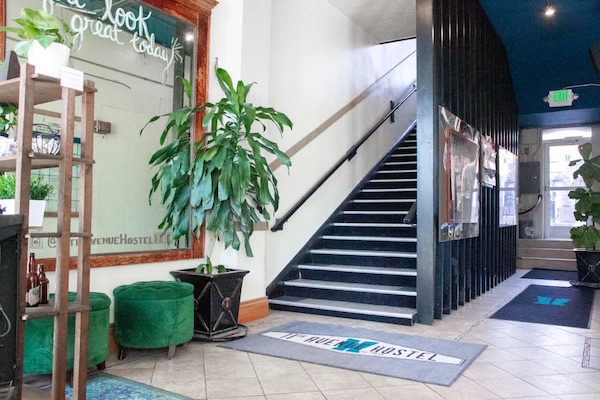 11th Avenue Hostel
You can find the 11th  Avenue Hostel in the lively Civic Center district of Denver. The hostel is only a few blocks away from Civic Center Park, the Denver Art Museum, and the Clyfford Still Museum. If you are interested in Denver's nightlife, there are numerous bars and clubs steps away from the hostel. The city's main attractions, such as the 16th Street Mall, are within walking distance from the hostel or a short uber trip away.
This cozy hostel, located in a 117-year-old building, has several rooms to accommodate various budgets. Options include dorm rooms, private rooms with an ensuite bathroom, private rooms with a shared bath, and a friend's room with a bunk and shared bathroom.
The hostel is currently undergoing renovation and will re-open in May 2021. New features include a kitchen, library, lobby, and café.
Guests love its proximity to museums, fantastic staff, and great value.
Hostel details
Address:
1112 Broadway, Greyhound Bus Amtrak Downtown Location, Denver, USA.
Guest rating:
4.3 out of 5.
Price per night:
from $30.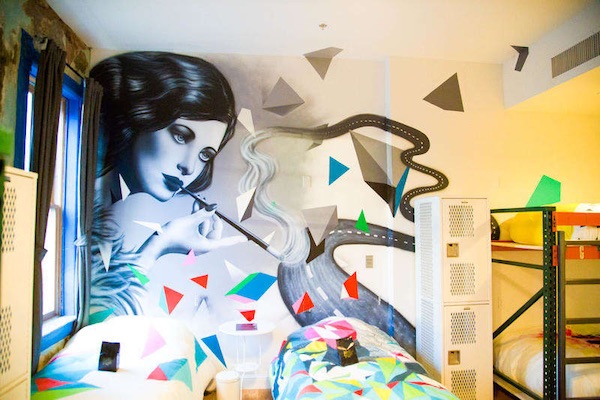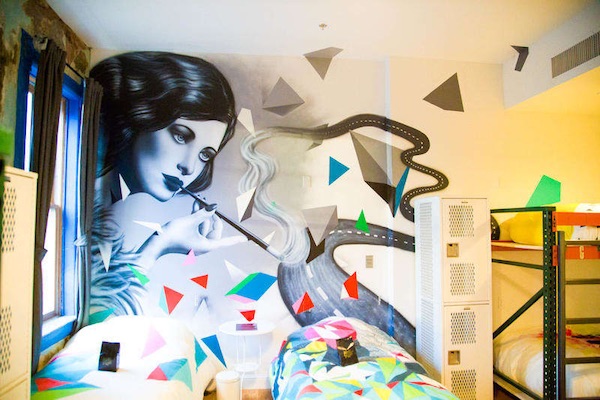 Hostel Fish
Hostel Fish is the only hostel located in Downtown Denver. Within minutes you can walk to Coors Field, the Sixteenth Street Mall, and the Museum of Contemporary Art. You won't even need to catch an uber or take public transportation to reach delicious dining spots and thriving nightlife. Both are just steps away from the hostel. If you want to take a day trip to Boulder, you can catch the bus a few blocks away at Union Station.
This artistic space with shared room accommodations come with comfy mattresses and linens, personal lockers, and keycard access. Its vibrant facilities have co-working spaces, a modern kitchen, lounges, and an outdoor patio.
You can find a boudoir-style full gastropub and bar downstairs with responsibly-sourced food and a variety of delicious flatbreads. This space is also an exciting entertainment venue with live music.
Travelers adore its unbeatable location, fun atmosphere, and comfortable beds.
Hostel details
Address:
1217 20th Street, Denver, USA.
Guest rating:
4.7 out of 5.
Price per night:
from $51.
Ember Hostel
Just down the street from the State Capital is Ember Hostel. Its eclectic neighborhood has historic mansions and is a hotspot for young musicians, artists, and bohemians. Within walking distance, you can find the Ogden Theater and Fillmore Auditorium. Colfax Avenue, the concert and live music center of Denver, is near the hostel. Additionally, hostel guests will enjoy the plentiful restaurants, coffee shops, late-night bars, and thrift shops in the area.
Located in a 9,000 square ft historic mansion, this vibrant hostel has bunk-style dorm rooms. Guests can enjoy a wide range of premium amenities, including a 12-person spa jacuzzi, outdoor fire pit, back patio, guest lounge, and free parking on site.
The hostel offers its visitors a concierge service, daily housekeeping, and complimentary espresso, coffee, and tea.
Ember Hostel is rated the "Best Hostel in the USA" because of its overall "cool" vibe, unique amenities, and great social atmosphere.
Hostel details
Address:
857 N Grant Street, Denver, USA.
Guest rating:
4.8 out of 5.
Price per night:
from $40.
About our Denver hostel recommendations
Are you a solo traveler looking for a private room? Or a backpacker traveling around in a group wanting to stay in a cheap and cozy dorm? Above you will find the best hostels in Denver for all your needs.
Please note, we only list hostels that have an aggregated guest review rating of at least 4.0 out of 5. We aggregate all reviews from different booking sites and other unbiased review websites. Hence, you can be certain all hostels listed above offer an excellent value-for-money stay in Denver.
Best price guarantee
For our hostel recommendations, we work together with Hostelworld and Booking. These partnerships don't have any influence on the recommendations we make or on the order in which our recommended hostels are listed. The reasons why we have chosen to partner with these companies is that they're trustworthy, offer excellent service and they both apply the best price guarantee. This means you can claim a refund for the difference if you find your reservation cheaper on another website. It has to be for the same property, accommodation type, dates, cancellation policy and conditions, otherwise, you can't claim the refund for the difference. If you book through Booking.com then all you need to do is contact them at least 24 hours before your check-in date. If you book through Hostelworld you must claim the refund within 24 hours after you made the booking.
Top 3 hostels in Denver
To summarize again, based on thousands of guest reviews, these are the best hostels in Denver:
Why you should be careful when booking the cheapest hostel available
The cheapest hostels available are typically not in a great location. If you want to go sightseeing or go for a night out in central Denver, you probably end up having to pay for public transport or a taxi to get there. So your stay could end up being more expensive compared to a stay in a central location. For first-time travelers, we recommend staying central anyway, but also for frequent visitors, it's probably worth it to pay a bit more to stay in a central location.
Another reason why you shouldn't stay at the cheapest hostel is that the people staying at the cheapest hostels are often not the people that can afford to travel like you. Because a very cheap hostel is often cheaper than renting a flat, these places tend to attract migrant workers or local misfits. That's probably not the crowd you want to hang out with, especially if you're a solo traveler looking for friends.
The third reason why you should avoid the cheapest hostels is safety. Some of the cheapest hostels don't check IDs, don't ask for signatures, or only accept cash at check-in. The hostel won't know who is actually staying there.
Lastly, the service at these hostels isn't great. For instance, if you choose to store your luggage, your bags will be unattended in a public space. It won't be recorded anywhere or tagged and stored in a locked room.
Get to know the city better and check out our other articles about Denver:
Best boutique hotels in Denver