Cairo is a bustling city that is full of life, where the ancient past greets the modern world and collides to create one of the most iconic cities in the world.
The famous capital city of Egypt lies on the banks of the River Nile and is an oasis that combines historic monuments and mysteries from the past with luxurious skyscraper hotels and exclusive boutique eateries.
With an urban population of over 16 million people, the city of Cairo is expansive and there are many excellent areas you can stay in depending on what you would like to see and do. With beautiful parks and interesting museums, there is something for everyone in Cairo, whether you are on a historical tourist trip or a family vacation.
From the luxurious riverside to the ancient area of Giza, this article will help you decide where to stay so you can get the very best out of your trip to Cairo. Whether you are keen to explore the Great Pyramids or explore art galleries and trendy boutiques, this article will cover the 5 best areas to stay in Cairo.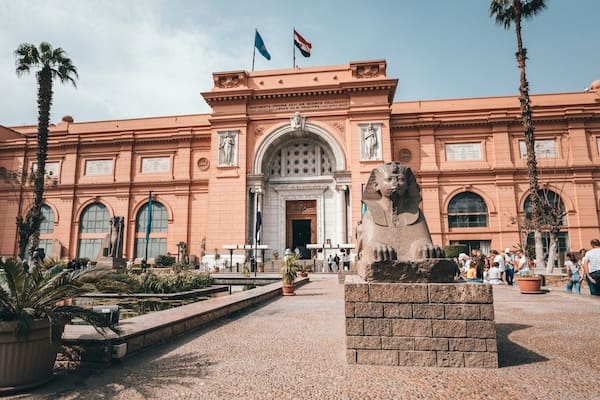 Downtown Cairo
The Downtown area of Cairo was designed during the late 19th century by French architects as requested by Isma'il Pasha the Khedive of Egypt, at the time. As a result, the Downtown area of Cairo is pleasant with wide boulevards and many affordable shops and restaurants.
The Downtown area is the heart of the city with many excellent cultural attractions such as the impressive Egyptian Museum, which holds many important Egyptian artifacts including the infamous Tutankhamun's treasures. Although the Egyptian Museum made its home in Downtown Cairo, in 2023 it will be getting an upgrade when it is moved to the Giza Plateau where the Great Pyramids of Giza are located.
Amongst the hustle and bustle of the city of Cairo, you can wonder at cultural art at the Museum of Islamic Art located in Bab El Khalk Square. This interesting museum is full of fine Islamic art from mosques, and palaces in Islamic Cairo and celebrates one of the main religious cultures of the city.
Tahrir Square is also located in Downtown Cairo, which also houses many government buildings, the impressive Abdeen Palace Museum, and the American University in Cairo. This area is known for its more affordable hotel accommodations and is a lively and enjoyable area to visit.
Best place to stay in Downtown
The Nile Ritz-Carlton. Address: 1113 Corniche El Nil, 12344 Cairo, Egypt.
Cheaper alternative:
Valencia AP Cairo. Address: 1 Seket El Fadl, Talaat Harb Street, Downtown Cairo, 11613 Cairo, Egypt.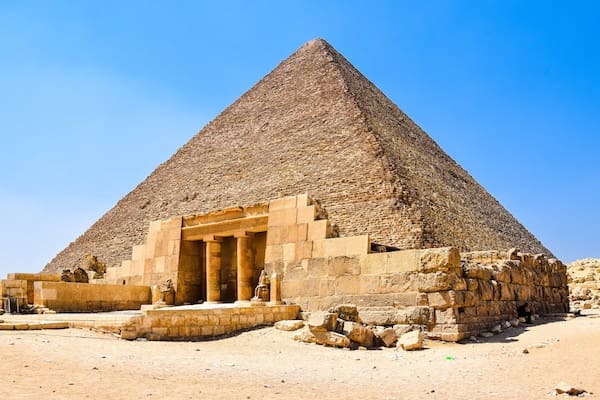 Giza Governorate / Pyramids
One of the most famous and popular areas in Cairo is of course the ancient Great Pyramids of Giza. Located on the western edge of the city, in the Haram district of Giza, the Pyramids are a short distance from the city of Cairo. Many travelers flock to the Giza Plateau to visit this stunning UNESCO World Heritage site where the impressive Egyptian Pyramids lie.
The highlights of this sprawling ancient site include the Pyramid of Khufu, also known as the Great Pyramid of Giza, which is the oldest and largest Pyramid in Egypt. This monumental Pyramid is the only remaining monument of the Seven Wonders of the Ancient World and visitors can marvel at its extraordinary construction.
Travelers to the Great Pyramids also enjoy visiting the Great Sphinx of Giza, which is constructed from a single block of sandstone. Sadly the Sphinx lost its nose in the 15th century, yet despite this many people enjoy witnessing this notable monolith.
As a result of its popularity and cultural status, there are many hotel accommodations in this area, plenty of fine dining restaurants, and excellent rooftop bars to explore, with spectacular views of the pyramids.
Best place to stay in Giza
Marriott Mena House. Address: Pyramids' Road, Giza, Cairo, Egypt.
Cheaper alternative:
Horus Guest House. Address: 21 Gamal Abd El Nasir Street From Abou Al Hool Al Seiahi Street, Giza, 99999 Cairo, Egypt.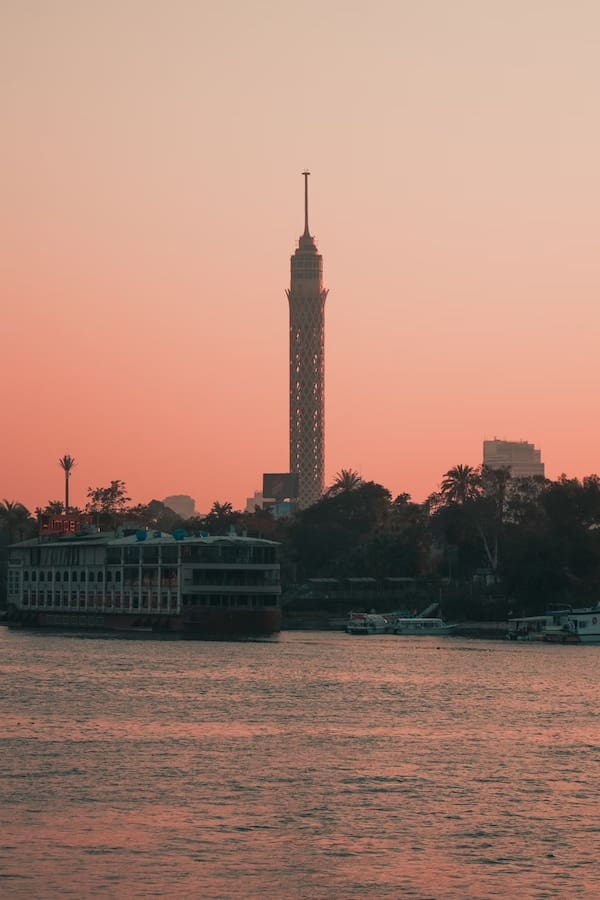 Zamalek District
The Zamalek district is a prosperous area located on Gezira Island, in the middle of the Nile. This area is a hub of modernity and luxury with exceptional boutique shopping malls and trendy cocktail bars, cafes, and bookstores all nestled together in one spot.
The Zamalek area is located on the Northern end of the island and is buzzing with plenty of things to see and do. The Cairo Opera House is located here and hosts spectacular nightly cultural performances both inside and outside in its outdoor theater.
The Cairo Tower is also situated in Zamalek and towers over Cairo city at 187 meters tall. The tower is open daily until midnight and offers unparalleled views over the city and across the River Nile to the Pyramids.
One of the main attractions of Zamalek is its modern art influence with many exquisite modern art galleries such as the Gezira Centre of Arts, Picasso Gallery, and the Akhenaten Centre of the Arts, among the most popular art galleries in the area.
The area of Zamalek is a splendid and safe place to stay in Cairo and there are many 5-star luxury hotels located here, although there are also smaller budget hotels too.
Best place to stay in Zamalek
Sofitel Nile El Gezirah. Address: 3 El Thawra Council St Zamalek, 11518 Cairo, Egypt.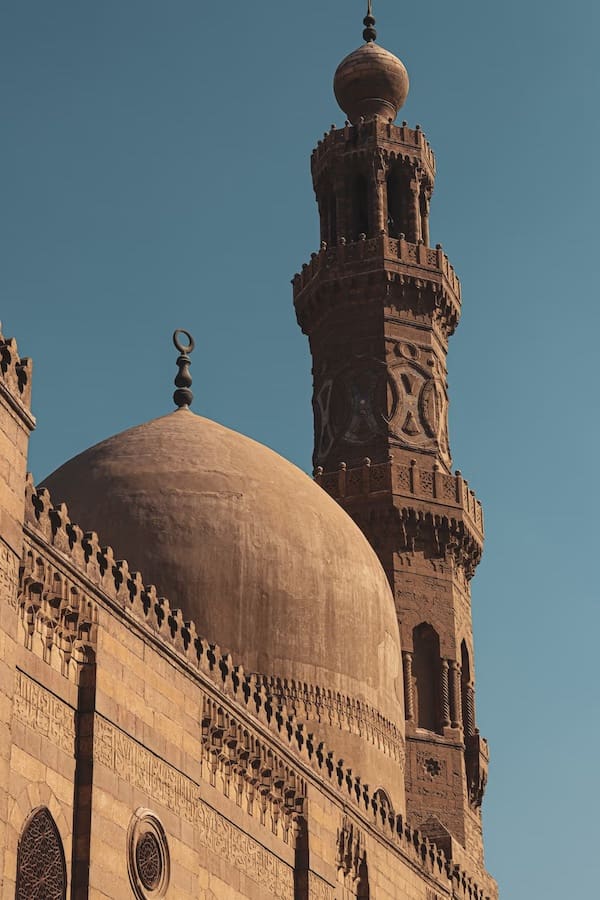 El Gamaleya District
The El Gamaleya District is located close to Islamic Cairo and is home to some of the most authentic wonders of the city. It is here that you can immerse yourself in the soul of the city, walking through picturesque winding streets and visiting lively markets selling spices and authentic treasures.
For those looking for historic culture, you can visit the impressive Bab El Fetouh gate, one of the three remaining gates that were once part of the city wall of Old Cairo. The Khan el-Khalili Bazaar is also located in the El Gamaleya district and is the oldest market in the Middle East, selling a wondrous selection of silver and brassware as well as gold jewelry.
The stunning Al-Azhar Park is also worth a visit, especially as it is considered one of the world's sixty greatest public spaces, by Project for Public Spaces. This extensive park combines traditional Islamic landscape traditions with water fountains and channels that reflect Persian and Timurid influence.
Hotels and accommodations in this area reflect the traditional culture and customs of Islamic Cairo and are more affordable than in the more affluent areas of the city.
The El Gamaleya is a beautiful place to visit in Cairo to experience the historic architecture of the city, with many elaborate mosques and old buildings adding to the unique charm of the area.
Best place to stay in El Gamaleya
Le Riad Hotel De Charme. Address: 114 Muizz Li Din Allah, 99999 Cairo, Egypt.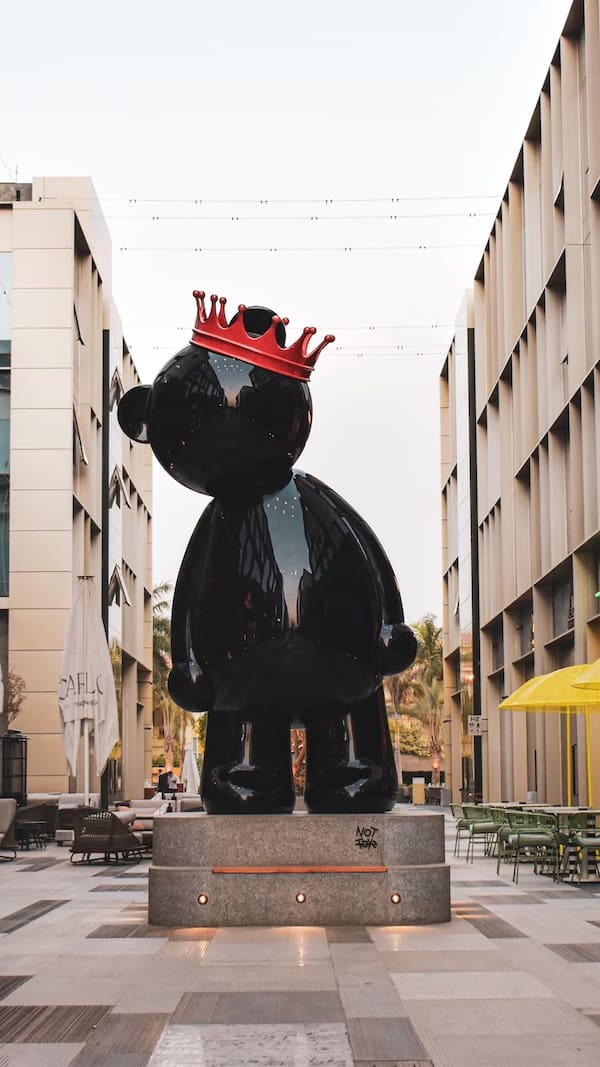 New Cairo
Located on the far east side of the city, New Cairo is part of a series of planned communities that were built specifically to draw people away from the crowded areas of the city center. However, the area of New Cairo is bustling and an excellent place to visit if you are a regular visitor to Cairo, who has already seen many of the popular tourist areas and sights.
New Cairo is an affluent area that attracts a lot of business travelers due to the fact that many business headquarters have been relocated here. There are also many excellent shopping malls which include cinema complexes, restaurants, and many retail shopping stores.
The New Cairo area is known for its luxury and many of Cairo's elite population live here in large houses within gated communities. As the area is less busy than Cairo city center, the weather feels slightly cooler and there is noticeably a cleaner air quality.
New Cairo is the ideal place to visit if you want to relax and unwind with many exclusive golf courses and wellness spas in the area. However, despite the affluent population of the area, there are both high-end and affordable hotels and an exceptional range of restaurants and bars which you can choose from.
Best place to stay in New Cairo
Maran Residence. Address: 255 North 90th Street – Service Lane Villa 255, Choueifat, 90th street, New Cairo, 11865 Cairo, Egypt.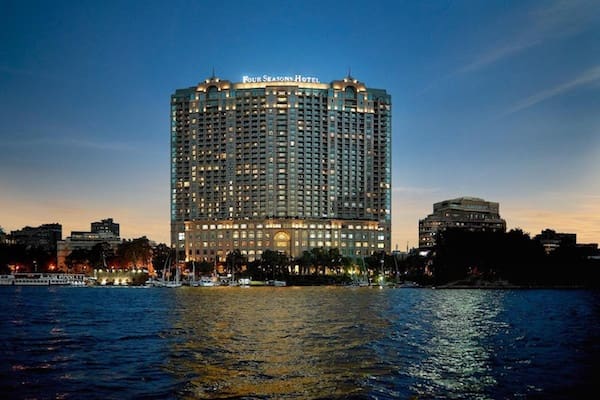 Where travel critics stay in Cairo
Want to know where travel critics from publishers like The New York Times, Frommer's, Fodor's and Lonely Planet stay in Cairo? Have a look at our overview of all recommended hotels and accommodations in Cairo.
Budget
"This sophisticated customer has been shaking up the Downtown hotel scene since it opened in early 2017. From the vast, modern minimalist lobby with casual bar to the spacious, contemporary styled rooms, the Steigenberger is a soothing oasis right in the heart of the city." – Lonely Planet.
Address: Kasr El Nile, Cairo, Egypt.
Mid-range
"A location amid Nile City Towers Mall gives the hotel easy access to shopping and entertainment — catch a movie at the Renaissance Cinema. Though since Fairmont Nile City sits on the banks of the Nile, your gaze likely will be locked on the world's longest river." – Forbes.
Address: Corniche El Nile, Ramlet Beaulac, Cairo, Egypt.
Luxury
"It's hard to get any more central or stylish than the smoothly modern Four Seasons Plaza. From the cutting-edge collection of Egyptian art on the walls to the beautifully designed pool and dining facilities, you can rest assured that nobody's staying anywhere nicer tonight." – Frommer's.
Address: 1089 Corniche El Nil – Garden City, Garden City, 11519 Cairo, Egypt.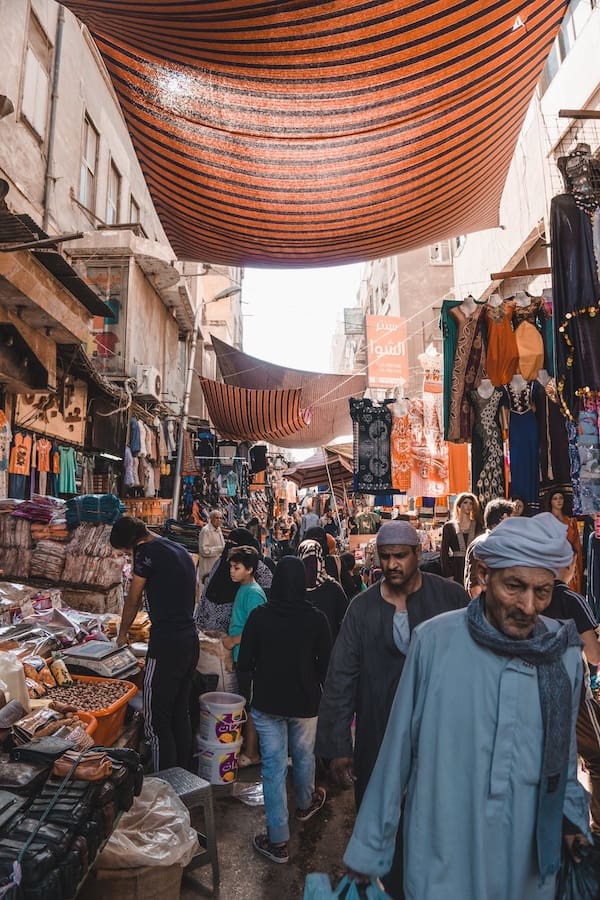 FAQ: Cairo hotel tips
Looking for the best budget, boutique, or luxury hotel in Cairo? Or maybe you're a backpacker looking for a magnificent hostel? Want to know which hotel serves a great breakfast? Here are the answers to all those and other questions about where to stay in Cairo.
How much does it cost to stay in a Cairo hotel?
For 3-star hotels, the average rate is around $70 per night. If you're looking for a 4-star hotel, then the rates are around $130 per night. The average rate for a 5-star hotel in Cairo is around $300 per night.
What is the best budget hotel in Cairo?
If you are on the hunt for an affordable hotel, then you should consider reserving Jimmy Pyramids View Inn. It is a great option for those on a budget, as it provides good value for your money. Additionally, the hotel is in a great location, and professional travelers have given it their approval. Guests who have stayed at the hotel have also shared positive reviews. Need more tips? Check our shortlist of the best budget hotels in Cairo.
What is the best boutique hotel in Cairo?
If you fancy a bit of extravagance but prefer to stay away from the well-known chain hotels, then the Steigenberger El Tahrir in Cairo is an excellent option for you. This hotel has been very well-reviewed by travelers and experts alike. For more information on other cool hotels, take a look at our list of the best boutique hotels in Cairo.
What is the best luxury hotel in Cairo?
If cost is not an issue, Four Seasons Nile Plaza is a great option for those seeking a luxurious hotel in Cairo. This establishment offers magnificent customer service, is situated in an ideal location, and has garnered high reviews from customers and travel experts alike. To discover more 5-star hotels, take a look at our selection of the top luxury hotels in Cairo.
What is the best hostel in Cairo?
If you're searching for a well-priced private room or comfy dorm in Cairo, Holy Sheet Hostel is worth a look. The hostel has been highly praised by backpackers. Additionally, we have compiled a shortlist of the finest hostels in Cairo based on thousands of reviews from backpackers.
What is the most romantic hotel in Cairo?
When it comes to planning a romantic getaway, there is nothing more important than choosing a cozy hotel. We recommend Kemet Boutique Hotel if you want to make your stay in Cairo truly memorable.
Which Cairo hotel serves great breakfast?
Try Pyramids Planet Hotel if you're looking for a delicious breakfast at a hotel in Cairo. It has excellent guest review ratings for its breakfast.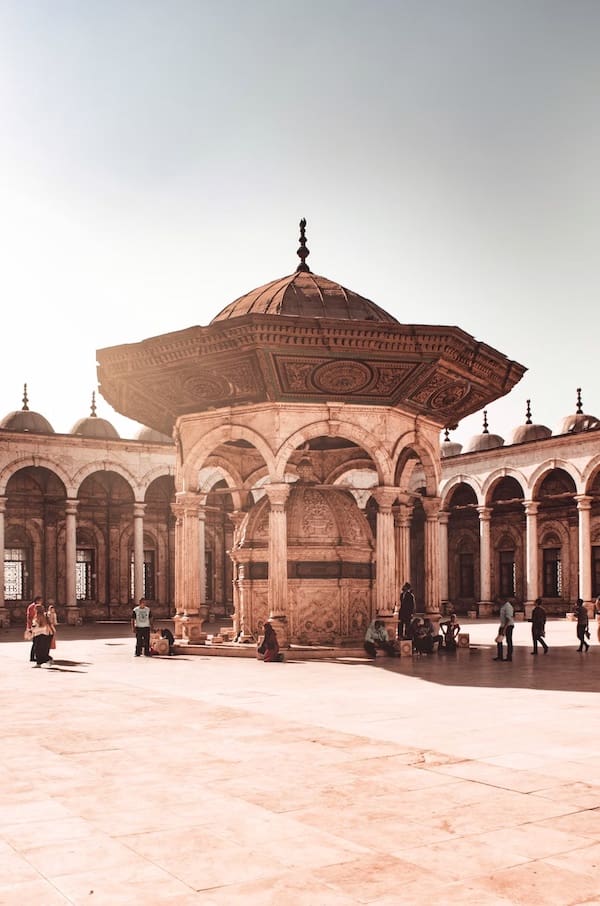 Best time to visit Cairo
The best time to visit Cairo is during the winter months, which are from November to February when the weather is milder and more comfortable for outdoor activities.
During these months, the average temperature ranges from 15 °C to 20 °C (59 to 68 °F), making it perfect for exploring the city's many attractions. You can visit the famous Pyramids of Giza, the Egyptian Museum, and the Khan el-Khalili bazaar without worrying about the scorching heat. Plus, the cooler temperatures also make it easier to navigate through the bustling streets of Cairo.
Another advantage of visiting Cairo during the winter months is that the city is less crowded with tourists, which means you will have a better chance of securing affordable accommodations and avoiding long lines at popular attractions. In addition, you can also enjoy some of the city's cultural and religious festivals, such as the Cairo International Film Festival and the Coptic Christmas.
However, if you're looking for a more budget-friendly option, you might want to consider visiting Cairo during the summer months, which are from June to August. Despite the high temperatures, this is the low season for tourism, and you can find some great deals on accommodations and flights. Just be sure to stay hydrated and avoid spending too much time outdoors during the hottest parts of the day.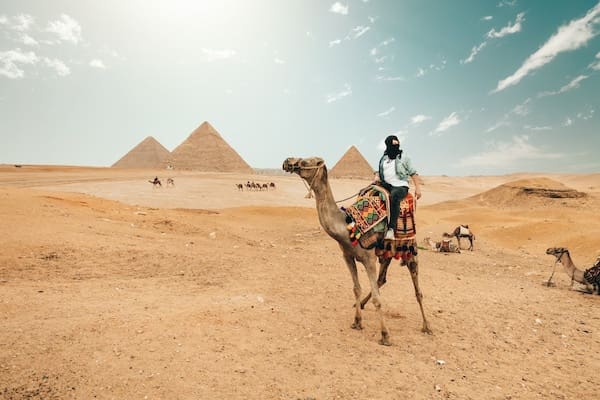 Best things to do in Cairo
There are a lot of things to do in Cairo and the surrounding areas, including day trips, attractions, museums, sightseeing tours and many other activities. Here's our list of 3 things you should definitely do when you're in Cairo:
Dinner Cruise on the Nile River with Entertainment
Enjoy a relaxing night out as you cruise down the Nile River while savoring an open buffet dinner. Watch belly dancers as they perform to classic Arabic songs along with a Tanoura show. Price: $30. More info.
Pyramids of Giza, Sphinx, Saqqara & Memphis Tour
Discover some of Egypt's greatest antiquities on a private or shared tour of Giza Pyramids and Sphinx from Cairo. Explore the less-visited pyramids of Saqqara and Memphis with an Egyptologist guide. Price: $53. More info.
From Cairo: Full-Day Historical Alexandria Tour
Journey through Alexandria city and walk along the Egyptian pathways. Make your way to the Roman theater of Kom El-Deka, the catacombs of Kom El Shoqafa, the Roman triclinium, and the Pompey's Pillar with this full-day tour from Cairo. Price: $73. More info.
Deciding where to stay in Cairo
Let's recap what we just learned in this article. We've covered the best areas of Cairo above. Now you can decide where to stay while visiting!
Top 5 neighborhoods to stay in Cairo
Giza
Downtown
New Cairo
El Gamaleya
Zamalek
As you have seen in this travel guide, there are a lot of things to explore, and deciding where to stay in Cairo is important. Whether you stay in Downtown, New Cairo, El Gamaleya, Zamalek or Giza, all those neighborhoods are in good locations.
The atmosphere of the area, whether you travel for leisure or business, whether you travel with your family or friends, and proximity to the attractions you prefer to visit should probably be the deciding factors. Whatever your preference is, you'll have a great stay in Cairo.
More Cairo tips
Take a look at our other guides about the best places to stay in Cairo: