From the iconic Pyramids of Giza to the numerous historic mosques, castles, and churches, the capital of Egypt isn't short on tourist attractions. Cairo is safe, affordable, and provides 365 days of summer fun. But while traveling to new places is a refreshing experience for everyone, the carbon footprint of global tourism can be quite the damper on enjoying a vacation.
If you've committed to maintaining a sustainable lifestyle, there are still many options at hand. We've put together a list of five sustainable hotels that are sure to minimize the carbon footprint of your entire trip.
But first, let's learn what Cairo has to offer.
Why Travel to Cairo?
Cairo is the city of a thousand minarets, and traveling here means experiencing a melting pot of culture. Enter the city, and you will find ancient fortresses and structures standing across modern buildings—somehow in perfect harmony.
The city's rich heritage shines in various attractions, like the Great Sphinx of Giza, Sakkara, Citadel of Salah el Din, Hanging Church, and many more.
But Cairo also has its fair share of attractions for a lover of living culture. You can experience it in the city's vibrant social life, full of festivals and events, exhibitions, bazaars and souks, etc.
And if you want a day or two to relax after a hectic vacation schedule, a cruise down the Nile is a fantastic option.
Cairo is also an active participant in the European Bank for Reconstruction and Development (EBRD)'s urban sustainability initiative, which promotes clean ecosystems by reducing the carbon footprint in dozens of cities.
These eco-friendly hotels are committed to preserving the city's natural resources and minimizing guests' carbon footprints during their visits.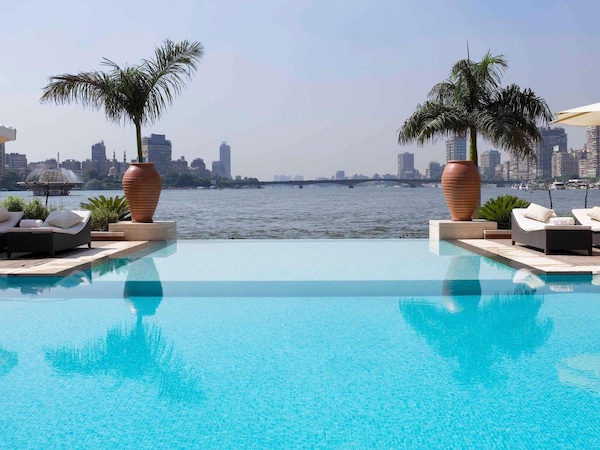 Sofitel Cairo Nile El Gezirah
The Sofitel Cairo is located on the southern tip of El Gezirah island, around 45 minutes from the Cairo International Airport. It is near the Cairo Opera House and offers excellent views of the Nile.
It has a luxurious yet sensibly contemporary appeal that contrasts wonderfully with the city's ancient vibe. The hotel also has six restaurants, four bars, a gym, an outdoor pool, a spa with a hammam, a hot tub, and a sauna, among many of its offerings.
Unfortunately, pets are not allowed on the premises.
The Sofitel provides various modern-day amenities and endless options in accommodation for singles, couples, and families alike. It is also wheelchair accessible.
Why is the Sofitel a sustainable hotel?
The Sofitel has a Gold-level rating under Accor's Planet 21 program, which aims to increase the number of eco-friendly hotels. The initiative works with employees, customers, partners, and local communities in the hospitality network to achieve net-zero carbon emissions by 2050.
The program outlines 65 points of action for its hospitality partners to undertake and categorizes partners into Bronze, Silver, Gold, and Platinum levels.
Some of the initiatives undertaken by Sofitel under the eco-friendly hotel's initiatives include:
Eco-friendly shampoo and soap
Eco-friendly cleaning solutions
Water-efficient taps
Organic and locally-sourced food and beverages
Energy-efficient lighting
Linens and towel reuse programs
Zero single-use plastics (straws, toiletries, etc.)
Food waste reduction programs
Safe disposal of electronic items
Recycle bins
Hotel details
Address: 
3 El Thawra Council St Zamalek, 11518 Cairo, Egypt.
Guest rating:
4.0 out of 5
Price per night:
From $175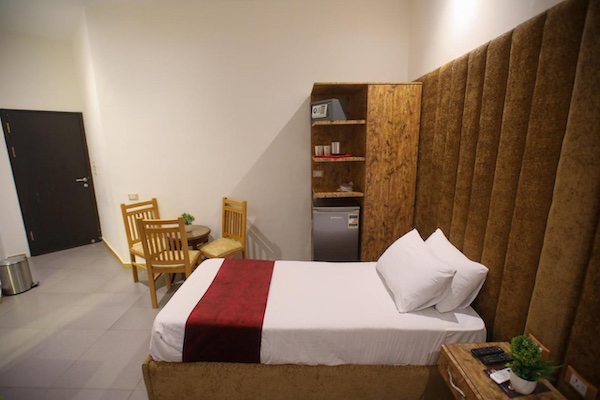 Valencia Hotel Downtown
The Valencia Hotel Downtown sits close to attractions like the Nile and the Egyptian Museum. It is a fantastic solution for anyone who wants to explore the city sustainably while on a limited budget. Airport pickups and breakfasts are free for all guests.
The rooms are designed with a minimalist and practical Khedive-style decor.
While this sustainable hotel doesn't have a restaurant or bar, it has a hearty breakfast buffet, snack bar, and wine/champagne options. Enjoying breakfast on one of their outdoor balconies is one of the best ways to experience the city's weather and observe local culture.
The Valencia Hotel provides convenient accommodation solutions for singles, couples, and even large families.
The hotel also has a shared kitchen and lounge space, so it's the perfect solution for those who love the community experience. It is also wheelchair accessible.
Pets are not allowed on the premises.
Why Is the Valencia Hotel an Eco-Friendly Hotel?
The Valencia Hotel is part of the Travel Sustainable program and has taken various measures in its support.
Some of the sustainable hotels initiatives include:
Water-efficient toilets and showers
Energy-efficient lighting
Toilet reuse option
Locally sourced organic food
Double-glazed windows
Recycling bins
Food waste reduction measures
Option to opt out of daily room cleaning
Bicycle rentals
100% renewable electricity
Supports local artists and businesses
Investments in community/sustainability projects
Hotel details
Address: 
1 Seket El Fadl, Talaat Harb Street, Downtown Cairo, 11562 Cairo, Egypt.
Guest rating:
4.1 out of 5
Price per night:
From $68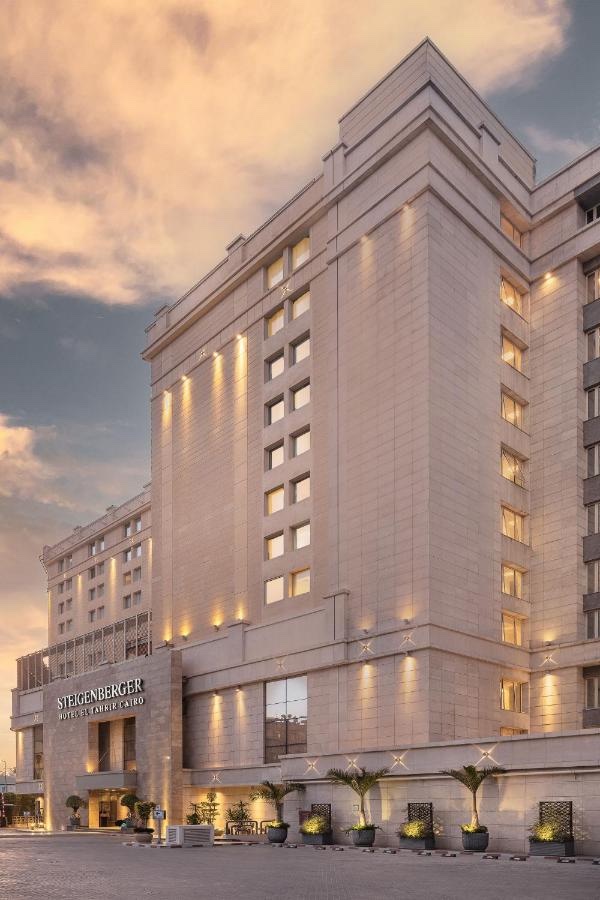 Steigenberger El Tahrir
The Steigenberger El Tahrir is one of the best-located eco-friendly hotels in Cairo. Its central location at Tahrir Square provides guests easy and quick access to the Egyptian Museum, El Khalili Bazaar, various restaurants, and shopping centers.
The strategic location makes it one of the ideal spots to host large travel groups for maximum efficiency.
The hotel has a practical and modern decor style perfect for hosting business meetings and social events for international guests. It also supports various accommodation options for small and large families with children. However, pets aren't allowed.
Amenities and facilities available at the hotel include one fine dining restaurant, two bars, six conference rooms, a swimming pool, a gym, a sauna, a gift shop, and more. It also provides disabled access rooms and toilets and a doctor on-call 24/7.
What makes the Steigenberger El Tahrir a sustainable hotel?
The Steigenberger El Tahrir follows the Travel Sustainable program for sustainable hotels and has an ETIC Silver Certification. It carries out the following initiatives:
Food reduction measures
Investments in community or sustainability projects
Reusable towels
Option to opt out of daily room cleaning
Supports local entrepreneurs and businesses
Zero single-use plastics (cutlery, plates, straws, stirrers, etc.)
Water-efficient showers and toilets
Recycle bins
Green spaces on the property
Hotel details
Address: 
Kasr El Nile, Cairo, Egypt.
Guest rating:
4.5 out of 5
Price per night:
From $95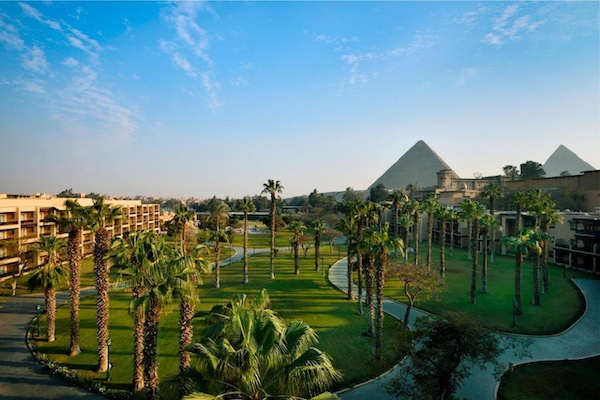 Marriott Mena House
If you want to escape from the bustling city and immerse yourself in tropical landscapes instead, book a stay at the Marriott Mena House. Located at 6 Pyramids' Road, Giza, it is one of the few sustainable hotels with several acres of green gardens on the property.
This hotel is a top spot for celebrities and dignitaries from all over the world. The decor is modern and understated and takes inspiration from Cairo's unique cultural heritage.
Having breakfast in the dining room facing the gardens and the pyramids is one of the best experiences awaiting you at Marriott Mena House. There's also nighttime outdoor dining with live music, an outdoor pool bar, and a premium concierge lounge.
Other amenities at the hotel include a heated swimming pool, spa, fitness center, airport pickup and transfer, etc.
What makes the Marriott Mena House a sustainable hotel?
Marriott Mena House has a Travel Sustainable property certification from Booking.com for its sustainability measures. It has a carbon footprint of 78.55 kg per room per night and a water footprint of 7168.36 liters per room per night.
Some of the measures undertaken under the eco-friendly hotels program include:
No single-use shampoo, conditioner, or body wash
Food waste reduction measures
Green spaces on the property
Water-efficient toilets
Locally sourced food
Single-use plastics not used (cutlery, plates, straws, stirrers, etc.)
Option to reuse towels
Opt-out option for daily room cleaning
Hotel details
Address: 
Pyramids' Road, Giza, Cairo, Egypt.
Guest rating:
4.3 out of 5
Price per night:
From $290
Le Riad de Charme Hotel
Located in the historic Old Cairo area, the Le Riad de Charme is a charming accommodation solution for art history lovers. It is right next to the Khan el-Khalili Bazaar and is situated amid attractions like the Bab El Fetouh gate and El Darb El Asfar.
The hotel is one of the few eco-friendly hotels to offer a limited selection of only 17 suites only. This ensures the hotel can provide visitors with an authentic and highly personalized experience.
The structure is inspired by Ottoman houses and Beit El Sehemy architectural style. The suites have various themes that take inspiration from Egyptian history.
The hotel features a beautiful lounging area, a Fatimid-style tea lounge, and a rooftop garden restaurant with a Sheesha corner.
Guests can also enjoy room service, streaming service, WiFi, daily housekeeping, etc. However, you'll have to pay for their airport shuttle service, which is free at most of the other sustainable hotels on this list.
One drawback of the hotel is that it is not wheelchair accessible.
What Makes the Le Riad de Charme a Sustainable Hotel?
The Le Riad de Charme is an eligible Travel Sustainable property that provides sustainable and eco-friendly travel services to guests.
Some of these eco-friendly hotel initiatives include:
No single-use plastic cups, stirrers, cutlery, or plates
Energy-efficient lighting solutions
Water-efficient toilets
Opt-out option for room cleaning
Reusable towels
Supports local businesses and artists
Investment in sustainability and community-related projects
Locally sourced organic food
Food waste reduction efforts
Hotel details
Address: 
114 Muiz Li Din Allah, 99999 Cairo, Egypt.
Guest rating:
4.3 out of 5
Price per night:
From $240
This concludes the list of Cairo's best sustainable hotels for every type of traveler or tourist. We hope you can use this guide to find a suitable hotel that allows you to enjoy Cairo in style and comfort with little worry about your carbon footprint.
How we select the best eco-friendly hotels in Cairo
We are a travel research company. We check a lot of details and guest reviews before making a selection. First, we check which hotels follow eco-travel principles. Are they recycling their waste? Do they work with local communities? Are they using renewable energy? Are they not using single-using plastics?
Secondly, we check guest reviews across multiple websites and only list hotels with an aggregated review rating of at least 4 out of 5. So you can be confident you will stay at an eco-friendly hotel in Cairo.
More and more people recognize the importance of sustainable travel. Not only is it better for the environment and our planet, but it also often leads to more meaningful experiences. If you're interested in learning more about eco-tourism, here are some eco-friendly travel tips to get you started.
More Cairo tips
Take a look at our other guides about the best places to stay in Cairo: