Cairo is an exciting city where many people come to explore the mysterious ancient sites and visit the Great Pyramids of Giza. The capital of Egypt is a popular and important place to visit for many, however, with its luxurious skyscraper hotels and Michelin-star restaurants, it can be an expensive city.
However, despite its luxurious reputation, there are many affordable ways to enjoy the city with free exhibitions, beautiful parks, and many affordable hotels and accommodations. Regardless of the reason you have traveled to Cairo, there are many ways to enjoy the city on a budget and have an unforgettable time.
To help you plan your trip to this wonderful city, we have selected the 3 best cheap hotels in Cairo, that are excellently located and affordable.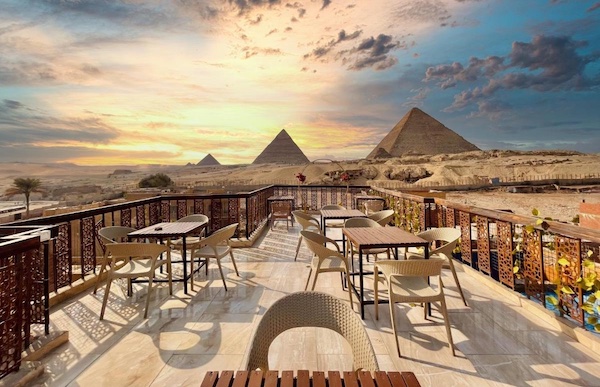 Comfort Sphinx Inn 
Located so close to the Great Pyramids of Giza, you almost touch them, the Comfort Sphinx Inn is the perfect hotel if you want to be close to the ancient sights of Egypt.
Located a 10-minute walk away from the Giza Plateau, and 8 miles from the city center of Cairo, this hotel is conveniently located to explore the Great Pyramids and is a short drive to downtown Cairo.
Guests at the hotel can enjoy the stunning roof terrace, where you can dine with the Great Pyramids as a backdrop. The terrace is particularly popular at night when the Pyramids are lit up beyond the impressive skyline of the city. The area surrounding the hotel is also full of excellent eateries, markets, and wonderful bars to enjoy.
This 3-star hotel is wonderfully designed with spacious guest rooms and great hotel facilities. The hotel also offers larger family-size rooms for those traveling in a group or with children.
Guests of this hotel come here for the convenient location of the hotel and the magnificent value. The hotel and guest rooms are clean, and the staff are accommodating and willing to assist you during your stay.
Hotel details
Address:
EMRO Al Kais 12, 2nd floor, Giza, 12511 Cairo, Egypt.
Guest rating:
4.2 out of 5
Price per night:
From $68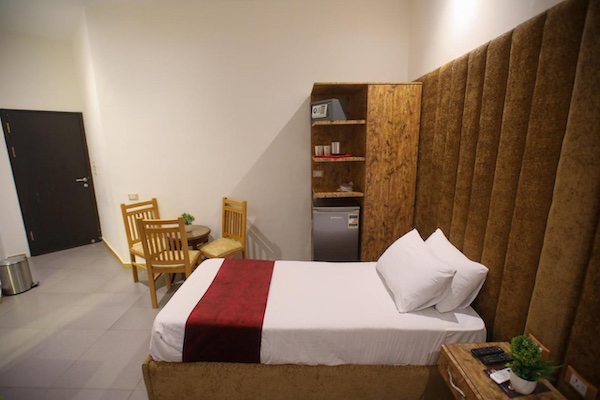 Valencia Downtown Hotel Cairo
The Valencia Hotel Cairo is a popular and affordable hotel for anyone looking for a central location in Cairo. This 3-star hotel is excellently located near the main downtown sights such as Tahrir Square and the Egyptian Museum. It is the perfect location to explore Cairo, whether you are looking to visit the Great Pyramids or the historic sites of the city.
Inside the hotel is well-decorated with clean and spacious rooms, decorated with a contemporary Khedive design. Each room has the luxury of its own balcony area and includes  modern amenities such as flat-screen TVs, air conditioning, and coffee-making machines.
The hotel is very accommodating to families and large groups with larger room options available and provides indoor and outdoor dining, where guests can enjoy a buffet or continental breakfast options. The hotel also offers a direct airport shuttle service to its guests to help ease the stress of traveling. Staff at the hotel are more than happy to help with any requests and pride themselves on providing a high level of customer service.
Guests at this hotel enjoy their stay due to the excellent location close to many wonderful restaurants, bars, and the city's cultural attractions. Guests also enjoy the spacious rooms and comfortable beds at this hotel and the great breakfast options available.
Hotel details
Address: 
1 Seket El Fadl, Talaat Harb Street, Downtown Cairo, 11562 Cairo, Egypt.
Guest rating:
4.1 out of 5
Price per night:
From $68
Jimmy Pyramids View Inn
The impressive Jimmy Pyramids Inn is a low-budget hotel with magnificent facilities and an enviable location close to the Pyramids. Located in Cairo, only 3 miles from the Great Pyramids, this hotel is fantastically located to reach the Giza Plateau or a short drive away from the city center sights of Tahrir Square and the Cairo Tower.
Inside the hotel is decorated with a traditional Middle Eastern influence, with Egyptian decorations and large spacious rooms. All rooms include stunning views of the Great Pyramids, and some rooms come with a jacuzzi overlooking the city with the Pyramids as a backdrop, allowing guests to take in the views while relaxing in ultimate luxury.
The hotel also has a remarkable rooftop terrace, where guests can eat or enjoy a drink as the sun sets over the Pyramids in the distance.
This affordable family-run hotel goes the extra mile to ensure that guests feel at home during their stay, with complimentary cooked breakfasts in the morning and staff able to speak multiple languages. The hotel also offers guests direct airport transfers to make their stay easier.
Guests enjoy staying at this hotel because of the friendly atmosphere and the warm welcome they receive from the owner, Jimmy.
Hotel details
Address:
Kaab Ibn Malek, Giza, 12512 Cairo, Egypt.
Guest rating:
4.2 out of 5
Price per night:
From $41
About our budget hotel recommendations in Cairo
We are a travel research company. Our team helps you discover the best cheap hotels in Cairo by researching the internet for you. We have also visited some of these places. Hence, it's not just our opinion, it's the opinion of thousands of travelers who have been there before you. We make it easy for you to find out about the best budget hotels in the city.
Please note that we only list hotels with an aggregated guest review rating of at least 4.0 out of 5. We aggregate all reviews from different booking sites and other unbiased review websites. Any hotel listed here should have a price of $100 or less per night. Hence, you can be certain all hotels listed above offer you a great and affordable stay in Cairo.
Lowest price guarantee
We partner with Booking.com and Hotels.com. Both booking websites offer the lowest price guarantee, so you can be certain you will always get the best deal for the hotels above. If you have seen a better price elsewhere, you need to contact the booking website, and they will refund you the difference immediately. You can price match right up until the day before check-in.
We also recommend you read our guide about how to save money on hotel bookings. It's a list of tips about when you should book a hotel, what tools you can use, and other things you can do to find your preferred hotel at an affordable price.
Top 3 budget hotels in Cairo
Let's summarize this affordable travel guide. Based on thousands of guest reviews, these are the best budget hotels in Cairo:
More Cairo recommendations
Get to know the city even better by reading our other articles about Cairo: