The invigorating city of Cairo is a place bursting with ancient mysteries and historic sights to explore. Many people traveling to Cairo come to see the impressive Great Pyramids, and take in the buzz of the city.
However, after a long day of exploring the copious areas of historic and modern Cairo, many people seek a cool place to rest. There are plenty of excellent hotels in Cairo ranging from high-end 5-Star hotels to more affordable simple accommodations. However, with such a diverse range of places to stay, finding a place that is perfectly located and provides the ultimate comfort can be difficult.
Therefore, we have done the hard work for you by finding the 3 best boutique hotels in Cairo, including an exclusive stay at a luxury New Cairo boutique and a few boutique hotels in downtown Cairo.
Read on to discover the five best boutique hotels in Cairo.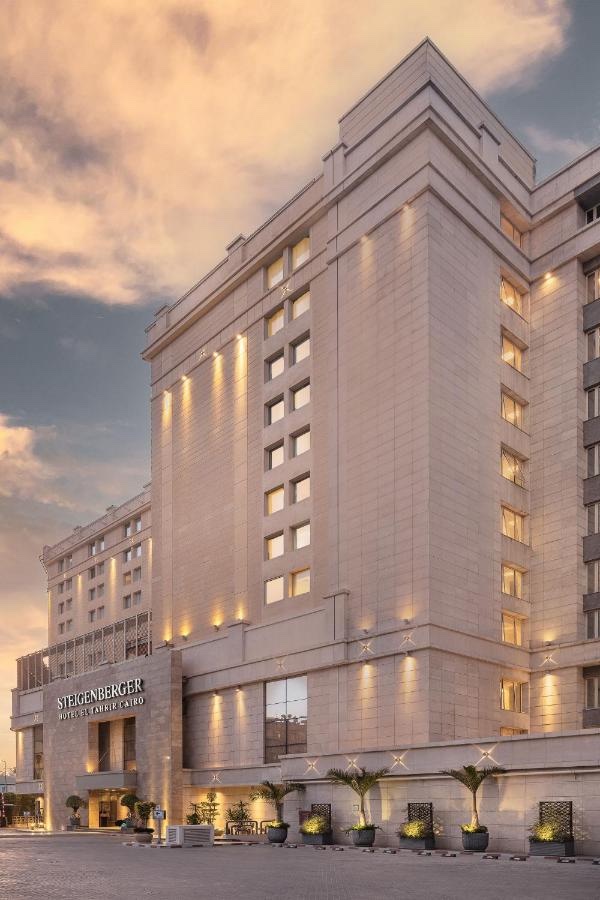 Steigenberger Hotel El Tahrir Cairo
Located in Tahrir Square overlooking the impressive Egyptian museum, the Steinberger hotel is the ultimate place to stay if you are looking to explore downtown Cairo.
With its super central locality, the Steigenberger El Tahrir hotel is perfectly located for a day exploring the historic sights of Cairo. The bustling Khan El Khalili Bazaar, one of the Middle East's oldest open markets, is a short walk away and the area is known for its excellent bars and restaurants.
This luxurious, centrally located hotel, has 295 guest rooms and suites and is decorated with a contemporary and modern aesthetic. The hotel's communal areas are attractive spaces with cool marble floors and striking light features. Guests can enjoy fine dining in the hotel's restaurant, which is open 24 hours a day. After a day of sightseeing, guests can retreat to the Steigenberger Hotel's fabulous outdoor pool and terrace, where they can take a dip or enjoy a delicious cocktail at the pool bar.
Travelers enjoy staying at the Steigenberger El Tahrir hotel due to the magnificent downtown location that puts the exceptional sights of Cairo within easy reach. Guests also appreciated the friendly, helpful staff at the hotel, who are more than happy to make recommendations and bookings on behalf of guests.
Hotel details
Address:
Kasr El Nile, Cairo, Egypt.
Guest rating:
4.5 out of 5
Price per night:
From $95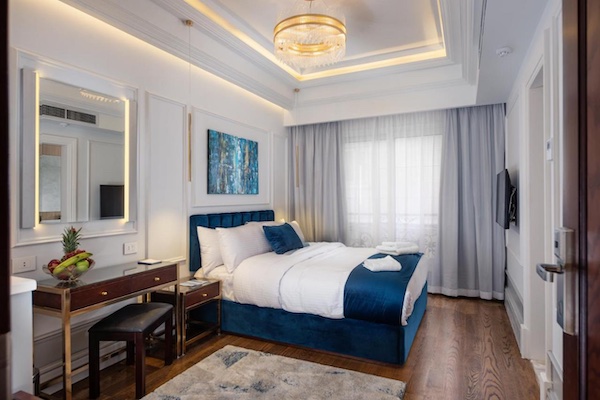 Maran Residence New Cairo
The Maran Residence is a stunning boutique accommodation located in New Cairo, an affluent purpose-built residential district on the east side of the city.
This hotel is a place where elite guests can stay while expecting a high-end level of hospitality from the boutique's exclusive hotel staff. The suites are fully serviced and include in-room fine dining, access to an outdoor swimming pool and jacuzzi, a business lounge, and even an on-call doctor if needed. Guests are able to unwind and enjoy their stay at the Maran Residence, with everything taken care of, whether it's for a short vacation stay or a long-term residence.
The area of New Cairo is perfect for people looking to stay somewhere quieter away from the hectic life of the city center. The New Cairo residential area was purpose-built to offer Cairo residents an alternative to the overcrowded city area, and as a result is a place full of large open green spaces, golf courses, and shopping malls. It is the ideal place to retreat if you are looking for a more luxurious and quiet stay in the city.
Guests are attracted to the Maran Residence due to the outstanding service they receive from the staff and the exceptional style of this impressive property. Guests who stay at the hotel enjoy exploring the neighboring areas of Heliopolis and the proximity to the luxury shopping malls of the district.
Hotel details
Address:
255 North 90th Street, Choueifat, New Cairo, 11865 Cairo, Egypt.
Guest rating:
4.5 out of 5
Price per night:
From $95
Kempinski Nile Hotel
Located along the banks of the River Nile, in the affluent Garden City area of Cairo, the Kempinski Nile Hotel offers guests a spectacular stay with panoramic views of the river.
This 5-star boutique hotel offers guests the ultimate escape from the city with beautifully decorated rooms and high-level hotel amenities. With an enviable location on the east bank of the Nile, guests can enjoy the rooftop pool terrace alongside spectacular views across the River.
Based in the Garden City neighborhood area of Cairo, the hotel is excellently located to explore the city and its many impressive attractions. The Egyptian Museum is only a short distance away, along with many popular sites such as Tahrir Square and the lofty Cairo Tower. It's the perfect place to stay for those looking to combine luxury with historic sightseeing.
The hotel has 137 rooms and 54 exclusive suites, offering guests plenty of accommodation options whether they are traveling solo or as a group. The hotel also includes four splendid restaurant areas, a well-appointed gym, and a wellness spa where guests can book luxury treatments.
Guests enjoy their stay at the Kempinski Nile Hotel due to its excellent downtown location, its fine dining, and its relaxing jazz bar to unwind.
Hotel details
Address:
Cornich El Nile, 12 Ahmed Ragheb Street, Garden City, Cairo, Egypt.
Guest rating:
4.3 out of 5
Price per night:
From $195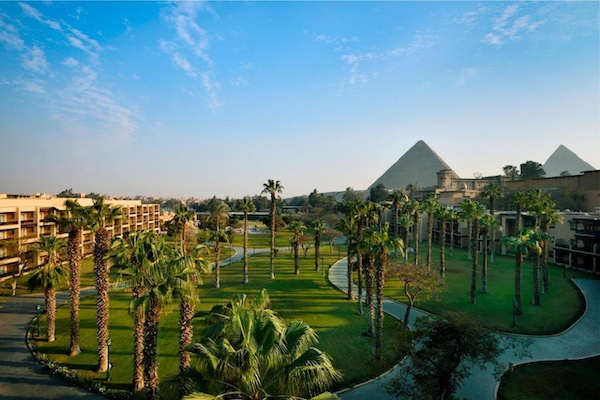 Marriott Mena House
This stunning 5-star hotel, located at the base of the Great Pyramids of Giza, is a popular resort for many celebrity guests and dignitaries looking for a luxurious retreat while exploring the ancient culture of Cairo. The Marriott Mena House is an escape from the bustling city, set in 40 acres of luscious green garden, dotted with picturesque palm trees, and within walking distance of one of the wonders of the world.
Mena House offers guests an opulent and exclusive experience to explore the wondrous Great Pyramids of Giza, and the famous Sphinx, or explore the Egyptian Museum before retiring to the sanctuary of the hotel. The hotel is decorated with a sophisticated modern design, with marble floors greeting you in the lobby and light and airy guest spaces throughout the hotel. Guests can unwind by taking a swim in one of the extensive outdoor pools, surrounded by idyllic landscaped gardens with the Pyramids as a backdrop, or explore the hotel's excellent spa facilities.
Hotel details
Address:
Pyramids' Road, Giza, Cairo, Egypt.
Guest rating:
4.3 out of 5
Price per night:
From $290
Le Riad Hotel de Charme
Located in the bustling heart of Islamic Cairo, Le Riad Hotel de Charme is excellently located for those looking for an authentic Egyptian stay. This exquisite hotel is surrounded by the city's ancient culture and is close to the impressive Bab El Fetouh gate and the famous Khan el-Khalili Bazaar, Cairo's oldest market selling exotic treasures. The hotel is the ideal location for people looking to stay in the heart of Islamic Cairo, close to many of the ancient cultural sights and nestled amongst charming winding streets and picturesque buildings.
The Le Riad Hotel de Charme is a unique hotel with stunning authentic Egyptian dark wood features and colorful guest rooms. The Hotel de Charme's design is inspired by the local environment and influenced by the architecture of Beit El Seheimy. The accommodation is limited to only 16 suites, guaranteeing guests receive excellent service and attention, and each suite is spacious and individually designed.
Hotel details
Address:
114 Muizz Li Din Allah, 99999 Cairo, Egypt.
Guest rating:
4.3 out of 5
Price per night:
From $240
About our boutique hotel recommendations in Cairo
We are a travel research company. We help you discover the best boutique hotels in Cairo by researching the internet for you. It's not just our opinion, it's the opinion of many travelers who have been there before you. We make it easy for you to find out about cool design hotels and unique design hotels on the island. Some of them might be so romantic that you might not want to leave your room.
Kindly note that we only list hotels with an aggregated guest review rating of at least 4.0 out of 5. We aggregate all reviews from different booking sites and other unbiased review websites. Hence, you can be certain all hotels listed above offer you a great stay in Cairo.
Best price guarantee
Get the best deals and prices for your stay in Cairo with Booking.com and Hotels.com! They offer price matching, guaranteeing you'll get the lowest online price. If you find a cheaper offer on another website for the same hotel room at least 24 hours before check-in, contact them to claim a refund of the difference.
Top 5 boutique hotels in Cairo
Let's quickly summarize this guide. Based on thousands of guest reviews and tips from travel experts, these are the best boutique hotels in Cairo:
More Cairo tips
Get more great insights like the guide above! Take a look at these other articles about Cairo: