As one of Spain's shining stars on the world scene, Barcelona is truly a city to behold. Whether you want to party, see all of the historical sites, or do some business, Barcelona is the place to be.
The Spanish culture is one that is super unique and must be experienced by any world traveler. Once you can get this notched off of the bucket list, you will be yearning for more! So, if you want to take on this part of the world, Barcelona is the perfect place to do it.
Now, going to Spain can be an expensive endeavor. So, there are aspects of your stay that need to be cut down or downgraded in order to make room in the budget for other things. One of those options for shaving down could be the hotel.
Here are the three best cheap hotels in Barcelona!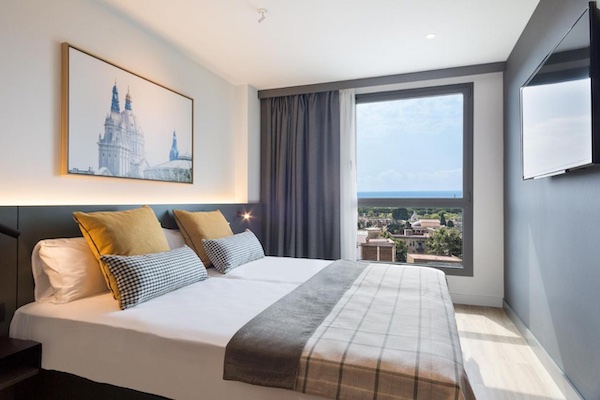 Acta Voraport
The first budget hotel is the Acta Voraport. That is less than a mile from the famous Somorrostro Beach and is a very nice hotel despite the lower price. With a list of amenities and a nice location, you are in a good spot for enjoying the stay fully.
We will start with the physical location. You are less than a mile away from some nice clubs and museums. Plus, there are a host of beaches within close walking distance to enjoy. Oftentimes, saving money on hotels means being pushed away from the attractions. In this case, you are still close to a lot of great spots. It is also a perk that you are a couple of minutes away from the metro station, which can connect you with the rest of the city easily.
When it comes to the amenities, you may be impressed by the amount of luxury and quality that is offered despite a lower price tag. One of the most impressive of which is the infinity pool that looks out over the city. Some of the other examples include a snack bar, great rooms, and a breakfast buffet made to start your day off on a good note.
Hotel details
Address: 
Carrer de Ramon Turró 169-B, Sant Martí, 08005 Barcelona, Spain.
Guest rating:
4.5 out of 5
Price per night:
From $60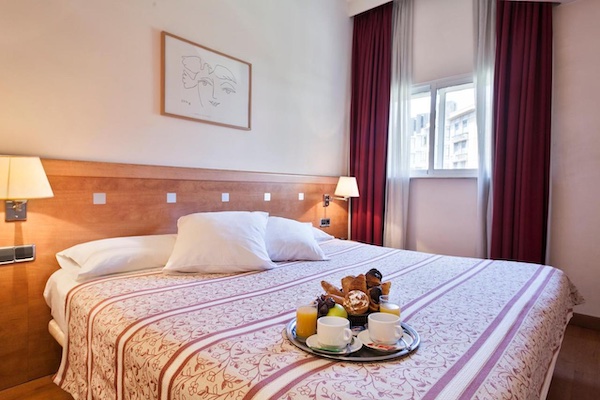 Acta Antibes
Because there is so much history and culture in Barcelona, there are a lot of sites you will want to visit to get the full value out of your time in the city. So, picking a hotel that has quick access to those hotspots is a great way to maximize your time. You will be posted up in the Eixample District, which is a great spot in itself.
The Atrium Theatre, Passeig de Gracia, and a whole host of beaches are pretty close to the hotel. So, you have easy access, which is a huge perk.
The Acta Antibes hotel itself is very nice and the rooms are simple. Because the bells and whistles are spared, for the most part, you can save a fair bit of money. There is a double or twin room, but there is also the quadruple room which can hold up to seven people at any time. So, you do have a bit of freedom in that choice.
Although this is far from some luxurious hotel, it provides clean, nice places to stay without breaking the bank. If you are in Barcelona to experience the culture, this is all you need.
Hotel details
Address: 
Diputació, 394, Eixample, 08013 Barcelona, Spain.
Guest rating:
4.4 out of 5
Price per night:
From $64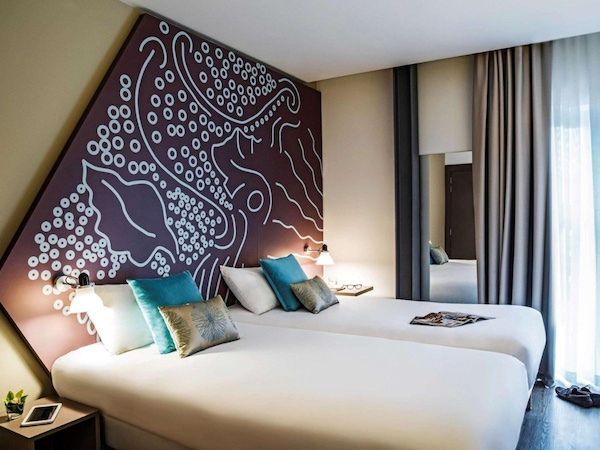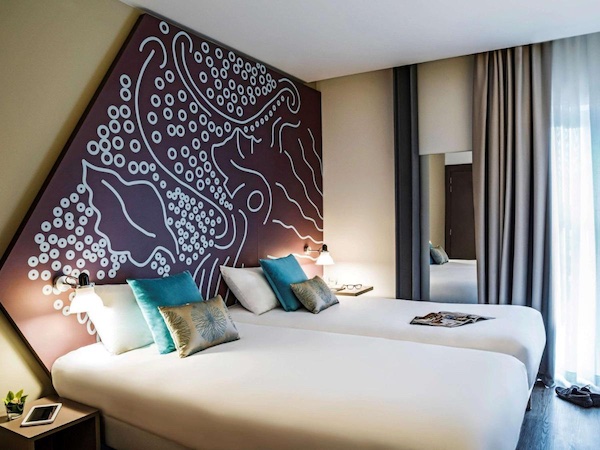 Ibis Styles Barcelona Centre
The final budget hotel we will talk about is the Ibis Style Barcelona Centre. This is a unique and modern hotel that has a really cool style. With many cheap hotels, a lot of the decor and style are overlooked making things seem drab. This is not the case with the Ibis Styles option.
It is located in the Catalonia region and is surrounded by some really great locations. After all, you want to have access to the hotspots without too much work. Luckily, if you would rather branch out and experience some of the other Spanish locations, the subway is a couple of minutes away on foot. After you check out a few beaches, La Pedrera, and the Atrium Theatre, you can connect with the rest of the city with ease.
The rooms offered at the hotel are super simple and do not pack a huge punch. They do not even have any suites, so as long as you are good with the pure basics, you are good to go. Overall, keep Ibis Style Barcelona Centre in mind if you like having easy access to hotspots, want to save money, and have a simple, clean stay.
Hotel details
Address: 
Calle Provenca 340 HB-004728, Eixample, 08037 Barcelona, Spain.
Guest rating:
4.4 out of 5
Price per night:
From $75
About our budget hotel recommendations in Barcelona
We are a travel research company. Our team helps you discover the best cheap hotels in Barcelona by researching the internet for you. We have also visited some of these places. Hence, it's not just our opinion, it's the opinion of thousands of travelers who have been there before you. We make it easy for you to find out about the best budget hotels in the city.
Please note, we only list hotels that have an aggregated guest review rating of at least 4.0 out of 5. We aggregate all reviews from different booking sites and other unbiased review websites. Any hotel listed here should have a price of $100 or less per night. Hence, you can be certain all hotels listed above offer you a great and affordable stay in Barcelona.
Lowest price guarantee
We partner with Booking.com and Hotels.com. Both booking websites offer the lowest price guarantee so you can be certain you will always get the best deal for the hotels above. If you have seen a better price elsewhere, all you need to do is contact the booking website and they will refund you the difference immediately. You can price match right up until the day before check-in.
We also recommend you read our guide about how to save money on hotel bookings. It's a list of tips about when you should book a hotel, what tools you can use, and other things you can do to find your preferred hotel at an affordable price.
Top 3 budget hotels in Barcelona
Let's summarize this affordable travel guide. Based on thousands of guest reviews, these are the best budget hotels in Barcelona:
More Barcelona guides
Get to know the city even better by reading our other articles about Barcelona:
Best boutique hotels in Barcelona
Best luxury hotels in Barcelona