Mexico City is one of the largest and oldest cities in South America, and one of the liveliest in the world. It's famous for having a culture and art scene that is unmatched and has some of the most delicious cuisines in the western hemisphere. It's becoming a hotspot for tourists, backpackers, and remote workers, and is a defiant must-see while in Mexico.
The city has done its part in keeping up with the rising dedication to eco-friendliness and sustainability. Many areas in the city are promoting environmentally friendly practices by creating more green outdoor spaces, recovering rivers and other bodies of water, increasing the quality of air, and sustainable water management, and are on track to becoming one of the first 100% solar energy cities.
Many hotels and sectors in the tourism industry have strived to keep up with environmentally friendly practices as well, inviting sustainable and eco-conscious travelers. Here are the top 5 sustainable hotels in Mexico City.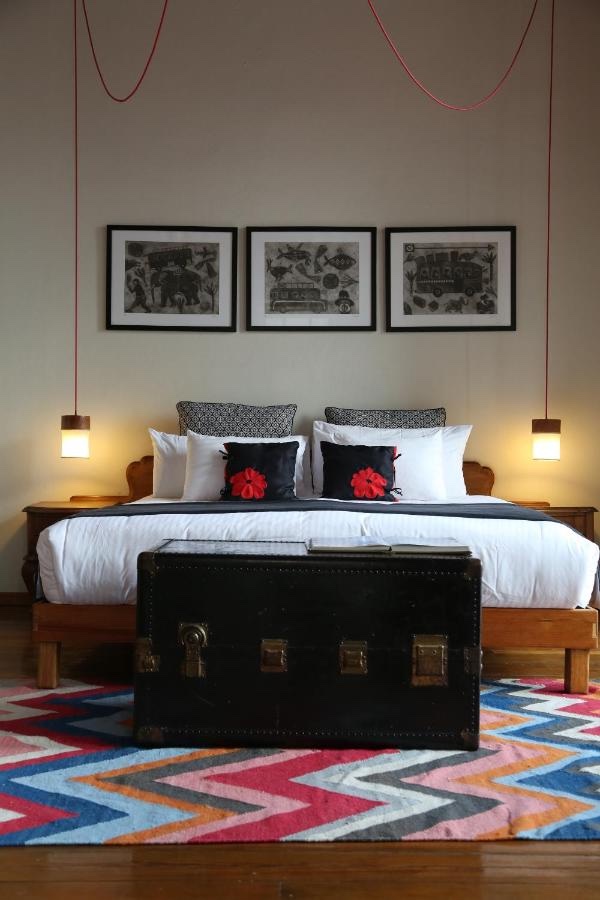 El Patio 77
El Patio 77 is a modern-day bed and breakfast with an eco-friendly design in bustling Mexico City. Residing in a historical mansion dating back to the 1800s, it has been modernized and redesigned with sustainability practices in mind. The small oasis welcomes everyone that steps foot through the door, with a friendly and helpful staff informing you about all the endless possibilities waiting outside the door.
Located within Colonia San Rafael, El Patio 77 has been a staple piece in many magazines for design, travel, hotel, and sustainability. It is within walking distance of the San Cosme Metro Stations, which can take you anywhere you want to go in the city, The surrounding streets have various bars, restaurants, and shops. The entire facility comes with free wifi, and rooms feature a unique decor design, balconies, and private bathrooms. El Patio provides a daily organic Mexican breakfast for all guests, with locally sourced products.
What makes El Patio 77 sustainable
El Patio 77 has been certified as a "Green Leader" in hotel sustainability. They strive to focus on environmentally friendly practices, reducing waste and energy throughout the facility. They offer bike rentals for guests to get around the city while still being eco-friendly, as well as providing local and organic coffee and meals daily for breakfast.
Hotel details
Address: 
Joaquin García Icazbalceta 77, 06470 Mexico City, Mexico.
Guest rating:
4.5 out of 5
Price per night:
From $101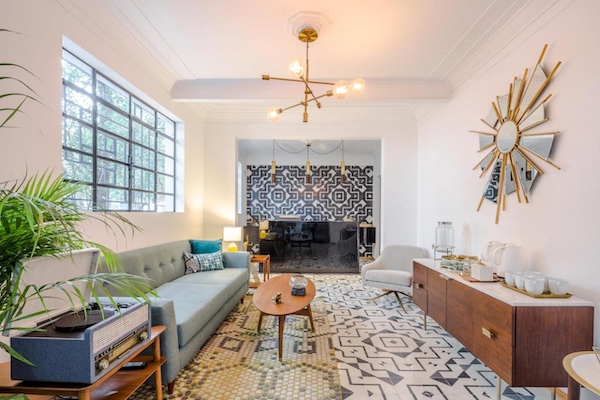 Casa Decu
Casa Decu is where interior elegance and stylish design are blended together into a fresh and modern-day oasis in Mexico City. Smells of fresh fruits and flowers will greet you upon arrival, as well as a friendly staff and an immaculate grand staircase. The vibe of the hotel is different from anything else in the city with the cultural and unique atmosphere of La Condesa.
Located in the up-and-coming Mexico DF region, Casa Decu is conveniently located within walking distance of multiple bars and restaurants, and famous landmarks and sights such as the National Museum of Anthropology, the Angel of Independence, and the Chapultepec Castle. The facility features a gym, laundry services, room service practices, and an onsite restaurant. Rooms are equipped with free wifi, a television, a private bathroom, a mini fridge, a toaster, and a safe.
What makes Casa Decu sustainable
Casa Decu is sustainable by practicing multiple eco-friendly routines and services. The hotel has eliminated single-use plastic products, reduces food waste, uses water-efficient showers and toilets, has on-site green spaces, offers bicycle rentals, provides locally sourced organic food products, and has LED lighting and 100% renewable energy throughout the entire facility.
Hotel details
Address: 
10 Culiacan Culiacan #10,Col. Hipodromo Condesa, Del. Cuauhtemoc, 06170, 06170 Mexico City, Mexico.
Guest rating:
4.4 out of 5
Price per night:
From $117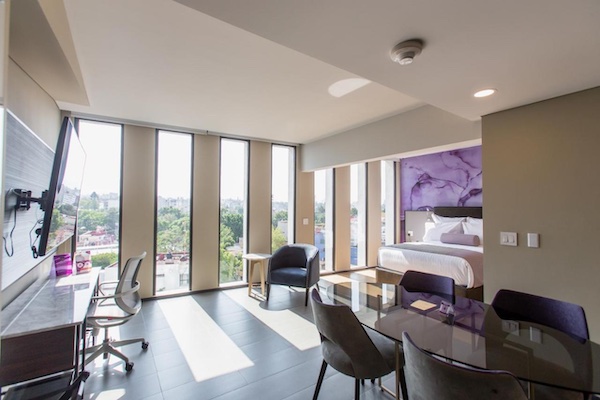 HS Hotsson
HS Hotsson doesn't offer guests an ordinary stay, but an enjoyable experience all in itself in the heart of Mexico City. It was the first modern-day metropolitan building in the area, with some of the best city views in all of Mexico City. With an atmosphere of peace and compliment amenities, it's an ideal place to use as a home base within Mexico City.
Located in the heart of the city, HS Hotsson, is within walking distance of major points of interest such as the Angel of Independence and the Chapultepec Castle. The surrounding area is filled with various restaurants, bars, and transportation services. The entire facility features free wifi, as well as an on-site bar, garden terrace, and daily breakfast for guests served buffet style. Rooms feature a television with satellite, a private bathroom with a roomy shower, and fresh bed linens and towels, optional to be changed each day if desired.
What makes HS Hotsson sustainable
HS Hotsson is sustainable by providing guests with an eco-friendly stay each and every time and investing a percentage of revenue back into the city for sustainability projects. The property practices multiple eco-friendly services such as having 100% renewable energy and LED lighting throughout the property, eliminating single-use plastic products, using water-efficient products, supplying on-site recycling bins, bicycle rentals, and use of locally grown organic foods and art pieces.
Hotel details
Address: 
Avenida Revolución 67, 11870 Mexico City, Mexico.
Guest rating:
4.4 out of 5
Price per night:
From $80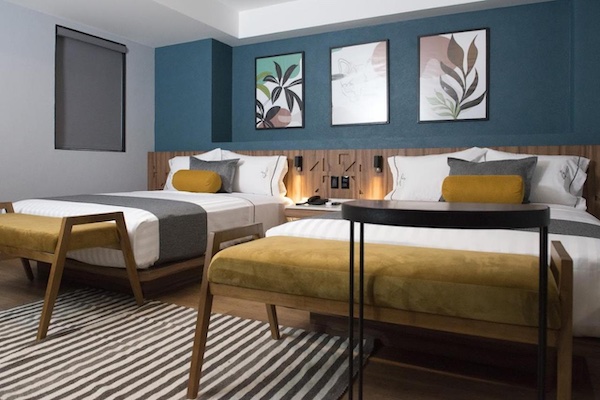 Hotel Flamencos
Hotel Flamencos offers top-quality amenities and services for all guests and sits in the center of the historical and cultural zone of Mexico City. With an ideal location, friendly staff, and a vibrant surrounding area, the hotel emphasizes the importance of simplicity, as well as experience. Environmentally conscious travelers at Hotel Flamencos will be happy to know that they can enjoy a sustainable, comfortable, and enjoyable experience while visiting Mexico City.
Located in the historical city center, Hotel Flamencos is just a hop, skip, and a jump away from Zocalo Square, one of the most popular places in Mexico City. It is within walking distance of various landmarks as well, such as the National Palace and Tenochtitlan Convention Center, and the Metropolitan Cathedral of Mexico City. The hotel features an authentic onsite Mexican restaurant, a fully stocked bar, a gym, a fitness center, a shared lounge, and a business center. Room service is available upon request, in addition to a daily buffet breakfast for guests of Hotel Flamencos. The rooms are equipped with free wifi, a loaded mini bar, a private bathroom, a television, and a safety deposit box.
What makes Hotel Flamencos sustainable
Hotel Flamencos is sustainable by being part of the Sustainable Travel program and striving to support eco-friendliness. They provide a daily organic breakfast for all guests with locally sourced products, have eliminated all single-use plastic products such as straws and cups, have water-efficient toilets and showers in all rooms, use motion-controlled electricity, LED lighting, and 100% reusable energy.
Hotel details
Address: 
Flamencos 12 Bis, 06090 Mexico City, Mexico.
Guest rating:
4.6 out of 5
Price per night:
From $55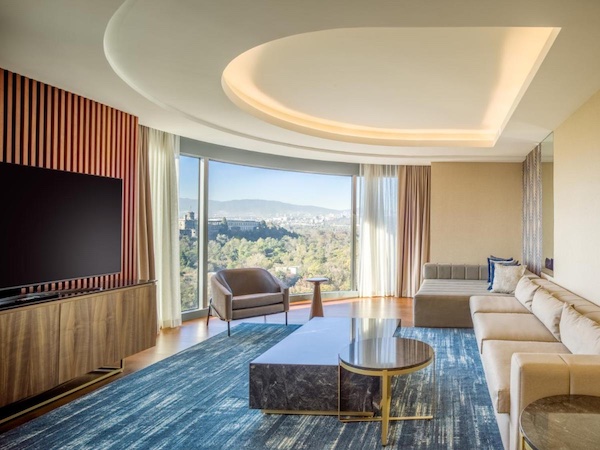 Grand Fiesta Americana Chapultepec
Grand Fiesta American Chapultepec is considered to be one of the country's most beautiful hotels with an unbeatable location in Mexico City. The hotel boasts sleek, modern architecture, breathtaking views, and friendly distinguished service throughout your stay. Whatever you may need while in Mexico City can either be provided by Grand Fiesta Americana Chapultepec or easily found nearby in the ecstatic and exciting streets.
Located in Chapultepec overlooking the park, Grand Fiesta Americana is in one of the best neighborhoods in the city. It is just minutes from the city's business and entertainment districts, offering an uncountable amount of things to do, including restaurants, bars, and shops. The hotel features a relaxing and sophisticated Spa 19th, offering unique massages, body scrubs, and aromatherapy service, with daily ingredients of wine, chocolate, gold, milk, and clay. There is an authentic on-site international restaurant and bar, fitness center, and incredible city views. Rooms feature free wifi, private bathrooms, a spacious setting, and modern-day decor.
What makes Grand Fiesta Americana Chapultepec sustainable
Grand Fiesta Americana Chapultepec is sustainable by being part of the Green Key Sustainability Program by FEE, and the Travel Sustainability Program. They support eco-friendliness and sustainability by providing environmentally friendly practices and services throughout the facility. They have eliminated the use of all single-use plastic products such as cups and toiletry bottles, option to reuse towels and have a water-efficient toilet in all rooms, provide an electric car chagrin station onsite, key controlled electricity, and green spaces around the facility, such as a rooftop garden.
Hotel details
Address: 
Hotel Mariano Escobedo 756 Colonia Anzures, 11590 Mexico City, Mexico.
Guest rating:
4.6 out of 5
Price per night:
From $152
How we select the best eco-friendly hotels in Mexico City
We are a travel research company. We check a lot of details and guest reviews before making a selection. First, we check which hotels follow eco-travel principles. Are they recycling their waste? Do they work with local communities? Are they using renewable energy? Are they not using single-using plastics?
Secondly, we check guest reviews across multiple websites and only list hotels with an aggregated review rating of at least 4 out of 5. So you can be confident you will stay at an excellent eco-friendly hotel in Mexico City.
Sustainable travel is becoming increasingly popular and essential as we strive to reduce our carbon footprints. There are many easy ways to reduce your impact while traveling, from choosing eco-friendly accommodations to respecting the local wildlife. Here are some of the essential tips for sustainable travel.
More Mexico City tips
Get to know the city even better and check out our other articles about Mexico City:
Boutique hotels in Mexico City