Mexico City is one of the largest metropolitan cities in the world – the 7th most populated in the world. The city offers a great experience to everyone who wants to indulge in rich history, culture, art, colorful streets, delicious Mexican cuisine, and many other exciting activities! To fully explore the city, one trip is certainly not enough, but you can get to know about most of its famous towns in a few days.
As the city is pretty big, there are many different neighborhoods or areas you can choose from for your stay. When choosing the best area in the city to stay in, you need to plan well. You would obviously want to be somewhere with easy access to main tourist attractions, accommodation and the best restaurants to eat. But at the same time, you also need to figure out your budget and how convenient it is to access public transport.
The city is home to 16 districts and over 300 neighborhoods. But how to choose an ideal location for maximum enjoyment? Check out our list of five of the best areas to stay in Mexico City and discover the richness these neighborhoods have to offer.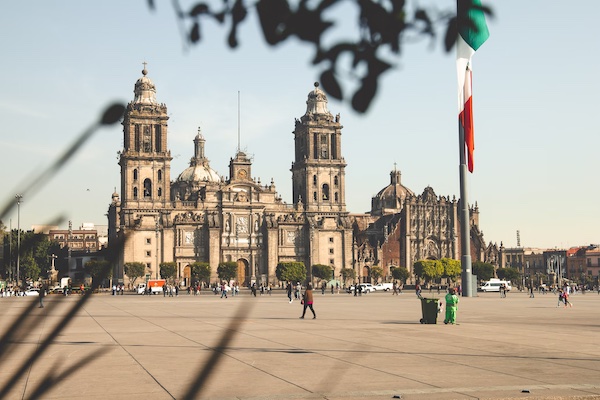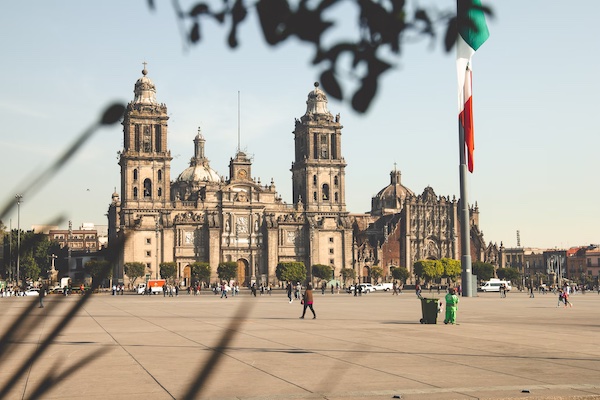 Historic Center
If you want to explore all things cultural on your trip to Mexico City, then Historic Center is the best neighborhood for your stay. Historic Center is ideal for those visiting the city for the first time and who want to spend their journey sightseeing. It is also one of the budget-friendly neighborhoods in Mexico City.
The area is so huge that you need at least a week to fully explore it and still find something exciting and new to witness every day. The major highlight of the Historic Center is Zocalo Square. Also known as "Plaza de la Constitución", it is one of the most visited tourist attractions in the city and is home to many historic buildings dating back to the 16th Century or older.
The Fine Arts Palace is another most famous museum in Mexico City. Next to the museum, you'll find the Alameda Cathedral – also named the first urban park in America. Plaza Garibaldi is also a great place to visit in the Old Town.
You'll witness musicians and mariachis getting together in the afternoons to entertain the visitors. Some other noteworthy attractions that are must-visit include National Palace, the Palacio de Bellas Artes, and Templo Mayor Museum. Much of the town is walkable, and you can cover a lot within a day. There are also many metro stations to take you through the region.
Best place to stay in the Historic Center
Gran Hotel Ciudad de Mexico. Address: Avenida 16 de Septiembre 82, 06000 Mexico City, Mexico.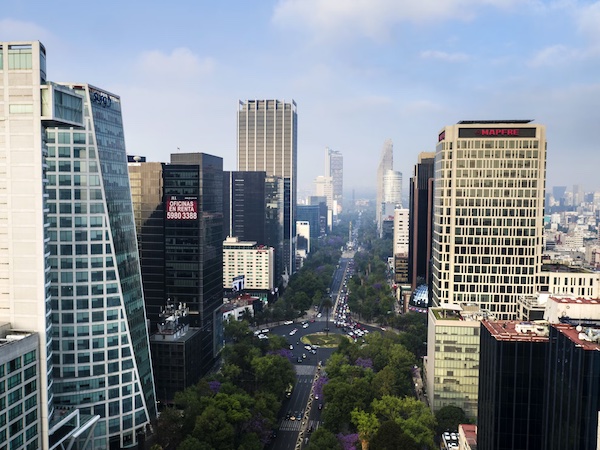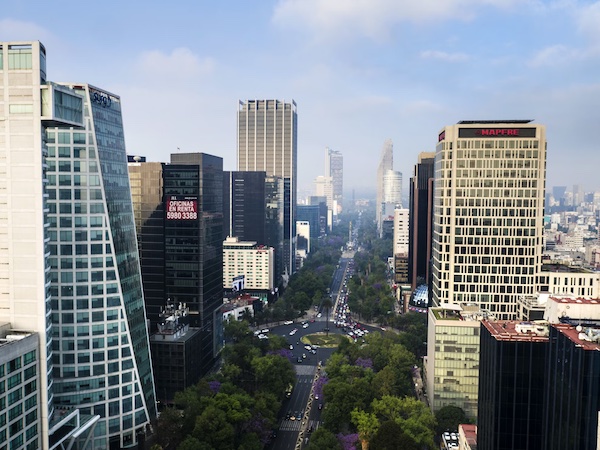 Paseo de la Reforma
History Buffs would truly love to stay in this area named Paseo de la Reforma, and there is no wonder why. The neighborhood is home to some of the most popular historical landmarks of the city, along with museums, exclusive hotels, restaurants, and much more.
The area is known as "Times Square" of the city, and once you are there, you'll understand why! Start your trip with the beautiful Chapultepec – said to be the largest park in Mexico City. The park is home to two artificial lakes, a zoo, and the most beautiful Chapultepec Castle.
Keep strolling along the park, and you'll spot the famous Anthropology Museum, along with a few other art museums in the surroundings. It would be hard not to notice the iconic monuments of the Angel of Independence and Diana the Huntress Fountain. From there, you are just a few miles away from the Historic Center of Mexico City – also a UNESCO World Heritage Site.
If you are into nightlife, head straight to the Zona Rosa – a town featuring many vibrant bars and nightclubs. The party starts at 8 pm and goes on until late at night with people dancing to the tunes of Latin, electronic and pop music.
Best place to stay in Paseo de la Reforma
Four Seasons Mexico City. Address: Paseo de la Reforma, 500 Colonia Juarez, 06600 Mexico City, Mexico.
Cheaper alternative:
Hotel MX Reforma. Address: Av. Paseo de la Reforma No. 316 Col. Juárez Delegación Cuauhtémoc, 06600 Mexico City, Mexico.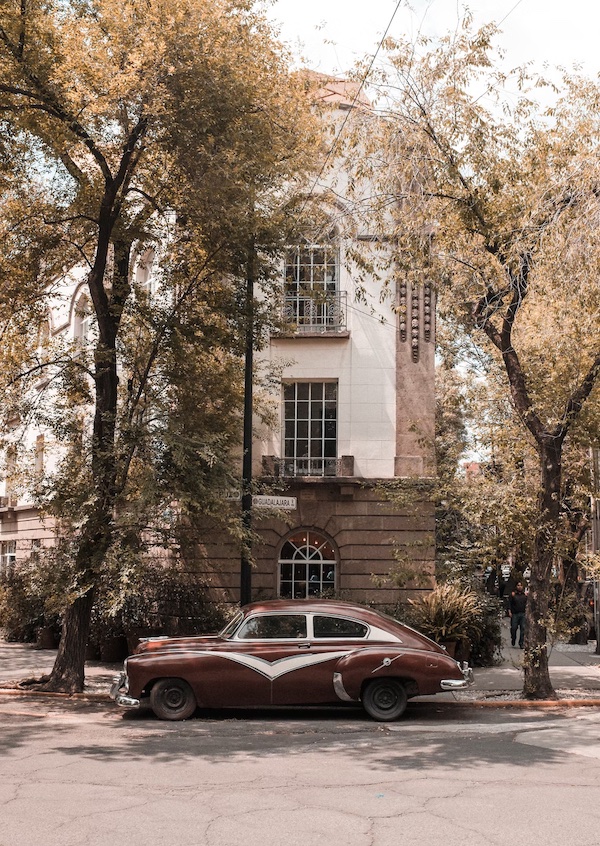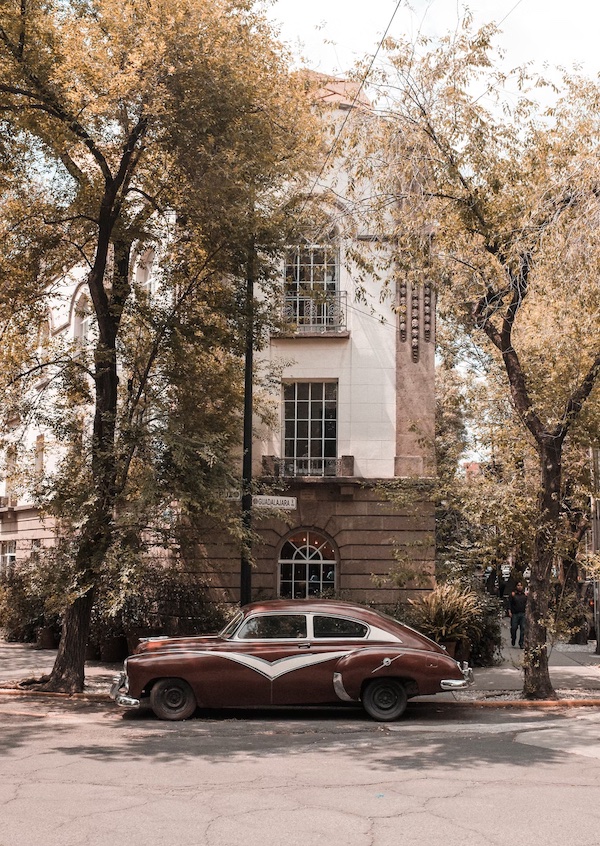 Condesa
If you want to stay in a town where you can party all night, and sightsee in the morning, then Condesa is an ideal neighborhood for you. The area is lined with beautiful architecture, lush trees, and several parks. Along with that, you'll find many great upscale gourmet restaurants, vintage markets, and luxury designer shops.
The cool nightclubs, lounges, and swanky bars of Condesa will keep you grooving all night. There are some best cervecerias in town from where you can try the delicious local craft beer. The laid-back vibes of Condesa attract creative individuals, artists, students, and all those who want to indulge themselves in the bohemian environment like no other in the city.
Condesa is located between the famous Historic Center and Chatultelpec Park, which makes it an ideal neighborhood to stay in as everything is within a short distance. The accommodation in Condesa is specifically ideal for couples who are seeking to stay in something boutique style. However, those traveling with children will have to do their homework as there are limited options for them in town. Apart from that, Condesa is one of the safest places to travel around in Mexico City.
Best place to stay in Condesa
Condesa Haus B&B. Address: Cuernavaca 142 Col Condesa, 06140 Mexico City, Mexico.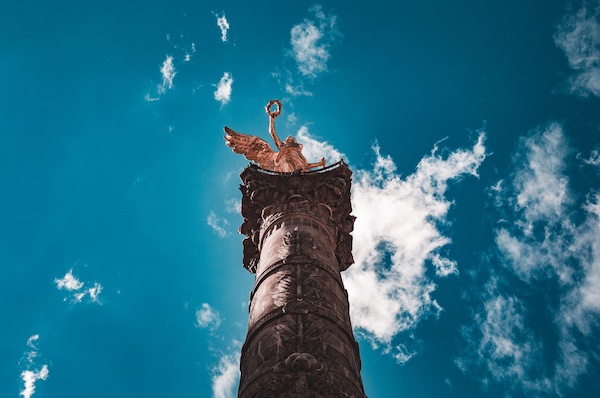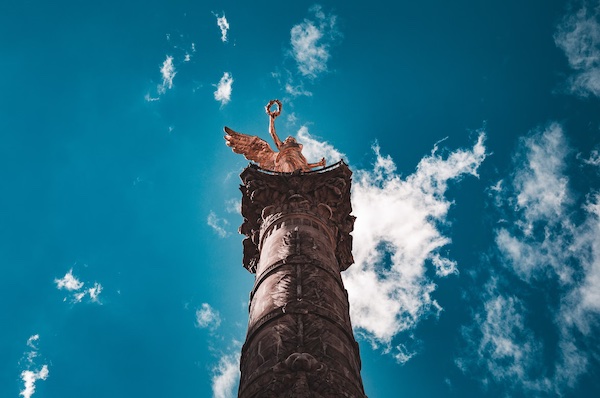 Zona Rosa
Mexico City respects diversity and welcomes all kinds of individuals from all across the world. There is even an area named Zona Rosa that is the friendliest and most popular town for the LGBTQ community. You don't need to worry about being judged at all, as the Zona Rosa is home to some of the best gay-friendly bars, karaoke joints, and clubs. Zona Rosa is also home to an increasing Korean community that makes it stand out among the rest as you can try delicious Korean food here, which is hard to find anywhere else.
Although the vibrant nightlife is one of the major draws of Zona Rosa, it is also famous for being one of the best shopping destinations in Mexico City. From antique vendors to artists selling their art pieces to luxury shops, you can find pretty much everything here.
If you have enough time here, don't forget to take a stroll around Avenida Paseo de la Reforma and admire the historical monuments such as Estela de Luz, the Angel of Independence, and Fuente de La Diana Cazadora. The affordable accommodation, wonderful nightlife, variety of dining options and shopping, and access to public transport make Zona Rosa one of the best areas to stay in Mexico City.
Best place to stay in Zona Rosa
Hotel Century Reforma. Address: Liverpool 152 Col Juarez, 06600 Mexico City, Mexico.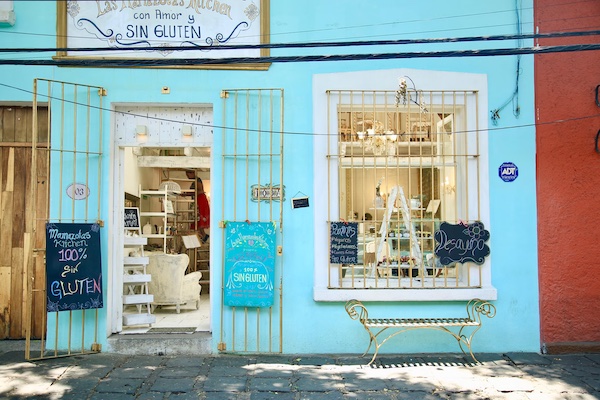 Coyoacan
If you are traveling to Mexico City with your family, then Coyoacan is the best area to stay in. This neighborhood is all about the cultural side of Mexico City that you'll not experience anywhere else. It is a laid-back area offering old town vibes – ideal for history lovers as well as families. The area is home to many local markets, cozy little cafes and restaurants, colorful cobblestone streets, colonial-style streets, and much more to keep you entertained throughout your journey here.
Coyoacan is notable for being the birthplace of famous Mexican artist Frida Kahlo. Visit the "Casa Azul", a house where Frida Kahlo spent the last years of her life with her painter husband. Today, the house has turned into a museum where you can witness some of her paintings, pictures, and many other items related to her unique lifestyle.
The district also houses many galleries, movie theaters, and parks to cater to all kinds of tourists. There are several craft stores and markets where you can buy something unique for your friends and family back home. A stroll through the famous Jardín Centenario Square is a must! The square has a beautiful coyote fountain in the middle and is located within walking distance of many famous cafes and restaurants, local stores, and markets.
Don't miss out on dinner at the famous Los Danzantes Restaurant – they offer both ancient and contemporary Mexican flavors. Some of their must-try dishes include fresh tuna with garlic and habanero chile sauce, Mexican flank steak, ravioli stuffed with huitlacoche (corn fungus), and much more. If you are looking to spend some peaceful time in Mexico City with easy access to everything, then look no further than Coyoacan.
Best place to stay in Coyoacan
Hotel Montreal. Address: Calz. de Tlalpan 2073, Parque San Andrés, Coyoacán, 04040 Mexico City, Mexico.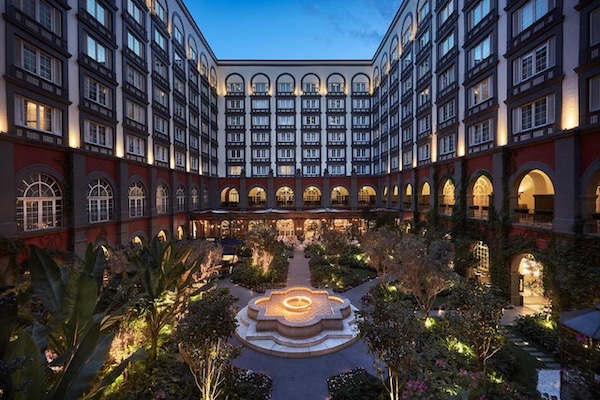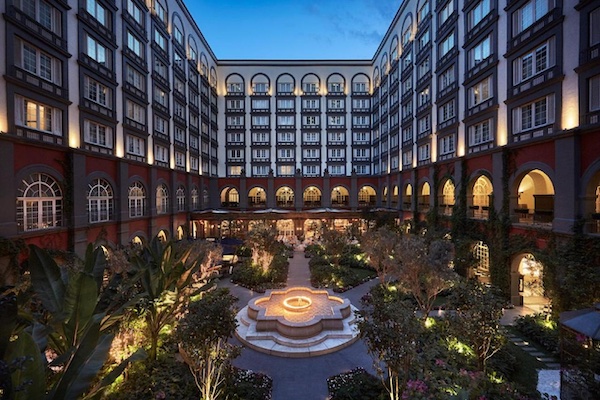 Where travel critics stay in Mexico City
Want to know where travel critics from publishers like The New York Times, Frommer's, Fodor's and Lonely Planet stay in Mexico City? Check out our overview of all recommended hotels and accommodations in Mexico City.
Budget
"Casa Stella in a gracious Art Deco house on Condesa's shady Amsterdam Avenue, has seven simple, elegant rooms, great breakfast and friendly, accommodating staff." – New York Times.
Address: Avenida Amsterdam 141, Col. Hipodromo Condesa, 06100 Mexico City, Mexico.
Mid-range
"The hotel blends elements of colonial style with local, indigenous culture, such as the ornate details around the windows of the façade, the stone staircase with its intricate handrails, and the handmade cement tiles." – Frommer's.
Address: Isabel la Catolica 30, 06010 Mexico City, Mexico.
Luxury
"Among the most luxurious hotels in the capital, this eight-story hotel was modeled after the 18th-century Iturbide Palace–it even has a traditional inner courtyard with a fountain." – Fodor's.
Address: Paseo de la Reforma, 500 Colonia Juarez, 06600 Mexico City, Mexico.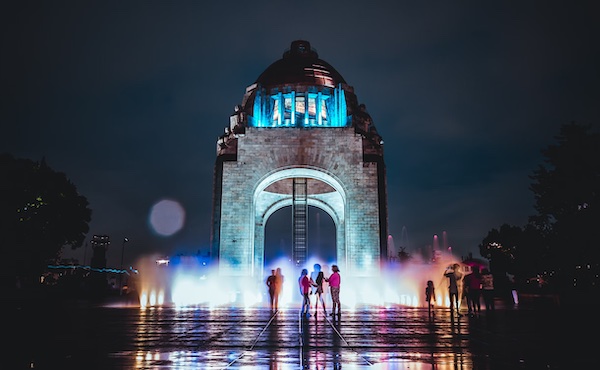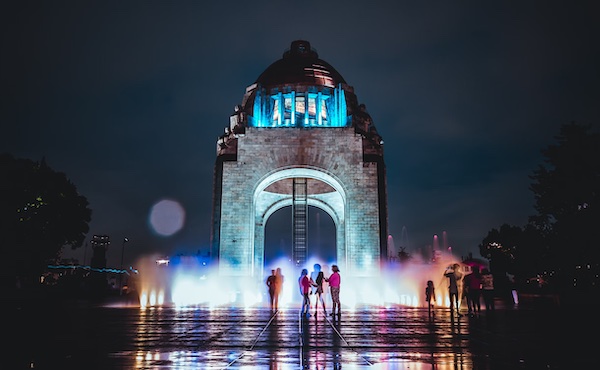 FAQ: Mexico City hotel tips
Looking for the best budget, boutique, or luxury hotel in Mexico City? Or maybe you're a backpacker looking for an excellent hostel? Want to know which Marseille hotel serves a great breakfast? Here are the answers to all those and other questions about where to stay in Mexico City.
How much does it cost to stay in a Mexico City hotel?
For a 3-star hotel, you have to pay around $120 per night and for a 4-star hotel, you would be looking at $175 per night. If you're after a luxury 5-star Mexico City hotel then you can expect to pay around $300 per night.
What is the best affordable hotel in Mexico City?
If you're looking for an affordable hotel, then book Hotel Parque Satelite. It's an excellent budget hotel offering great value for money. It's in a good location, it's been recommended by travel experts and the hotel has excellent customer reviews. Also check out our list of the best cheap hotels in Mexico City.
What is the best boutique hotel in Mexico City?
You like some luxury but don't like the famous chain hotels. If you're looking for the best boutique hotel in Mexico City, you should check out Mumedi Design Hotel. It's a very cool hotel that has been highly recommended by travelers and experts. For more cool hotels, check out our list of the best boutique hotels in Mexico City.
What is the best luxury hotel in Mexico City?
If money isn't a problem and you're looking for a luxury hotel in Mexico City, then go for Four Seasons Hotel. The hotel offers excellent service, it's in a top location, it has been rated very highly by previous guests and renowned travel critics have recommended it. For more 5-star hotels, check out our list of the best luxury hotels in Mexico City.
What is the best hostel in Mexico City?
Looking for a good and affordable private room or cozy dorm in Mexico City? Check out Casa Pepe. The hostel has been highly rated by backpackers. Also check out our shortlist of the best hostels in Mexico City, it's based on thousands of reviews from backpackers.
Which Mexico City hotel offers great views?
If you're looking for a room with a view, then try Gran Hotel Ciudad de Mexico. The hotel offers great views of Mexico City according to recent customer reviews.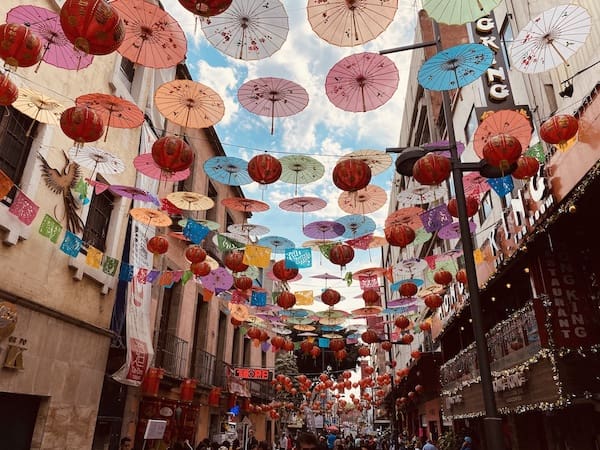 Best time to visit Mexico City
The best time to visit Mexico City is during the mild and pleasant months of March to May. During this delightful spring season, the city enjoys warm days and cool nights, providing the perfect setting to explore its many wonders.
This is the prime time to wander through the bustling streets, visit the colorful markets, and marvel at the architectural masterpieces adorning the cityscape. Not to mention, the stunning jacaranda trees are in full bloom, showering the city with a sea of purple flowers, making it an absolute visual paradise!
Alternatively, consider visiting Mexico City during the months of November to February. Although it's a bit cooler, this season offers a unique charm with an array of cultural events and festivities, such as Día de los Muertos and Christmas celebrations.
Imagine walking through the city, admiring the twinkling lights and festive decorations, while savoring some delicious Mexican hot chocolate or churros. The cooler weather also provides the perfect opportunity to visit the nearby archaeological sites and explore the natural beauty surrounding Mexico City.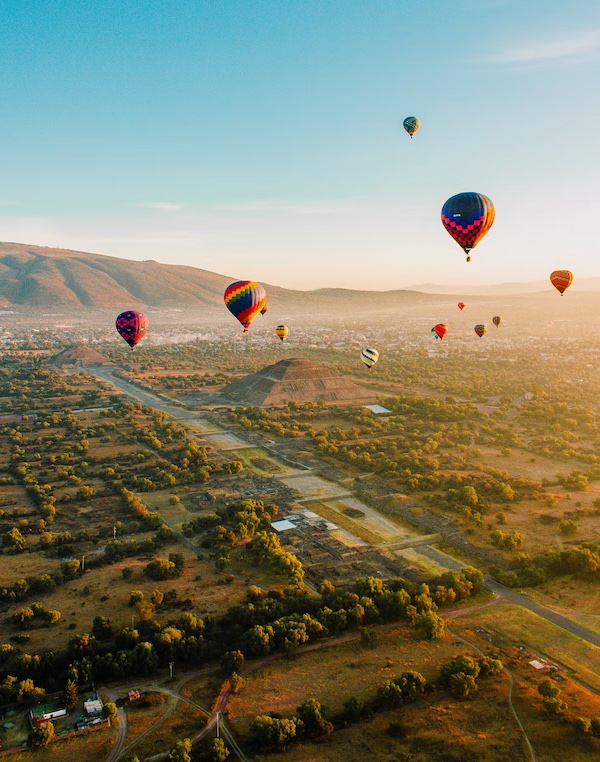 Best things to do in Mexico City
There are a lot of things to do in Mexico City and surrounding areas. Think about day trips, attractions, museums, sightseeing tours and many other activities. Here's our list of 3 things you should definitely do when you're in and around Mexico City.
Xochimilco, Coyoacán and Frida Kahlo Museum Tour
Discover the colonial beauty of Coyoacán, stroll through North America's oldest university and gain insight into Frida Kahlo's life and artwork at her former home of Casa Azul. Then, drift through the waterways of Xochimilco, a UNESCO site, and enjoy snacks aboard a 'trajinera' boat. Price: $38. More info.
Teotihuacan, Tlatelolco, Guadalupe Shrine and Tequila Tasting Tour
Hit three top historical attractions on this full-day guided tour from Mexico City: Tlatelolco, the Basilica of Our Lady of Guadalupe, and Teotihuacan. See where the main market of the Aztec empire once stood in Tlatelolco. Price: $45. More info.
Historic Downtown Walking Tour
Explore the historic center of Mexico City with this small-group walking tour. You'll hit up many of the city's most important attractions, including the Metropolitan Cathedral and the Palacia de Bellas Artes with an expert local guide. Price: $15. More info.
More things to do in Mexico City
Deciding where to stay in Mexico City
Let's recap what we just learned in this article. We've covered the best areas of Mexico City above. Now you can decide where to stay while visiting!
Top 5 neighborhoods to stay in Mexico City
Historic Center
Zona Rosa
Coyoacan
Condesa
Paseo de la Reforma
As you have seen in this travel guide, there are a lot of things to explore, and deciding where to stay in Mexico City is important. Whether you stay in the Historic Center, Zona Rosa, Coyoacan, Condesa or Paseo de la Reforma all those neighborhoods are in good locations.
The atmosphere of the area, whether you travel for leisure or business, whether you travel with your family or friends, and proximity to the attractions you prefer to visit should probably be the deciding factors. Whatever your preference is, you'll have a great time in Mexico City.
More Mexico City guides
Get to know the city even better by reading our other articles about Mexico City:
Boutique hotels in Mexico City