Barcelona is one of the most beautiful and exciting cities in the world, attracting millions of visitors each year. Whether you are looking to indulge in Spanish cuisine, explore the twisted alleys and historical sights, or experience the real culture of Spain, Barcelona has it all. The city has done an excellent job in adapting to promote a sustainable and environmentally friendly atmosphere, committing to respecting and protecting the environment, all while keeping the city pristine and exciting.
The city is lined with thousands of trees, parks, and gardens, sporting a green and sustainable impact. The Mediterranean Sea provides fresh air and a cool breeze 24/7, public transportation allows guests to move around freely and efficiently, and every neighborhood is packed with culture, commitment, and excitement.
With Barcelona's commitment to sustainability in the tourism sector, it has been awarded as the first Biosphere City in the world. To take part in keeping the environment clean and safe, and reducing your carbon footprint while you travel to this amazing city, consider one of these 5 sustainable hotels in Barcelona during your stay. They offer a low-impact stay, convenience, and dazzling views of Barcelona.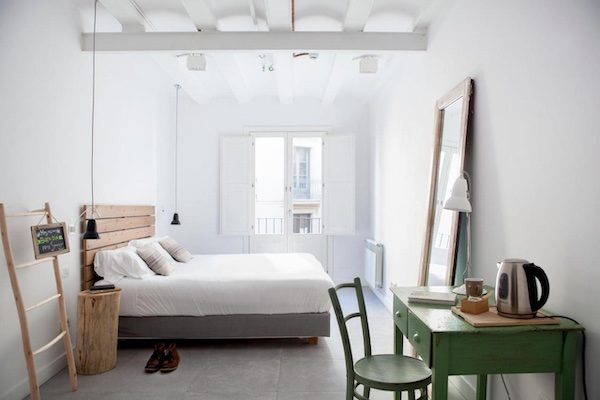 Hostal Grau
Hostal Grau is an urban oasis with a green and homey atmosphere in the heart of Barcelona. With a Mediterranean vibe and surrounded by all the fun aspects and features the city holds, you couldn't be in a better place. Hostal Grau believes that because the world is our home, we all much do our part to remain ecological, sustainable, and aware.
Located in the charming sector of El Raval, the streets around the hotel are grinning with personality and unique charm. It is centrally located but tucked away in a corner away from the hustle and bustle of the city. It is within walking distance of Placa de Catalunya, Esglesia de Santa Anna, and the Museum of Contemporary Art. Rooms and apartments are filled with stories, artistic designs, and modern cozy comforts. They provide a lot of space, organic amenities, and reception there to help you with anything you may need. Free teas and infusions are provided daily in the lounge.
What makes Hostal Grau sustainable
Hostal Grau is proud to be a benchmark ecological hotel in Spain. The hotel has various green partners and sponsors such as Fundacio Tallers, and L'estoc, and is a homelessness entrepreneur to provide opportunities for those less fortunate. They provide LEED lighting, and electric scooter rentals, use no synthetic varnishes, and the air is naturally purified with Wellis Air disinfection and purification system.
Hotel details
Address: 
Ramelleres, 27, Ciutat Vella, 08001 Barcelona, Spain.
Guest rating:
4.5 out of 5
Price per night:
From $90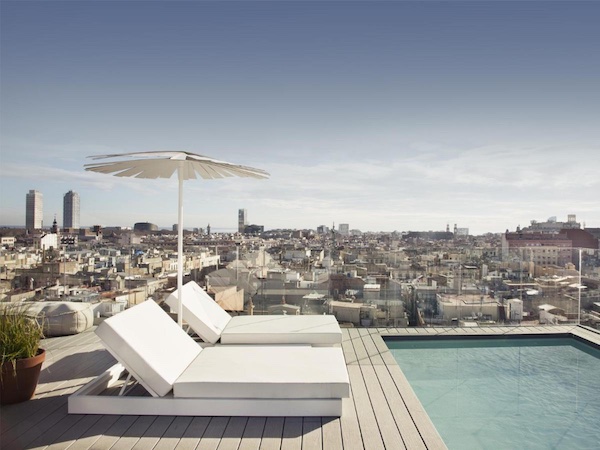 Yurrban Trafalgar
For a sustainable stay in Barcelona with jaw-dropping views and the convenience of everything being close by, Yurrban Trafalgar is the perfect place. Situated in the center of Barcelona, the hotel offers a luxurious and eco-friendly stay, with a modern and comfortable atmosphere with the best hospitality in the city. The rooftop bar is one of the best in Barcelona and will keep you entertained each and every evening.
All rooms are soundproof and equipped with heating a cooling. They include private bathrooms with amenities and a hairdryer, televisions, and a safe deposit box. On-site the hotel features a gym, laundry facilities, and one of the most popular rooftop bars in Barcelona with breathtaking views of the city. Yurrban Trafalgar is surrounded by shops, bars, and restaurants, and is right around the corner from Plaza Catalunya.
What makes Yurrban Trafaigar sustainable
Yurrban is proud to be a sustainable facility, as well as placing a high value on local and organic products and services. It features a Class A Building Certification for achieving interior comforts from thermal insulations, intelligent air, and energy-saving light fixtures. Yurrban Trafalgar is part of Barcelona Sustainable Tourism, Ecolideres, and Origorooms sustainability.
Hotel details
Address: 
Trafalgar, 30, Ciutat Vella, 08010 Barcelona, Spain.
Guest rating:
4.6 out of 5
Price per night:
From $100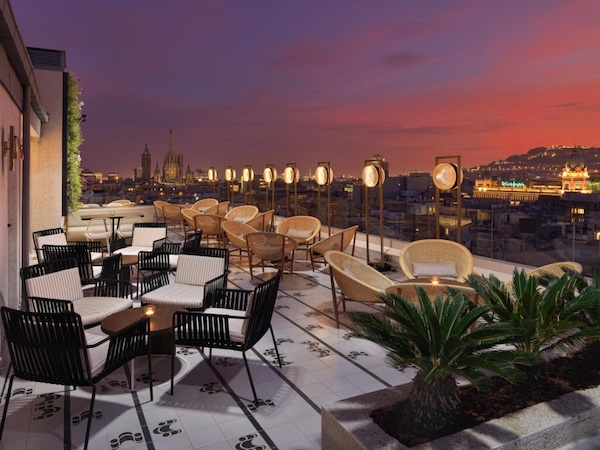 H10 Cubik
The exclusive 4-star hotel H10 Cubik is an ideal sustainable option close to all the action of Barcelona. Sitting on the edge of the Gothic Quarter, this vibrant hotel has a beautiful touch inside and out. For environmentally-conscious travelers, rest assured that H10 Cubik is powered by 100% renewable clean energy for an eco-friendly effect on the city.
Located in the city center, H10 Cubik is right around the corner from Las Rambles, the famous tree-lined pedestrian walkway. It is dozens of restaurants, cafes, sights, and famous landmarks in every direction, as well as the Barcelona Cathedral. The hotel features a unique interior playing with geometric shapes and natural warm colors, and rooms are stocked with everything needed, such as private bathrooms, free wifi, televisions, and spacious comfortable beds. H10 features an on-site restaurant, with a heated plunge pool, robotic bar, library, and Atik terrace for exclusive guests.
What makes H10 Cubik sustainable
H10 Cubik is a Biosphere Certified boutique hotel by providing guests with all many eco-friendly aspects and services as possible. The Green Stay Project incorporates the reduction of plastic waste, as well as energy-saving techniques. Electric car charging ports are available on-site, market restaurant for breakfast with natural and fresh produces and ingredients, and all-natural lighting is provided inside with a naturalistic interior design.
Hotel details
Address: 
Vía Laietana, 69, Ciutat Vella, 08003 Barcelona, Spain.
Guest rating:
4.5 out of 5
Price per night:
From $140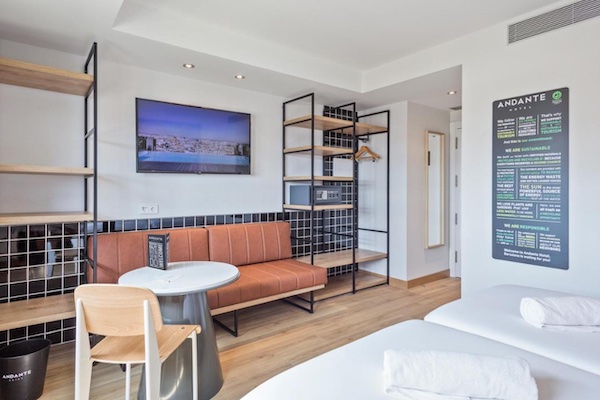 Andante Hotel
The Adante Hotel is an impressive little gem in the beating heart of Barcelona. The views of the city alone are enough to keep travelers loving every minute of their stay. This green hotel offers a sustainable stay that is eco-friendly, and conveniently located to enjoy all the greatness that Barcelona has to offer.
Located in the Ciutat Vella District, Adante Hotel is right in the middle of all the action. Located just minutes away from Las Ramblas, everything you could possibly need can be found nearby.
The building is modern and practical with 134 different rooms and suites, fixed with television, wifi, private bathrooms, and a personal safe. Breakfast is served each morning buffet style, and guests are welcome to a self-service lounge for daily snacks and beverages. Adante hotel features a 24/7 reception, electric charging port, gym, and rooftop pool.
What makes Andante Hotel sustainable
Andante Hotel is Biosphere Certified for a sustainable and eco-friendly effect. Solar panels are installed for recyclable energy and heating, in addition to the reduction and recycling of plastic and waste products.
Hotel details
Address: 
Avenida de les Drassanes, 23-25, Ciutat Vella, 08001 Barcelona, Spain.
Guest rating:
4.3 out of 5
Price per night:
From $80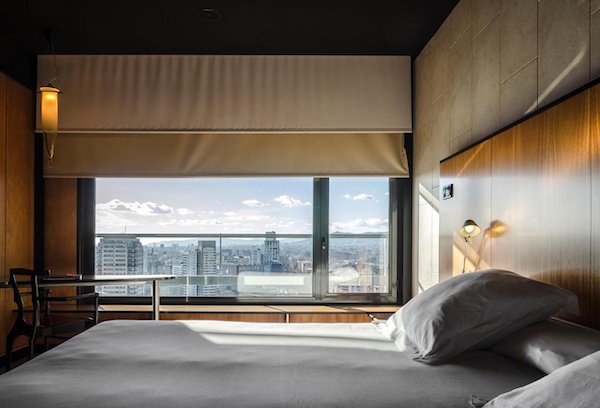 Barcelona Princess
The Barcelona Princess is a 4-star hotel in the center of Barcelona, offering some of the best panoramic views of the city with an environmentally friendly atmosphere. It has a modern and radiant design, contributing to the architectural ambiance of the city. It has been voted the #1 stay on Avenida Diagonal and is recognized for its sustainability, hospitality, and luxury.
Located in the city's Forum Region, it is a short 10-minute walk from the beach and gorgeous coastline of Barcelona. Sitting across from the Diagonal Mar Shopping Center, everything you may need for a comfortable and relaxing stay can be found nearby. There is a metro station nearby, Maresme Forum, that can easily take you anywhere in the city. The building features 2 outdoor heated pools, and immaculate views of the sea and city skyline. Rooms are equipped with private bathrooms, televisions, free wifi, and contemporary decor. The hotel also features 2 stylish bars, a fully loaded gym, a sauna, and a Mediterranean-style restaurant.
What makes Barcelona Princess sustainable
The Barcelona Princess highly values their mission and vision to protect the environment, and provide excellent service to guests. The hotel is part of the 360 sustainable and Responsible program and implements social compromise and positive environmental impact. They strive to promote a healthy work-life balance, people-focused programs, and excellent innovation in activities and services.
Hotel details
Address: 
Avenida Diagonal, 1, Sant Martí, 08019 Barcelona, Spain.
Guest rating:
4.1 out of 5
Price per night:
From $89
How we select the best eco-friendly hotels in Barcelona
We are a travel research company. We check a lot of details and guest reviews before making a selection. First, we check which hotels follow eco-travel principles. Are they recycling their waste? Do they work with local communities? Are they using renewable energy? Are they not using single-using plastics?
Secondly, we check guest reviews across multiple websites and only list hotels which have an aggregated review rating of at least 4 out of 5. So you can be certain you will be staying at an excellent eco-friendly hotel in Barcelona.
Sustainable travel is becoming increasingly popular and important as we strive to reduce our carbon footprints. There are many easy ways to reduce your impact while traveling, from choosing eco-friendly accommodations to respecting the local wildlife. Here are some of the most important tips for sustainable travel.
More Barcelona guides
Get to know the city even better by reading our other articles about Barcelona:
Best boutique hotels in Barcelona
Best luxury hotels in Barcelona