If you're headed to Mallorca and are looking for the best hostels to stay at, you'll only need to check out our list. After all, Mallorca is a breathtaking island that makes you believe in heaven, and if you're not going to enjoy it all, you're definitely thinking wrong.
Mallorca is Spain's largest island, and it goes beyond in more than just size; the island boasts an exquisite shore that runs for miles and dances against the sparkling sun. You'll also find it conveniently amidst a row of restaurants and exquisite bars, so best believe you're in for a lot of fun.
And while you're there in Mallorca looking for the best hostels, we have a list that's going to tick every box you can draw. Because of course, staying in a hostel is more convenient, even more affordable and comes with a friendly community. So whether it's a hostel that's beyond luxurious with lush amenities or a hotel that simply relies on paying homage to its natural roots, you'll find everything here.
Boc Hostels Palma Albergue Juvenil
The Boc Hostels Palma Alburgue Juvenil is an excellent choice for quite literally everyone. The hostel is extremely affordable, so you'll be able to spend your money on traveling and touring the island instead; and the hostel makes for a very friendly environment. The hostel offers rooms with 2, 4 and 6 beds, with the option for separate rooms for couples. So if you're looking for a comfortable and affordable place to hang out with your friends, you know the Boc Hostels is one way to go.
One of the few things that make the Boc Hostels a smart choice is that it offers separate rooms for women. It's quite hard to find a place that accommodates disabled people, so it's a rare and lucky chance that this hostel is a comfortable choice for disabled people. You'll also find a massive common area with showers for men and women and a comfortable lounge sporting a game and reading room.
Of course, laundry and kitchen facilities are also available here. The hostel is also conveniently located extremely close to the Plaza Espaa, which makes it a great place for tourists who are hoping to tour on bike or on foot.
Hostel details
Address:
Arxiduc Lluis Salvador, 46, 07004, Palma de Mallorca, Spain.
Guest rating:
4.6 out of 5.
Price per night:
from $19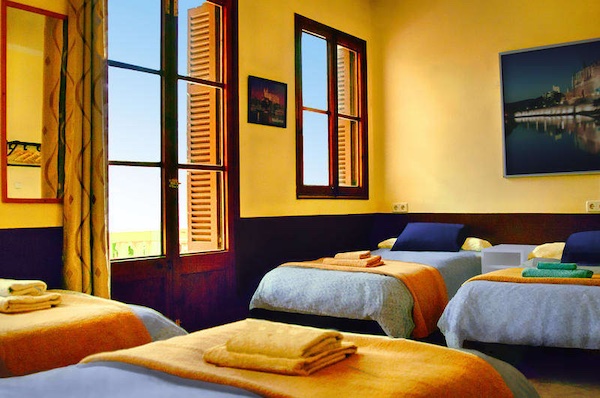 Hostal Atlanta
Another amazing hostel you can go for is Hostal Atlanta. The hostel is a newly refurbished place that boasts extraordinary facilities and amenities, and does so in a surprising price range. So if you're thinking of finding a hostel that is as close to a luxurious hotel, it is Hostal Atlanta. This hostel is also located in a prime spot; just a stone's throw from some of Mallorca's major tourist points, so you won't have to spend much on going around. Among these tourist points include Playa de Palma Beach and its impressive promenade to take a long walk on.
The hostel also offers bike rentals, security lockers and towels for hire. And, the hostel manages to keep cleaner than most hostels you'll find around. Hostal Atlanta is definitely one of the best options you can go for if you're looking for a place that's home to a great community and friendly neighbors, is affordable for everyone and is located at the heart of Mallorca's most tourist-friendly areas. It features an onsite restaurant that provides delicious meals and even a bar and a cafe. Honestly, with a hostel like the Hostal Atlanta, you couldn't hope for anything more wonderful.
Hostel details
Address:
Calle Terral 50, El Arenal, Palma de Mallorca, Spain.
Guest rating:
4.6 out of 5.
Price per night:
from $16
Sa Fita Backpackers
Last but not the least, Sa Fita Backpackers is yet another hostel that promises you satisfaction even hotels can't. If you're a frequent traveler or someone who's on the road quite a lot, and if you're a naturalist with a knack for adventurous activities like hiking and biking along bumpy trails, this hostel is the one for you.
Sa Fita Backpackers is a century-old house that is present in a rural village in Mallorca; perfectly nestled among Mallorcan valley of Serra de Tramuntana and offering a rare chance to connect with mother nature, Sa Fita Backpackers is a place that makes you feel at home. You'll find dormitory rooms with 6, 8, or 10 bedrooms and one private double-bed room.
At the Sa Fita Backpackers Hostel, you'll also stumble across amazing facilities like a common room equipped with everything you need and meeting rooms for anyone who's here on business. The hostel offers self-catering facilities for anyone who's not in the mood to eat out much and even offers complimentary WiFi (something that not all hostels do). So if you're still on the lookout for a hostel that's amazing, has extraordinary facilities, and is close to great tourist spots, then stop looking because Sa Fita Backpackers is the answer to all your questions.
Hostel details
Address:
C/ Joan Riutort, 49, Esporles, Islas Baleares, Palma de Mallorca, Spain.
Guest rating:
4.6 out of 5.
Price per night:
from $26
About our Mallorca hostel recommendations
Are you a solo traveler looking for a private room? Or a backpacker traveling around in a group wanting to stay in a cheap and cozy dorm? Above you will find the best hostels in Mallorca for all your needs.
Please note, we only list hostels that have an aggregated guest review rating of at least 4.0 out of 5. We aggregate all reviews from different booking sites and other unbiased review websites. Hence, you can be certain all hostels listed above offer an excellent value-for-money stay in Mallorca.
Best price guarantee
For our hostel recommendations, we work together with Hostelworld and Booking. These partnerships don't have any influence on the recommendations we make or on the order in which our recommended hostels are listed. The reasons why we have chosen to partner with these companies is that they're trustworthy, offer excellent service and they both apply the best price guarantee.
This means you can claim a refund for the difference if you find your reservation cheaper on another website. It has to be for the same property, accommodation type, dates, cancellation policy and conditions, otherwise, you can't claim a refund for the difference. If you book through Booking.com then all you need to do is contact them at least 24 hours before your check-in date. If you book through Hostelworld you must claim the refund within 24 hours after you made the booking.
Top 3 hostels in Mallorca
To summarize again, based on thousands of guest reviews, these are the best hostels in Mallorca:
Why you should be careful when booking the cheapest hostel available
The cheapest hostels available are typically not in a great location. If you want to go sightseeing or go for a night out in Mallorca, you probably end up having to pay for public transport or a taxi to get there. So your stay could end up being more expensive compared to a stay in a central location. For first-time travelers, we recommend staying central anyway, but also for frequent visitors, it's probably worth it to pay a bit more to stay in a central location.
Another reason why you shouldn't stay at the cheapest hostel is that the people staying at the cheapest hostels are often not the people that can afford to travel like you. Because a very cheap hostel is often cheaper than renting a flat, these places tend to attract migrant workers or local misfits. That's probably not the crowd you want to hang out with, especially if you're a solo traveler looking for friends.
The third reason why you should avoid the cheapest hostels is safety. Some of the cheapest hostels don't check IDs, don't ask for signatures, or only accept cash at check-in. The hostel won't know who is actually staying there.
Lastly, the service at these hostels isn't great. For instance, if you choose to store your luggage, your bags will be unattended in a public space. It won't be recorded anywhere or tagged and stored in a locked room.
So, it's probably worth it to spend a bit more on your hostel stay in Mallorca.
And finally, a tip: always read the latest reviews of the hostel! All places have good and bad reviews, but the most recent reviews matter the most.
More Mallorca tips
Get to know the island even better and check out our other articles about Mallorca:
Best boutique hotels in Mallorca
Best luxury hotels in Mallorca