Mallorca is one of the best beach destinations in Europe and has become more popular than ever before. It boasts a stunning coastline with crystal waters and luscious beaches, an epic scenic backdrop, and a perfect climate year-round. While the island has a reputation for being a cheap party island, it has so much more to offer for those that visit.
Attracting a lot of tourists, the island of Mallorca has implemented ways of being more environmentally friendly. They are setting a new sustainability standard in Spain, and have instituted a plastic ban as well as extended bike routes and trails. The island is overflowing with natural parks and protected reserves, making it an ideal destination for those looking to leave an unnoticeable footprint on the environment.
Finding the most eco-friendly places to stay during your visit to Mallorca is one of the most important things to consider when trying to travel sustainably. Thankfully, we've helped make that process for you a whole lot simpler. To promote eco-friendliness and sustainability on your adventure, consider these 5 best sustainable hotels in Mallorca.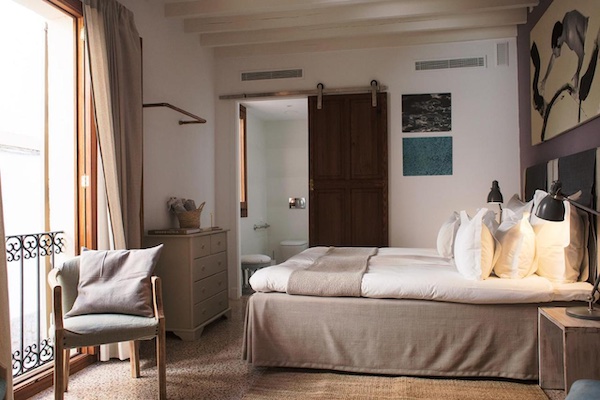 Ecocirer
Welcome to a different side of Mallorca. A beautifully restored 1900s townhouse is now a sustainable, intimate, family-run townhouse, perfect for a home base while on the island. Ecocirer shares the joys of a healthy vacation in a unique setting where you, your friends, and your family can find relaxation and harmony.
Ecocirer is a beautiful oasis in the heart of the village of Sóller. Sitting on the more peaceful side of the island, the action and center of Palma de Mallorca are only 15 km away. There are various restaurants and restaurants nearby, and transportation can easily be arranged. All rooms are equipped with private bathrooms with fitted walk-in showers, seating areas, free Wi-Fi, and a free homemade vegetarian breakfast each morning.
What makes Ecocirer sustainable
Ecocier is sustainable by basing all of its decisions on respect for nature, animals, and people, and actively participating in the conservation of our environment. From eco-design and a creative mindset to fresh vegetables in the kitchen, they focus on leaving a positive legacy. The facility is a huge advocate for recycling and almost every aspect is made from 100% recyclable materials each piece of design is the result of a long process of research, restoration, and creativity carried out with love and care.
Hotel details
Address: 
Carrer de Reial 15, 07100 Sóller, Spain.
Guest rating:
4.8 out of 5
Price per night:
From $155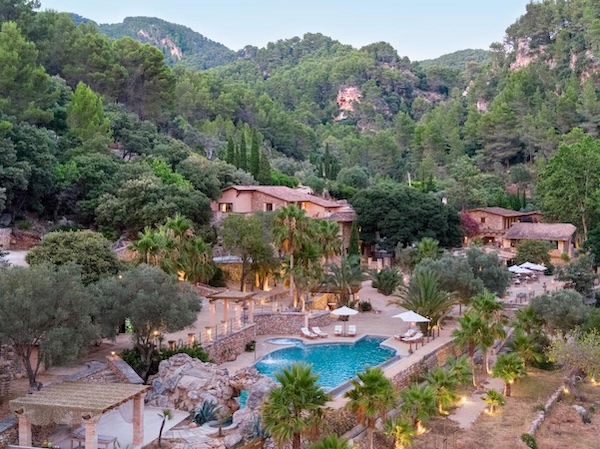 LJs Ratxo
LJs Ratxo's secret lies in its connection with nature, so get ready for unforgettable moments in this natural paradise. This luxury retreat offers spectacular views of the Puig de Galatzo Mountains, and pleasant, hospitable staff making sure your stay is incredible every step of the way. Sustainability runs to the core of LJs Raxto, so eco-conscious guests can rest assured they will be environmentally protected.
Sitting in Puigpunyent, it is located just 20 km from Palma's bright lights, LJs Ratxó is close to the island's capital yet a world away from the stress of everyday life. They can arrange bike and car rentals to take you anyway on the island, in addition to mountain and fishing trips. The facility features a gorgeous design of wooden beams and tiled wood floor and furniture and has 2 on-site restaurants with a warm and inviting atmosphere. Rooms all have private balconies, in addition to free Wi-Fi, flat-screen TVs, and private bathrooms.
What makes LJs Ratxo sustainable
LJs Ratxo is sustainable by being committed to conserving resources, recycling waste materials, using fully biodegradable products, having energy-efficient lighting, and having an organic filtered water system. Most importantly, the facility promotes the concept of the four R's: Refuse, Reduce, Reuse, and Recycle. All products are bought from locally grown sources, and work closely with locals, so products are organic and sustainable.
Hotel details
Address: 
Camino Son Net, s/nº, 07149 Puigpunyent, Spain.
Guest rating:
4.2 out of 5
Price per night:
From $320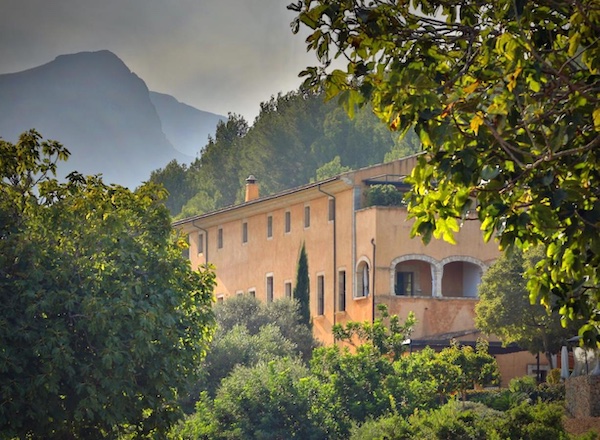 Son Brull
Son Brull Rural Sanctuary is one of the most luxurious 5-star hotels in Mallorca. The family-owned property continues to welcome guests in search of peace and solace in beautiful natural surroundings, and Mallorca's best beaches and prettiest towns are only a short drive, cycle ride, or hike away. Son Brull is a peaceful paradise for those looking for relaxation, sustainability, and comfort.
Son Brull has situated just 3 km from Pollensa, in the north of Mallorca. Along the cobblestoned streets are honey-colored stone buildings, boutiques, galleries, and crafts shops. Formentor beach is just 7 km from Pollensa and is one of Mallorca's most beautiful; a long stretch of sand with a backdrop of pine trees. The hotel features a restaurant, bistro and bar, health and wellness spa, and gift shop. Rooms feature sweeping views of the Mallorcan countryside, fitted with Bang & Olufsen TV and audio systems, individual Wi-Fi and natural Son Brull Spa products, and private bathrooms.
What makes Son Brull sustainable
Son Brull is sustainable by being a part of the Travel Sustainability Program, and strives to promote eco-friendliness in as many aspects as possible. They have eliminated all single-use plastic products, reduce food waste and encourages recycling, use water-efficient toilets and showers, use locally sourced organic food products, LED lighting, double-glazed windows, and green spaces like a terrace or garden.
Hotel details
Address: 
Carretera Palma-Pollensa km.50, 07460 Pollença, Spain.
Guest rating:
4.8 out of 5
Price per night:
From $225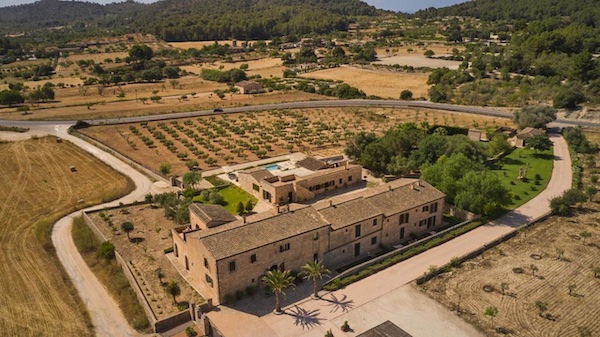 Es Riquers
Es Riquers Hotel is all about relaxation, authenticity, nature, and tradition. The peaceful refugee booming with art that was once an old farmhouse has been converted into a warm and welcoming 4-star hotel in Mallorca. Blending modernity and tradition the hotel surprises guests, and makes them feel right at home and comfortable.
Located in the heart of the island, just 5 minutes from the town of Porreres, it's an ideal location for sampling everything the island has to offer. The hotel has spacious communal areas including an outdoor swimming pool and extensive gardens with more than 400 olive trees, a restaurant with panoramic views over the Pla de Mallorca, a spa with a gym, and a cozy lounge with a fireplace. All rooms are designed with light and air in mind and have air conditioning, satellite TV, free wifi, a safe for laptops, and free breakfast and spa access.
What makes Es Riquers sustainable
Es Riquers is sustainable by being environmentally aware of its actions and promoting eco-friendliness in as many aspects as possible throughout the facility. They support local artists and vendors by purchasing and displaying arts and products, as well as encourage recycling and limiting food waste for all guests.
Hotel details
Address: 
Carretera Llucmajor- Porreras, Km 9.5, 07260 Porreres, Spain.
Guest rating:
4.7 out of 5
Price per night:
From $102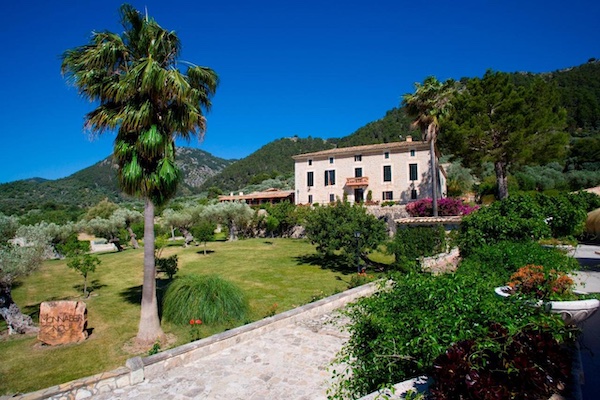 Monnaber Nou
Monnaber Nou is where nature meets tradition. The hotel is immersed in a 150-year-old farm with ecological certification in Mallorca, with panoramic views surrounded by nature. The romantic eco-logical farmhouse is open year-round and is a superb place for a stay outside the nightlife, in trade for a quaint and homey atmosphere.
Located in the north of Mallorca next to the Tramuntana mountains, only 15 km from the bays of Pollensa or Alcudia and 45 km from the Palma de Mallorca airport. The property features an organic onsite restaurant, swimming pool, fitness gym, health and wellness spa, tour option, and spectacular mountain views. All rooms are uniquely and locally designed and feature a Satellite TV, safety box, a/c and heating, a stocked mini-bar, free Wi-Fi, private bathrooms with toiletries, and room service upon request.
What makes Monnaber sustainable
Monnaber is sustainable by applying an Ecological Agricultural and Hotel Management, known as the "Lifestyle of Health and Sustainability," to all their actions through an ecological, responsible, and ethical consumption of natural resources. Their actions currently minimize CO2 emissions, reduce energy consumption, and use of renewable energies at the hotel to rationalize water in order to contribute to protecting the environment and achieve a symbiosis with nature.
Hotel details
Address: 
Predio Monnaber Nou, 07310 Campanet, Spain.
Guest rating:
4.4 out of 5
Price per night:
From $125
During your next visit to Mallorca, keep the environment in mind and keep your visit as sustainable as possible. We hope you have enjoyed this guide to the 5 best sustainable hotels in Mallorca, and refer back here when planning your next eco-friendly adventure.
How we select the best eco-friendly hotels in Mallorca
We are a travel research company. We check a lot of details and guest reviews before making a selection. First, we check which hotels follow eco-travel principles. Are they recycling their waste? Do they work with local communities? Are they using renewable energy? Are they not using single-using plastics?
Secondly, we check guest reviews across multiple websites and only list hotels with an aggregated review rating of at least 4 out of 5. So you can be confident you will stay at an excellent eco-friendly hotel in Mallorca.
Sustainable travel is the key to enjoying a responsible and meaningful trip. You can make a difference in the environment and the communities you visit with the right sustainable travel tips. From packing light to choosing eco-friendly transportation and accommodations, there are plenty of ways to reduce your environmental impact.
More Mallorca recommendations
Get to know the island even better by reading our other articles about Mallorca: