Oslo is an amazing city to visit, and a great place to explore with friends or family. The city is full of interesting attractions, like the Viking Ship Museum, the Akershus Castle, and the Nobel Peace Center. There are plenty of parks and outdoor spaces to explore, and a bustling nightlife. If you're looking for a place to stay, there are plenty of great hostels.
From the affordable price to the sense of community, the perks of staying in a hostel are endless. Because hostels typically offer no-frills accommodations with shared rooms and bathrooms, you can get a bed at a hostel for a fraction of the price of a hotel. Saving money through a hostel stay means you'll have more cash for dining experiences, sightseeing, and nightlife during your trip to Oslo.
Not only will a hostel save you some serious cash, but it's also a great way to meet like-minded friends while traveling. Hostels are known for their common spaces, lounge areas, and social events, making it easy for solo travelers or couples to meet other travelers or locals. Experiencing the local culture with new friends always creates unforgettable memories!
Although hostels are cheaper, it doesn't mean that there aren't excellent amenities. Several hostels include complimentary breakfast, linens, towels, and even private rooms. If you're looking for a great hostel, look no further – keep reading for the top three hostels in Oslo!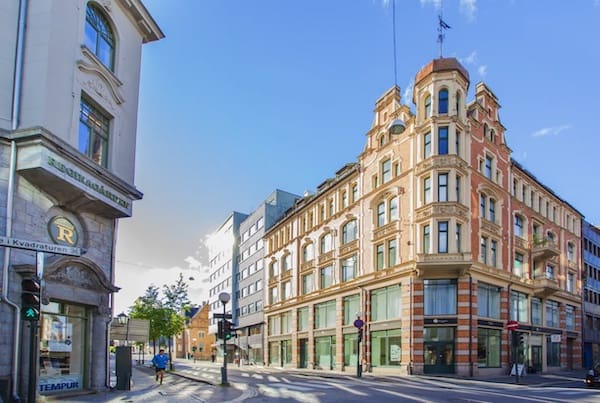 K7 Hotel Oslo
K7 Hotel Oslo is one of the city's best hostel options – featuring an excellent location and several fantastic amenities. Directly outside the hostel, you'll find the bus station and tram stop, while the Oslo Central Station is only a seven-minute walk, so the entire city is easily accessible.
With 64 rooms and 188 beds, K7 Hotel Oslo has plenty of room for everyone. Many rooms are dorm-style, and rates include linens, towels, and WiFi. Private rooms have an ensuite bathroom, shower, TV, and sitting area. Dorm-style rooms have a shared bathroom and shower in the hallway. Each room has white linens, abundant natural light, and ambient lighting, making this space feel more upscale than other hostels. Many rooms have lovely views of the surrounding neighborhood.
Guests can also access the shared kitchen, laundry room, and the large, two-story lobby featuring exposed brick and floor-to-ceiling windows. A shared lounge space boasts comfortable furniture, a large bookshelf, and a big TV, making this a great spot to meet new friends.
Guests of this hostel can get breakfast at a discounted rate. The hostel receives breakfast items delivered each morning from the local bakery, including coffee and fresh juice.
Hostel details
Address:
Kongens Gate 7, Oslo, Norway.
Guest rating:
4.5 out of 5.
Price per night:
from $25
Oslo Hostel Ronningen
Oslo Hostel Ronningen is only open in the summer, from the end of May until the middle of August, making this perfect for a summer trip to Norway. With over 200 beds, spacious rooms, and private bathrooms, this hostel is also ideal for summer camps, retreats, summer school, or larger conferences. The brand-new multipurpose room can accommodate groups of up to 600 people.
Every room at Oslo Hostel Ronningen comes with WiFi, a closet, and a desk. Room options include single, double, or family rooms. Some rooms have spectacular nature views. Laundry facilities and a shared kitchen are available for guests. Private parking is also available for guests with cars.
Make sure to bring your hiking gear – this hostel is located in a leafy area with several hiking and biking trails. Oslo Hostel Ronningen also has a TV lounge, library, and over 20 board games, making connecting with other travelers easy. Other onsite amenities include soccer fields, volleyball courts, billiards, and ping pong tables, making this hostel especially kid-friendly. Guests can also enjoy complimentary breakfast each morning. A coffee bar is located onsite, in addition to a bright and airy lounge with large windows.
Hostel details
Address:
Myrerskogveien 54 A, Oslo, Norway.
Guest rating:
4.3 out of 5.
Price per night:
from $55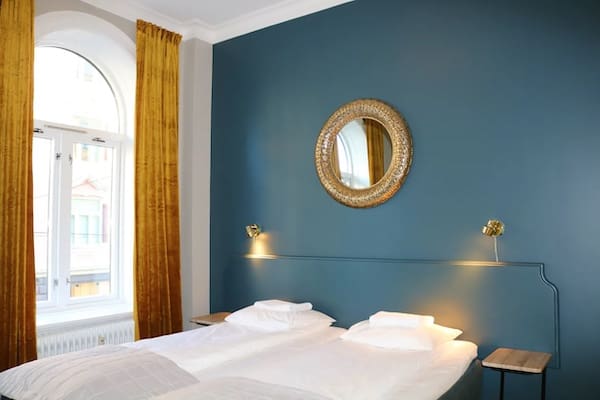 Cochs Pensjonat
Located in a building dating back to 1927, Cochs Pensjonat is in a fantastic Oslo location, and is a third-generation family business. During your stay, enjoy an 11-minute stroll to the shopping and restaurants along Karl Johans Gate, or a six-minute walk to the historic Royal Palace. The Homansbyen tram stop is only a three-minute walk from the hotel, so anywhere you want to go in Oslo will be at your fingertips.
Encompassing 88 rooms, guests can choose between three-floor plans – Best Rooms, Standard Rooms, and Value Rooms. Value Rooms come with a shared bathroom, while many Best and Standard Rooms are equipped with a TV, kitchenette, and ensuite bathrooms. Each room has complimentary WiFi.
Cochs Pensjonat has a meeting room with a TV, with space for small or large events. In the same wing, guests can enjoy a lounge with a TV, a piano, and a workbench, along with a shared microwave and coffee machine. Hostel guests will receive a discounted breakfast at the nearby Kaffebrenneriet Parkveien. The nearby Espresso House is another great option if you want something different for breakfast.
The reception desk is open 24 hours a day, and you are welcome to borrow kitchen utensils, hair dryers, and ironing boards during your stay.
Hostel details
Address:
Parkveien 25, Oslo, Norway.
Guest rating:
4.6 out of 5.
Price per night:
from $65
About our Oslo hostel recommendations
Whether you're a solo traveler looking for a private room, or a backpacker traveling around in a group wanting to stay in a cheap and cozy dorm, above you will find the best hostels in Oslo for all your needs.
Please note that we only list hostels on our website with an aggregated guest review rating of at least 4.0 out of 5. We aggregated all reviews from different booking sites and other unbiased review websites. Hence, you can be certain all hostels listed above offer an excellent value-for-money stay in Oslo.
Best price guarantee
For our hostel recommendations, we work together with Hostelworld and Booking. These partnerships don't have any influence on the recommendations we make or on the order in which our recommended hostels are listed. The reasons why we have chosen to partner with these companies is that they're trustworthy, offer excellent service and they both apply the best price guarantee.
This means you can claim a refund for the difference if you find your reservation cheaper on another website. It has to be for the same property, accommodation type, dates, cancellation policy and conditions, otherwise, you can't claim a refund for the difference. If you book through Booking.com then all you need to do is contact them at least 24 hours before your check-in date. If you book through Hostelworld you must claim the refund within 24 hours after you made the booking.
Top 3 hostels in Oslo
To summarize again, based on thousands of guest reviews, these are the best hostels in Oslo:
Why you should be careful when booking the cheapest hostel available
Booking the cheapest hostel available is not recommended for a few reasons:
The cheapest hostels available are typically not in a great location. If you want to go sightseeing or go for a night out in central Oslo, you probably end up having to pay for public transport or a taxi to get there. So your stay could end up being more expensive compared to a stay in a central location. For first-time travelers, we recommend staying central anyway, but also for frequent visitors, it's probably worth it to pay a bit more to stay in a central location.
Another reason why you shouldn't stay at the cheapest hostel is that the people staying at the cheapest hostels are often not the people that can afford to travel like you. Because a very cheap hostel is often cheaper than renting a flat, these places tend to attract migrant workers or local misfits. That's probably not the crowd you want to hang out with, especially if you're a solo traveler looking for friends.
The third reason why you should avoid the cheapest hostels is safety. Some of the cheapest hostels don't check IDs, don't ask for signatures, or only accept cash at check-in. The hostel won't know who is actually staying there.
Lastly, the service at these hostels isn't great. For instance, if you choose to store your luggage, your bags will be unattended in a public space. It won't be recorded anywhere or tagged and stored in a locked room.
So, it's probably worth it to spend a bit more on your hostel stay in Oslo.
And finally, a tip: always read the latest reviews of the hostel! All places have good and bad reviews, but the most recent reviews matter the most.
More Oslo tips
Get to know the city even better and check out our other articles about Oslo: