Dubai is an international destination known for its luxury lifestyle, gorgeous white sandy beaches, and extensive shopping malls. This bustling city enjoys tropical weather with very hot summers and balmy winters. Its cosmopolitan atmosphere, designer stores, and opulent architecture make Dubai an appealing holiday destination.
Its glamorous reputation attracts many people to this middle eastern haven, and as Dubai becomes more eco-friendly, it will become even more popular with people looking for a vacation that combines sustainability and luxury.
As travelers become more aware of how their traveling choices impact the environment, cities like Dubai are adapting to these concerns by ensuring that sustainability is a top priority. Some of the most beautiful resorts in Dubai are incorporating sustainability by taking steps to preserve the desert surrounding Dubai, ensuring indigenous plant life is protected and reducing energy and water consumption.
In this article, we will show you the top 5 sustainable hotels in Dubai where you can relax in ultimate luxury whilst staying at an eco-conscious resort that is considerate of its environmental impact.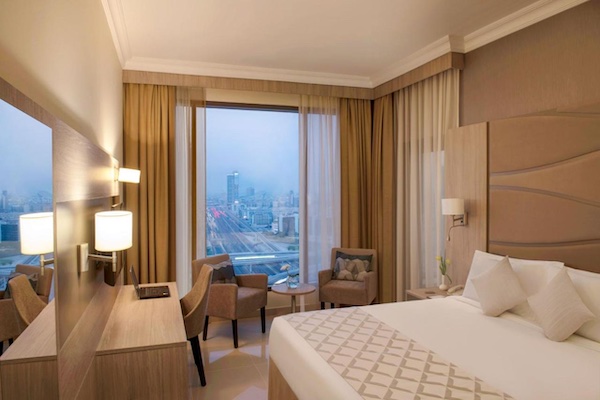 Two Seasons Hotel
Located on Sheikh Zayed Road, which connects Dubai to Abu Dhabi, the Two Seasons Hotel is an excellent hotel that welcomes families, vacationers, and business travelers. Nestled among the iconic skyscrapers of Dubai, the Two Seasons is conveniently located with easy access to high-end shopping malls and excellent restaurants.
The hotel itself is decorated with a clean modern design and includes a kids club, swimming pool, state-of-the-art fitness center, and dance studio. Guests at the hotel can enjoy the choice of five different restaurants including a sushi cafe, and the hotel even has its own minimart. The Two Seasons Hotel is also close to the famous Palm Jumeirah beach, ideal for relaxed days enjoying the sunshine on the beach.
What makes the Two Seasons Hotel sustainable
The Two Seasons hotel management has incorporated sustainable principles and practices since its inception in 2010. Such practices include meeting 10 Green Living Commitments which include conserving energy, and water and reducing its carbon footprint. The Two Season hotel ensures that it promotes green living by educating its staff, business partners, and guests on how to help care for the environment while staying at and using the hotel.
The hotel has motion sensor taps to help reduce water waste and has banned plastic straws in all its branches and provides water in glass bottles rather than plastic. Water consumption at the hotels is closely monitored and eco-friendly water cleaning chemicals are used throughout the hotel amenities such as in the swimming pools. The hotel also ensures that hot water pumps and air filtration units are regularly maintained and replaced if they are found to not be working effectively to ensure that each unit is working efficiently and no energy is wasted.
Hotel details
Address: 
Sheikh Zayed Road, Internet City, Dubai, United Arab Emirates.
Guest rating:
4.1 out of 5
Price per night:
From $117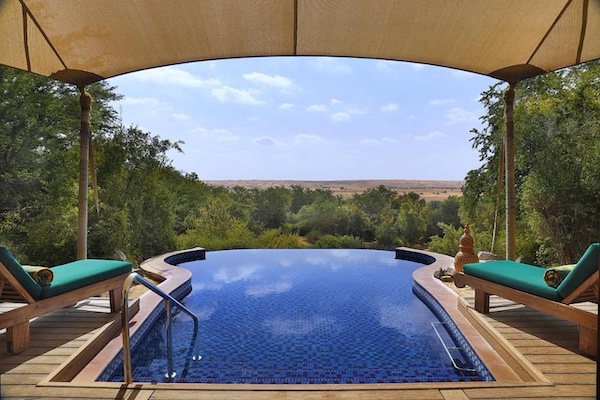 Al Maha Resort
Tucked away in the Dubai Desert Conservation Reserve is Al Maha, an ultra-luxury private resort get-away, that offers guests a secluded sanctuary across its 42 suites that overlook the iconic Dubai sand dunes and mountains. Each suite has a private pool and is decorated with sumptuous fabrics with views over the expansive desert landscape.
There is also an onsite spa for guests to enjoy total relaxation, as well as adventurous packages allowing guests the opportunity to explore the desert in chauffeured 4×4 vehicles. The busy city of Dubai is approximately 65 km away, allowing guests to unwind in the opulent surroundings of this stunning resort.
What makes Al Maha sustainable
The Al Maha resort is located in the Dubai Desert Conservation Reserve (DDCR) which is an area of protected wildlife and desert wilderness. The DDCR is the UAE's first national park and was created for the protection of endangered indigenous flora and fauna, and to conserve the precious desert habitat.
The hotel itself has sustainability at its core, ensuring that water and energy consumption is kept low, and by reusing and recycling wherever possible. The resort only uses electric-powered golf buggies when needed, and lights within the hotel rooms and communal areas have been switched to low-energy LEDs.
The trees surrounding the resort were planted under the instruction of the founders and the resort has its own water treatment plant where water is treated through reverse osmosis, so it can be reused. The resort also encourages its guests' use of electric vehicles and has car-charging ports available onsite.
Hotel details
Address: 
Dubai Al Ain Road, Murquab, United Arab Emirates.
Guest rating:
4.6 out of 5
Price per night:
From $850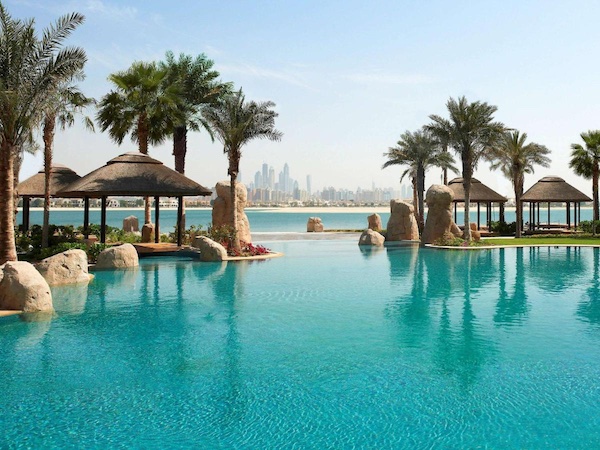 Sofitel Dubai The Palm
Centrally located in one of the most sought-after areas in Dubai, the Sofitel-Dubai The Palm resort sits on the beachfront of the famous Palm Jumeirah beach. The hotel resort offers a French-Polynesian atmosphere, apparent from the moment you walk in and notice the sophisticated decor and luxurious amenities. Sofitel-Dubai The Palm includes a wellness spa and fitness center, an excellent selection of restaurants and bars, and many outdoor activities to occupy children and adult guests.
With spectacular views across the water and a short distance from the bustling lights of the city, it is surprising that a resort like this would be eco-friendly.
What makes the Sofitel-Dubai The Palm sustainable
The Sofitel-Dubai The Palm is committed to being an eco-friendly resort with many sustainability initiatives in place throughout the hotel. The resort goes above and beyond to not only meet environmental legislation but to ensure that the resort's operations exceed goals to reduce water and energy consumption. The resort's sustainability management plan includes the training of its staff and ambassadors to ensure sustainable values remain at its core.
Examples of how the resort has committed to reducing its impact on the environment include the installation of 232 solar panels on the roof, a dual flush system implemented throughout the hotel to save water, and sensors within the guest rooms to monitor and reduce energy consumption. Guests can even play a game of Eco-Golf at the resort, where you can practice your drive hitting eco-friendly golf balls into the ocean. The golf ball shells dissolve when submerged in water and the inner core is made of food for marine life.
Hotel details
Address: 
The Palm Jumeirah, East Crescent Road, Dubai, United Arab Emirates.
Guest rating:
4.2 out of 5
Price per night:
From $299
Anantara The Palm
Also located on the world-famous Palm Jumeirah beach, the fabulous Anantara The Palm is the ultimate beachfront escape with 400 meters of private coastline and over-water villas to enjoy. This family-friendly resort offers excellent water sports facilities such as kayaking and paddleboarding. There is a vast range of accommodations available from lagoon access rooms to luxurious private villas which sit over the water. There is also an expansive 50-meter infinity pool with a jacuzzi for guests to take advantage of. The hotel is conveniently located near many of Dubai's finest shops and restaurants and the resort offers complimentary shuttle services to the premier Mall of Emirates shopping mall.
What makes the Anantara The Palm sustainable
The Anantara The Palm is committed to prioritizing the environment and sustainable practices and has in place many operations that help reduce the impact of luxury resorts on climate change. The resort is dedicated to removing plastic where possible, removing over 600 single-use plastic bottles from the resort gym and replacing them with a water-filtration system.
The resort also uses stainless steel drinks stirrers, gives guests wooden key cards, and has omitted the use of plastic straws and cups throughout the resort. Food waste is also high on their sustainability agenda, with onsite facilities to compost and digest food waste, so it can be reused in the landscaping around the resort. The resort also has a closed loop for recycling coffee pods, as well as soaps, and slippers used by guests.
Hotel details
Address: 
The Palm Jumeirah, Crescent Road (East), 71607 Dubai, United Arab Emirates.
Guest rating:
4.3 out of 5
Price per night:
From $335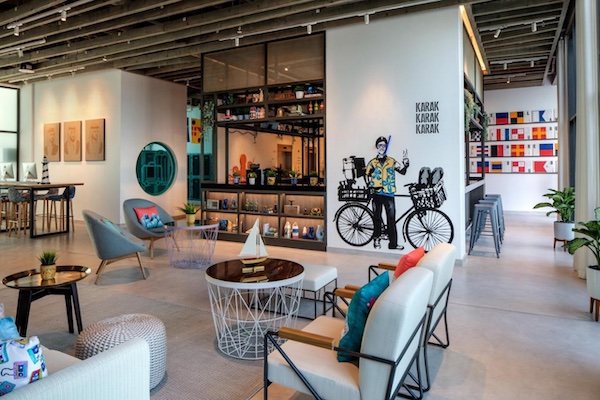 Rove La Mer Beach
The vibrant and quirky beach resort, Rove La Mer Beach is excellently located on the beachfront of La Mer, an area popular with surfers, offering a comfortable and affordable slice of life in the glamorous city of Dubai. The hotel has a simple, clean aesthetic with stunning views across the Dubai skyline and brightly colored communal areas.
Although the Rove La Mer offers a less opulent option to Dubai, its rooms are perfectly sized and pristine, with flat-screen TVs and bathrooms with walk-in showers. Guests enjoy Rove La Mer due to its arty vibe and laid-back attitude, and the hotel is located next to an attractive boardwalk area with colorful street art and many lively bars and restaurants for guests to choose from. City Walk is a ten-minute drive away and offers high-end stores, restaurants, and a botanical garden.
Rove La Mer is an excellent option for families due to its brilliant location near Laguna Waterpark and La Mer promenade less than a 4-minute walk away.
What makes the Rove La Mer Beach sustainable
The fuss-free attitude and ethos of the hotel contribute to the eco-friendly nature of Rove La Mer Beach. Energy is saved within the hotel by establishing a relaxed community atmosphere by offering shared electronic entertainment areas and guests are encouraged to dine together in the Daily dining room to reduce the need for takeaway containers. The use of plastics throughout the hotel is minimal and the hotel dramatically reduces its contributions to landfill by composting food waste.
The Rove hotel collective has received the prestigious Green-Key eco-label which acknowledges excellence in the field of environmental responsibility. Rove hotels include low-energy lights with sensors to detect when they are not in use, and all in-room fridges are energy efficient, consuming less than 1kwh per day.
Invoices are emailed to guests to reduce paper waste and the pool is saltwater, which reduces the need for chemicals that damage marine life.
Hotel details
Address: 
La Mer South, Jumeirah 1, Dubai, United Arab Emirates.
Guest rating:
4.5 out of 5
Price per night:
From $170
How we select the best eco-friendly hotels in Dubai
We are a travel research company. We check a lot of details and guest reviews before making a selection. First, we check which hotels follow eco-travel principles. Are they recycling their waste? Do they work with local communities? Are they using renewable energy? Are they not using single-using plastics?
Secondly, we check guest reviews across multiple websites and only list hotels with an aggregated review rating of at least 4 out of 5. So you can be confident you will stay at an excellent eco-friendly hotel in Dubai.
Sustainable travel is the key to enjoying a responsible and meaningful trip. You can make a difference in the environment and the communities you visit with the right sustainable travel tips. From packing light to choosing eco-friendly transportation and accommodations, there are plenty of ways to reduce your environmental impact.
More Dubai guides
Get to know the city even better by reading our other articles about Dubai: