Dubai, the most populous city in the United Arab Emirates, is a futuristic metropolis on the Arabian Peninsula's eastern coast. Just 50 years ago, it was a small desert town. Today, it has grown into the world's most prosperous city and one of the most luxurious destinations in the world.
Its skyline is one of the world's tallest, with high-tech skyscrapers that come in all shapes and sizes. World-class shopping malls, vibrant nightlife, and delicious dining draw visitors in from all over. There are incredible sights to see, including immaculate architecture, palm-shaped human-made islands, and golden sand beaches.
Dubai has some of the world's most remarkable architectural feats that would impress any visitor. The Burj Khalifa is the world's tallest building standing at 2,722 feet high. Its observation deck is home to incredible views of the city.  Another iconic building is the Burj Al Arab, a crescent-shaped skyscraper and five-star hotel (some even say it's a seven-star hotel) located on a human-made island.
Other than its spectacular buildings, visitors are impressed by Dubai's series of artificial islands. One of these islands, Palm island, has a unique palm tree shape and has numerous residences and hotels.
Visitors can spend endless amounts of time roaming the Dubai Mall, exploring the Dubai Creek, and experiencing an indoor "Winter Wonderland" in the middle of the desert at Ski Dubai.
While Dubai is known as being expensive, your accommodations don't have to be. Here are three of the best hostels to stay at in Dubai.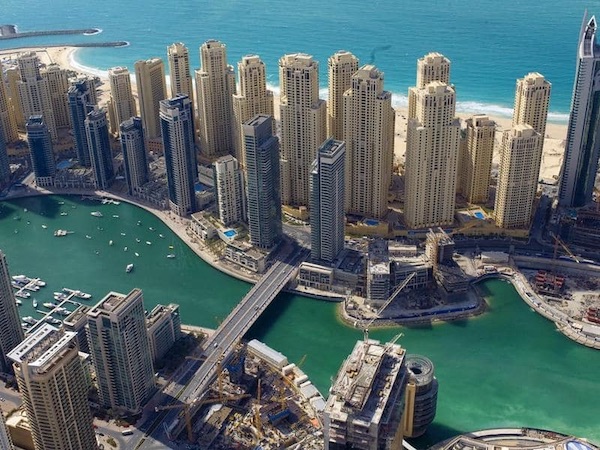 Dubai Beach Host
Located adjacent to JBR Beach, the Dubai Beach Host is an ideal location for ocean exploration. It is only a two-minute walk to the tram, which can take you all over Dubai. Within walking distance, you can find numerous attractions. These spots include restaurants, lounges, clubs, supermarkets, and of course, the famous JBR walk. Dubai Beach Host has panoramic views of the Arabian Ocean, Palm Jumeirah Island, and Bluewaters Island.
Rooms are cozy mixed and male or female-only dorm rooms with medical mattresses and curtains. All rooms come equipped with free linens, towels, and air conditioning. There are a scenic outdoor terrace and a communal lounge that has projectors and a Smart TV. If you want to work out or stay active, the gym, swimming pool, and basketball courts are all accessible to guests.
People love Dubai Beach Host because of its convenient location, friendly staff, and spectacular bird's-eye views.
Hostel details
Address: 
1901 Bahar 4, Jumeirah Beach Residence, Dubai, United Arab Emirates.
Guest rating:
4.4 out of 5.
Price per night:
from $27.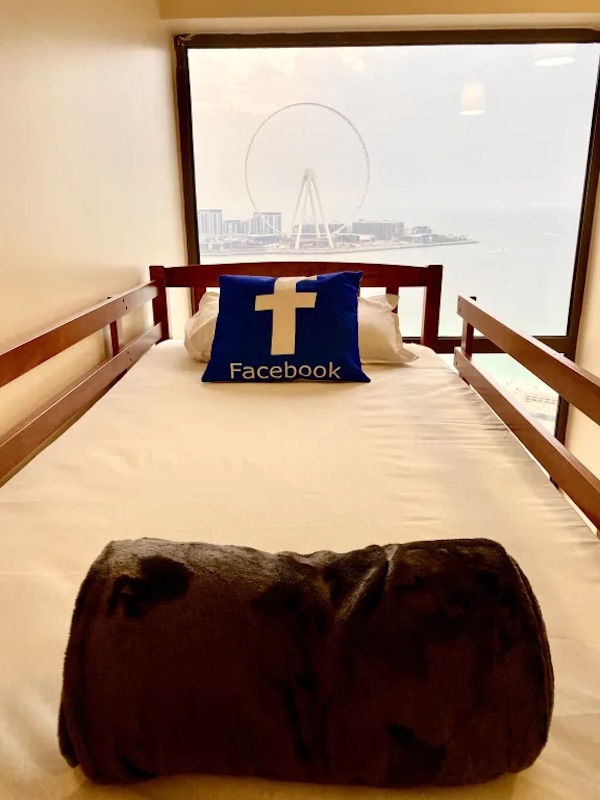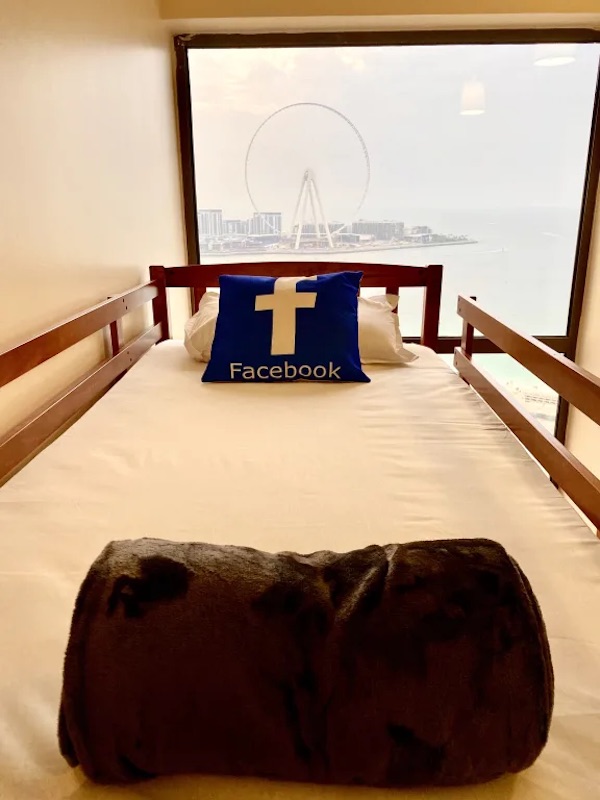 Bombay Backpackers DXB
Bombay Backpackers DXB is an 18th-floor hostel that overlooks JBR Beach and the Walk JBR. It has breathtaking views of Bluewaters Island and the Dubai Eye. Just outside the hostel, visitors can enjoy a robust art scene at The Walk. There are street artists, recycled art displays, sand sculptures, comedy shows, and more in this area. You can also enjoy water sports, Sky Diving, and other activities that the hostel can arrange.
The hostel's simple facilities offer dorm-style accommodations with linens included. Guests can gather in the common room or enjoy the spectacular views from its outdoor terrace. Amenities that visitors have access to include swimming pools and hot tubs. Staff can arrange parking for guests for a small additional charge. For guests who need to do laundry on their trip, there is a washer and dryer.
This hostel is popular because of its central location, friendly staff, and excellent facilities.
Hostel details
Address: 
Jumeriah Beach Residence, The Walk, Flat 1802, Bahar 5 Building, 18th Floor, Dubai, United Arab Emirates.
Guest rating:
4.2 out of 5.
Price per night:
from $16.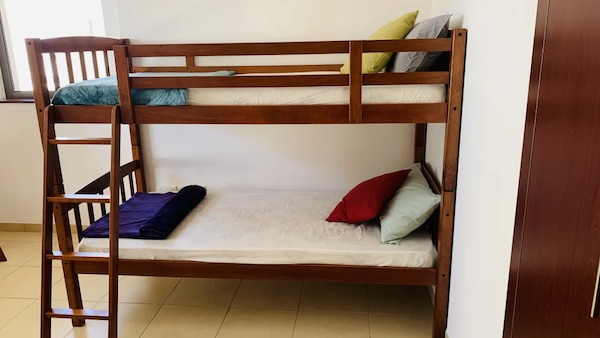 DXB Backpackers
DXB Backpackers has a terrific location in Dubai in the Jumeirah Beach Residence (JBR). Nearby, there are many 24/7 restaurants, bars, shops, and supermarkets. If you want to spend time on the water, this is the perfect hostel for you. The property has stunning views of Palm Island and the iconic Atlantis Hotel from its 23rd-floor site. Its nearest beach is only a 15-minute walk from the hostel.
The space is comfortable and minimalistic, with clean dorm-style rooms that have bunk beds. If guests would like to cook a meal, the hostel has a full kitchen. There are onsite gym and pool facilities that are complimentary to use. Laundry and parking are available for a small fee. Guests can enjoy various activities, including desert Safaris, visiting Dubai's parks, and tours of the Burj Khalifa and Dubai.
This hostel's high ratings come from its clean facilities, excellent views, and exciting neighborhood.
Hostel details
Address: 
Murjan 6, 2303 Flat, JBR, Marsa, Dubai, United Arab Emirates.
Guest rating:
4.0 out of 5.
Price per night:
from $11.
About our Dubai hostel recommendations
Are you a solo traveler looking for a private room? Or a backpacker traveling around in a group wanting to stay in a cheap and cozy dorm? Above you will find the best hostels in Dubai for all your needs.
Please note, we only list hostels that have an aggregated guest review rating of at least 4.0 out of 5. We aggregate all reviews from different booking sites and other unbiased review websites. Hence, you can be certain all hostels listed above offer an excellent value-for-money stay in Dubai.
Best price guarantee
For our hostel recommendations, we work together with Hostelworld and Booking. These partnerships don't have any influence on the recommendations we make or on the order in which our recommended hostels are listed. The reasons why we have chosen to partner with these companies is that they're trustworthy, offer excellent service and they both apply the best price guarantee. This means you can claim a refund for the difference if you find your reservation cheaper on another website. It has to be for the same property, accommodation type, dates, cancellation policy and conditions, otherwise, you can't claim the refund for the difference. If you book through Booking.com then all you need to do is contact them at least 24 hours before your check-in date. If you book through Hostelworld you must claim the refund within 24 hours after you made the booking.
Top 3 hostels in Dubai
To summarize again, based on thousands of guest reviews, these are the best hostels in Dubai:
Why you should be careful when booking the cheapest hostel available
The cheapest hostels available are typically not in a great location. If you want to go sightseeing or go for a night out in central Dubai, you probably end up having to pay for public transport or a taxi to get there. So your stay could end up being more expensive compared to a stay in a central location. For first-time travelers, we recommend staying central anyway, but also for frequent visitors, it's probably worth it to pay a bit more to stay in a central location.
Another reason why you shouldn't stay at the cheapest hostel is that the people staying at the cheapest hostels are often not the people that can afford to travel like you. Because a very cheap hostel is often cheaper than renting a flat, these places tend to attract migrant workers or local misfits. That's probably not the crowd you want to hang out with, especially if you're a solo traveler looking for friends.
The third reason why you should avoid the cheapest hostels is safety. Some of the cheapest hostels don't check IDs, don't ask for signatures, or only accept cash at check-in. The hostel won't know who is actually staying there.
Lastly, the service at these hostels isn't great. For instance, if you choose to store your luggage, your bags will be unattended in a public space. It won't be recorded anywhere or tagged and stored in a locked room.
Get to know the city better and check out our other articles about Dubai: