Dubai is a booming tourist destination that offers a unique perspective of the Middle East. Located in the United Arab Emirates, Dubai is a hub for business, pleasure, and tourism. No matter what brings you to this area, there is so much to do. Are you here for a high-profile business meeting, or are you taking your family on a unique getaway? Either way, there are great things to do and great places to stay in Dubai.
Dubai is one of the wealthiest cities in the entire region and this wealth is used to create very fun and interesting attractions. Everything from indoor snow skiing to luxury shopping malls, and everything in-between can be found in this city. Depending on where you choose to stay, you can be near these awesome attractions. Just figure out what attractions and activities are your top priorities and pick the right area for you!
Here are five of the best areas to stay while visiting Dubai!

Al Barsha
First off, we have Al Barsha. This usually isn't the most popular choice when it comes to staying for tourists, but it has its perks. There are only a couple of top attractions located here, but you are a short metro ride away from downtown and the Marina area.
The two biggest focal points of Al Barsha are the Mall of the Emirates and the Ski Resort. The Mall of the Emirates is a very popular destination to spend some money and see some luxurious stores. The Ski Resort is one of Dubai's most popular attractions and is truly unique. There are not many indoor ski resorts, and this one was the first to ever come to the Middle East. Get away from the hot desert for a few hours and ski through the snow!
Because of its proximity to the big attractions, Al Barsha is one of the cheaper areas to stay in. If you are okay with a little bit of commuting, this is a great option.
Best place to stay in Al Barsha
Kempinski Hotel Mall of the Emirates. Address: Sheikh Zayed Rd – Dubai, United Arab Emirates.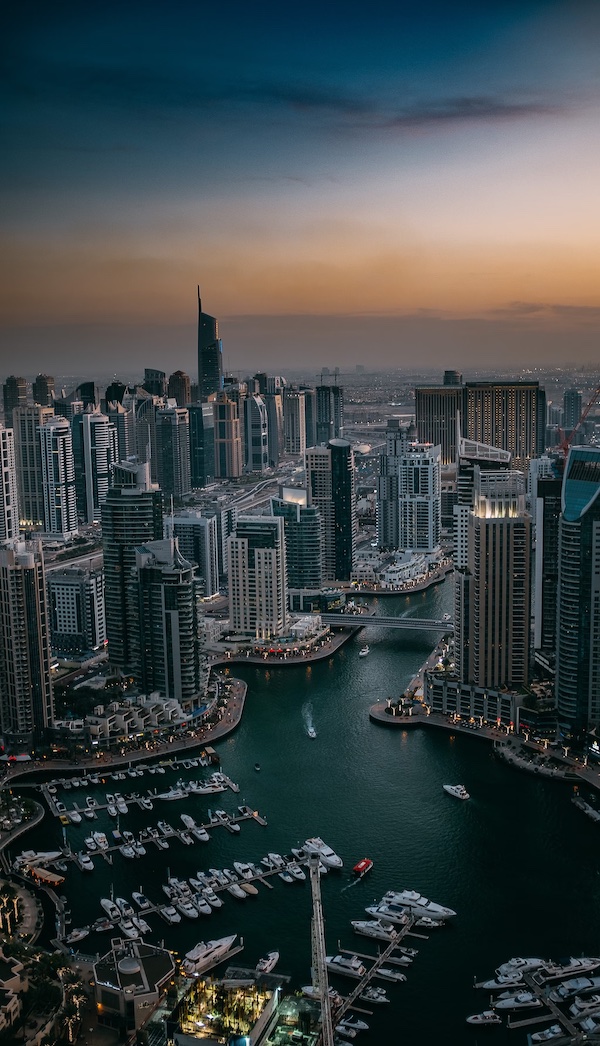 Jumeirah Beach Residence
Also known as the Dubai Marina, Jumeirah Beach Residence is the most modern, westernized neighborhood in all of Dubai. Therefore, this is one of the most popular areas to stay in Dubai. This is also the area that is home to the well-known beachfront. Staying at the Marina will keep you just on the verge of the busy city center.
However, staying in a busy, Westernized area comes with a cost. This is most likely the most expensive area in all of Dubai. If you are willing to shell out some money, this is the place to be.
When staying at the Jumeirah Beach Residence, you will be within walking distance from a lot of points of interest. A big focal point is the nightlife. There are tons of bars, nightclubs, and fancy restaurants that provide a thriving atmosphere once the sun goes down. During the day, grab your bathing suit and go to the world-famous beach to soak up the sun and cool off.
Best place to stay in Jumeirah Beach
Hotel Amwaj Rotana Jumeirah Beach. Address: The Walk – Al Sayorah St – Dubai, United Arab Emirates.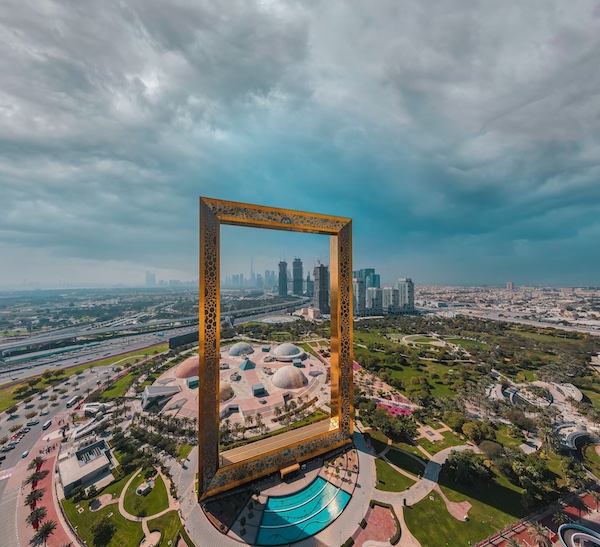 Bur Dubai
When many people think of Dubai, they think about supercars and skyscrapers. They are correct, but this is a different side of Dubai that is work checking out. The city wasn't always as updated as it is now, and there are deep historic ties to one specific part of Dubai. Bur Dubai is known as the Old City and is where you can find the true culture of the region.
For a very long time, Bur Dubai is deeply rooted in Indian culture and is made mostly of Indian people. Depending on why you are visiting Dubai, staying here is an excellent option. It is the place to stay to get an authentic experience. That being said, staying here is a great way to save money. Because you are not engulfed in luxury amenities, you do not have to pay the infamous Dubai prices.
Best place to stay in Bur Dubai
XVA Art Hotel. Address: Al Fahidi St,Bur Dubai، Al Fahidi Neighborhood (formerly Bastakiya), Near Dubai Museum – Dubai, United Arab Emirates.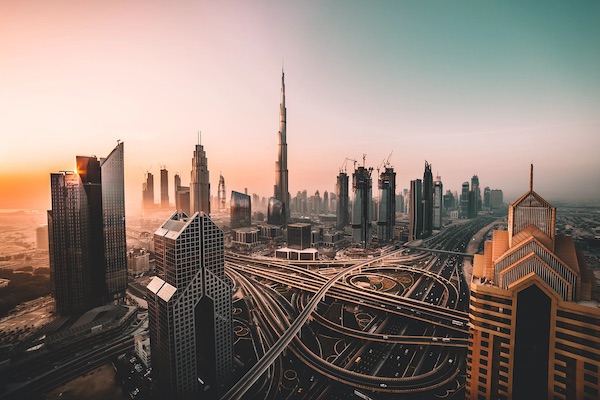 Downtown
Quite the opposite location than Bur Dubai is Downtown. This is one of the most expensive areas in the entire Middle East and is the "famous" part of Dubai. This is home to the famous Burj Khalifa which is surrounded by tons of beautiful skyscrapers. If you can afford to spend a night or two here, it will feel like you are living in luxury because there are not many affordable accommodations Downtown. Even if you don't choose to stay here, this is a must-see when in Dubai.
A popular activity is to go shopping at the Dubai Mall. This is the largest mall in the entire world. You can find all of the world's most luxurious stores all in one place.  This mall is over 12 million square feet and is a focal point of Downtown Dubai.
At night, engage in fine dining and high-end nightclubs that are not for the faint of heart. No matter where you stay, Downtown must be visited.
Best place to stay in Downtown Dubai
Rove Downtown Hotel. Address: 312 Happiness Street, Zabeel 2, 119444 – Dubai, United Arab Emirates.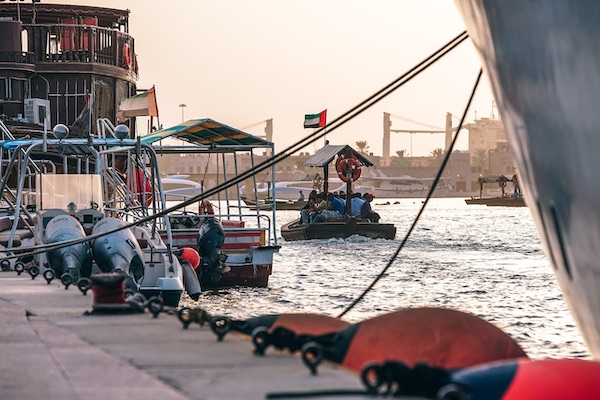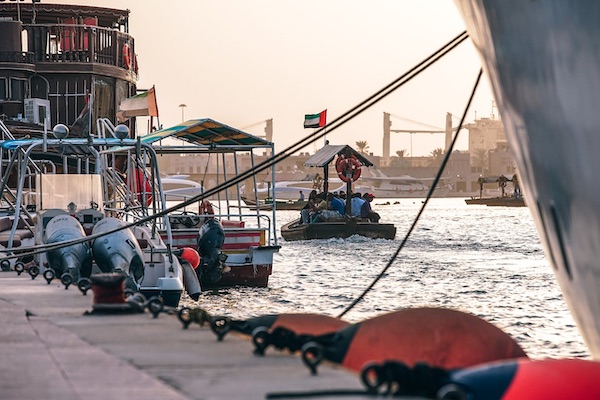 Deira
Last but not least, there is Deira. Deira is a combination of Bur Dubai and Al Barsha. This is because it is very historical and traditional like Bur Dubai, but it is also far more updated and modernized. That gives you a good mix of culture and better accommodations.
This is a fantastic neighborhood to walk around and visit all the local shops and cafes. There are a lot of authentic markets and vendors that many Dubai tourists do not experience. You are also quite close to the airport, so getting to and from is seamless. Unfortunately, this also means that you aren't very close to the main Dubai attractions. You can get a cab or use the metro to navigate the rest of the city.
To sum up, staying at Deira is a good alternative to Bur Dubai if having some updated accommodations is a priority. Just make sure you evaluate your wants and needs and see which neighborhood is the best for you!
Best place to stay in Deira
City Avenue Hotel. Address: Al Muteena Street, Next LuLu Center, Al Muteena, Deira, Dubai, United Arab Emirates.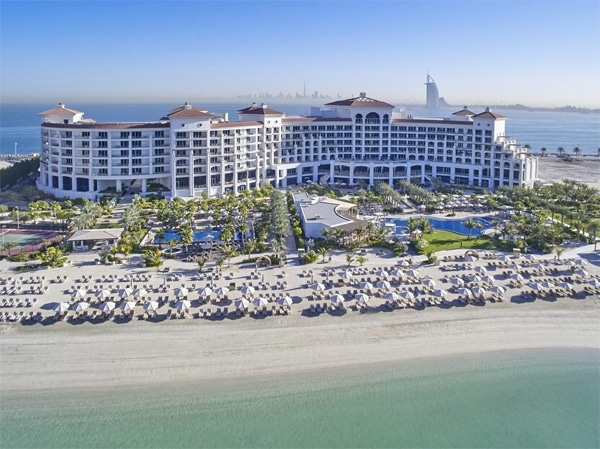 Where travel critics stay in Dubai
Want to know where travel critics from publishers like The New York Times, Frommer's, Fodor's and Lonely Planet stay in Dubai? Check out our overview of all recommended hotels, hostels and B&Bs in Dubai.
Budget
"Amid the historic quarter's galleries and shops, Orient Guest House occupies an Old World courtyard house with 11 rooms of traditional Arabian furniture and fabrics." — New York Times.
Address: Historic Bastakiya Area، Al Fahidi Street – Dubai, United Arab Emirates.
Mid-range
Aparthotel Adagio Premium Al Barsha.
"The Dubai Al Barsha is Accor Adagio's largest and arguably most luxurious property, with 199 Champagne-hued apartments featuring state-of-the-art kitchens, private laundry facilities and sweeping views of the Dubai skyline and the Burj Al Arab." — CNN.
Address: Sheikh Zayed Road, Al Barsha 1, Opp Sharaf DG Metro Station – Dubai, United Arab Emirates.
Luxury
"Since rising off Jumeirah Beach in 1999, the Burj has been the symbol for Dubai as much as the Eiffel Tower is for Paris. And despite fierce competition, this homegrown star is still regarded with a mixture of affection and awe." — CN Traveler.
Address: Jumeirah Beach Road, Dubai, United Arab Emirates.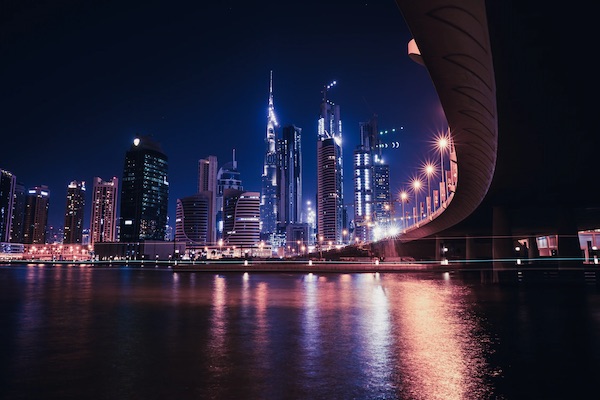 FAQ: Dubai hotel recommendations
If you're looking for a budget, boutique, or luxury hotel in Dubai-or maybe your travel plans require a splendid hostel? Want to know which hotel serves the best breakfast? Here are all those answers and more about where to stay in Dubai.
What is the best budget hotel in Dubai?
If you're looking for a cheap hotel in Dubai, then book FORM Hotel Dubai. It's an excellent budget hotel offering great value for money. It's in a good location, it's been recommended by travel experts and the hotel has excellent customer reviews. Make sure you check our shortlist of the best cheap hotels in Dubai.
What is the best boutique hotel in Dubai?
You like some luxury but don't like the famous chain hotels. If you're looking for the best boutique hotel in Dubai, you should check out Taj Dubai. It's a very cool hotel that has been highly recommended by travelers and experts. Also check out our list of the best boutique hotels in Dubai, it's a manually curated list of the most unique and romantic hotels in the city.
What is the best luxury hotel in Dubai?
If money isn't a problem and you're looking for a luxury hotel in Dubai, then go for Resort One&Only The Palm. The hotel offers excellent service, it's in a top location, it has been rated very highly by previous guests and renowned travel critics have recommended it. Make sure you check our shortlist of the best luxury hotels in Dubai, it's a manually curated list of the most exclusive 5-star hotels in the city.
What is the best hostel in Dubai?
Looking for a good and affordable private room or cozy dorm in Dubai? Check out Dubai Beach Host. The hostel has been highly rated by backpackers. Also check out our list of the best hostels in Dubai.
How much does it cost to stay in a Dubai hotel?
For a 3-star hotel, you have to pay around $60 per night and for a 4-star hotel, you would be looking at $100 per night. If you're after a luxury 5-star Dubai hotel then you can expect to pay around $250 per night.
Which Dubai hotel offers great views of the fountains?
If you're looking for a room with a view, then try the Hotel Palace Downtown, which offers some amazing views of fountains in Dubai.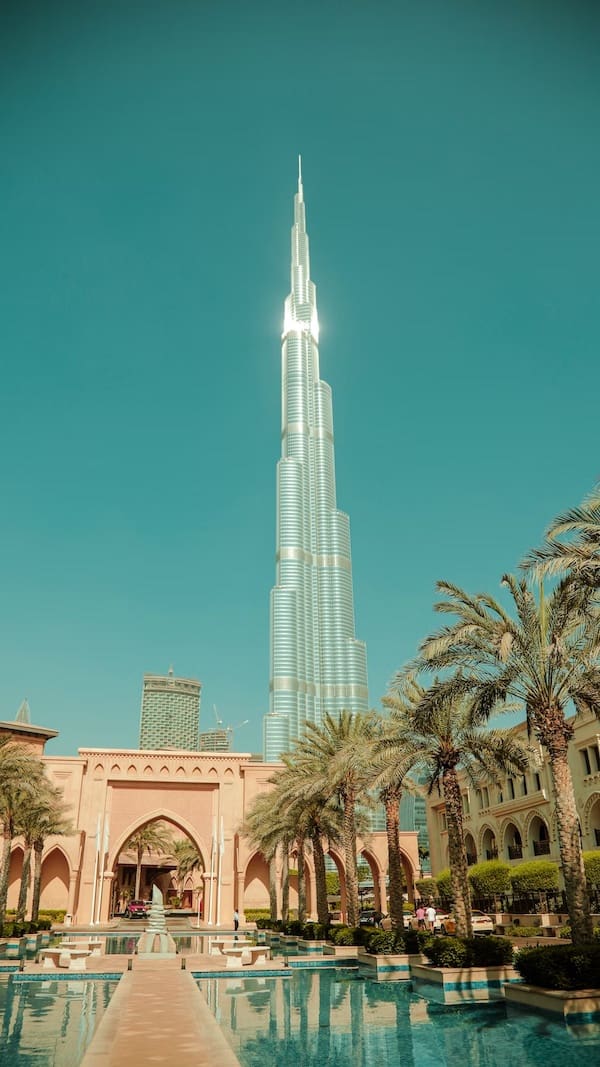 Best time to visit Dubai
The best time to visit Dubai is indisputably between November and April, when the weather is pleasantly cool and sunny, making it ideal for exploring the city's countless attractions.
During these months, Dubai experiences a delightful winter with temperatures ranging from 20°C to 30°C (68°F to 86°F), allowing you to comfortably indulge in outdoor activities like hot air ballooning, camel riding, and dune bashing.
Moreover, this is the perfect season to witness some of Dubai's most iconic events, such as the Dubai Shopping Festival, Global Village, and the Dubai International Film Festival.
Visiting Dubai during this period not only guarantees enjoyable weather but also offers a myriad of entertainment options, ensuring that you'll never run out of things to do.
Perhaps you'd like to marvel at the spectacular views from the top of the Burj Khalifa or get your adrenaline pumping at the world's largest indoor theme park, IMG Worlds of Adventure. Maybe you'd prefer to unwind at pristine beaches, like Jumeirah Beach or Kite Beach, or embark on a gastronomic journey while savoring delectable local and international cuisine.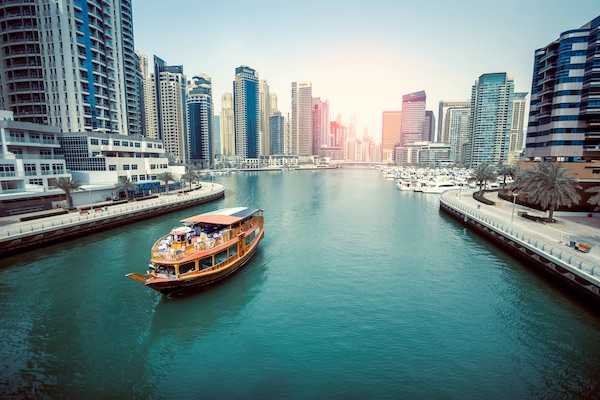 Best things to do in Dubai
There are a lot of things to do in Dubai and surrounding areas, including day trips, attractions, museums, sightseeing tours and many other activities. Here's our list of 3 things you should definitely do when you're in and around Dubai:
Dubai Red Dune Desert Safari: Camel Ride, Sandboarding & BBQ
Take a dune drive across the red sands outside Dubai while exploring the desert by 4WD vehicle. You'll experience the thrill of dune bashing, sandboarding, and a camel ride. Price: $41. More info.
Dubai Burj Khalifa: Level 124 & 125
Witness unforgettable, panoramic views over Dubai from the observation deck of the iconic Burj Khalifa, the world's tallest building. Let your jaw hit the floor as you are elevated up 125 floors to fantastic 360-degree views over the Arabian Gulf. Price: $30. More info.
Dubai Guided Sightseeing Boat Tours
Step aboard your high-speed craft at Dubai Marina, and hold the rails as your skipper opens the throttle and speeds you over the waves. Whizz around the man-made archipelago of Palm Jumeirah. Price: $43. More info.
Deciding where to stay in Dubai
To summarize, this travel guide has covered the best areas of Dubai, as well as some hotel tips and things you can do. It's now up to you to decide which area you prefer.
Top 5 neighborhoods to stay in Dubai
Deira
Downtown
Bur Dubai
Jumeirah Beach Residence
Al Barsha
As you have seen in this article, there are a lot of things to explore, and deciding where to stay in Dubai is important. Whether you stay in Deira, Downtown, Bur Dubai, Jumeirah Beach Residence or Al Barsha, all those neighborhoods are in good locations.
The atmosphere of the area, whether you travel for leisure or business, whether you travel with your family or friends, and proximity to the attractions you prefer to visit should probably be the deciding factors. Whatever your preference is, you'll have a great time in Dubai.
Check out our other guides about the best places to stay in Dubai: