Littered with history and culture, Washington D.C. is one area in the United States that is a must-visit. As the capital of the entire country, there are a ton of things packed into its relatively small area.
If you are a history junkie or someone who wants to understand the start of America, this is the perfect place to start. With the National Mall packed with museums and cool spots, and the surrounding areas harboring some really cool opportunities, there is plenty to occupy your time within D.C.
One of the coolest ways to experience Washington D.C. is staying in a luxury hotel. This ensures that you can get a fantastic experience that delivers on quality and luxury.
So, here are three of the best luxury hotels located in Washington D.C.!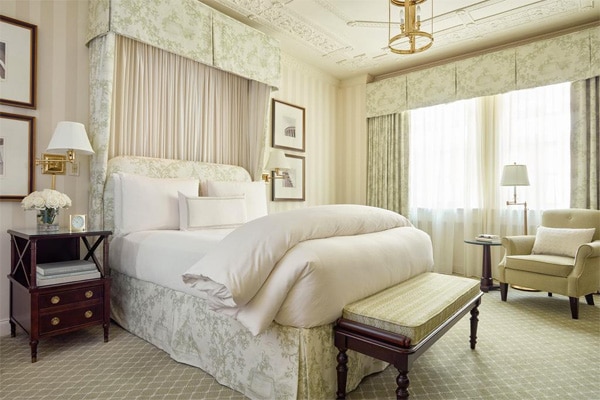 Hotel The Hay-Adams
Firstly, there is the Hay-Adams. It is fitting that we start with one of the most prestigious and luxurious hotels in the entire area. It is such a great option that many political powerhouses stay here when in town. This is even where president Barack Obama stayed before moving into the White House. If that does not tell you something, I do not know what does.
The Hay-Adams is a hotel but does not have a hotel feel. The size and decor of the place make it feel very homey and familiar. One of the cool features is the Off the Record bar. The ironic name is a funny feature because you very well could brush elbows with the political elite at some point in the evening.
There are a total of 145 rooms, so it does not have that big, corporate hotel feel that many other options do. This is a game-changer as it really hits on that luxurious feel. If the budget allows, there are opportunities to upgrade to a suite. This will take your stay to an entirely new level.
Along with the bar, there is the Lafayette Room, which is an American restaurant on site.
Hotel details
Address: 
800 16th St NW, Washington, DC 20006, USA.
Guest rating:
4.7 out of 5
Price per night:
From $339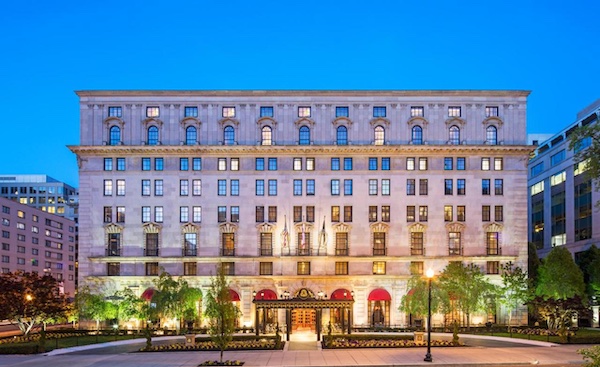 The St. Regis Washington D.C.
Another iconic, traditional hotel that sits near the capital action is the St. Regis Washington D.C. this is a luxurious, lavish location that should be at the top of your bucket list for accommodation. One of the coolest reasons to stay at this hotel is the physical location. You are just two blocks away from the White House, so being situated in the heart of the political world is a pretty cool feature.
There is also both a restaurant and bar on-site, so you will not have to go out to get a bite to eat if you so choose. Thankfully, both the food in the hotel and in the rest of D.C. can be delicious. Especially in the outskirts of the national mall, there are some really awesome options for you to take advantage of.
With 172 rooms, it sits right in the normal number of room options. It will not be too big nor too small, which is good. There are also some suites and superior rooms available to upgrade to if you so choose. Although it will cost a little more money, having the option to get a bigger and better room is really nice.
Hotel details
Address: 
923 16th Street Northwest, Northwest, Washington, D.C., DC 20006, United States of America.
Guest rating:
4.5 out of 5
Price per night:
From $310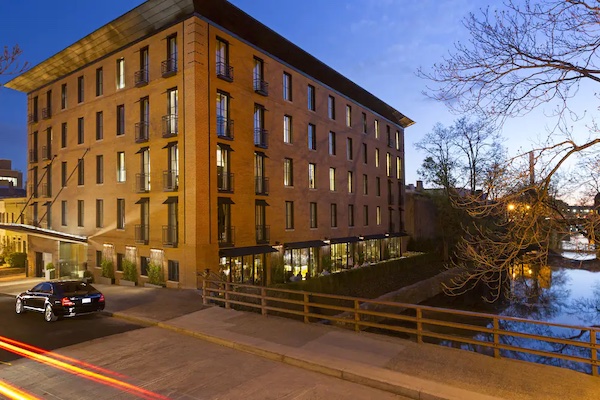 Rosewood Washington
The final luxury hotel that we have on our list today is the Rosewood Washington. The location of this hotel is a bit different than the other two. Instead of being tucked right into the action and near the National Mall, the Rosewood is located in Georgetown. This is a well-known area on the outskirts of the main area and is fairly secluded. If you want a quieter and more peaceful experience while in D.C., make this a top option.
The other big difference that sets Rosewood apart is the capacity. With just less than 50 rooms, you get a far more exclusive experience that can be catered to your needs specifically. This is a pretty big deal, especially when you are spending big money on a luxurious stay.
In terms of value that comes along with the stay, there are a few things that stick out. There are two pools on site, one inside and one outside. Washington can get a bit hot in the summer, so this is a nice perk. There is also a restaurant owned by Wolfgang Puck. Having such a highly-rated restaurant right there is a great thing to have.
Hotel details
Address: 
1050 31st St NW, Washington, DC 20007, United States.
Guest rating:
4.3 out of 5
Price per night:
From $510
About our luxury hotel recommendations in Washington D.C.
We are a travel research company. Our team helps you discover the best luxury hotels in Washington D.C. by researching the internet for you. We have also visited some of these places. Hence, it's not just our opinion, it's the opinion of many travelers who have been there before you. We make it easy for you to find out about the most luxurious and exclusive 5-star hotels in the city.
Please note, we only list hotels that have an aggregated guest review rating of at least 4.0 out of 5. We aggregate all reviews from different booking sites and other unbiased review websites. Hence, you can be certain all hotels listed above offer you a great stay in Washington D.C.
Best price guarantee
We partner with Hotels.com and Booking.com to make sure you get the best price for your stay in Washington D.C.! Both sites offer price matching. That means you pay the lowest prices for your stay. If you find a cheaper offer on another website for the same luxury hotel in Washington D.C. at least 24 hours before check-in, contact them to claim a refund of the difference!
Top 3 luxury hotels in Washington D.C.
Now that you've gone over this guide, let's summarize it. We got to know what the best 5-star hotels in Washington D.C. are thanks to thousands of guest reviews and tips from travel experts:
More Washington D.C. guides
If you like the advice we've given you above, make sure to check out some of our other articles about Washington D.C.:
Best hotels in Washington D.C.
Best cheap hotels in Washington D.C.
Where to stay in Washington D.C.
Best hostels in Washington D.C.
Best boutique hotels in Washington D.C.