The Nation's Capital. The Capital of the Free World. Chocolate City. All of these are nicknames for Washington D.C. The District of Columbia is one of the highest revered cities in the world and has a ton to offer to its visitors.
As one of the most historic cities in the entire country, there are so many attractions and points of interest for you to see. Everything from the White House to the many museums, you can take in America's history whether you are in D.C. for business or on a trip with the whole family. While a majority of the attractions are located on the National Mall, there are surrounding neighborhoods that give you great access and even have attractions of their own.
If you want to be right next to the action or want to get away from the hustle or bustle, there are some great options for you. Here are five of the best neighborhoods and areas you should stay next time you visit D.C.!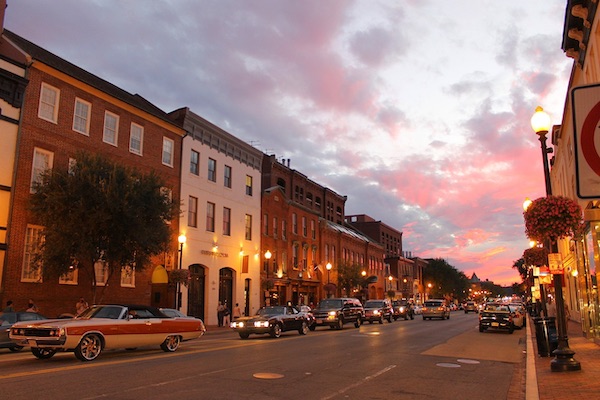 Georgetown
First and foremost, there is Georgetown. Georgetown is one of the oldest parts of D.C. and keeps that cultural feel to this day. Its cobblestone roads and old architecture make it feel like you are in the 1700s.
Home to the prestigious Georgetown University, this provides an added layer of the culture. Partnered with the historical ambiance, there is a young, lively feel with the local college crowd. So, your days can be spent touring the area and seeing the historical sights, and once the sun goes down, a thriving college nightlife opens up.
Although it may not seem like it, Georgetown also has some beautiful natural features. The beautiful Potomac River runs right through this neighborhood. Therefore, there are some fantastic green spaces and public parks to sit, relax, and enjoy the view.
Staying here will put you just a couple miles from the National Mall, so seeing the attractions is very easy.
Best place to stay in Georgetown
Hotel The Graham Georgetown. Address: 1075 Thomas Jefferson St NW, Washington, DC 20007, USA.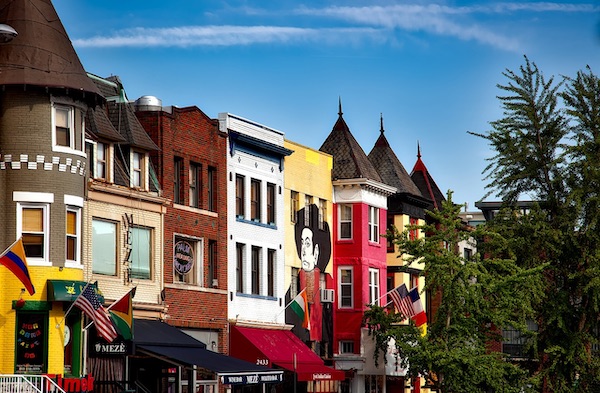 Adams Morgan
Located right next to Columbia Heights, Adams Morgan is a vibrant neighborhood with a lot of shopping and relaxing opportunities. Visiting museums and historical sites can be very exhausting. Thankfully, Adams Morgan is a place to take a load off and explore a lot of the shopping opportunities. Outdoor markets, shopping complexes, and small-town cafes line the streets. Although a lot is going on, it is still a great place to relax and take in a different culture. While in the neighborhood, taking the famous heritage walk around the area is a great way to see even more of the history of D.C.
Now, this is the daily mantra as the night brings nightclubs and bars that open up and the fun begins. Live music and great food fill the streets as Adams Morgan has become a hub for young people who are looking for a good time once the sun goes down.
Best place to stay in Adams Morgan
The Line Hotel. Address: 1770 Euclid St NW, Washington, DC 20009, USA.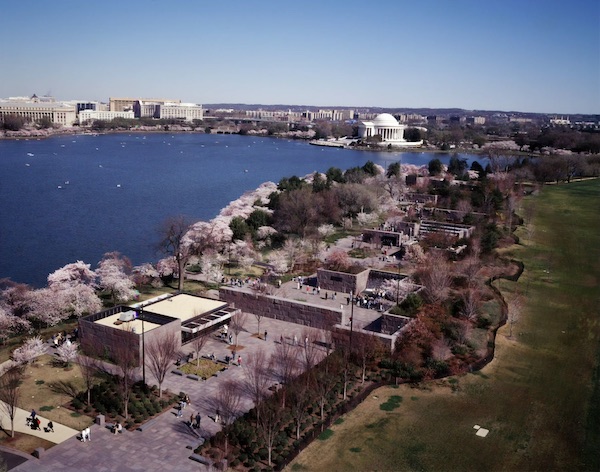 Foggy Bottom
Like Georgetown, Foggy Bottom is another great area that is home to a major university. George Washington University is located here and brings with it an educated feel. This is also one of the great neighborhoods that are very close to the popular spots and even have a few attractions of its own. The George Washington University Museum, Watergate Complex, and Kennedy Center for the Performing Arts are all here. It is even just a short walk from the White House. Why wouldn't you want to be right next to the country's most iconic landmarks?
Although this is largely a residential area, there are still some great accommodations for those who are staying temporarily. This isn't known for nightlife or having the best restaurants, but you are, thankfully, really close to the action outside of the neighborhoods.
Best place to stay in Foggy Bottom
The Watergate Hotel. Address: 2650 Virginia Ave NW, Washington, DC 20037, USA.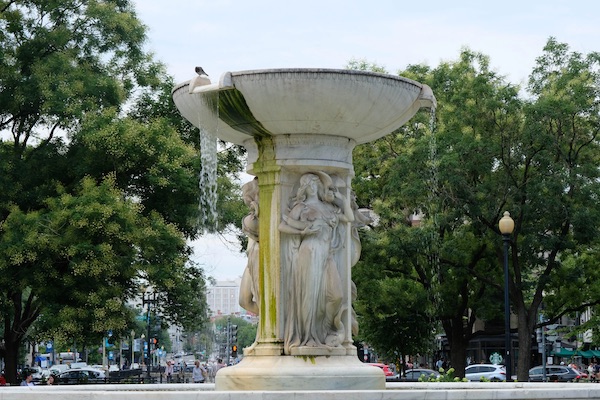 Dupont Circle
One of the younger, more hip areas of D.C. is Dupont Circle. This neighborhood is mostly made up of young, successful individuals who are trendy and up with the times. Dupont Circle is very different from the other neighborhoods, so staying here can be a nice change of pace.
You will find a nice mix of contemporary and historic features in Dupont Circle. Yes, this is a neighborhood with a thriving young culture, but there are some old points of interest sprinkled in. For example, the name comes from the nearly 100-year-old marble fountain surrounded by the neighborhood's main circle drive. This is a cool place to relax and take in the magnificent work of art.
On the contemporary side, Dupont Circle is home to upscale bars, restaurants, cafes, and shops. Also, this is a haven for LGBTQ culture and is supportive of all lifestyles.  Whether you decide to stay here or not, visiting Dupont Circle is a fantastic way to engage in the nightlife, see a unique side of Washington D.C., and do some shopping.
Best place to stay in Dupont Circle
The Jefferson Hotel. Address: 1200 16th St NW, Washington, DC 20036, USA.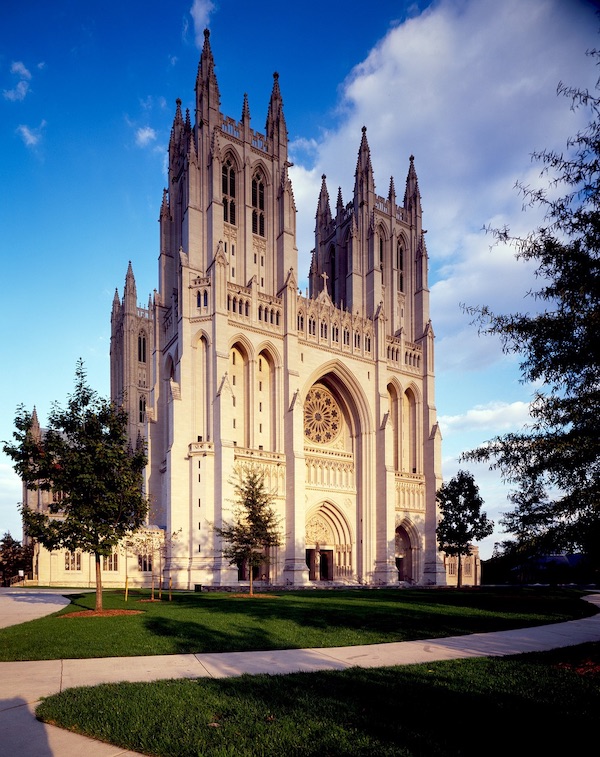 Woodley Park
Finally, there is Woodley Park. Woodley Park is one of the wealthiest areas in Washington D.C. and harbors beautiful architecture. Some of D.C.'s most powerful figures often reside here because of the safety and access to huge mansions and property. A great activity is sampling walking or driving around the neighborhood and takes in the wealth. Another great perk of Woodley Park is that there are tons of open, green spaces to enjoy. While out admiring the area, take a break at the excellent parks and seating areas to relax. Even if you don't decide to stay here, it is still worth visiting for half a day or so.
Some of the other fantastic attractions in Woodley Park are the Smithsonian National Zoo and the National Cathedral. You can spend an entire day having fun without even leaving Woodley Park. After a busy day of seeing animals and taking in the sights, you can visit one of the many upscale restaurants or bars that call Woodley Park home. Why not cap off the night by indulging in some fine dining?
Best place to stay in Woodley Park
Omni Shoreham Hotel. Address: 2500 Calvert Street NW, Northwest, Washington, D.C., DC 20008, United States of America.
Where travel critics stay in Washington, D.C.
Want to know where travel critics from publishers like The New York Times, Frommer's, Fodor's and Lonely Planet stay in Washington D.C.? Check out our overview of all recommended hotels, hostels and B&Bs in Washington.
Budget
"The major chain hotels can be found within a mile of the Capitol, but a better option is the Hotel George, a Kimpton Hotel with a fun George Washington theme and animal- print robes. A stone's throw from Union Station and the Capitol, it has the added bonus of a very decent restaurant, Bistro Bis, which also has a sexy bar." — New York Times.
Address: 15 E St NW, Washington, DC 20001, USA.
Mid-range
"Eaton DC has the trappings of any cool city hotel: a botanical-heavy, Instagram-ready rooftop bar that slings strong cocktails and pan-Asian tacos; a wellness studio offering alternative therapies like reiki and crystal-healing; rooms (a staggering 209) curated with records and mini-libraries." — CN Traveler.
Address: 1201 K Street NW, Northwest, Washington, D.C., DC 20005, United States of America.
Luxury
"One of the city's great heritage hotels, the Hay is a beautiful old building where 'nothing is overlooked but the White House.' The property has a palazzo-style lobby and probably the best rooms of the old-school luxury genre in the city." — Lonely Planet.
Address: 800 16th St NW, Washington, DC 20006, United States of America.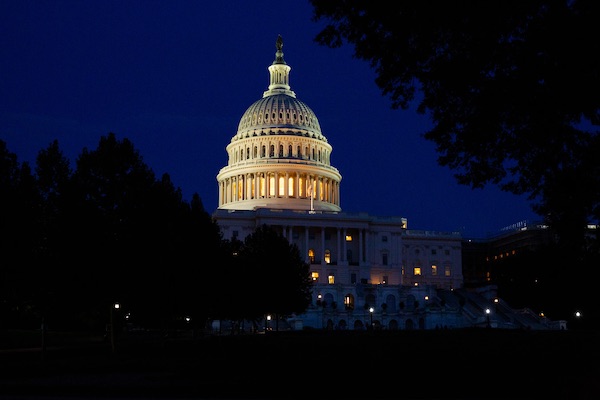 Best things to do in Washington D.C.
There are a lot of things to do in Washington D.C. and surrounding areas, including day trips, attractions, museums, sightseeing tours and many other activities. Here's our list of 3 things you should definitely do when you're in and around Washington D.C.:
Capitol Hill and DC Monuments Tour by Electric Cart
Hop aboard a special eCruiser vehicle and enjoy an educational and entertaining narrated history of our nation's capital. Get a glimpse of the White House and travel around and through Capitol Hill, the Smithsonian museum complex, plus a plethora of famous memorials and monuments. Price: $62. More info.
Monuments by Moonlight: Washington DC Nightime Trolley Tour
Experience the sights of Washington D.C. by night! The Monuments by Moonlight Tour will take you on a guided trolley tour of the city's most popular monuments. Along the way, you'll learn about the fascinating history of the nation's capital. Price: $45. More info.
DC At Dusk Night Tour
Gaze at floodlit memorials and monuments, such as the magnificent Lincoln Memorial and the glow of the Jefferson Memorial reflected in the Tidal Basin. Price: $58. More info.
More things to do in Washington D.C.
Deciding where to stay in Washington D.C.
As you can see, there are a lot of things to explore, and deciding where to stay in Washington D.C. is important. Whether you stay in Foggy Bottom, Adams Morgan, Dupont Circle, Georgetown or Woodley Park, all those neighborhoods are in good locations.
The atmosphere of the area, whether you travel for leisure or business, whether you travel with your family or friends, and proximity to the attractions you prefer to visit should probably be the deciding factors. Whatever your preference is, you'll have a great time in Washington, D.C.
Check out our other articles about Washington D.C.:
Best hotels in Washington D.C.
Best hostels in Washington D.C.
Best boutique hotels in Washington D.C.