The United States is a big country that has a ton of different subcultures throughout. For example, being in Texas will feel different than being in Minnesota. This spreads all over, but there is one area that is meant to tie it all together. This is Washington D.C.
Washington D.C. is the capital of America and has a ton of history engrained in the streets. With the National Mall, a few sports teams, and areas rich in culture, there is a ton to uncover if you are new to the area.
Whether you are in town for some business or want to see the sites with your family, traveling on the east coast can be pricey. So, cutting down on certain expenses can take away part of the stress of travel.
Here are the three best cheap hotels in Washington D.C.!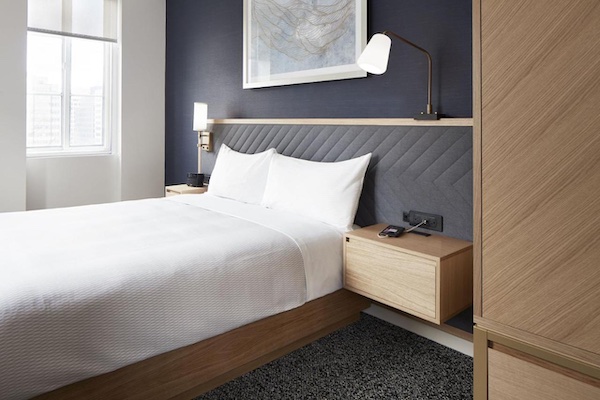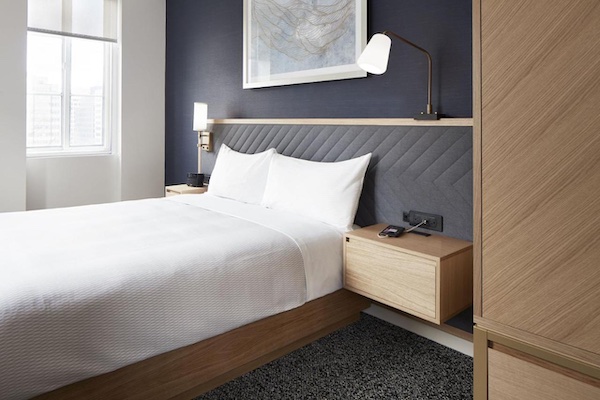 Club Quarters Hotel
We will kick off our list with one of the more unique cheap hotels out there. Club Quarters is a hotel that focuses on a good user experience without bringing the price tag of a hotel in a similar location. The unique aspect is the club fitness center and living room on the property. Not only do you have access to your room, but you can take part in some communal add-ons with no extra charge.
The location is the other huge selling point that really brings value. A lot of people who visit Washington D.C. stay in Virginia or somewhere in Maryland. However, when you have a hotel in the location of the Club Quarters, visiting the city could not be easier. You are less than a mile from the White House, Lafayette Square, part of the National Mall, and much more. There is a ton right outside your door.
Along with a list of great ratings, the rooms are very good. They are modern and make you feel luxurious without a luxury price. If you want to extract the most value possible out of your stay, look into getting a suite with a kitchenette for a few extra bucks.
Hotel details
Address: 
839 17th Street, NW, Northwest, Washington, D.C., DC 20006, United States of America.
Guest rating:
4.2 out of 5
Price per night:
From $100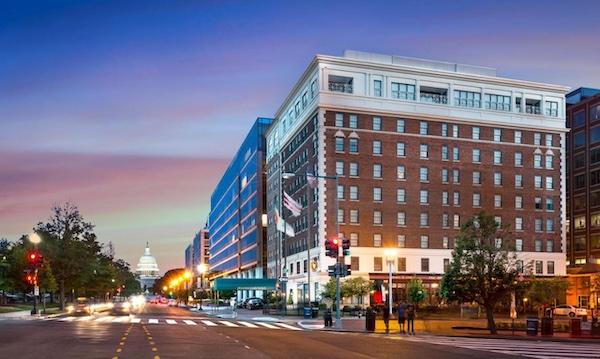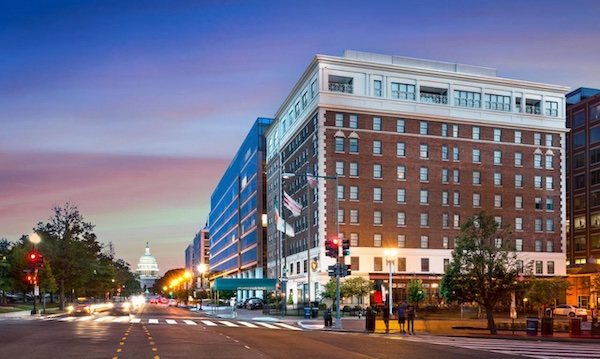 Phoenix Park Hotel
Next up is the Phoenix Park Hotel. This hotel brings some European influence to the mecca of a melting pot that is the United States. Outfitted with a stunning spiral staircase and some Irish vibes, you are in for a treat with the Phoenix Park Hotel.
This is another hotel in the center of the city. In fact, it is closer to the National Mall and most of the action than the Club Quarters hotel. You are just half a mile from the Capitol and even less to some of the top museums and monuments. So, if you are good with the hustle and bustle of D.C. city life, this is the location for you.
However, The Phoenix Park Hotel is a great break from that business. It's not a tiny hotel, but it does a great job of breaking up that hectic atmosphere and providing a quiet sanctum after a busy day.
The rooms are very nice and provide a really good value for the price. There is the standard room that keeps things simple, but there is a deluxe room option that is for more travelers or those who just want some extra room.
Hotel details
Address: 
520 North Capitol Street NW, Washington, D.C., DC 20001, United States of America.
Guest rating:
4.5 out of 5
Price per night:
From $95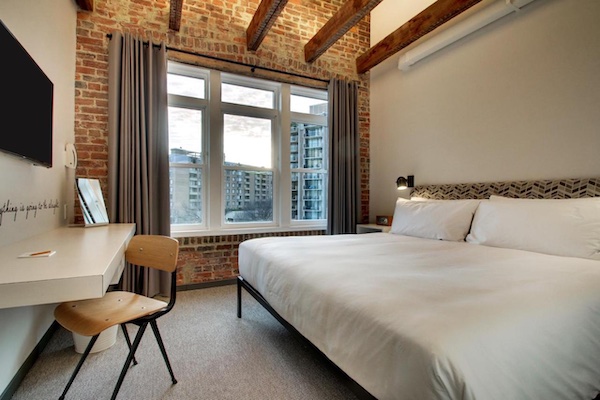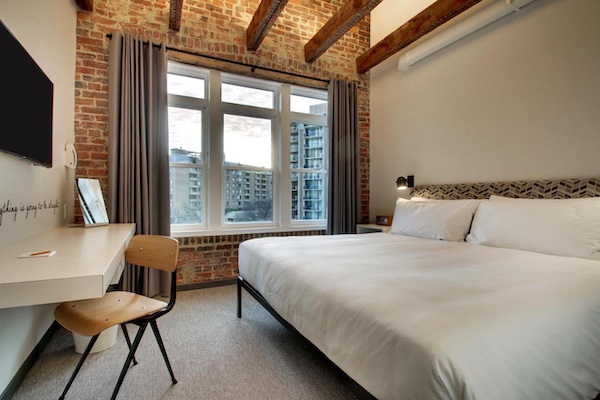 Hotel Hive
The final, and most architecturally stunning hotel that we will talk about is the Hotel Hive. Located on a corner, this hotel looks right out of New York City, but without the height, as the building is built into the corner and is quite impressive.
This is a location known as a micro-hotel. So, the rooms are very small and only feature the basics. They call these rooms hives and it is the first of its kind in the city. This takes on a hostel-style approach and is catered to ultra-budget travelers. You do get a private room, but the beds are far smaller and the rooms are just there for you to sleep in.
If this is something you can vibe with, you can save a ton of money. If you are traveling with another person, you can even get a bunk bed setup to really save some coin.
Any other hotels at rates this low would be far from the hotspots. This could not be further from the truth as the Lincoln Memorial, the White House, and the Vietnam Veterans Memorial are all within a mile from the front steps.
Hotel details
Address: 
2224 F Street Northwest, Northwest, Washington, D.C., DC 20037, United States of America.
Guest rating:
4.5 out of 5
Price per night:
From $95
About our budget hotel recommendations in Washington D.C.
We are a travel research company. Our team helps you discover the best cheap hotels in Washington D.C. by researching the internet for you. We have also visited some of these places. Hence, it's not just our opinion, it's the opinion of thousands of travelers who have been there before you. We make it easy for you to find out about the best budget hotels in the city.
Please note, we only list hotels that have an aggregated guest review rating of at least 4.0 out of 5. We aggregate all reviews from different booking sites and other unbiased review websites. Any hotel listed here should have a price of $100 or less per night. Hence, you can be certain all hotels listed above offer you a great and affordable stay in Washington D.C.
Lowest price guarantee
We partner with Booking.com and Hotels.com. Both booking websites offer the lowest price guarantee so you can be certain you will always get the best deal for the hotels above. If you have seen a better price elsewhere, all you need to do is contact the booking website and they will refund you the difference immediately. You can price match right up until the day before check-in.
We also recommend you read our guide about how to save money on hotel bookings. It's a list of tips about when you should book a hotel, what tools you can use, and other things you can do to find your preferred hotel at an affordable price.
Top 3 budget hotels in Washington D.C.
Let's summarize this affordable travel guide. Based on thousands of guest reviews, these are the best budget hotels in Washington D.C.:
More Washington D.C. recommendations
Get to know the city even better by reading our other articles about Washington D.C.:
Best hotels in Washington D.C.
Best hostels in Washington D.C.
Where to stay in Washington D.C.
Best boutique hotels in Washington D.C.