The floating 'City of Canals,' otherwise known as Venice, is so much more than just gorgeous views, gondolas, and special architecture. It's full of beautiful churches, museums, luxurious shopping, and some of the best gelato in Italy. Being connected by over 400 bridges on 120 small islands, Venice is unique, packed with history, full of mystery, and definitely deserves a spot on any traveler's bucket list.
Venice is well known around Europe for its efforts at sustainability in the tourism sector. The city's main goal is to be the sustainability capital of the world, in more sectors than tourism and preservation of heritage, but also energy transition and production of renewable resources. While over-tourism has been a big issue in Venice for years, the more efforts of eco-friendliness and sustainability that are implemented by the city have the potential to outweigh the negative impacts over tourism can cause.
During your next stay in Venice, keep the environment in mind and explore the environment consciously. To do your part to help sustainability in Venice, here are 5 of the best sustainable hotel in Venice to use as a home base during your visit.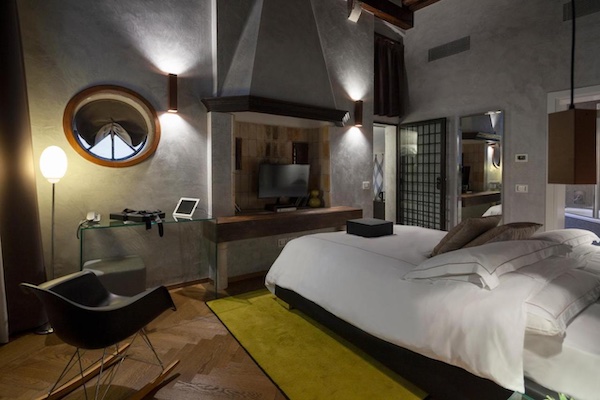 Corte di Gabriela
Corte di Gabriela is a luxurious hotel with an extraordinary attitude. Elegance and luxury, design and comfort, sustainability and attention – to people and to the environment. Corte di Gabriela is a boutique hotel unlike any other, where the ordinary gives way to the extraordinary.
Located in the center of Venice, the hotel is within walking distance of the major historical and cultural points of interest in this magnificent city. Guests can visit San Marco square at sunset, peek at the famous Bridge of Sighs, or discover the Contarini del Bovolo staircase. The hotel features rooms and apartment-style accommodations, suiting the needs of a variety of travelers.
It features a boatload of services, such as an onsite bar, daily breakfast, and a personalized guide and concierge upon request. Rooms are spacious with a vibrant and modern design, made to feel like a home away from home. They come equipped with a seating area, private bathroom, wifi, television, and balcony. Apartments are equipped with a lift, fully equipped modern kitchens, washing machines, dishwashers, Sky TV, a direct line to the hotel, and, of course, a free Wi-Fi connection.
What makes Corte di Gabriela sustainable
Corte di Gabriela is sustainable by being aware of the importance of our environment. The design of the hotel was based on ecological sensitivity and energy recovery, and their hospitality revolves around sustainable choices. All rooms reduce energy consumption, and thermal dispersion, all while being comfortable and luxurious.
Hotel details
Address: 
Calle Avvocati, 3836, 30124 San Marco, Venice, Italy.
Guest rating:
4.7 out of 5
Price per night:
From $220
Palazzo Veneziano
Palazzo Veneziano is a modern jewel hotel with a Venetian touch. It comes with some of the most miraculous views of Venice while relaxing in luxury and comfort in a gorgeous architectural building. With a charming atmosphere inside and out, Palazzo Veneziano is a perfect location for a comfortable, luxurious, convenient, and sustainable stay in Venice.
Located in the historic sector of Dorsoduro, the hotel is just a ferryboat stop away, and at a 15-minute walk from St Mark's Square and Rialto. It sits n a quiet but well-connected area, which is a perfect starting point for an easy walk exploring Venice's wonderful attractions. The hotel features a daily breakfast in a green luscious courtyard each morning and gorgeous sunset views from the jacuzzis and balcony.
What stands out in the rooms are canopy beds, velvet and damask fabrics, Murano glass chandeliers, and fine marble. In addition to a balcony jacuzzi, rooms feature a private and loaded bathroom, seating area, television, free wifi, and some of the best views of the city.
What makes Palazzo Veneziano sustainable
Palazzo Veneziano is sustainable by adopting an ecological philosophy and is sensitive to the environment. They go to great lengths to reduce energy consumption and plastic waste. The hotel provides bamboo toothbrushes, refillable water bottles with stations, recyclable products, and rechargeable batteries throughout the facility. Additionally, for shopping in the city, the Hotel proposes elegant cotton shopping bags to limit the use of plastic bags and which are at the same time a nice souvenir to take back home and 100% biodegradable.
Hotel details
Address: 
Fondamenta delle Zattere 1413, Dorsoduro, 30123 Venice, Italy.
Guest rating:
4.7 out of 5
Price per night:
From $135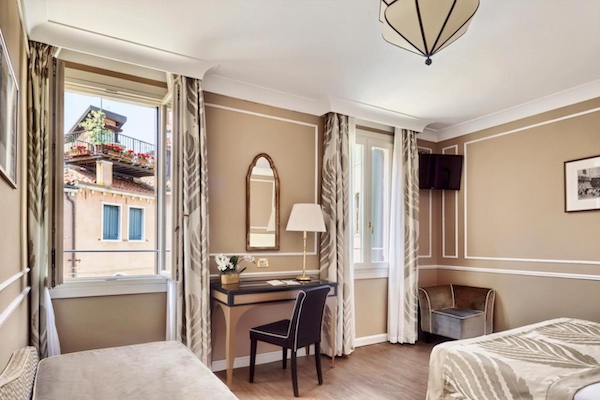 Hotel Nuovo Teson
Hotel Nuovo Teson is a jaw-dropping luxurious hotel ready to welcome all guests with the magic of Venice. The hotel offers a welcoming, relaxing, and well-kept environment to allow you to better enjoy your experience and make it special. Sitting close to the ancient Arsenal is one of the oldest in the city, where it is still possible to immerse yourself in the traditional atmosphere of Venice, it's an ideal starting point for a Venice adventure.
The hotel is located in Calle Pescaria, just minutes from Piazza San Marco and Biennale Contemporary Art Exhibition. It is the ideal starting point to discover the secrets of Venice and all its beauties. Hotel Nuovo Teson features a daily breakfast for guests, to begin each day refreshed and energized. Rooms come with a modern and classical design with a balcony, featuring a private bathroom with toiletries, workspace, and free wifi.
What makes Hotel Nuovo Teson sustainable
Hotel Nuovo Teson is sustainable by being a part of the Travel Sustainability Program. They have taken certain steps and implemented specific programs to promote eco-friendly travel throughout the property. They promote recycling programs and have eliminated all single-use plastic products, use LED energy-efficient lightbulbs, provided parking for bicycles, and can arrange local tours and services.
Hotel details
Address: 
Calle Pescaria 3980/81, Castello, 30122 Venice, Italy.
Guest rating:
4.3 out of 5
Price per night:
From $86
Carnival Palace
Carnival Palace is a luxurious hotel with a unique location in an extraordinary corner of Venice. Rooms and friendly staff are ready to welcome every guest to give an unforgettable experience, one step away from the heart of the city. The Carnival Palace is an exclusive and sophisticated 4 * S star design hotel located away from the noisy tourist bustle; ideal for discovering the authentic side of Venice.
Located on the canal of the Cannaregio district, in the most vital and young part of the whole island, close to means of transport and Venetian nightlife. Carnival Palace Hotel overlooks the Cannaregio Canal, the second most important canal in Venice that connects the Venice lagoon with the Grand Canal, in the Baia del Re area.
There are numerous typical restaurants and bars, which overlook the banks around the hotel, and in the immediate vicinity of the hotel is the Jewish Ghetto. The property features an onsite bar, a garden terrace, and gorgeous views of the magical city. All rooms are equipped with free wifi, a primary air circuit, parquet floors and a kettle, spacious bathrooms in Carrara marble, chromotherapy, showers, and tubs in Corian.
What makes Carnival Palace sustainable
Carnival Palace is sustainable by being a part of the Travel Sustainability Program. The hotel has implemented certain programs and services to promote eco-friendliness throughout the facility. They go to great lengths to promote recycling and reduce food waste, they have eliminated the use of single-use plastic products, use LED energy-efficient lighting, have double-glazed windows, provide use of green spaces, and help with local tours and services.
Hotel details
Address: 
Fondamenta di Cannaregio 929, Cannaregio, 30121 Venice, Italy.
Guest rating:
4.6 out of 5
Price per night:
From $130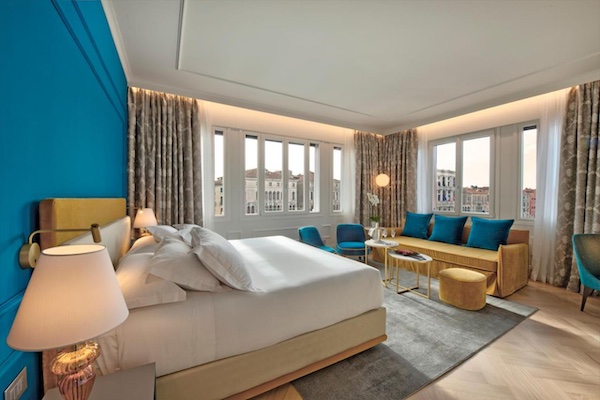 H10 Palazzo Canova
H10 Palazzo Canova is a new four-star superior hotel housed in a 19th-century building whose original facade is preserved and has a Venetian-inspired interior design. With a classic and warm atmosphere, guests can relax and derive themselves with panoramic views of the Grand Canal and the Rialto Bridge. For a sustainable, luxurious, and stay full of serenity, H10 Palazzo Canova goes to great lengths to make your stay as memorable and perfect as possible.
Located on the Grand Canal, in the heart of Venice, the hotel is just a few meters from the famous Rialto Bridge, and other various shops, restaurants, cafes and of course, gelato shops. The hotel features Il Caffè sulla Riva Restaurant for breakfast and a terrace with a bar on the top floor with spectacular views overlooking the Grand Canal.
At the H10 Palazzo Canova, you can enjoy a delicious full breakfast and have a drink while you relax at the La Terrazza Bar with panoramic views over the Grand Canal and the Rialto Bridge. Rooms are designed to create a peaceful environment, with all ritual amenities like a private spacious bathroom, seating area, television, free wifi, and cozy atmosphere.
What makes H10 Palazzo Canova sustainable
H10 Palazzo Canova is sustainable by being a part of the travel sustainability program and taking certain steps to make all guest's stays as eco-friendly as possible. The property makes an effort to reduce food waste, has eliminated all single-use plastic products, uses water-efficient toilets and showers, has energy-efficient LED lighting, has all double-glazed windows, provides use of green spaces, and invests a percentage of all profits back into the green community.
Hotel details
Address: 
744 Riva del Vin, San Polo, 30125 Venice, Italy.
Guest rating:
4.7 out of 5
Price per night:
From $108
How we select the best eco-friendly hotels in Venice
We are a travel research company. We check a lot of details and guest reviews before making a selection. First, we check which hotels follow eco-travel principles. Are they recycling their waste? Do they work with local communities? Are they using renewable energy? Are they not using single-using plastics?
Secondly, we check guest reviews across multiple websites and only list hotels with an aggregated review rating of at least 4 out of 5. So you can be confident you will stay at an excellent eco-friendly hotel in Venice.
More and more people recognize the importance of sustainable travel. Not only is it better for the environment and our planet, but it also often leads to more meaningful experiences. If you're interested in learning more about eco-tourism, here are some eco-friendly travel tips to get you started.
More Venice recommendations
Get to know the city even better by reading our other articles about Venice: