Venice is an enchanting city built on 118 islands linked together by over 400 bridges. It is a fascinating place with more than 1,700 decades of history. You can find numerous historical buildings, charming narrow alleyways, and stunning plazas while exploring Venice.
Visitors love this romantic travel destination because of its unique landscape and exciting activities. One must-see sight, the Rialto Bridge, is a four-hundred-year-old marvel that connects the two sides of the Grand Canal. There are no busses or metro system as a form of public transportation here.
Instead, boats called vaporetti serve as water buses that transport you throughout the entire city. If you want something a bit more romantic, take a gondola ride through the canals. History lovers should visit  Doge's Palace and the Basilica San Marco.
If you plan on visiting Venice, you can find excellent accommodations. These are the five best hostels in the city:
Anda Venice
Anda Venice is in Venice Mestre, just three minutes from a train station that will take you to Venice's main tourist area. It only takes 12 minutes to get into the center where you can see sights such as the San Marco plaza and clock tower.
This industrial-chic hostel has female and mixed dorms options with security lockers for guests. Onsite, there is a kitchen that has a breakfast area with large tables and a dishwasher. There is an urban garden, game room, and a bar with a patio for guests to enjoy. Amenities available include luggage storage, laundry room, air conditioning, and an ATM.
Anda Venice's stellar ratings come from its convenient location, superb facilities, and knowledgeable staff members.
Hostel details
Address: 
Via Ortigara 10, Venice, Italy.
Guest rating:
4.7 out of 5.
Price per night:
from $17.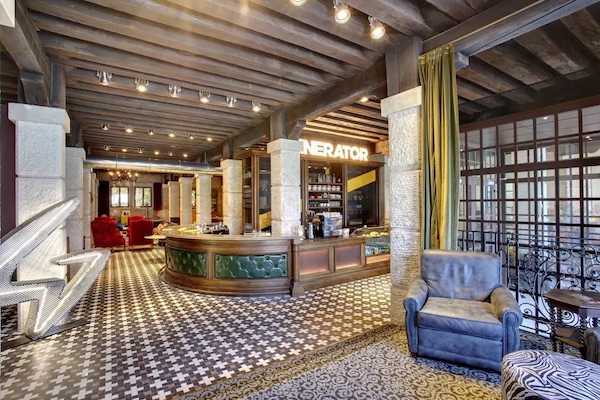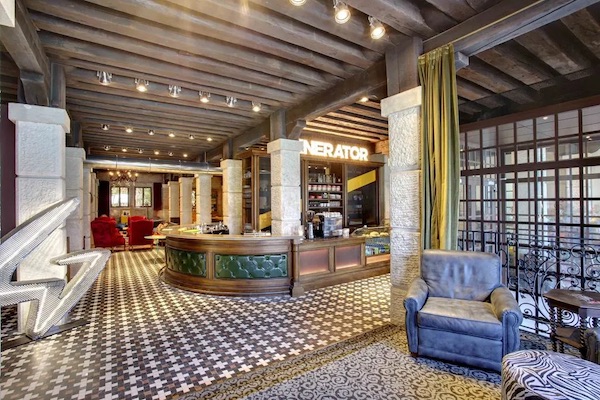 Generator Venice
If you want great views of the Venice skyline, the Generator Venice hostel is an excellent choice. It is on the island of Giudecca across San Marco Square and is only a short boat ride away from the city's main spots.
This luxuriously decorated hostel has dorms, quads, and private rooms with individual bathrooms. Each bed has a USB port for your devices and a LED light for reading. If you need help with your itinerary, the hostel staff are excited to help plan your trip. You can also check out the onsite travel shop, socialize in the hostel's bar, and relax in the common spaces.
Guests love the hostel's stylish décor, proximity to main tourist spots, and overall value.
Hostel details
Address: 
Fondamenta Zitelle 86, Venice, Italy.
Guest rating:
4.2 out of 5.
Price per night:
from $30.
Ostello S. Fosca CPU Venice Hostels
This lovely hostel is right in the city center. Most of Venice's most famous sights, including the Rialto Bridge and San Marco Plaza, are within a 15-minute walk. There are plenty of food markets with delicious homemade pasta and local wine within steps of this hostel.
Ostello S. Fosca is a stunning building located in a converted church. There are double, mixed, and female-only dorms with reading lights and a safety-deposit box. Don't forget to explore this historic building's courtyard and ancient walls. You can also enjoy food and drinks at the café, watch TV and movies in the lounge, or sip on an espresso outside.
Guests are impressed by the hostel's historic building, well-stocked kitchen, and centrally located setting.
Hostel details
Address: 
Fondamenta Canal, Cannaregio 2372, Venice, Italy.
Guest rating:
4.6 out of 5.
Price per night:
from $37.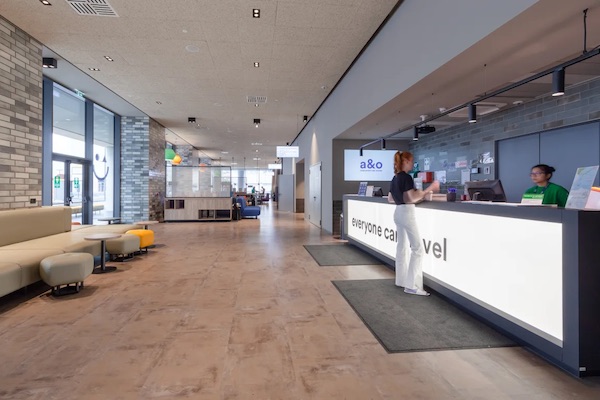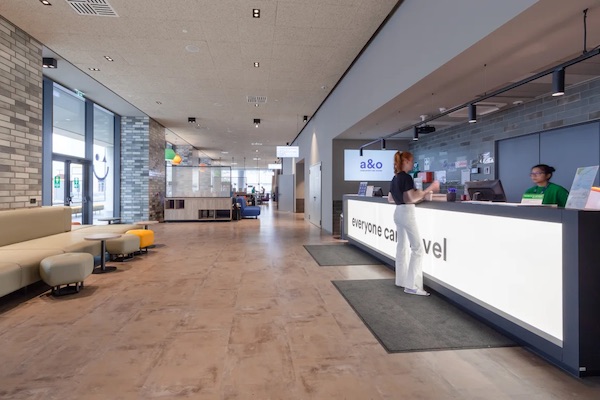 AO Hostel Venezia Mestre 2
It is easy to visit any Venice attraction because this hostel is next to the Central Station Venezia-Mestre. You can reach all of the city's major sights within 15 minutes.
This beautifully designed hostel has 280 single, double, family, and shared rooms great for individuals, couples, groups, and families. Each room has a private bathroom. If you're hungry, there is a 24/7 snack bar. There is an all-you-can-eat breakfast for 7.9 euros and a packed lunch you can take while traveling. The hostel offers plenty of entertainment for guests, including a foosball and billiards table, books, and a play area for children.
The AO Hostel Venezia has high ratings from guests because of its great value, public transportation access, and pleasant atmosphere.
Hostel details
Address: 
Via Ca Marcello 15, Venice, Italy.
Guest rating:
4.4 out of 5.
Price per night:
from $13.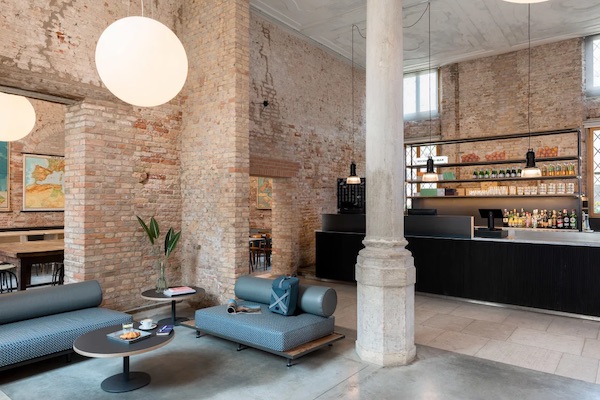 Combo Venezia
Combo Venezia, located in the Cannaregio neighborhood, is only 15 minutes from San Marco's Square and 25-minutes from the Venezia Santa Lucia railway station. This neighborhood has many grocery stores, bars, restaurants, and remarkable architecture.
This unique hostel is in a 12th-century renovated convent. You can stay in private rooms or apartments or stay in mixed or female-only dorms. Their ample onsite facilities include a library, ancient cloisters, and a study area. If you're hungry, grab lunch at their onsite café and bar or some snacks from their mini-mart. For guests who need help seeing the city, there are free walking tours of Venice.
Visitors can't get enough of Combo Venezia's unique building and facilities, comfortable rooms, and convenient location.
Hostel details
Address:
Campo Dei Gesuiti – Cannaregio 4878, Venice, Italy.
Guest rating:
4.6 out of 5.
Price per night:
from $29.
About our Venice hostel recommendations
Are you a solo traveler looking for a private room? Or a backpacker traveling around in a group wanting to stay in a cheap and cozy dorm? Above you will find the best hostels in Venice for all your needs.
Please note, we only list hostels that have an aggregated guest review rating of at least 4.0 out of 5. We aggregate all reviews from different booking sites and other unbiased review websites. Hence, you can be certain all hostels listed above offer an excellent value-for-money stay in Venice.
Best price guarantee
For our hostel recommendations, we work together with Hostelworld and Booking. These partnerships don't have any influence on the recommendations we make or on the order in which our recommended hostels are listed. The reasons why we have chosen to partner with these companies is that they're trustworthy, offer excellent service and they both apply the best price guarantee. This means you can claim a refund for the difference if you find your reservation cheaper on another website. It has to be for the same property, accommodation type, dates, cancellation policy and conditions, otherwise, you can't claim the refund for the difference. If you book through Booking.com then all you need to do is contact them at least 24 hours before your check-in date. If you book through Hostelworld you must claim the refund within 24 hours after you made the booking.
Top 5 hostels in Venice
To summarize again, based on thousands of guest reviews, these are the best hostels in Venice:
Why you should be careful when booking the cheapest hostel available
The cheapest hostels available are typically not in a great location. If you want to go sightseeing or go for a night out in central Venice, you probably end up having to pay for public transport or a taxi to get there. So your stay could end up being more expensive compared to a stay in a central location. For first-time travelers, we recommend staying central anyway, but also for frequent visitors, it's probably worth it to pay a bit more to stay in a central location.
Another reason why you shouldn't stay at the cheapest hostel is that the people staying at the cheapest hostels are often not the people that can afford to travel like you. Because a very cheap hostel is often cheaper than renting a flat, these places tend to attract migrant workers or local misfits. That's probably not the crowd you want to hang out with, especially if you're a solo traveler looking for friends.
The third reason why you should avoid the cheapest hostels is safety. Some of the cheapest hostels don't check IDs, don't ask for signatures, or only accept cash at check-in. The hostel won't know who is actually staying there.
Lastly, the service at these hostels isn't great. For instance, if you choose to store your luggage, your bags will be unattended in a public space. It won't be recorded anywhere or tagged and stored in a locked room.
Get to know the city better and check out our other articles about Venice:
Best boutique hotels in Venice