The city of Hong Kong is truly a place like none other, with one of the most incredible cultures that exist on the planet. Hong Kong is one of the most major cities in China, and it will surely steal your heart. Take a stroll up Victoria Peak for one of the best views you can possibly obtain of this city. Or, you can take on the Dragon's Back hike to be transported to a place with unreal natural surroundings and lush green foliage.
You will not want to miss out on the exquisite cuisine available in Hong Kong, such as dim sum and their national dish of roast goose. There is absolutely always something to do in Hong Kong. You are guaranteed to never grow tired of roaming the colorful streets here. When you stay at any of the following hostels in our guide, you will be in the center of all of the excitement the city has to offer, all while making new friends along the way.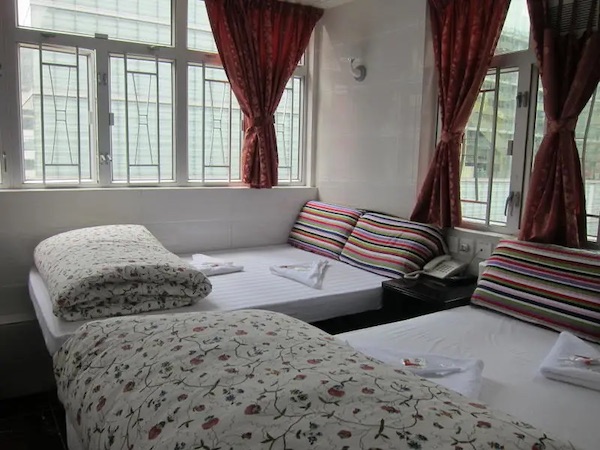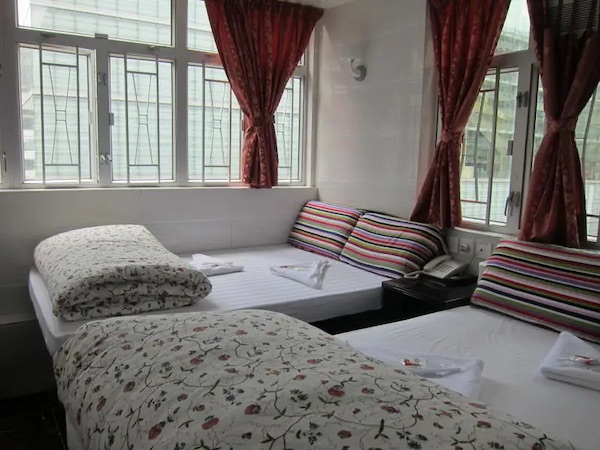 Ashoka Hostel
The first hostel we have for you is Ashoka Hostel, a clean and welcoming place in a great region of Hong Kong. You will be extremely close to some of the best restaurants, bars, and shopping centers when you opt to stay at Ashoka Hostel. Guests may utilize the kitchen and fridge space for when you supply your own food, and there is a nice dining area to hang with some buddies and grab a bite to eat at.
There are rooms here that vary from shared dorms to private rooms with single or double beds. Linens and towels are provided to all guests, and you can easily cool off on hot days with the refreshing air conditioning and fans in the rooms.
Hostel details
Address:
A Blk. Flr. 13, A4 Chung King Mansion, 36 – 44 Nat, Tsimshatsui, Hong Kong China.
Guest rating:
4.5 out of 5.
Price per night:
from $11.
Wontonmeen
Wontonmeen is a hostel you can find in a trendy part of the city and close to one of the main train stations in Hong Kong. Any traveler that appreciates art will feel right at home in this creatively designed and clean hostel. Whip up some tasty meals in the communal kitchen and hang out on the outdoor terrace afterward.
There is a large, shared dormitory for travelers to rest up in here, and bedsheets will be provided to everyone here. Swing by the book exchange to pick up a new novel and dive into it before bed with the reading light arranged for you. The common area on the main floor has board games and movies for when you want to chill out, as well.
Hostel details
Address:
1/F, 135 Lai Chi Kok Road, Prince Edward, Hong Kong, China.
Guest rating:
4.6 out of 5.
Price per night:
from $25.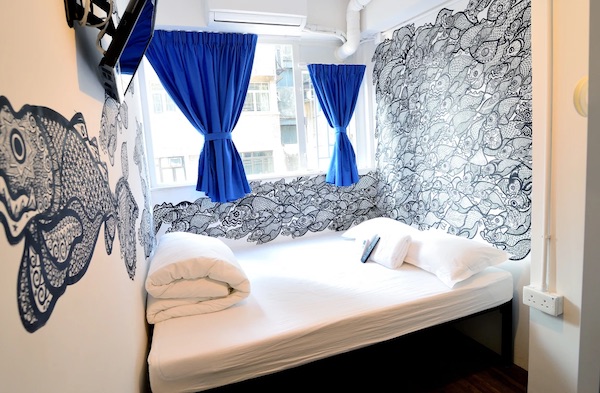 Hop Inn
At Hop Inn, you will be met with friendly staff in this interesting and creative space. This hostel is located in an area near some of the best spots in Hong Kong, as well as right next to the train station. Meet up with some new friends in the lounge area and play some board games, or you may grab a city map from the front and explore Hong Kong with them.
When it comes to the rooms, there are mixed dormitories as well as female-only ones, which come with en-suites. There are private rooms, as well, for those times that you desire more peace and quiet during your travels. Bed linens and a luggage locker will be supplied for you, so there is no need to stress about those aspects when you stay at Hop Inn.
Hostel details
Address:
5/F Lyton Building, 36 Mody Road, Tsim Sha Tsui, Hong Kong, China.
Guest rating:
4.4 out of 5.
Price per night:
from $21.
Hong Kong Inn
The Hong Kong Inn is up next, a fun place to stay where you will undoubtedly meet like-minded travelers to have plenty of adventures with. You are in a prime spot to explore Hong Kong from here. Take advantage of the free Wi-Fi here for those days you need to catch up with family or get some work done.
There are shared dormitories here, as well as private rooms for any guests that prefer the extra seclusion. Clean bed linens and a security locker are provided to each guest, and if towels are needed, they can be rented for a small price. Hong Kong Inn has a full kitchen facility for residents to utilize whenever necessary, too.
Hostel details
Address:
A1, 10/F, 47 Paterson Street, Causeway Bay, Hong Kong, China.
Guest rating:
4.6 out of 5.
Price per night:
from $13.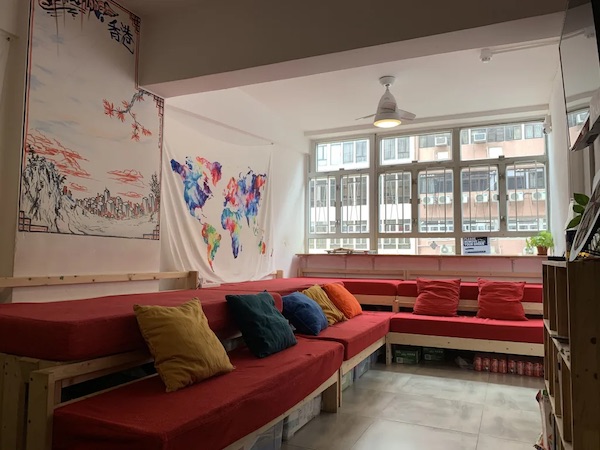 Rainbow Lodge HK
Finally, we have Rainbow Lodge HK. This hotel is located centrally in the city of Hong Kong, so you can easily navigate around the region. Join in with some fellow guests staying at the Rainbow Lodge HK for some rounds of foosball or darts in the lounge area. Or, snag a book to read from the shelves when you want to relax. There is a coffee and tea station open at all times for when you need a pick-me-up.
At Rainbow Lodge HK, you have the choice between mixed or female-only dorms. Each bunk is complete with linens, a reading light, and a curtain for extra discretion. The shared bathrooms come with toiletries, which definitely comes in handy during those times you realize you are out of supplies!
Hostel details
Address: 
Flat 507, 5/F, Haiphong Mansion House, 99-101 Nathan Road, Tsim Sha Tsui, Hong Kong, China.
Guest rating:
4.5 out of 5.
Price per night:
from $18.
Hong Kong is a vibrant city with an abundance of adventure to take on and sights to see. When you stay at a hostel in Hong Kong, you will meet some of the friendliest locals and travelers in the world. You will also have easy access to the most exciting and fun areas of this metropolis.
About our Hong Kong hostel recommendations
Are you a solo traveler looking for a private room? Or a backpacker traveling around in a group wanting to stay in a cheap and cozy dorm? Above you will find the best hostels in Hong Kong for all your needs.
Please note, we only list hostels that have an aggregated guest review rating of at least 4.0 out of 5. We aggregate all reviews from different booking sites and other unbiased review websites. Hence, you can be certain all hostels listed above offer an excellent value-for-money stay in Hong Kong.
Best price guarantee
For our hostel recommendations, we work together with Hostelworld and Booking. These partnerships don't have any influence on the recommendations we make or on the order in which our recommended hostels are listed. The reasons why we have chosen to partner with these companies is that they're trustworthy, offer excellent service and they both apply the best price guarantee. This means you can claim a refund for the difference if you find your reservation cheaper on another website. It has to be for the same property, accommodation type, dates, cancellation policy and conditions, otherwise, you can't claim the refund for the difference. If you book through Booking.com then all you need to do is contact them at least 24 hours before your check-in date. If you book through Hostelworld you must claim the refund within 24 hours after you made the booking.
Top 5 hostels in Hong Kong
To summarize again, based on thousands of guest reviews, these are the best hostels in Hong Kong:
Why you should be careful when booking the cheapest hostel available
The cheapest hostels available are typically not in a great location. If you want to go sightseeing or go for a night out in central Hong Kong, you probably end up having to pay for public transport or a taxi to get there. So your stay could end up being more expensive compared to a stay in a central location. For first-time travelers, we recommend staying central anyway, but also for frequent visitors, it's probably worth it to pay a bit more to stay in a central location.
Another reason why you shouldn't stay at the cheapest hostel is that the people staying at the cheapest hostels are often not the people that can afford to travel like you. Because a very cheap hostel is often cheaper than renting a flat, these places tend to attract migrant workers or local misfits. That's probably not the crowd you want to hang out with, especially if you're a solo traveler looking for friends.
The third reason why you should avoid the cheapest hostels is safety. Some of the cheapest hostels don't check IDs, don't ask for signatures, or only accept cash at check-in. The hostel won't know who is actually staying there.
Lastly, the service at these hostels isn't great. For instance, if you choose to store your luggage, your bags will be unattended in a public space. It won't be recorded anywhere or tagged and stored in a locked room.
So, it's probably worth it to spend a bit more on your hostel stay in Hong Kong.
And finally, a tip: always read the latest reviews of the hostel! All places have good and bad reviews, but the most recent reviews matter the most.
More Hong Kong tips
Get to know the city even better and check out our other articles about Hong Kong:
Best cheap hotels in Hong Kong
Best boutique hotels in Hong Kong
Best luxury hotels in Hong Kong