The bustling city of Hong Kong is a vibrant and industrialized city and is one of the biggest tourist destinations in all of Asia. It is one of the world's most thriving economies and a hub for international travel. The city offers travelers a lot of historical heritage, an abundance of shopping, traditional culture, and a new sustainable tourism infrastructure taking over the city.
Hong Kong is becoming a popular city for environmentally subconscious travelers. Sustainable practices are popping up more and more around the city, as the green roof movement is put into action, offering more sustainable business and eco-friendly hotel accommodation options for visitors. When visiting Hong Kong, doing your part to respect and protect the environment shouldn't be too difficult, and eco-friendliness is promoted in every corner of the city.
With as overdeveloped and industrialized as Hong Kong has become, you would think that it would be hard to practice sustainable travel. However, the city has done an immaculate job of promoting eco-friendliness in the tourism industry, including hotels. To do your part to protect the environment while in Hong Kong, consider one of these 5 sustainable hotel options.
Eaton HK
Eaton HK is a sustainable boutique hotel in the heart of the bustling city of Hong Kong. The hotel offers guests a calm and serene retreat in the middle of the city, with a chic and modern atmosphere, making all guests right at home. With a rooftop terrace advocating for a healthy lifestyle, it's an ideal location for eco-friendly travelers who love a good view and great amenities.
Conveniently located in the Central District of Hong Kong, Eaton HK is conveniently located in Old Town Central, with various restaurants, shops, and various public transportation options. There are multiple rooms, and 6 suites, offering guests free wifi, a home entertainment system, a coffee machine, a mini bar, and stocked private bathrooms. The atmosphere is stylish, relaxing, and cozy for a home-like stay in the city.
What makes Eaton HK sustainable
Eaton HK promotes sustainability by encouraging its "Stay Clean, Go Green" package, advocating for a healthy lifestyle. The eco-friendly package features reusable water bottles, vegan snacks, a 'green' guide, Zero Carbon Footprint Asia reduction, and the use of rooftop terraces and yoga classes for health and wellbeing.
Hotel details
Address: 
380 Nathan Road, Jordan, Yau Tsim Mong District, Hong Kong.
Guest rating:
4.2 out of 5
Price per night:
From $83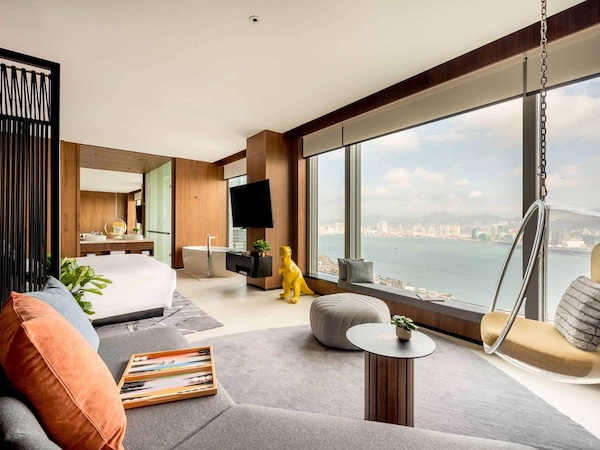 EAST Hong Kong Hotel
EAST Hong Kong Hotel is the perfect place to relax and rejuvenate, and ideal for remote workers and those coming to the city of business. If nothing else come for the views alone, as it features a modern and minimal yet, stylish design, blended with an immaculate panoramic view of the skyline and harbor., EAST Hong Kong will provide an energetic, sustainable, and friendly atmosphere as soon as you walk through the door.
Located in the bustling business district Taikoo Shing, the hotel is surrounded by towering skyscrapers, businesses, creative attractions, and vibrant neighborhood vibes. Inspired by nature and sunlight, rooms are open and airy with large windows. Splurge for a corner room, as the views an unmatched. Rooms come with everything needs to work and recharge, including wifi, a private bathroom, a workspace, and some of the coziest beds in the city. Guests have access to an onsite terrace and swimming pool, as well as an onsite bar and restaurant.
What makes EAST Hong Kong Hotel sustainable
EAST Hong Kong Hotel is a part of Swire Hotels making them a proud leader in sustainability. Their on-site restaurant serves plant-based meals with their very own homemade beer, promoting happy and healthy eating. Additionally, recyclable products and the elimination of single-use plastic are practices throughout the facility, with water-saving products installed in all bathrooms.
Hotel details
Address: 
29 Taikoo Shing Road, Hong Kong.
Guest rating:
4.2 out of 5
Price per night:
From $120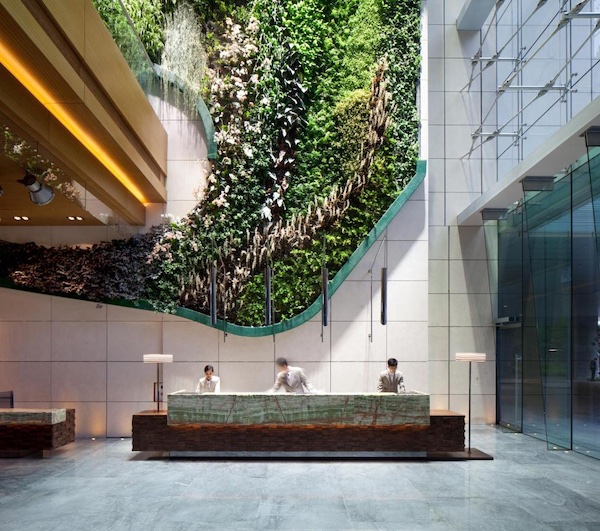 Hotel ICON
Hotel ICON is a boutique luxury hotel offering guests a new perspective on hospitality as well as sustainability. Voted one of the Top 2 Hotels in Hong Kong by TripAdvisor, Hotel Icon offers anything and everything imaginable to make their guests more than happy and comfortable during their stay. Hotel Icon offers a spectacular harbor view, promotes a sustainable lifestyle, and provides comfort in style in the heart of the bustling city.
Located in the heart of Tsim Sha Tsui, Hotel ICON sits in one of the most vibrant districts of the city. The area offers gorgeous views and sites around Victoria Harbor, various historical museums, and cultural landmarks, and allows easy access to every other corner of the city. Excellent bars and restaurants surround the hotel, as well as within the hotel as well. They are accompanied by a fitness center, rooftop swimming pool, wellness spa, and a jaw-dropping interior design. Rooms are sleek and modern with large windows proving scenic views of the harbors, designed with seating area, private bathrooms with amenities, free wifi, and personal room services upon request. Guest looking for a luxurious, yet sophisticated and relaxing stay, Hotel ICON can't be matched.
What makes Hotel ICON sustainable
Hotel Icon has been an ideal image of sustainable practice in the city. They encourage eco-friendly amenities by offering water filtration systems in all rooms, shower dispensers, and organic room products. The facility has gone completely paperless and fully electronic, including its transportation vehicles, and the on-site restaurant serves a variety of vegan and plant-based cuisine choices.
Hotel details
Address: 
17 Science Museum Road, Yau Tsim Mong District, Hong Kong.
Guest rating:
4.6 out of 5
Price per night:
From $120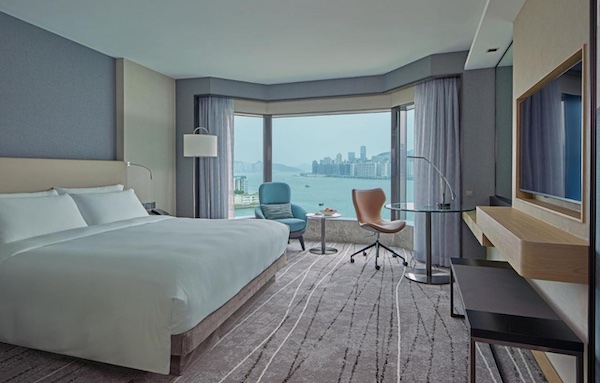 New World Millennium Hotel
The New World Millennium Hotel is a 5-star luxury getaway promoting well-being, sustainability, and luxurious elegance. Sitting on the waterfront of Victoria Harbour, the hotel offers some of the best views in the city. Whether you are in Hong Kong for business or pleasure, the New World Millennium will ensure you a pleasurable and eco-friendly stay.
Located in the Tsim Sha Tsui East District, the hotel is in the middle of all the action. Access to the rest of the city is easily done through public transportation nearby, such as the Mass Transit Railway and East Rail Line, and it is within walking distance to the harbor and many various points of interest. Rooms are perfect for remote workers, as there is free wifi, a work area, and a business center onsite as well. The hotel is home to a 24-hour fitness center, various cafes and restaurants, a rooftop terrace, and jaw-dropping skyline views.
What makes New World Millennium Hotel sustainable
New World Millennium Hotel promotes eco-friendliness and sustainability by taking green initiatives and using environmental practices. Their Environmental Management System is proof of the hotel's commitment to sustainability, as well as the award Certificate of Merit for Environmental Excellence. Preservation of natural resources, reduction of energy and light-saving practices, paper products, and environmental family services are used all throughout the facility, promoting eco-friendliness every step of the way.
Hotel details
Address: 
72 Mody Road, Yau Tsim Mong District, Hong Kong.
Guest rating:
4.1 out of 5
Price per night:
From $121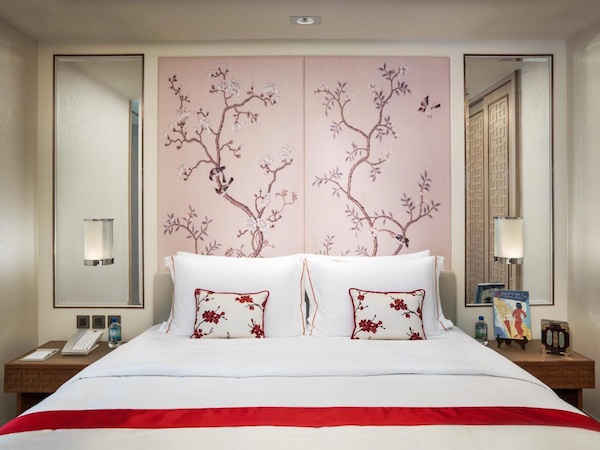 The Pottinger
The Pottinger is a perfect blend of historical and modern. Sitting between 2 worlds, it offers guests an immersing opportunity in the realness of the city, and a happening hotspot for historical sights and sightseeing packed with modern-day amenities. Travelers will appreciate the sustainability practices, friendly hospitality, and warm personal touches the hotel provides, receiving the "Loved by Guests Award."
Located in the Central District on the edge of Old Town, guests can easily explore the surrounding area on foot, wandering around the old cobbled streets, mixed with newly developed modern architecture. Pottinger Street is one of the oldest in the area and offers a lot of history and culture just waiting to be discovered. Rooms are fully equipped with wifi, spacious eating, private bathrooms, and in-room amenities. The Envoy Restaurant is onsite, serving 5-star cuisine, as well as the city's premier chocolate, Venchi.
What makes The Pottinger sustainable
The Pottinger Hotel has an ETIC score of 98% promoting sustainability and environmentally friendly practices, receiving the Etic Hotel Green Standard Award. The hotel embraces corporate responsibilities by protecting the environment, engaging in community services, conserving cultural heritage, and promoting social integration.
Hotel details
Address: 
21 Stanley Street, Central, Hong Kong.
Guest rating:
4.4 out of 5
Price per night:
From $185
How we select the best eco-friendly hotels in Hong Kong
We are a travel research company. We check a lot of details and guest reviews before making a selection. First, we check which hotels follow eco-travel principles. Are they recycling their waste? Do they work with local communities? Are they using renewable energy? Are they not using single-using plastics?
Secondly, we check guest reviews across multiple websites and only list hotels which have an aggregated review rating of at least 4 out of 5. So you can be certain you will be staying at an excellent eco-friendly hotel in Hong Kong.
Sustainable travel is becoming increasingly popular and important as we strive to reduce our carbon footprints. There are many easy ways to reduce your impact while traveling, from choosing eco-friendly accommodations to respecting the local wildlife. Here are some of the most important tips for sustainable travel.
More Hong Kong tips
Get to know the city even better and check out our other articles about Hong Kong: