Portland is one of the best cities in Oregon for tourism and vacations. It is also the second biggest city throughout the Pacific Northwest. This laid-back city is known for its modern architecture and wonderful history. Many people call Portland, Oregon the City of Roses. If you enjoy the music and arts environment, you are going to have so much fun in this city.
In addition, if you want to check out the smallest park in the world, Mill's End Park – only 2.5 feet (diameter) – is right in Portland, Oregon. However, you will also find many green spaces in this city. There is Mt. Hood and Washington Park, just to name a couple. You will also find so many microbreweries in Portland. In fact, this city has more microbreweries than any other city in the entire world. They also have many food carts that you can try out.
With about 8 million visitors each year, Portland is truly a hot spot for traveling. If you are thinking about taking a trip to Portland, Oregon, you might be wondering where you should stay.
The below-mentioned places are some of the best options for your stay. Each one of these areas in Portland feature amazing attractions, wonderful entertainment options, have historical sites you can visit, and much more.
Portland, Oregon is a hot spot for tourists from all around the world. Based on the information below, you can now decide which place fits your vacation needs the best. Whether you want to see a bunch of amazing art, visit the best restaurants in Portland, or check out sporting events, there is a place for you in Portland.

Downtown Portland
The downtown Portland area is the center of the city. It is located near the Willamette River banks. This historic area has many top of the line restaurants, galleries, and unique/interesting stores and shops. The vibe in downtown Portland is very hip. If you are looking to experience some great entertainment and see some of the best attractions in this city, the downtown area is the place to be.
You can check out the Portland Art Museum. This museum has many Native American and Asian artifacts. You can also go to the Arlene Schnitzer Concert Hall. They feature many local and national artists. They also host the Oregon Symphony. Director Park is another great place to check out while you are in downtown Portland. Here you will find a cafe, a fountain, and plenty of outdoor space to sit and relax. Sometimes, there are exciting events that happen in Director Park, as well.
If you stay in downtown Portland, you will be near so many amazing places.
Best place to stay in Downtown Portland
Hotel The Nines. Address: 525 Southwest Morrison, Portland, OR 97204, United States of America.

Pearl District
Do you want to see numerous art galleries and the biggest theater company in Portland? If so, you should stay in the Pearl District. On the 1st Thursday of any given month, you can even take a self-guided walk through many free exhibits.
The Pearl District has plenty of shopping opportunities and tasty dining options. With this being said, there is even more to desire about this area. If you are a book lover, you must go to the Pearl District. They are known for their books. Powell's City of Books is a historic bookstore. There are 5 levels to this building. They have both used and new books. The building takes up the whole block.
Since this area used to be a warehouse district, you will find amazing loft spaces and beautiful cobblestone streets. These features just add to the blissful stay you will have while staying in this area.
Best place to stay in Pearl District
Hotel Residence Inn by Marriott. Address: 1150 Northwest 9th Avenue, Pearl District, Portland, OR 97209, United States of America.

Old Town Chinatown
Old Town Chinatown was the original Portland downtown area. It is also the oldest neighborhood in Portland. You will find some of the most historical and famous landmarks in this area of Portland.
There are also numerous options for entertainment in Old Town Chinatown. The one that you may have heard about often is the Lan Su Chinese Graden. The area is made from China-imported materials. It is very authentic and must be seen while you are in this area.
You can also go to the Portland Saturday Market in Old Town Chinatown – usually open on Saturdays and Sundays. They feature live concerts, art shows, food, and so much more. If you are looking for a great place to spend your weekend, while traveling to Portland, this is the area to be.
Best place to stay in Old Town Chinatown
The Society Hotel. Address: 203 Northwest 3rd Avenue, Portland, OR 97209, United States of America.
Nob Hill (Northwest Portland)
Nob Hill, or Alphabet District (east-west streets are alphabetical), has many cultural institutions, local attractions, and amazing entertainment options.
The one place you must visit if you are in Northwest Portland is Forest Park. This park is the home for 60 species of mammals and 100 species of birds. This huge outdoor area attracts people who love animals. It also attracts those who love to run, hike, and cycle. There are trails ranging over 70 miles. When hiking the Wildwood Trail, you can see the Witch's Castle (1936) or the old Pittock Mansion.
While you are in the area, you should also check out the Oregon Zoo, and the Portland Japanese Garden.
Best place to stay in Nob Hill
Hotel The Inn at Northrup Station. Address: 479 Northwest 18th Avenue, Portland, OR 97209, United States of America.

Lloyd District (Convention Center)
You can also stay in the Lloyd District. This area is home to the famous Oregon Convention Center. It is also a place where shop-lovers and sports-lovers spend a lot of their time. This is understandable being that it is also home to the biggest mall throughout Oregon and the stomping grounds for the Trail Blazers.
If you stay in the Lloyd District, you can also experience some of the best concerts in Oregon. You can also visit the famous Lloyd Center ice rink, go to the Streetcar Central Loop Line, and visit many hot restaurants. If you want more of a historical visit, you can also go to the Veterans Memorial Coliseum, as well.
Best place to stay in Lloyd District
Hotel Eastlund. Address: 1021 NE Grand Avenue, Portland, OR 97232, United States of America.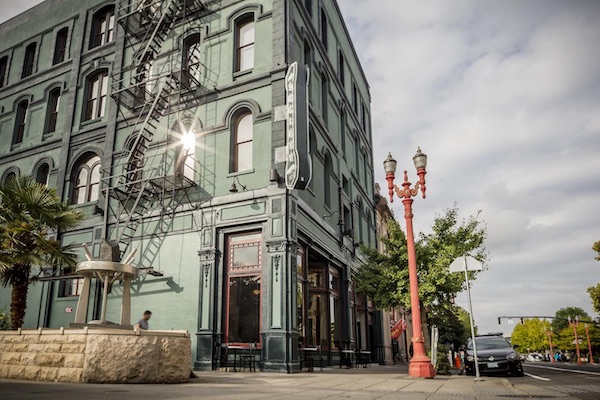 Where travel critics stay in Portland
Want to know where travel critics from publishers like The New York Times, Frommer's, Fodor's and Lonely Planet stay in Portland? Check out our overview of all recommended hotels, hostels and B&Bs in Portland.
Budget
The Society Hotel. Address: 203 Northwest 3rd Avenue, Portland, OR 97209, United States of America.
Mid-range
Ace Hotel. Address: 1022 Southwest Stark Street, Portland, OR 97205, United States of America.
Luxury
Hotel Sentinel. Address: 614 Southwest 11th Avenue, Portland, OR 97205, United States of America.

Best things to do in Portland
There are a lot of things to do in Portland and surrounding areas, including day trips, attractions, museums, sightseeing tours and many other activities. Here's our list of 3 things you should definitely do when you're in and around Portland:
Portland: Columbia River Gorge Waterfalls Morning Tour
Drive the scenic Columbia River Highway on a 3.5-hour tour to some of the beautiful waterfalls, and visit sites such as the Portland Women's Forum, Crown Point Vista House, Latourell Falls, Multnomah Falls and Horse Tail Falls. Price: $65. More info.
Oregon Coast Day Trip: Cannon Beach and Haystack Rock
Explore the stunning beaches and beautiful towns along Oregon's northern coast on this full-day trip from Portland. Visit the charming towns of Manzanita and Cannon Beach—home of the famous Haystack Rock. Price: $100. More info.
Bike Portland: Bridges, Doughnuts, Parks and Roses
Learn Portland's neighborhood secrets. Smell the roses, taste the doughnuts, ride across bridges, and along the river. This is the best way to experience the diversity of culture, art, poetry, nature, parks, and quadrants in Portland. Price: $45. More info.
Deciding where to stay in Portland
As you can see, there are a lot of things to explore, and deciding where to stay in Portland is important. Whether you stay in Old Town Chinatown, Pearl District, Downtown, Nob Hill or Lloyd District, all those neighborhoods are in good locations. The atmosphere of the area, whether you travel for leisure or business, whether you travel with your family or friends, and proximity to the attractions you prefer to visit should probably be the deciding factors. Whatever your preference is, you'll have a great time in Portland, Oregon.