With a motto like "Keep Portland Weird," you know you're going to find some intriguing things in this city. You would be right. Portland is a hub of everything "weird" and exciting. It's a city that reeks with creativity and unique charm.
You can find some eclectic places like the Freakybuttrue Peculiarium museum, The Witch's Castle, creepy underground tunnels, and a hat museum in Portland.  However, the city does not only have strange and unusual attractions.
Set where the Willamette and Columbia rivers meet, Portland is surrounded by natural beauty. Just miles from the city is the Columbia River Gorge and Multnomah Falls. Portland is also a foodie destination, with unique food carts or pods on seemingly every corner. You can rinse all that food down with beer from its local craft breweries.
If you're interested in visiting this fascinating city, here are the five best boutique hotels in Portland.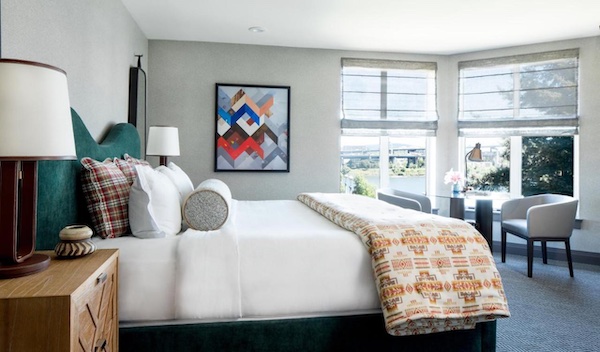 Kimpton Riverplace Hotel
The first luxurious spot on our list is the Riverplace Hotel. This is a super inviting spot that brings a ton of value to your time in the city. Generally, downtown Portland can be classified as a contemporary and modern location. However, the Riverplace Hotel transports you to a traditional, classic time that is full of rich decor and awesome sites.
With just 84 rooms in total, you can get a more exclusive experience that avoids a lot of the big crowds that could come from a top luxury spot. You also have plenty of opportunities to upgrade to a higher end room. For example, there is the king deluxe, courtyard deluxe, riverfront king deluxe, king suite, and many other options. If you want a view, that is an option. If you just need more space, there are rooms for that.
Along with the inviting feel, there are a few amenities that are well worth mentioning. If you do not feel like venturing too far out, there is a bar and restaurant on-site for your enjoyment. There is also a spa with full treatments available, lounge, gym facilities, and much more. This is a fantastic option for anyone who comes through Portland.
Hotel details
Address: 
1510 S Harbor Way, Riverplace, Portland, OR 97201, United States of America.
Guest rating:
4.5 out of 5
Price per night:
From $200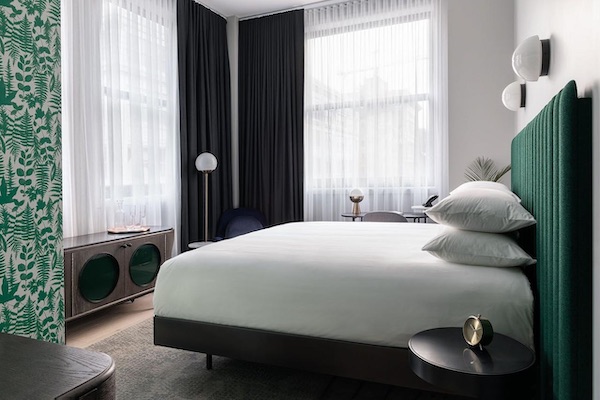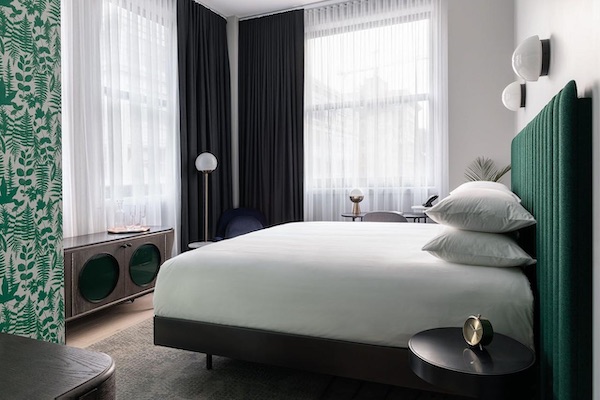 Woodlark
The Woodlark's structure is a union of two renovated 20th-century buildings. Good Coffee, Powell's City of Books, and the Japanese Garden are all within this hotel's centrally-located neighborhood. If you're in town on the weekend, you should visit the Portland Saturday Market nearby for some handcrafted goods and delicious eats.
Its facilities have tasteful art deco styling with lush velvet and aged brass alongside the hand-blown glass fittings, wooden textures, and well-lit interiors. The hotel's 165 rooms, including 14 suites, have light and airy layouts with pops of jewel-tone colors. Each room has above-average amenities, including a smart TV, honesty bar with local snacks, pillow menu, and in-room workout equipment.
Guests love the central location, sleep quality, and service here.
Hotel details
Address: 
813 SW Alder St, Portland, OR 97205, United States of America.
Guest rating:
4.6 out of 5
Price per night:
From $145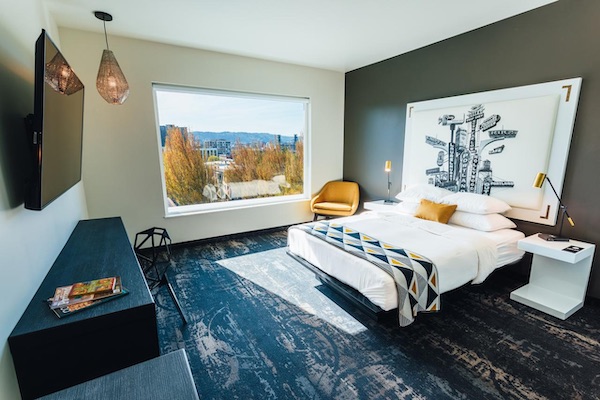 Jupiter Next
The Jupiter Next Hotel is an annex of the original Jupiter Hotel. This branch is a bit more glamorous and modern than its counterpart.  Both are locally-owned Portland boutique hotels east of the river. Surrounding the hotel are countless mouthwatering eateries.
This sleek hotel has mid-century modern influences that mix perfectly with its ultra-contemporary design. Each room has plenty of space for you to spread out in and are well-appointed with fresh details and geometric prints. Onsite, you can find entertainment at Hey Love, a café, cocktail lounge, and restaurant with tropically-infused comfort food.
People rated this hotel highly because of its spectacular views, helpful staff, and hip location.
Hotel details
Address: 
900 East Burnside Street, Portland, OR 97214, United States of America.
Guest rating:
4.5 out of 5
Price per night:
From $135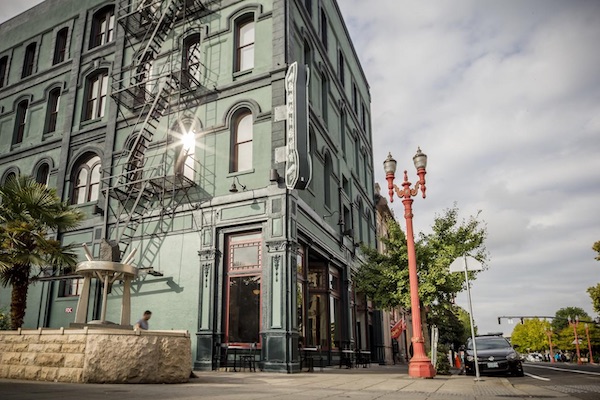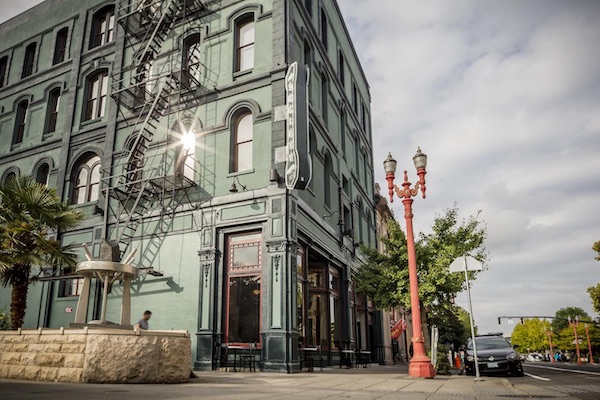 The Society Hotel
Once a 19th-century hostel for sailors, the Society Hotel is now a charming boutique hotel that is still partially a hostel. It even has mixed dormitory rooms but also offers private rooms with shared baths and fully private suites. It is conveniently located in Chinatown next to the river north of downtown Portland. The Lan Su Chinese Garden is steps away.
The hotel retains its historic walls but has modern furnishings made of raw materials. Its building has a very hipster aesthetic, which is popular in Portland. Downstairs, you can enjoy delicious bites at Society Café, a café, lounge, and bar serving up fresh coffee, pastries, and beer.
Guests raved about its historic charm, delicious café, and scenic rooftop.
Hotel details
Address: 
203 Northwest 3rd Avenue, Portland, OR 97209, United States of America.
Guest rating:
4.5 out of 5
Price per night:
From $45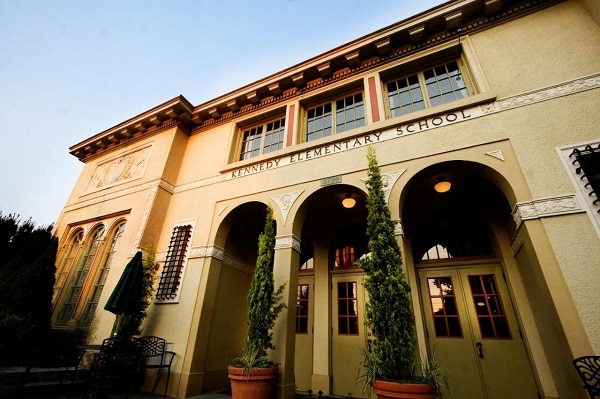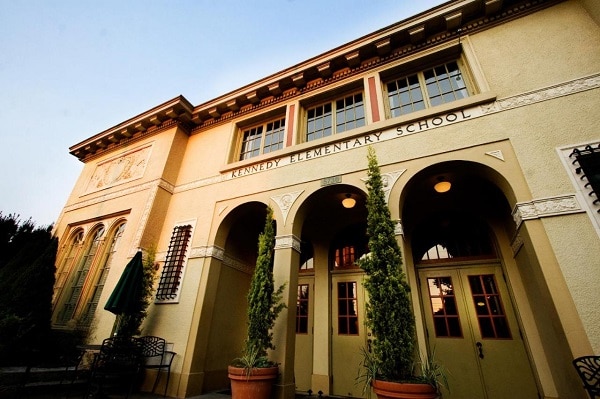 McMenamins Kennedy School
Formerly an elementary school building, this 1915 relic is now one of the hippest places in Portland. The McMenamins Kennedy School hotel preserves many quirky details from its past life as a school, such as the chalkboards and cloakrooms. Its location is outside of Downtown Portland, but you can visit the Alberta Arts District nearby or hop on a bus to the center.
Each of its 57 guestrooms has an old-time feel.  Some even have original telephones from their schoolhouse days. On the "campus," there is plenty of entertainment, including a restaurant, movie theater, soaking pool, gift shop, brewery, and multiple bars (something that didn't exist in its former life).
Visitors who stayed here loved the eclectic art, quirky theme, and fun neighborhood.
Hotel details
Address: 
5736 NE 33rd Ave, Portland, OR 97211, United States of America.
Guest rating:
4.4 out of 5
Price per night:
From $150
About our boutique hotel recommendations in Portland
We are a travel research company. We help you discover the best boutique hotels in Portland by researching the internet for you. It's not just our opinion, it's the opinion of many travelers who have been there before you. We make it easy for you to find out about cool design hotels and unique design hotels in the city. Some of them might be so romantic you might not want to leave your room.
Please note, we only list hotels that have an aggregated guest review rating of at least 4.0 out of 5. We aggregate all reviews from different booking sites and other unbiased review websites. Hence, you can be certain all hotels listed above offer you a great stay in Portland.
Best price guarantee
We partner with Booking.com and Hotels.com to provide you with the lowest price guarantee on your stay in Portland! Both those websites offer price matching. That ensures that you are paying the lowest price available online. If you find a cheaper offer on another website for the same cool hotel in Portland at least 24 hours before check-in, contact them to claim a refund of the difference!
Top 5 boutique hotels in Portland
Before you go, let's summarize this guide. Based on thousands of guest reviews and tips from travel experts, these are the best boutique hotels in Portland:
More Portland tips
If you like our guide above, you should also check out our other articles about Portland: