One of the most unique cities in the United States in terms of character and quirkiness is Portland, Oregon. As a hub for international travel and young adults looking to create new businesses, there is truly a lot going on in this city despite it not being the biggest one out there.
Whether it be for business or pleasure, Portland has what you need. With somewhat quick access to the coastline and a home for a fairly large international airport, the options are nearly endless.
The best way to really get the full value out of your stay is by setting up in a luxury hotel. This ensures that you can have an awesome experience that will transform your stay into one that will never be forgotten.
So, here are three of the best luxury hotels located in Portland!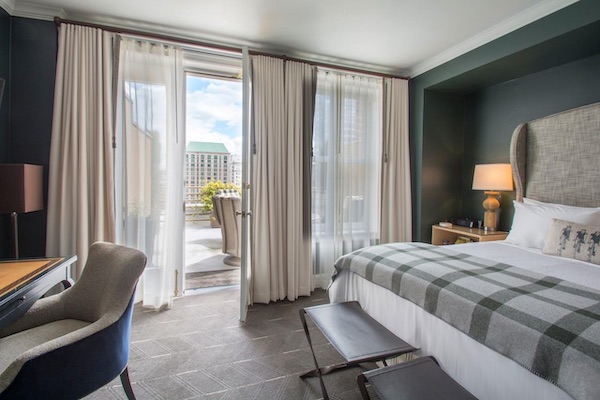 Sentinel
You can find this charming hotel downtown just steps away from Alder Street food market near the riverfront. It is easy to visit almost anywhere in Portland because the hotel rents Shinola bikes. Within reach, you can find the city's most prominent attractions.
The Sentinel has 100 rooms that include 20 suites. Its décor is historical with a flare of Portland originality. Its rooms have a standard hotel feel with surprising elements such as emerald green walls and patterned furniture. Each room comes with a well-stocked minibar, TVs, and warm beverage-making facilities. You can dine at Jake's Grill with American classics downstairs and sample wine in the onsite tasting room.
Visitors enjoy Sentinel's spacious rooms, walkable neighborhood, and historic buildings.
Hotel details
Address: 
614 Southwest 11th Avenue, Portland, OR 97205, United States of America.
Guest rating:
4.5 out of 5
Price per night:
From $210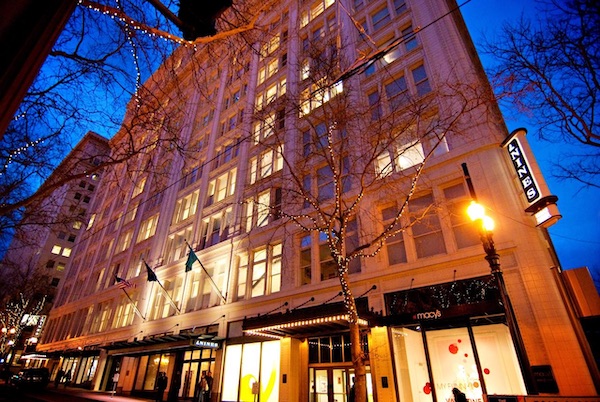 The Nines
You probably have heard the saying "dressed to the nines." If not, it is all about looking fancy and keeping things chic. So, this is exactly the vibe that The Nines is going for but in the form of a hotel. From the moment you walk in, you will understand how this hotel's style is incredibly luxurious and a bit different than the spunk that comes with other areas of Portland.
As you know, you want to stay in an area that interests you. Whenever coming to a new city, its downtown district should be the first stop in learning its identity. This is the experience you get by staying at The Nines. It is in a historical building that overlooks the main downtown square. With a short walk, you can stroll around and see what Portland is all about.
There are over 300 rooms, however, so if you want to avoid a lot of the foot traffic, this may not be the best option. If you are okay with some more people as long as you get great amenities, The Nines should be a top option. Although the capacity is not the end of the world, it is important to think about.
Hotel details
Address: 
525 Southwest Morrison, Portland, OR 97204, United States of America.
Guest rating:
4.3 out of 5
Price per night:
From $240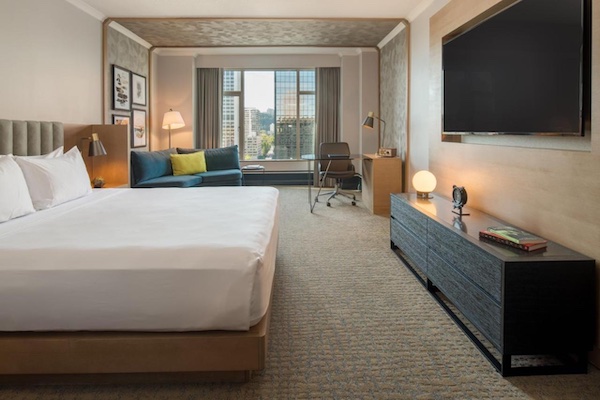 The Duniway Portland, a Hilton Hotel
We will finish off our list with a location that falls under the Hilton hotel system. The Duniway Portland is a great hotel that will bring you some excellent value. From the lobby areas to the boutique-style rooms, you can feel the luxury and quality pouring through.
One of the unique factors is the excellent restaurant that is right on site. Chris Cosentino's Jackrabbit Restaurant is a super unique place to grab a bite, but it is very nice to eat and drink on-site rather than having to venture out.
This is paired with a rooftop patio that holds wine tastings, yoga, and so many other cool activities. Having something as unique as a rooftop hangout spot is a really cool perk.
The physical location is another positive attribute. You are a short walk away from the likes of the Portland Saturday Market, Portland Art Museum, the waterfront park, and so much more. Not only are you going to have a good experience inside the walls but you also will be in a position to have a great time out in the city of Portland.
Hotel details
Address: 
545 SW Taylor, Portland, OR 97204, United States of America.
Guest rating:
4.3 out of 5
Price per night:
From $185
About our luxury hotel recommendations in Portland
We are a travel research company. Our team helps you discover the best luxury hotels in Portland by researching the internet for you. We have also visited some of these places. Hence, it's not just our opinion, it's the opinion of many travelers who have been there before you. We make it easy for you to find out about the most luxurious and exclusive 5-star hotels in the city.
Please note, we only list hotels that have an aggregated guest review rating of at least 4.0 out of 5. We aggregate all reviews from different booking sites and other unbiased review websites. Hence, you can be certain all hotels listed above offer you a great stay in Portland.
Best price guarantee
We partner with Hotels.com and Booking.com to make sure you get the best price for your stay in Portland! Both sites offer price matching. That means you pay the lowest prices for your stay. If you find a cheaper offer on another website for the same luxury hotel in Portland at least 24 hours before check-in, contact them to claim a refund of the difference!
Top 3 luxury hotels in Portland
Now that you've gone over this guide, let's summarize it. We got to know what the best 5-star hotels in Portland are thanks to thousands of guest reviews and tips from travel experts:
More Portland guides
If you like the advice we've given you above, make sure to check out some of our other articles about Portland: