Munich is a thriving city in the heart of Bavaria in Germany. The city is world-famous for Oktoberfest, a 16-18-day folk festival between late September and early October. Six million people visit the city during the festival alone. However, Munich has more to offer than just Oktoberfest.
The German city is a thriving economic center with BMW, Siemens, and Audi headquartered there. Munich is a blend of old and new, with ultra-modern buildings blended with historical baroque, neoclassical, and neo-gothic architecture. The center has stunning plazas such as Marienplatz and Odeonplatz, which have excellent Christmas Markets during the holidays.
People also love exploring the baroque Nymphenburg Palace and the city's many green spaces, including Olympiapark, Hof Garten, and Englischer Garten. Car lovers enjoy visiting the BMW World museum. There's no shortage of sights in the city!
If you plan on visiting Munich, these are the top five hostels to stay at: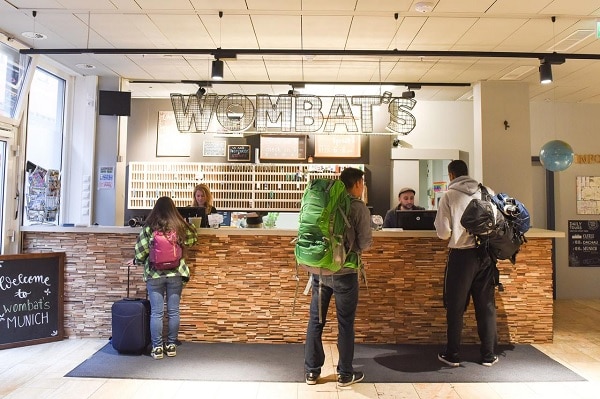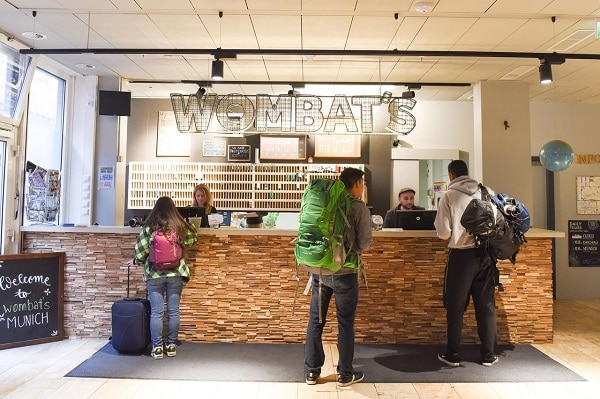 Wombats City Hostel Munich
The Wombats City Hostel is the perfect base for your trip to Munich. It is only five minutes away from the central train station, Hauptbahnhof. Oktoberfest festival attendees only have to walk ten minutes to reach the old town and jump into the action.
The hostel is chic, with a bright and open atmosphere. They have a selection of private rooms or mixed/female-only dorm rooms with keycard access. Private double rooms have a beautiful terrace. Wombat City Hostel has complimentary linens, welcome drinks, homemade maps, and Wi-Fi access. Guests can enjoy a drink at the WomBAR, have an all-you-can-eat breakfast, and attend yoga classes at this hostel.
This award-winning hostel has high ratings due to its amenities, winter garden, and attentive staff.
Hostel details
Address:
Senefelderstraße 1, 80336 München, Germany.
Guest rating:
4.4 out of 5.
Price per night:
from $21.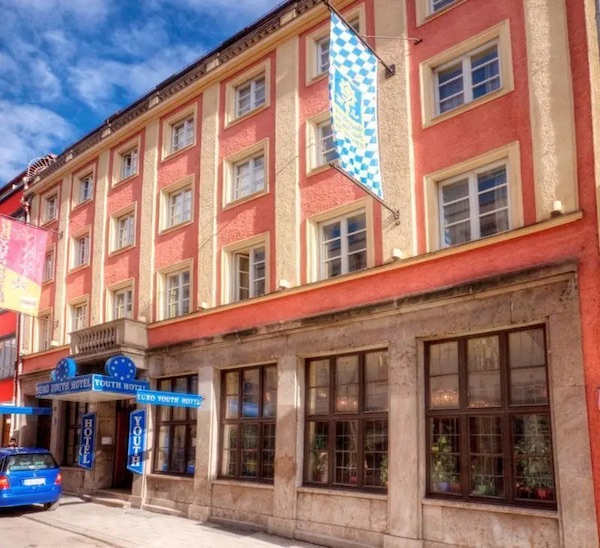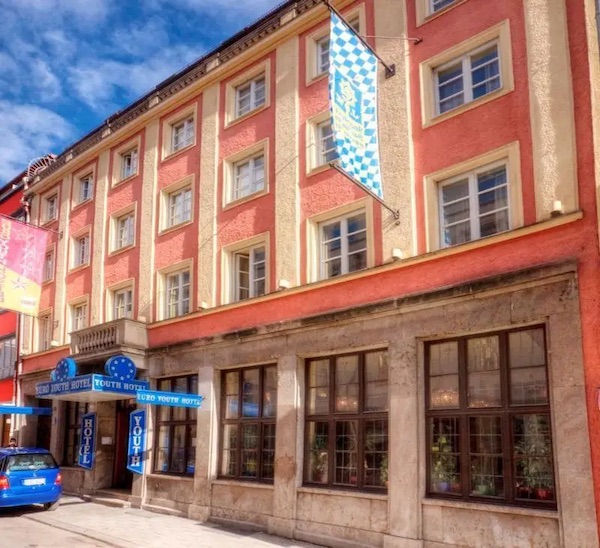 Euro Youth Hostel
The Euro Youth Hostel, located next to Hauptbahnhof Station, is centrally located next to Marienplatz square. You can visit places like Nymphenburg Palace within 30 minutes and be in Austria in under two hours from the train station.
This renovated former luxury hotel has a bar where you can sip local beer during happy hours and sporting events. They have both large and small dorm rooms with handmade wooden bunk beds. Most rooms have en suite bathrooms and private lockers. For a nominal price, you can enjoy a breakfast buffet. The common room has board and Wii games to entertain guests. Staff members are happy to share tips.
Visitors love the youth hostel's outstanding facilities, spotless rooms, and overall service.
Hostel details
Address:
Senefelder Str.5 , Munich, Germany.
Guest rating:
4.6 out of 5.
Price per night:
from $17.
Jaeger's Munich
Jaeger's Munich is located midway between the historic center and the Oktoberfest grounds. Within a 20-minute walk, you can find plenty of bars, museums, and the Frauenkirche cathedral. Oktoberfest attendees only need to travel 15 minutes to reach the festival.
The rooms and facilities at Jaeger's Munich are clean and comfortable. Rooms that are available at this hostel include mixed dorms and private rooms. Its onsite bar serves local beer to guests, and there is a breakfast feast in the morning. If you want to explore Munich, there are free walking tours in English and Spanish. Front desk staff are also eager to help guide your stay in the city.
Travelers love the welcoming staff, social atmosphere, and central location.
Hostel details
Address:
Senefelderstr. 3, 80336 Munchen, Munich, Germany.
Guest rating:
4.4 out of 5.
Price per night:
from $29.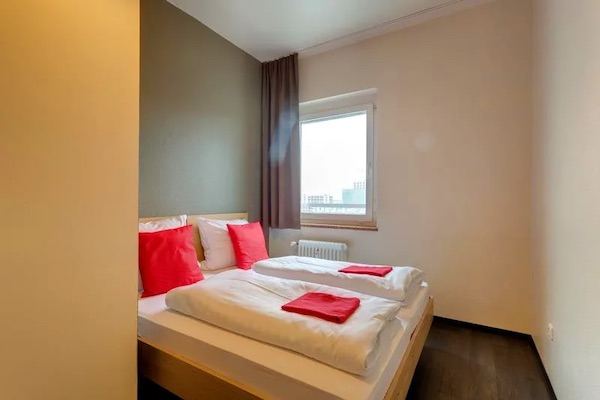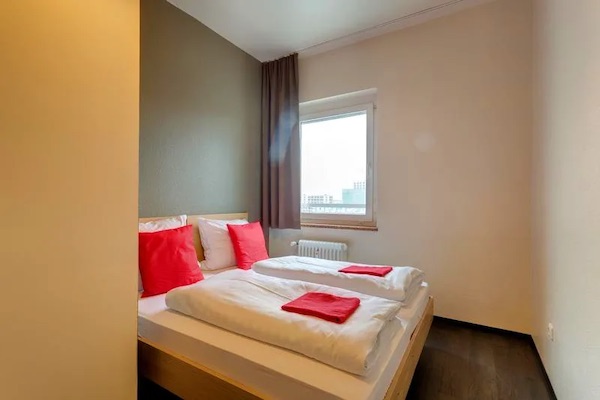 Meininger Munich City Center
As its name implies, the Meininger Munich City Center Hostel has a central location near Munich's main attractions. Across the street is the Augustiner Bräustuben, a famous brewery. It only takes 15 minutes on foot to get to the rest of the city's top sights.
The hostel's decor is fun and modern. You can choose between a group room or dorm, all of which have attached bathrooms. Onsite, there is a game room, kitchen, and bar for guests to enjoy. The hostel has an inexpensive breakfast and a grab-and-go lunch.  Team members are happy to help you buy tickets and provide maps and tips.
High ratings come from helpful staff, easy access to the train station, and the overall value.
Hostel details
Address:
Landsberger Strasse 20, Munich, Germany.
Guest rating:
4.3 out of 5.
Price per night:
from $20.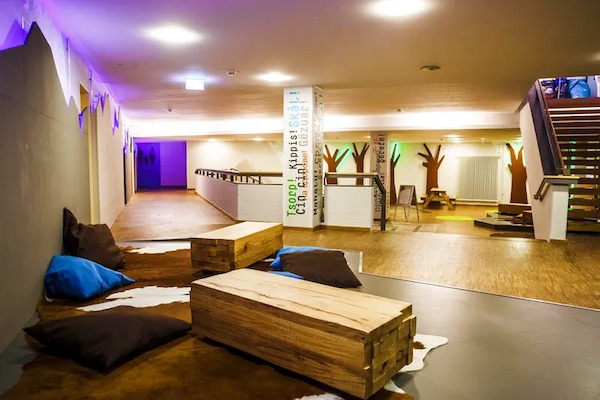 HI Munich-Park
If you enjoy nature, the HI Munich-Park Hostel is in the green southern district of Munich. It is a great area to go jogging along the Isar River and visit the Hellabrunn Zoo. If you want to reach the city center, it only takes 8 minutes by metro.
This large modern hostel has 374 beds that accommodate business travelers, backpackers, families, school groups, and more. Rooms have between 2-6 beds each and have an en suite bathroom. Guests can grab food from the café and vending machines. It is important to note that guests must have a Hostelling International Membership to stay at HI Munich.
People loved that this hostel is all-inclusive, is near great parks, and has excellent facilities.
Hostel details
Address:
Miesingstr. 4, Munich, Germany
Guest rating:
4.5 out of 5.
Price per night:
from $19.
About our Munich hostel recommendations
Are you a solo traveler looking for a private room? Or a backpacker traveling around in a group wanting to stay in a cheap and cozy dorm? Above you will find the best hostels in Munich for all your needs.
Please note, we only list hostels that have an aggregated guest review rating of at least 4.0 out of 5. We aggregate all reviews from different booking sites and other unbiased review websites. Hence, you can be certain all hostels listed above offer an excellent value-for-money stay in Munich.
Best price guarantee
For our hostel recommendations, we work together with Hostelworld and Booking. These partnerships don't have any influence on the recommendations we make or on the order in which our recommended hostels are listed. The reasons why we have chosen to partner with these companies is that they're trustworthy, offer excellent service and they both apply the best price guarantee. This means you can claim a refund for the difference if you find your reservation cheaper on another website. It has to be for the same property, accommodation type, dates, cancellation policy and conditions, otherwise, you can't claim the refund for the difference. If you book through Booking.com then all you need to do is contact them at least 24 hours before your check-in date. If you book through Hostelworld you must claim the refund within 24 hours after you made the booking.
Top 5 hostels in Munich
To summarize again, based on thousands of guest reviews, these are the best hostels in Munich:
Why you should be careful when booking the cheapest hostel available
The cheapest hostels available are typically not in a great location. If you want to go sightseeing or go for a night out in central Munich, you probably end up having to pay for public transport or a taxi to get there. So your stay could end up being more expensive compared to a stay in a central location. For first-time travelers, we recommend staying central anyway, but also for frequent visitors, it's probably worth it to pay a bit more to stay in a central location.
Another reason why you shouldn't stay at the cheapest hostel is that the people staying at the cheapest hostels are often not the people that can afford to travel like you. Because a very cheap hostel is often cheaper than renting a flat, these places tend to attract migrant workers or local misfits. That's probably not the crowd you want to hang out with, especially if you're a solo traveler looking for friends.
The third reason why you should avoid the cheapest hostels is safety. Some of the cheapest hostels don't check IDs, don't ask for signatures, or only accept cash at check-in. The hostel won't know who is actually staying there.
Lastly, the service at these hostels isn't great. For instance, if you choose to store your luggage, your bags will be unattended in a public space. It won't be recorded anywhere or tagged and stored in a locked room.
So, it's probably worth it to spend a bit more on your hostel stay in Munich.
And finally, a tip: always read the latest reviews of the hostel! All places have good and bad reviews, but the most recent reviews matter the most.
More Munich tips
Get to know the city even better and check out our other articles about Munich:
Best boutique hotels in Munich