Most travelers chose Bangkok, Tokyo, or Beijing as the first Asian country to visit. While those cities are perfectly fine to visit, they don't come close to the brilliance of Seoul.
The Korean capital is a gem that is often overlooked. Fortunately, with the rise of K-Pop and Korean television shows in Western nations, more and more people are traveling to Seoul.
Walking the streets of the city today, it is difficult to believe that North Korea's Pyongyang was, at one time, more advanced. Since the late 1980s, Seoul has been on an upward trajectory.
It offers visitors a wealth of great experiences from culture to history to food to shopping. The Korean capital shouldn't be missed on a visit to Asia and these five areas are ideal for basing your stay.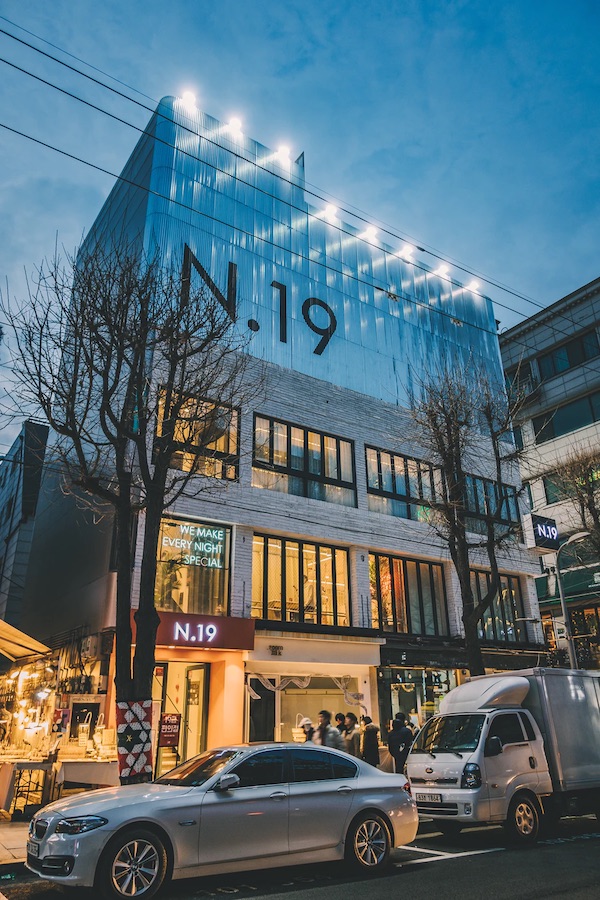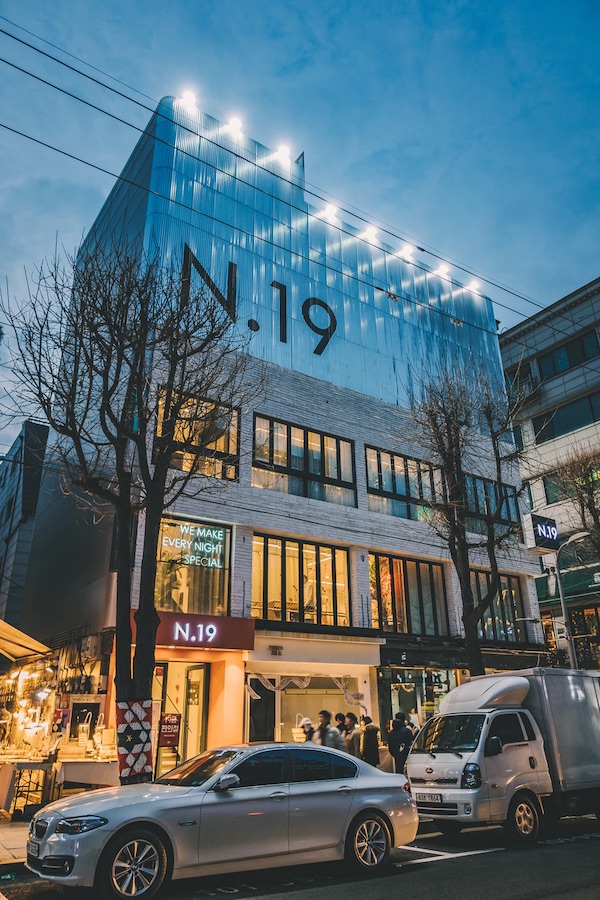 Gangnam
You may know the name Gangnam from the song "Gangnam Style", which was released in 2012 by K-Pop singer Psy. The song made Gangnam a household name in many countries without listeners knowing what, who, or where Gangnam is.
Well, Gangnam is an affluent area of Seoul and a perfect place for first-timers to the city to base their stay. Although the song was a massive hit, many older Koreans looked down on the song "Gangnam Style" as it was critical of the posh region of the city. Regardless, the hit single made Seoul a city millions of people wanted to learn more about.
Gangnam is a part of the city where many well-off Koreans live. It has a variety of restaurants, bars, and tourist attractions, although many are newer. Located on the south side of the Han River, money has flowed into the area since the late 1980s. Seoul's coming out part as a capital city came in 1988 during the Summer Olympics. Since then, the city has continued to grow and develop southward.
The affluent part of the city lacks the historic tourist attractions found on the north side of the river. However, that is mostly due to Gangnam being a modern part of Seoul that sprang up more recently. Along with fine five-star accommodation, you can find great shopping in Gangnam.
Best place to stay in Gangnam
Hotel Park Hyatt. Address: 606 Teheran-ro, Daechi-dong, Seoul, South Korea.
Cheaper alternative:
Hotel Le Meridien. Address: 120, Bongeunsa-ro, Gangnam-gu, Gangnam-Gu, 06124 Seoel, South Korea.
Hongdae
Young, fun, and vibrant – those are three perfect words to describe Hongdae. The neighborhood attracts university students and foreigners every day to its cool clubs, bars, pubs, and restaurants. Hongdae feels fashionable and indie.
While Gangnam can feel sterile and expensive, Hongdae is the complete opposite. Wandering down the streets you will find stalls selling everything from food to clothing. The pubs and bars are very informal, and you can make a day or night of crawling from one to another.
The area is popular with creative types due to local Hongik University, an art school. It is a stone's throw from another fun area known as Sinchon and the two neighborhoods occasionally bleed into one another. Hongdae is perfect for solo travelers or couples looking to book accommodation on a budget. You can find Airbnb apartments in the area allowing you to stay long-term or short-term on your visit.
Seoul isn't an expensive city when compared to Tokyo. However, it can get costly when staying in areas such as Gangnam. If saving money is high on your list of activities, then book a stay in Hongdae and enjoy the local bars.
Best place to stay in Hongdae
Hide & Seek Guesthouse. Address: 14 Jahamun-ro 6-gil, Tongui-dong, Jongno-gu, Seoul, South Korea.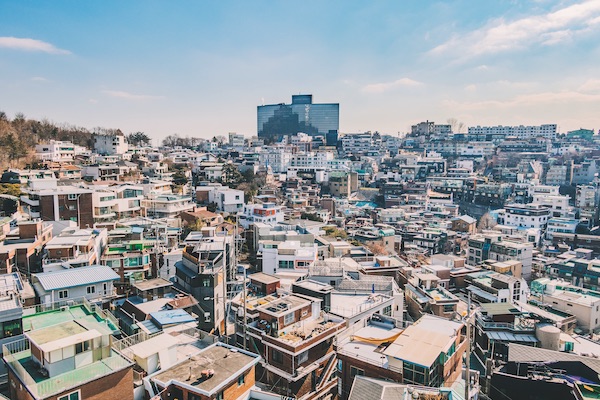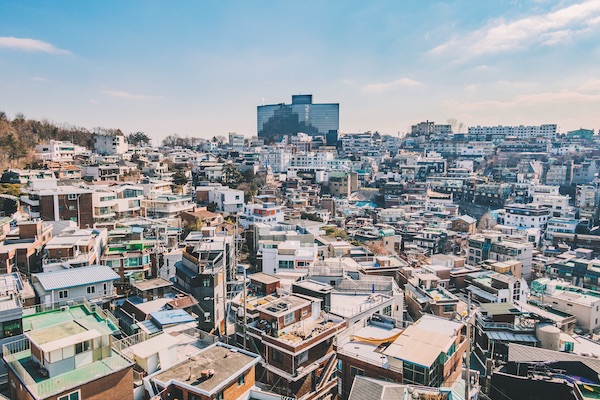 Itaewon
Itaewon has long had a reputation as an area of Seoul where anything goes. Why is that? The neighborhood is home to the American military base in Seoul and bars line the streets attracting both military and civilian patrons day and night.
Itaewon is perfect for travelers that love their night's out. The fun doesn't stop at midnight and most bars stay open until the sun comes up. In fact, some keep going on even if when the sunrise begins on the eastern side of the city.
You won't catch a lot of families or older Koreans out in Itaewon. It is mostly for young Koreans in university, foreigners working in the city and military personnel. At night, you will see American and Korean military police wandering through Itaewon's alleys searching the top bars, looking for personnel staying out too late. It can be a fun sight as they patrol for curfew skippers.
In spite of Itaewon's reputation as the Wild West, it is a fun area where you can find great late-night bars and clubs. No trip to Seoul is complete without a visit to the neighborhood. The Hamilton Hilton is a great place to locate Seoul's best nightlife. If you fancy some culture during the day, visit Leeum Samsung Museum of Art.
Best place to stay in Itaewon
Imperial Palace Boutique Hotel. Address: 737-32 Hannam-dong, Yongsan-gu, Seoul, South Korea.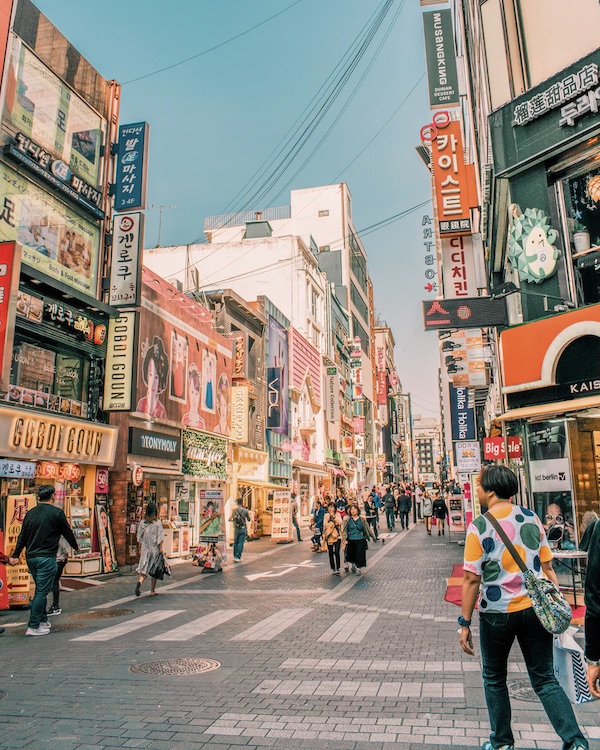 Myeongdong
Myeongdong is perfect for families looking for a cool place to stay during a trip to Seoul. Shopping is a favorite pastime in the neighborhood and you will find plenty of exciting places to spend money. You can explore Myeongdong's shopping throughout the year, but keep in mind that during weekends it is packed with shoppers.
Foodies will be in heaven in Myeongdong. There are plenty of restaurants and food stalls around the streets of the neighborhood. You can food stall hope to find some of the best treats the city has to offer.
Myeondong is authentic Seoul. It is crammed with stores with bright neon lights and loud K-Pop music blasting from speakers. It can be overwhelming at times, but once you delve into it, you will love every minute of perusing stores.
One of Seoul's top tourist attractions is N Seoul Tower. After enjoying Myeongdong's shops, hike Namsan Mountain where you will find N Seoul Tower at the very top. Instagram worthy photos are your reward once scaling the mountain.
Best place to stay in Myeongdong
The Westin Chosun Hotel. Address: 106, Sogong-ro, Jung-gu, Jung-Gu, 04533 Seoel, South Korea.
Cheaper alternative:
Hotel Ibis Ambassador Myeongdong. Address: 78 Namdaemun-ro, Myeongdong 1(il)-ga, Jung-gu, Seoul, South Korea.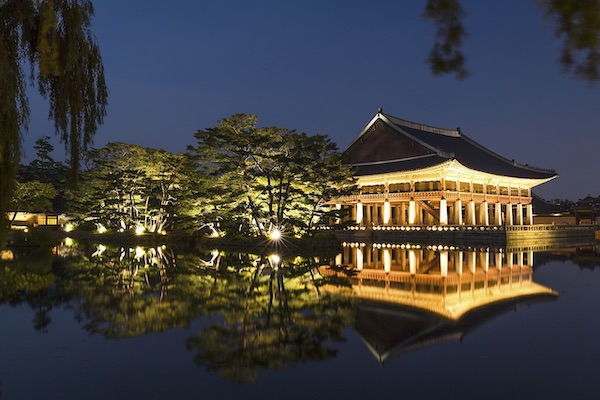 Insadong
Insadong is the cultural heart and soul of the city. It is ideal for families on a trip to Seoul as it is a quieter area than the neighborhoods mentioned previously. Travelers wanting a little more peace during their vacation to Seoul will be glad they chose a hotel or Airbnb in Insadong rather than one of the other areas thanks to its tranquility.
Kids will love a visit to the Alive Museum. The museum encourages visitors to take selfies with the exhibits. It is possible to get into the artworks creating an optical illusion, making you a part of the piece.
Insadong is just one kilometer away from one of Seoul's best attractions. Gyeongbokgung Palace was the main royal palace during the Joseon Dynasty. It is a popular ground to walk around during a sunny day out. It is very similar to the palaces in Beijing, but less crowded. Finish off a day out with a hot Korean BBQ meal, cold beer, and soju at an authentic restaurant in Insadong.
Best place to stay in Insadong
AMASS Hotel Insadong. Address: 11 Yulgok-ro 10-gil, Gwonnong-dong, Jongno-gu, Seoul, South Korea.

Where travel critics stay in Seoul
Want to know where travel critics from publishers like The New York Times, Frommer's, Fodor's and Lonely Planet stay in Seoul, South Korea? Check out our overview of all recommended hotels, hostels and B&Bs in Seoul.
Budget
"Owned by the ultra-friendly couple – Shrek and Fiona – this hostel stands above others for its attention to thought and detail. Set in a renovated industrial-chic apartment building, its private rooms and dorms are clean, spacious and have quality thick mattresses." — Lonely Planet.
Address: 14-38 Bogwang-ro 60-gil, Itaewon 1(il)-dong, Yongsan-gu, Seoul, South Korea.
Mid-range
"Opened in late 2014, the 319-room GLAD Hotel may be in the Yeouido financial center, but this is no staid business hotel. Built by designer Suyong Joh's Seoul-based firm, the hotel has a textural brick façade reminiscent of a traditional Korean home, park-like benches in the halls and quotes by Eleanor Roosevelt above the beds." — New York Times.
Address: 14 Uisadang-daero, Yeoui-dong, Yeongdeungpo-gu, Seoul, South Korea.
Luxury
"One of the fanciest, if not the fanciest hotel in South Korea, The Shilla has the prices and luxurious details to prove it. The luxury hotel is now one of the few in Seoul that actually houses a high-end Korean restaurant, La Yeon." — CNN.
Address: 249 Dongho-ro, Jangchung-dong, Jung-gu, Seoul, South Korea.
FAQ: Seoul hotel recommendations
If you're looking for a budget, boutique, or luxury hotel in Seoul-or maybe your travel plans require an excellent hostel? Want to know which hotel serves the best breakfast? Here are all those answers and more about where to stay in Seoul.
What is the best budget hotel in Seoul?
If you're looking for a cheap hotel in Seoul, then book Tong Tong Petit Hotel. It's an excellent budget hotel offering great value for money. It's in a good location, it's been recommended by travel experts and the hotel has excellent customer reviews. Make sure you check our shortlist of the best cheap hotels in Seoul.
What is the best boutique hotel in Seoul?
Not a fan of big chain hotels? No problem. If you want to stay in a boutique hotel in Seoul, then you should book Glad Hotel. The hotel has been rated highly by previous guests for its boutique style. It has also been recommended by influential travel journalists. Also check out our list of the best boutique hotels in Seoul, it's a manually curated list of the most unique and romantic hotels in the city.
What is the best luxury hotel in Seoul?
If money isn't a problem and you're looking for a luxury hotel in Seoul, then go for Hotel Park Hyatt Seoul. The hotel offers excellent service, it's in a top location, it has been rated very highly by previous guests and renowned travel critics have recommended it. Make sure you check our shortlist of the best luxury hotels in Seoul, it's a manually curated list of the most exclusive 5-star hotels in the city.
What is the best hostel in Seoul?
Looking for a good and affordable private room or cozy dorm in? Check out Zzzip Guesthouse. The hostel has been highly rated by backpackers. Also check out our list of the best hostels in Seoul.
How much does it cost to stay in a Seoul hotel?
For a 3-star hotel, you have to pay around $90 per night and for a 4-star hotel, you would be looking at $120 per night. If you're after a luxury 5-star Seoul hotel then you can expect to pay around $280 per night.
Which Seoul hotel serves great breakfast?
Try Hotel Park Hyatt or AMASS Hotel Insadong if you're looking for a delicious breakfast at a hotel in Seoul. Both hotels have excellent customer review ratings for breakfast.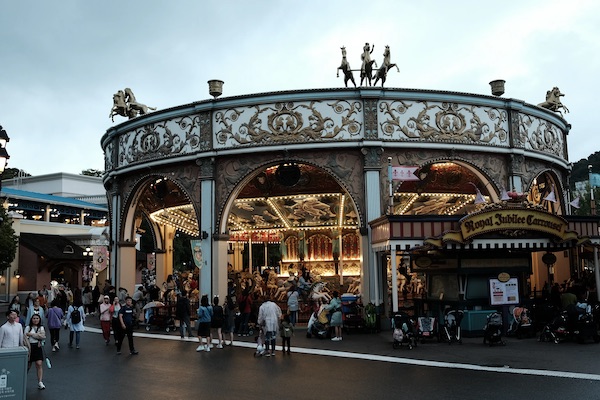 Best things to do in Seoul
There are a lot of things to do in Seoul and surrounding areas, including day trips, attractions, museums, sightseeing tours and many other activities. Here's our list of 3 things you should definitely do when you're in and around Seoul:
Half-Day Korean DMZ Tour from Seoul
The Demilitarized Zone (DMZ) lies on the border between North and South Korea, and visiting outside of a guided tour is not allowed. On this tour, explore the DMZ with your guide and gain insight into Korean War history. Price: $45. More info.
Everland 1-Day Fast Entry E-Ticket
Visit the largest and the most exciting theme park in Korea, Everland. With this e-ticket, you can explore all 5 zones of Everland: Global Fair, Zoo-Topia, European Adventure, Magic Land and American Adventure. Price: $39. More info.
Full-Day Essential Seoul Tour
Visit Jogye Temple, The Blue House, Gyeongbok Palace, Insadong, Bugak Skyway, Bukchon Hanok Village, and Myeongdong. Your tour is limited to just 15 people for a personalized experience. Price: $97. More info.
Deciding where to stay in Seoul
To summarize, this travel guide has covered the best areas of Seoul, as well as some hotel tips and things you can do. It's now up to you to decide which area you prefer.
Top 5 neighborhoods to stay in Seoul
Myeongdong
Insadong
Itaewon
Hongdae
Gangnam
As you have seen in this article, there are a lot of things to explore, and deciding where to stay in Seoul is important. Whether you stay in Myeongdong, Insadong, Itaewon, Hongdae or Gangnam, all those neighborhoods are in good locations.
The atmosphere of the area, whether you travel for leisure or business, whether you travel with your family or friends, and proximity to the attractions you prefer to visit should probably be the deciding factors. Whatever your preference is, you'll have a great time in Seoul.
Check out our other guides about the best places to stay in Seoul: