The incredible city of Seoul, South Korea is unlike any other place in the world. Seoul is known for having some of the best food and overall experiences possible, and definitely some of the friendliest locals that exist.
It would not be a trip to Seoul without paying a visit to the huge Gyeongbukgung Palace, which was built in 1495 but renovated in recent years due to severe damages. Walking around this palace is a positively wonderful experience that should not be missed out on.
You will definitely also want to stroll the markets here and grab some authentic Korean BBQ while in Seoul, as you will not find anything like it elsewhere.
The best time of year to visit Seoul is in the spring or fall, when the climate is mild and the crowds are minimal.
We are going to talk about five of the best boutique hotels throughout Seoul that will offer incredible hospitality and comfortable accommodations.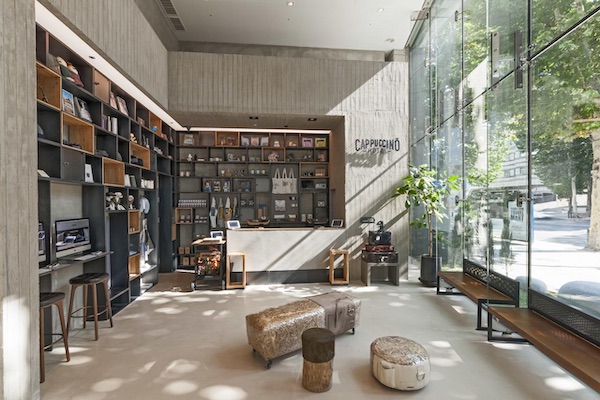 Hotel Cappuccino
The Hotel Cappuccino is an inspired destination located in Gangnam, the southern heart of Seoul. It is the perfect home away from home for local guests, international travelers, or anyone looking for a fun, friendly, urban lifestyle hotel. The lobby houses massive floor-to-ceiling windows wrapped in polished wood to complete an artfully balanced design.
One of the most unique things about this hotel is that a number of the rooms are single occupancy with a self-serve laundry facility and a gym. The on-site restaurant is a myriad of oriental flavors with a comforting vibe. There is also a rooftop bar and a lower-level café that offers canine-friendly meals to accommodate the hotel's open pet-policy. Hotel Cappuccino is the perfect destination for the on-the-go business traveler or a local looking for a staycation.
Hotel details
Address: 
155, Bongeunsa-ro, Gangnam-gu, Gangnam-Gu, 06122 Seoul, South Korea.
Guest rating:
4.2 out of 5
Price per night:
From $65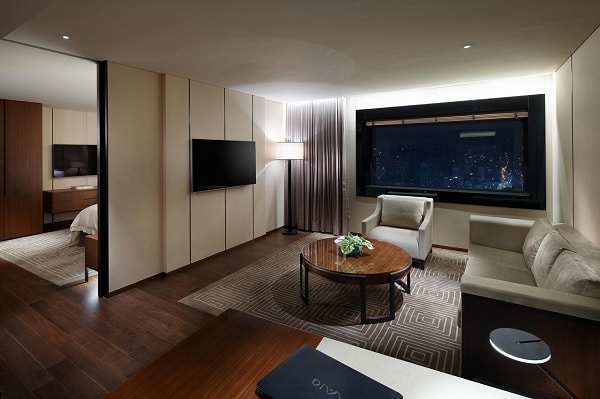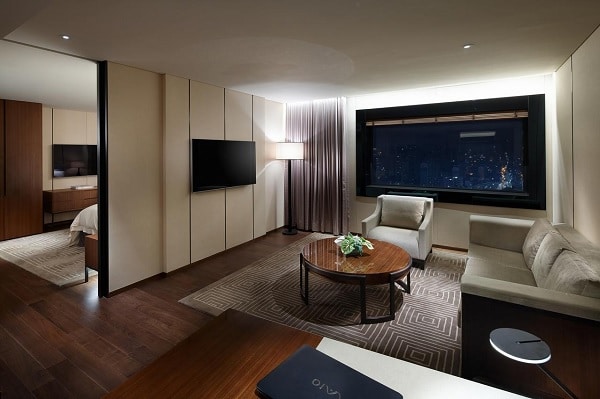 The Shilla Seoul
The Shilla Seoul is one of the best hotels in all of Korea. It is the home to contemporary design blending with patterns used in the Shilla Dynasty. It is known as a complete lifestyle destination with legendary service and hospitality. Though it is far from most of the city's popular attractions, the hotel offers a free shuttle service to ensure that its guests are able to experience the city.
The main building is flooded with restaurants serving delicious cuisine from around the world and retail stores offering global brands. It also houses a pool and a luxurious spa with 10 treatment rooms and a fitness center with a lap pool. The Urban Island is a stunning rooftop leisure space that features outdoor lounge pools, cabanas, Jacuzzis and sunbeds.
Hotel details
Address: 
249 Dongho-ro, Jangchung-dong, Jung-gu, Seoul, South Korea.
Guest rating:
4.5 out of 5
Price per night:
From $200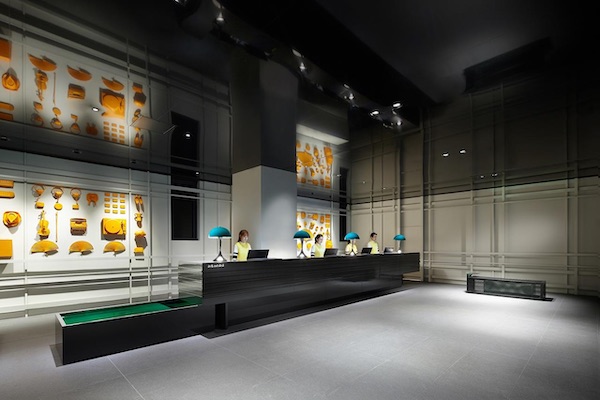 L7 Myeongdong
Perfectly located with a clear view of the Namsan Mountain peak and park, the L7 Myeongdong is effortlessly chic and contemporary. It is a lifestyle hotel with a cozy atmosphere that is located conveniently near some of Seoul's major shopping destinations and tourist attractions.
The hotel makes guests feel right at home, giving free bottled water with their stay and complimentary Wi-Fi in public areas as well as in all 245 rooms which are spread over 15 floors and styled simplistically with crisp linens and pale woods. Though they are not exceptionally large, they offer just the right amount of space and are well designed. The lobby is under 24-hour video surveillance, so guests always feel safe. L7 is home to a rooftop bar with a foot spa and a small gym.
Hotel details
Address: 
137, Toegye-ro, Jung-gu, Jung-Gu, 04537 Seoul, South Korea.
Guest rating:
4.5 out of 5
Price per night:
From $85
Hotel Crescendo Seoul
The Hotel Crescendo, located in Gangnam, was built in 2018. It is a beautiful 103 room hotel with onsite dining. Its modern yet classic aesthetic creates the perfect vibe created by the comfort of home and the perfect escape to a city. Designed to provide a unique and luxurious experience using its comforting interior and welcoming atmosphere. Hotel Crescendo's rooftop terrace bar offers views of this city and a bistro serves modern takes on classic Korean dishes.
The contemporary neighborhood of Gangnam is filled with history and ancient templates as well as modern skyscrapers and shops. The hotel is located in the heart of the district and is distinguishable from other corporate hotel chains with its colorful and charming décor and petite yet glamourous rooms.
Hotel details
Address: 
428, Bongeunsa-ro, Gangnam-gu, Gangnam-Gu, 06153 Seoul, South Korea.
Guest rating:
4.0 out of 5
Price per night:
From $55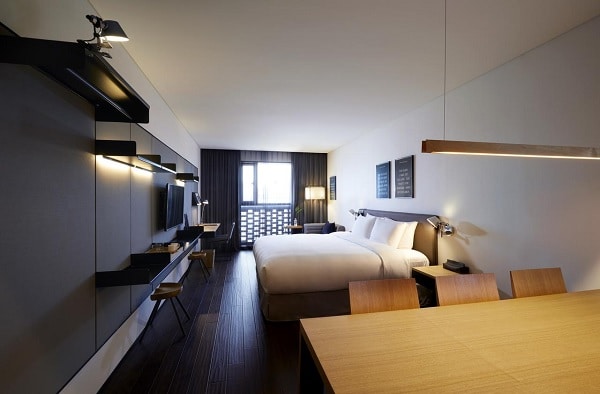 Glad Hotel Yeouido
The Glad Hotel is the perfect blend between simple and luxurious, offering vast amounts of space by utilizing open shelving and thoughtful design. This destination is a member of Design Hotels and is located in the glamorous skyscraper-filled district of Yeouido. The area is often compared to Manhattan, and Glad has a prime city location right off the National Assembly Subway Station.
This particular building differs from its modernist glass neighbors with the brick that has been used in the exterior and interior. The guest rooms are warm and welcoming and each one has its own minibar and safe. Bar Mark T is inspired by Mark Twain and serves the city's most extensive and unique collection of single malt whiskey.
Hotel details
Address: 
14 Uisadang-daero, Yeoui-dong, Yeongdeungpo-gu, Seoul, South Korea.
Guest rating:
4.4 out of 5
Price per night:
From $102
When visiting Seoul, you cannot go wrong when opting to stay in one of the many incredible boutique hotels throughout this city. Any of these accommodations will welcome all travelers with open arms and big smiles.
About our boutique hotel recommendations in Seoul
We are a travel research company. We help you discover the best boutique hotels in Seoul by researching the internet for you. It's not just our opinion, it's the opinion of many travelers who have been there before you. We make it easy for you to find out about cool design hotels and unique design hotels in the city. Some of them might be so romantic you might not want to leave your room.
Please note, we only list hotels that have an aggregated guest review rating of at least 4.0 out of 5. We aggregate all reviews from different booking sites and other unbiased review websites. Hence, you can be certain all hotels listed above offer you a great stay in Seoul.
Best price guarantee
We partner with Booking.com and Hotels.com to provide you with the lowest price guarantee on your stay in Seoul! Both those websites offer price matching. That ensures that you are paying the lowest price available online. If you find a cheaper offer on another website for the same cool hotel in Seoul at least 24 hours before check-in, contact them to claim a refund of the difference!
Top 5 boutique hotels in Seoul
Before you go, let's summarize this guide. Based on thousands of guest reviews and tips from travel experts, these are the best boutique hotels in Seoul:
More Seoul tips
If you like our guide above, you should also check out our other articles about Seoul: