Copenhagen, Denmark's capital city, is split between the islands of Zealand and Amager. The city exudes happiness. Denmark was rated the "happiest country in the world," and Copenhagen is the country's happiest city. If you visit, it isn't hard to see why. Its beautiful canals, architecture, and delicious food are enough to make any visitor smile.
Visitors love exploring Copenhagen's many sights. One of the best ways to see these is by bike, with over 250 miles of bike lanes winding through the city. Copenhagen almost looks more like a town than a large city. Its skyline is devoid of towering skyscrapers. Instead, modern buildings stand side-by-side with colorful traditional architecture. People love exploring the docks, visiting the Little Mermaid statue, going to the Tivoli Gardens theme park, and exploring the city's green spaces.
Here are the five best hostels to stay at while exploring the wonderful city of Copenhagen:
Copenhagen Downtown Hostel
The Copenhagen Downtown Hostel is centrally within a 10-minute walk from Tivoli Gardens, Central Station, and the center. It is just minutes away from exciting nightlife, world-class museums, galleries, and theaters. The rest of the city is easily accessible by nearby public transportation.
The hostel has a chic and cozy retro Scandinavian vibe. There are 83 private rooms, dorm rooms, and female-only rooms for guests to choose from. The lounge has a bar with a nightly Happy Hour special. Guests have access to complimentary Wi-Fi and rental tablets. The hostel has a delicious all-inclusive breakfast buffet and an all-day restaurant. Walking tours are offered daily in the morning or afternoon.
Visitors love the great location, meeting other guests, and friendly staff.
Hostel details
Address:
Vandkunsten 5, Copenhagen, Denmark.
Guest rating:
4.4 out of 5.
Price per night:
from $26.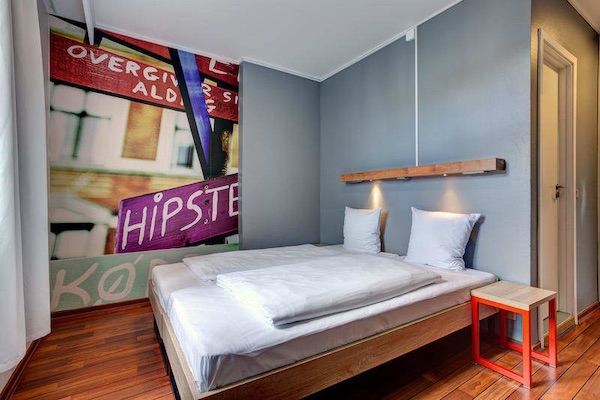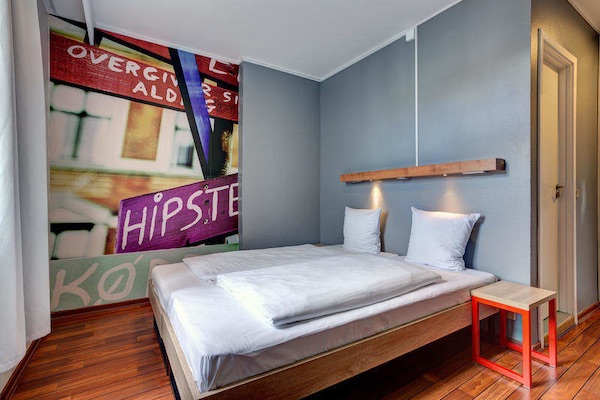 Urban House Copenhagen by Meininger
Located right in the core of Copenhagen, the Urban House Copenhagen is in the vibrant Vesterbro neighborhood. The Tivoli Gardens and Strøget shopping district are both within 10 minutes of the hostel. If you want to see all these sights by bike, the hostel offers bike rentals.
The hostel has a trendy and modern feel. Guests can enjoy the on-site bar, courtyard, game room, and billiards room. There is also a quiet room and cinema room for guests who prefer a calmer atmosphere. Rooms available are either private or dorm-style. Perks include free walking tours and happy hours. Amenities include a personal locker, Wi-Fi, kitchen, and laundry room.
Highlights include the vibrant neighborhood, large and comfy rooms, and social activities.
Hostel details
Address:
Colbjørnsensgade 5-11, Copenhagen, Denmark.
Guest rating:
4.5 out of 5.
Price per night:
from $24.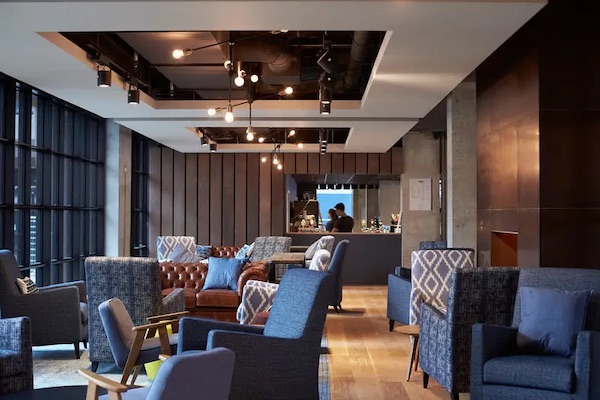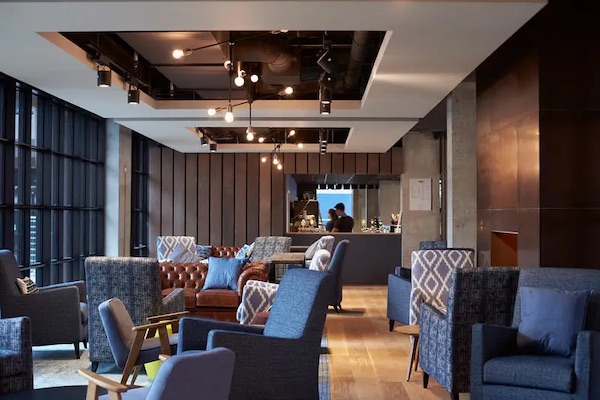 Steel House Copenhagen
The Steel House Copenhagen hostel has an excellent location for visiting the Tivoli Gardens, the Nyhavn waterfront, and Christianborg Palace. The Little Mermaid statue is within 45 minutes by foot. For all other sights, you can hop on the metro and visit any destination in the city.
This hostel has a sleek, industrial-chic décor. Private rooms are single, double, or quad style, and dorm rooms are mixed or female-only. There is a communal kitchen, bar, cinema room, lounge, and gym with an indoor pool on-site. Social activities include free group morning runs, daily walking tours, and yoga classes. If you adore nightlife, you can enjoy free entry at RUST nightclub.
Guests enjoy the fantastic facilities, excellent location, and fun activities.
Hostel details
Address:
Herholdtsgade 6, Copenhagen, Denmark.
Guest rating:
4.3 out of 5.
Price per night:
from $29.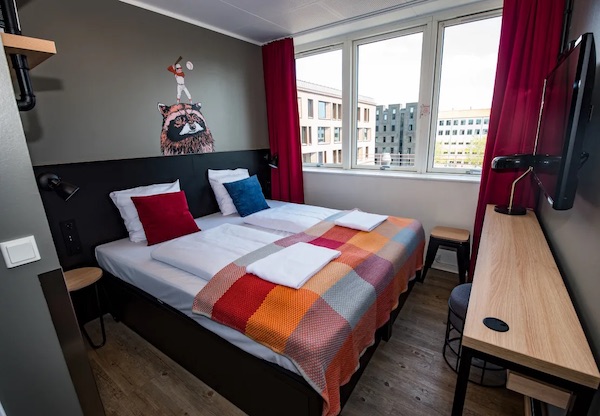 Generator Copenhagen
The Generator Copenhagen is well-located next to the city's largest square, Kongens Nytorv. This central destination makes it easy to explore on foot and enjoy the bar and café culture. It is near the Christiansborg Slot, the National Museum of Denmark, and Rosenborg Castle.
The hostel offers modern, artistic rooms with a variety of setups. Rooms available are dorms and private rooms with twin, double and quad beds. Your belongings will be safe in the under-bed lockers. Rooms are equipped with a jacuzzi-style bathtub and walk-in shower. There is a terrace, game room, and library. Guests can enjoy the on-site bar and lounge for live entertainment and drinks.
People love this hostel's central location, great atmosphere, and overall cleanliness.
Hostel details
Address:
Adelgade 5 -7, 1304 Copenhagen, Denmark.
Guest rating:
4.1 out of 5.
Price per night:
from $18.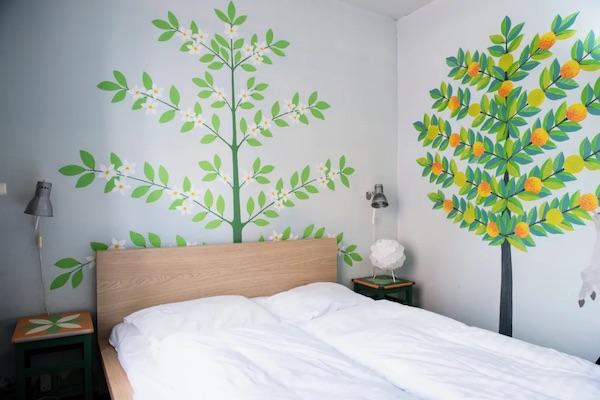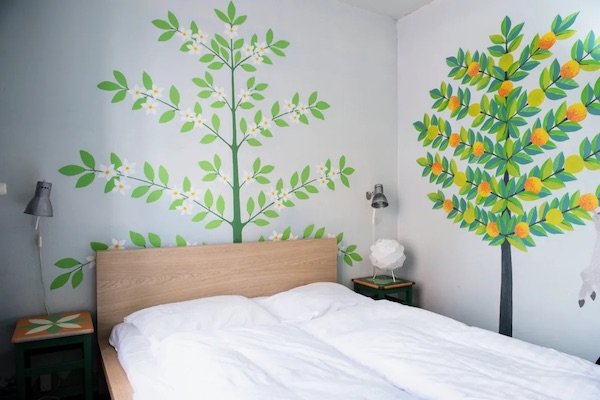 Sleep in Heaven
Sleep in Heaven is located in the multicultural Nørrebro neighborhood. Nørrebro is famous for trendy alternative bars and second-hand shops. It is located near the Assistens cemetery and takes 10 minutes to walk to the metro. From there, all of the sights in Copenhagen are within reach.
This youth hostel caters to guests between the ages of 16-35 for dorms and 16-45 years old for private rooms. The décor is bright and colorful. Guests can enjoy a common area, café, courtyard, and bar. Sleep in Heaven provides complimentary city maps, a pool table, board games, and Wi-Fi for visitors. The staff here are happy to make recommendations for your trip.
Visitors love the Nørrebro neighborhood, friendly staff, and cozy aesthetic.
Hostel details
Address:
Struenseegade 7, Nørrebro, 2200 Copenhagen, Denmark.
Guest rating:
4.6 out of 5.
Price per night:
from $27.
About our Copenhagen hostel recommendations
Whether you're a solo traveler looking for a private room, or a backpacker traveling around in a group wanting to stay in a cheap and cozy dorm, above you will find the best hostels in Copenhagen for all your needs.
Please note, we only list hostels on our website that have an aggregated guest review rating of at least 4.0 out of 5. We aggregate all reviews from different booking sites and other unbiased review websites. Hence, you can be certain all hostels listed above offer an excellent value-for-money stay in Copenhagen.
Best price guarantee
For our hostel recommendations, we work together with Hostelworld and Booking. These partnerships don't have any influence on the recommendations we make or on the order in which our recommended hostels are listed. The reasons why we have chosen to partner with these companies is that they're trustworthy, offer excellent service and they both apply the best price guarantee. This means you can claim a refund for the difference if you find your reservation cheaper on another website. It has to be for the same property, accommodation type, dates, cancellation policy and conditions, otherwise, you can't claim the refund for the difference. If you book through Booking.com then all you need to do is contact them at least 24 hours before your check-in date. If you book through Hostelworld you must claim the refund within 24 hours after you made the booking.
Top 5 hostels in Copenhagen
To summarize again, based on thousands of guest reviews, these are the best hostels in Copenhagen:
Why you should be careful when booking the cheapest hostel available
The cheapest hostels available are typically not in a great location. If you want to go sightseeing or go for a night out in central Copenhagen, you probably end up having to pay for public transport or a taxi to get there. So your stay could end up being more expensive compared to a stay in a central location. For first-time travelers, we recommend staying central anyway, but also for frequent visitors, it's probably worth it to pay a bit more to stay in a central location.
Another reason why you shouldn't stay at the cheapest hostel is that the people staying at the cheapest hostels are often not the people that can afford to travel like you. Because a very cheap hostel is often cheaper than renting a flat, these places tend to attract migrant workers or local misfits. That's probably not the crowd you want to hang out with, especially if you're a solo traveler looking for friends.
The third reason why you should avoid the cheapest hostels is safety. Some of the cheapest hostels don't check IDs, don't ask for signatures, or only accept cash at check-in. The hostel won't know who is actually staying there.
Lastly, the service at these hostels isn't great. For instance, if you choose to store your luggage, your bags will be unattended in a public space. It won't be recorded anywhere or tagged and stored in a locked room.
So, it's probably worth it to spend a bit more on your hostel stay in Copenhagen.
And finally, a tip: always read the latest reviews of the hostel! All places have good and bad reviews, but the most recent reviews matter the most.
More Copenhagen tips
Get to know the city even better and check out our other articles about Copenhagen:
Best cheap hotels in Copenhagen
Best boutique hotels in Copenhagen
Best luxury hotels in Copenhagen