Copenhagen is famously known for being the happiest city in the world and lives up to its reputation well! It offers a relaxed and slow-paced life with liberal social attitudes, a hippie commune, and an amazing approach to modern-day design. The city offers visitors a lot to see and do, an impeccable transportation system, and some of the best Danish cuisine options in the country.
The City of Copenhagen isn't only the happiest in the world but also the greenest and most sustainable as well. With a lot of backing and support from the government, national and sustainable projects have been put in place although out the county, especially in Copenhagen. Businesses and residents go above and beyond to do their part and hope to become totally carbon-neutral by 2025.
Finding sustainable and eco-friendly hotels in Copenhagen should not be hard to find. Whether you are looking for comfort, relaxation, or amenities and services, there are bound to be accommodation options that suit your desires. Take a look at 5 of the best sustainable hotels in Copenhagen.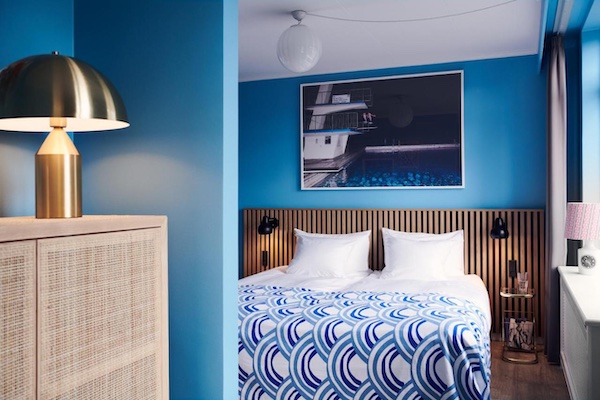 Coco Hotel
Coco Hotel is a sustainable boutique hotel in Copenhagen designed to make guests always feel happy and right at home. The property does a great job blending modern, vintage, and classic designs all into one. Step inside for a breath of fresh air in Copenhagen, and be at peace of mind that your stay is environmentally friendly as possible.
Located in Vesterbro, the Parisian-style hotel offers guests easy access to various points of interest in the city by foot, bike, or public transportation and is within walking distance of Central Station and Tivoli Gardens. All rooms faced the center courtyard of green and luscious serenity, and the interior design is classy with a hint of Danish flare. Breakfast is available across the street at Delphine Restaurant, in addition to an onsite ping pong table, summer terrace, and hospitable and informative staff that are always happy to help.
What makes Coco Hotel sustainable
Coco Hotel is a great sustainable and eco-friendly hotel in Copenhagen for multiple different reasons. The property takes part in donating trees to Mexico and Tanzania from the profits of each and every room booked, and earned the Green Key label in 2018. The property is fully self-sufficient serving all organic food, using water-saving programs, and the entire property is run off on solar-powered energy. Additionally, if guests arrive by bike, they will earn 10% off their stay.
Hotel details
Address: 
Vesterbrogade 41, Vesterbro, DK-1620 Copenhagen, Denmark.
Guest rating:
4.3 out of 5
Price per night:
From $106
Hotel Ottilia
Hotel Ottilia is a luxury boutique hotel in the heart of Copenhagen. Famous for winning various awards over the years, it is a favorite among frequent travelers and visitors. With state-of-the-art technology, nightly wine hours, and amazing hospitality, it's an ideal option in Copenhagen.
Located in the district of Carlsberg, Hotel Ottilia is within walking distance from Tivoli Gardens and Copenhagen Central Station, which can take you anywhere you'd like to go. The property features multiple restaurants, bars, lounges, and a complimentary wine hour for all guests. A 360 view of the city can be seen from the top-floor Italian restaurant during a daily organic breakfast and bike rentals for an even more sustainable stay. All rooms come equipped with free toiletries and private bathrooms, televisions, and high-speed internet.
What makes Hotel Ottilia sustainable
Hotel Ottilia is sustainable by having Sustainable Development Goals in place, as well as having a Green Key Certification. They set goals to reduce waste and consumption, and the entire property operates on renewable electricity sources. Additionally, an all-organic breakfast is offered to guests using as many local products as possible.
Hotel details
Address: 
4 Pasteursvej, Vesterbro, 1778 Copenhagen, Denmark.
Guest rating:
4.3 out of 5
Price per night:
From $118
Axel Guldsmeden
Axel Guldsmeden allows guests to reduce their carbon footprint with a relaxing stay, and is a beloved favorite of many eco-friendly travelers. Pet lovers will enjoy a happy atmosphere for their favorite pals, and the cozy courtyard makes it feel just like home. It's an ideal place to base yourself before exploring the green and vibrant wonders of Copenhagen.
Located in the attractive district of Vesterbro, Axel Guldsmeden is surrounded by fun things to do and is within walking distance of Tivoli Gardens and Copenhagen Central Station. All rooms have a fun and unique decor, stocked with traditional amenities, private bathrooms, televisions, wifi, Persian rugs, and iLoveEcoEssential bath products. There are also 4 penthouse suites, with private balconies and hot tubs. The hotel features an onsite spa, skin treatment center, sauna, pool, and relaxation area. Daily breakfast is served buffet style, and cocktails and coffee are available from the bar throughout the afternoon and evening.
What makes Axel Guldsmeden sustainable
Axel Guldsmeden is sustainable by using renewable energy sources and water conservation practices throughout the entire property. All towels and bed lines are made from organic natural cotton, being GOTS certified and the hotel has been awarded a label certification for its high level of organic food, of 99%.
Hotel details
Address: 
Colbjørnsensgade 14, Vesterbro, 1653 Copenhagen, Denmark.
Guest rating:
4.2 out of 5
Price per night:
From $145
Hotel SP34
Hotel SP34 strives to give guests a sustainable and extraordinary experience while in Copenhagen. Great care and attention is the mission of the property, and the warmth and care in the hospitality are hard to beat. Hotel SP34 is one of the city's most unique and attractive hotels, and the surrounding area is just as quirky and exciting.
Located in the Latin Quarter, Hotel SP34 is one of the trendiest and greenest hotels in the city. It is surrounded by cute boutiques, restaurants and cafes, design stores, and pastry shops, making it impossible to ever be bored during your stay. The rooms are uniquely designed, featuring one-of-a-kind headboards, and are perfect for photo opts. The hotel provides guests every day with wine hour from the biggest selection in the city, daily nightcap hour, high speed wifi, fresh coffee, and cozy social areas all throughout the property.
What makes Hotel SP34 sustainable
Hotel SP34 is one of the best sustainable choices in Copenhagen. It's certified by Green Key for its eco-friendly practices and plans on reducing its total energy by 7% by 2025. They do their best to limit waste and use recyclable products, including 100% renewable energy sources for all electricity throughout the property. Additionally, their organic breakfast is provided only by local producers who also practice sustainability procedures.
Hotel details
Address: 
Sankt Peders Stræde 34, 1453 Copenhagen, Denmark.
Guest rating:
4.2 out of 5
Price per night:
From $160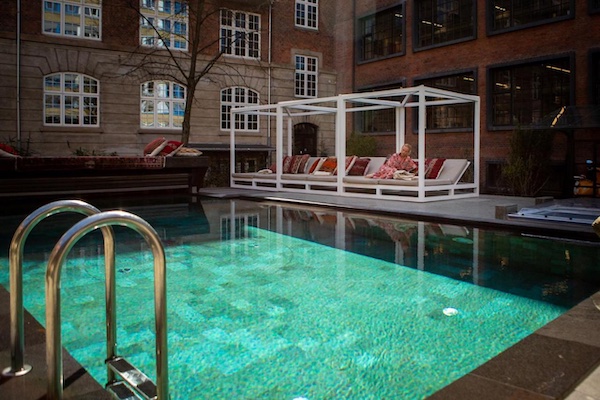 Bryggen Guldsmeden
Bryggen Gukdsmeden is an urban eco-friendly resort in the center of Copenhagen. Known as the most successful sustainable luxury hotel in the city, guests can rest assured they are doing their part to keep the environment safe. The hospitable staff goes above and beyond to keep guests happy and will assist you during every moment of your stay if need be.
Located in the trendy district of Island Brygge, Bryggen Guldsmeden is within walking distance from the Brygge metro station and the Copenhagen harbor front, making it a convenient place to stay while in the city. Rooms are designed with a Nordic-Bali vibe, private bathrooms, televisions, and all organic bed linens and towels. The property features an onsite restaurant to keep you full and healthy, serving only freshly prepared organic products. It also features an onsite fitness center, pool, sauna, and bike rentals, and is a pet-friendly facility to cater to all furry friends.
What makes Bryggen Guldsmeden sustainable
The Bryggen Guldsmeden is sustainable by promoting renewable energy and animal welfare. All mattresses, pillows, and duvets are made from 100% sheep wool, which is happy to help keep the planet clean. Showers are able to save up to 90% of water thanks to NASA's innovative technology, and all rooms are stocked with iLoveEcoEssentials products, keeping all travelers using products that are eco-friendly all throughout their journeys.
Hotel details
Address: 
4 Gullfossgade, Amager Vest, 2300 Copenhagen, Denmark.
Guest rating:
4.4 out of 5
Price per night:
From $149
How we select the best eco-friendly hotels in Copenhagen
We are a travel research company. We check a lot of details and guest reviews before making a selection. First, we check which hotels follow eco-travel principles. Are they recycling their waste? Do they work with local communities? Are they using renewable energy? Are they not using single-using plastics?
Secondly, we check guest reviews across multiple websites and only list hotels with an aggregated review rating of at least 4 out of 5. So you can be confident you will stay at an excellent eco-friendly hotel in Copenhagen.
Sustainable travel is the key to enjoying a responsible and meaningful trip. You can make a difference in the environment and the communities you visit with the right sustainable travel tips. From packing light to choosing eco-friendly transportation and accommodations, there are plenty of ways to reduce your environmental impact.
More Copenhagen guides
Get to know the city even better by reading our other articles about Copenhagen: