Between the food, business, bars, and live music, Nashville is a hotbed for having a fantastic time. There is so much to do in Nashville that it is a very underrated destination on the grand scope of American tourism.
Nashville is also a lowkey business area that has a lot going down. Especially with top businesses and personalities moving out of the big cities and finding more fruitful lands, Nashville has seen a boom in industry and business.
Whether you are here for a new business opportunity or just to have some fun, there are some great accommodations located in the city. One of the best ways to ensure that your stay will be up to par is by staying in a luxury hotel.
Here are three of the best luxury hotels located in Nashville!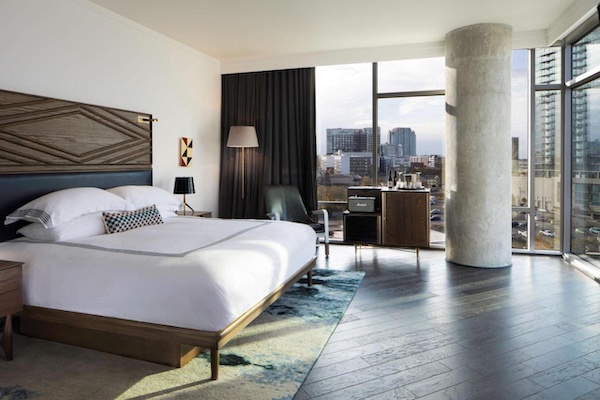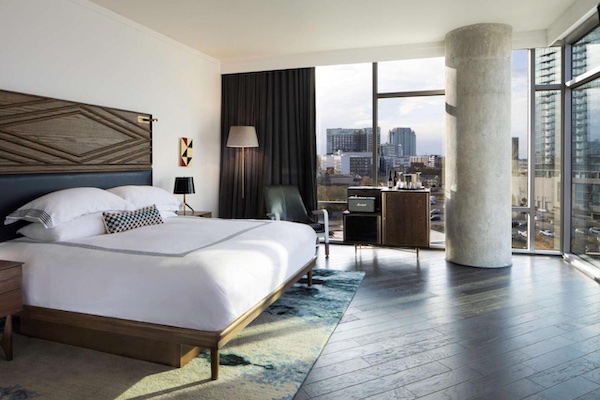 Thompson Nashville
To kick off our list, we have the Thompson Nashville. This is an awesome luxurious spot that is very boutique but too large to be classified in that way. There are a total of 224 rooms available. So, it is not too big and not too small, at least by Nashville's standards. The Music City can be pretty busy, so staying in a place that values you as an individual guest is important.
With the plethora of rooms available, there are some awesome opportunities to upgrade. There are rooms such as a neighborhood view king, city view king, city view double, and the executive suite on top of the normal rooms. If your budget allows, go ahead and upgrade to better accommodation when it is available.
There are also some great amenities that come along with the price of admission, and sometimes just a little bit more. One unique amenity is the rooftop bar. This gives you awesome views of Nashville while giving you the chance to grab a drink with friends right on site. There is also a restaurant, spa with full treatments, free internet, and much more. The Thompson Nashville spares no expense in providing you with the best accommodations possible.
Hotel details
Address: 
401 11th Avenue South, Nashville, TN 37203, United States of America.
Guest rating:
4.4 out of 5
Price per night:
From $260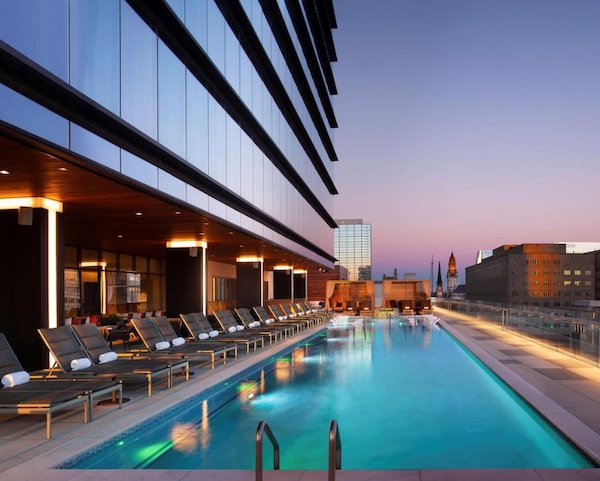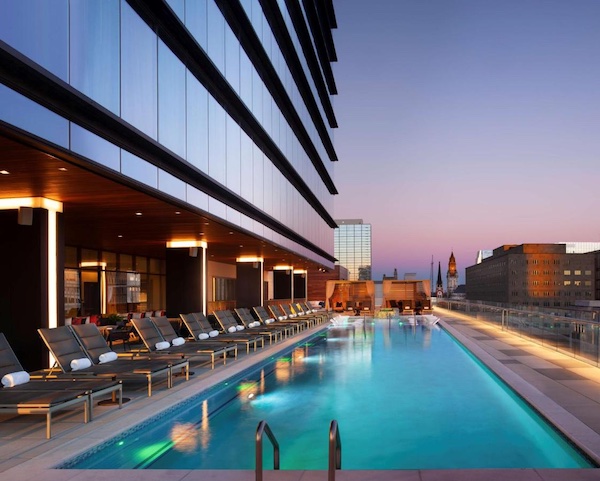 Grand Hyatt Nashville
Right by Bridgestone Arena and a plethora of awesome restaurants, the Grand Hyatt Nashville is an awesome option for anyone who wants the full Nashville experience. This is also a location that has an awesome lineup of amenities that will make you want to stay in rather than go out.
A really cool feature is the pool and bar setup that will have you relaxed and having a good time all in one package. There is also a delicious restaurant, so if you feel like staying in for an evening, the option is there and better than ever.
If you want even more relaxation, there is a full spa with the opportunity to purchase treatments right there in the Hyatt. This is a great perk because not all hotels, even the luxury ones, will have a full spa on site.
In terms of accommodations, there are a number of great rooms in the Grand Hyatt. Some examples include the Broadway Corner Suite, Grand Corner Suite, rooms with great views, and more. This is all on top of the regular rooms that are still of great value. So, the options to upgrade are there for the taking.
Hotel details
Address: 
1000 Broadway, Nashville, TN 37203, United States of America.
Guest rating:
4.5 out of 5
Price per night:
From $220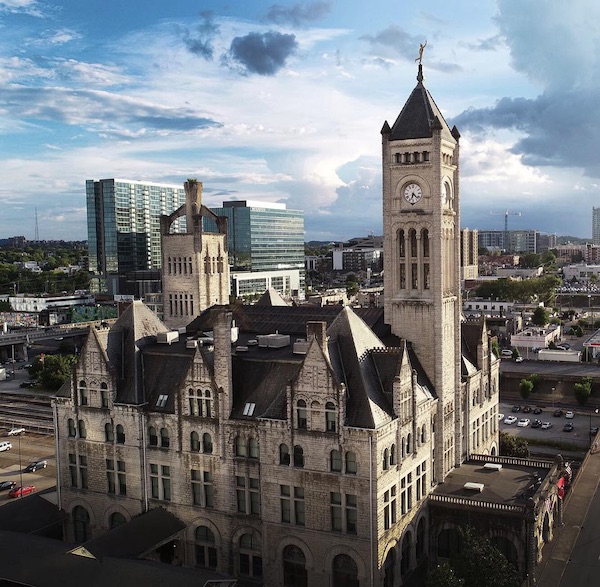 Union Station Hotel
The final luxurious spot in Nashville on our list today is the Union Station Hotel. This is a historical location that has the real Tennessean charm that comes along with the stay. With just 125 rooms, you are getting a more exclusive stay while still being in Nashville and experiencing what the city brings to the table.
Now, the physical location is a true selling point that cannot be ignored. It is as central as central can get in Nashville. This means that you will have quick and easy access to a number of great spots in the city. After all, you are probably in Nashville to experience everything it has. Setting yourself upright in the middle of all the fun is the best way to see it all.
This is a hotel that keeps it simple and gives you a great avenue to venture out. They do not try to overdo it with all of the amenities and add-ons. It is quite luxurious but in a simple, subtle kind of way. There is a restaurant and bar in the hotel, which is a nice perk. But, you will also be within walking distance to some of the best restaurants in the entire city.
Hotel details
Address: 
1001 Broadway, Nashville, TN 37203, United States of America.
Guest rating:
4.5 out of 5
Price per night:
From $205
About our luxury hotel recommendations in Nashville
We are a travel research company. Our team helps you discover the best luxury hotels in Nashville by researching the internet for you. We have also visited some of these places. Hence, it's not just our opinion, it's the opinion of many travelers who have been there before you. We make it easy for you to find out about the most luxurious and exclusive 5-star hotels in the city.
Please note, we only list hotels that have an aggregated guest review rating of at least 4.0 out of 5. We aggregate all reviews from different booking sites and other unbiased review websites. Hence, you can be certain all hotels listed above offer you a great stay in Nashville.
Best price guarantee
We partner with Hotels.com and Booking.com to make sure you get the best price for your stay in Nashville! Both sites offer price matching. That means you pay the lowest prices for your stay. If you find a cheaper offer on another website for the same luxury hotel in Nashville at least 24 hours before check-in, contact them to claim a refund of the difference!
Top 3 luxury hotels in Nashville
Now that you've gone over this guide, let's summarize it. We got to know what the best 5-star hotels in Nashville are thanks to thousands of guest reviews and tips from travel experts:
More Nashville guides
If you like the advice we've given you above, make sure to check out some of our other articles about Nashville:
Best cheap hotels in Nashville