Eco-friendly travel is becoming increasingly common in popular cities around the world. Travelers no longer want to simply visit a destination. They want to ensure they're doing so in a sustainable way. While green eco-tourism is becoming more frequent, there is no destination more popular for sustainable travel than Chicago.
The Windy City is a world-renown destination, attracting visitors from far and wide. With popular attractions like Millenium Park, Wrigley Field, Navy Pier, the Shedd Aquarium, and more, it's no wonder that Chicago makes a great vacation hotspot. Like most cities, the best time to visit is in the shoulder seasons, between April and May, and between September and October, in order to get ahead of the crowds while still getting to enjoy beautiful weather.
If you're like most eco-travelers, trying to find the best sustainable hotels can be challenging. With so many hotels to sort through, it's not always easy to determine which of them is the most sustainable. Fortunately, we did most of the research for you!
Below, you'll find our expert list of the 5 best sustainable hotels in Chicago. We've only included the best of the best, looking at things like LEED certification, recycling, waste reduction programs, overall energy efficiency, and sustainably-sourced cuisine. We know you're doing your part to reduce your carbon footprint, and that's why we think it's important that you stay at the hotels that are doing their part too!
Read on to learn more about the 5 best sustainable hotels in Chicago.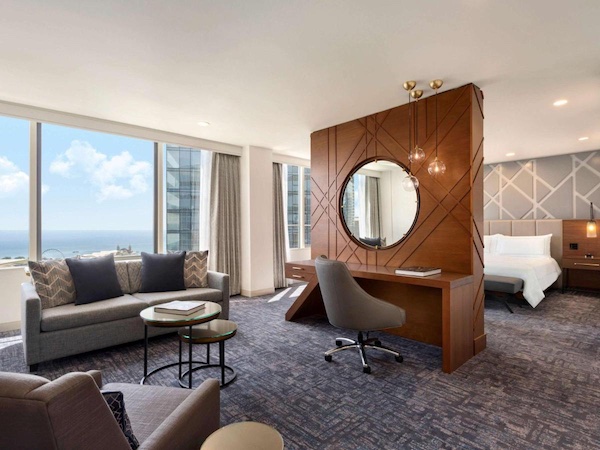 Swissotel Chicago
First and foremost, we've got to mention Swissotel Chicago. This award-winning luxury hotel overlooks Lake Michigan and the Chicago River. Originally designed by Harry Weese, a renowned architect in Chicago, this incredible hotel offers wrap-around views all the way from Navy Pier to Millenium Park. The hotel is comfortably nestled in the New Eastside and close to several parks. You'll also find the Buckingham Fountain and the Chicago Theater, among popular attractions in the area.
The hotel itself offers a modern, sleek design. Upon walking into the lobby, guests will immediately recognize the extravagant lighting and decorations adorning the interior. There are 662 generously sized guest rooms and suites available, along with a fitness center, a game room, a spa, and a lounge area. Guests seeking to dine in can enjoy the lavish Palm restaurant, an Italian seafood steakhouse.
What makes Swissotel Chicago sustainable
Swissotel Chicago is also part of the Accor sustainability program, meaning they maintain their requirements to provide more sustainable and eco-friendly travel. For example, the hotel invests a percentage of revenue back into sustainable community projects around the Chicago area. They have also removed single-use plastics from their premises, while also offering water-efficient utilities in each public area and private guest room. You'll also find that most of the food served at the Palm is locally sourced, and any food waste leftover is minimized to reduce its environmental impact. If you'd like to tour around the city in a sustainable way, the hotel also offers bicycle rentals for guests to enjoy.
Hotel details
Address: 
323 East Wacker Drive, Chicago Loop, Chicago, IL 60601, United States of America.
Guest rating:
4.1 out of 5
Price per night:
From $195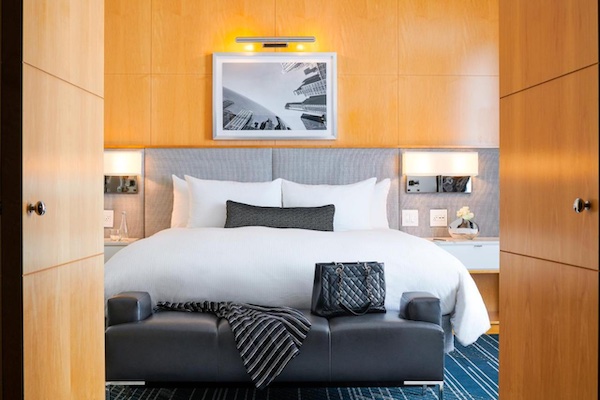 Sofitel Chicago Magnificent Mile
Located in the heart of the Gold Coast Historic District, the Sofitel Chicago Magnificent Mile brings a creatively re-imagined French flair to the Windy City. Within Chigaco's many regions, the Magnificent Mile itself is also one of the most popular districts of the city. With more than 460 stores, 275 restaurants, and tons of unique entertainment opportunities packed in this square-mile district, you'll undoubtedly have more than enough to do. What's even better, it's all within walking distance too.
In terms of its design, the stylish avant-garde interior is a dazzling mix of lush tones and fine blue steel decor. The rooms and suites themselves are also spacious and well-kept to provide a clean and calming atmosphere. The entire 20th floor is also equipped entirely with hypoallergenic rooms to better suit guests with asthma or chronic allergies. In terms of cocktails and dining, be sure to check out two popular attractions within the hotel, Le Bar and La Terrace.
What makes Sofitel Chicago sustainable
As for Sofitel Chicago's sustainability practices, they also exceed in their offerings to provide guests with a truly eco-friendly environment. The hotel has been certified by the Green Key Global Eco-Rating. They also offer an electric car charging station, the option to reuse towels and have recycle bins available in every room. In addition, Sofitel Chicago has removed all single-use plastics and has instead replaced them with reusable kitchenware. The restaurant and bar itself also take extra steps to reduce waste as much as possible.
Hotel details
Address: 
20 East Chestnut Street, Chicago, IL 60611, United States of America.
Guest rating:
4.4 out of 5
Price per night:
From $215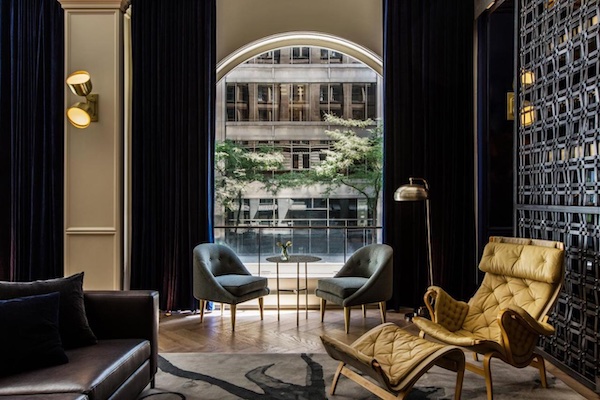 Kimpton Gray Hotel
Located in the Financial District, between Millenium Park and the Willis Tower, the Kimpton Gray is another well-known Chicago hotel. With this hotel's central location on W Monroe Street, you'll be just a few blocks away from famous attractions, like the Art Institute of Chicago and the Field Museum. You'll also find dozens of additional restaurants and bars within the area, each with its own unique flair and charm.
The hotel itself is situated in the historic New York Life Insurance Building originally built in 1894. Taking its name from the beautiful Georgia Gray marble adorning the interior of the building, the style is a blend of art deco and contemporary-styled rooms. Be sure to check out Boleo, the hotel's restaurant and lounge for some innovative Latin-influenced cocktails, enticing food, and vibrant music. Or, if you're looking to be taken back in time for a more sophisticated and suave environment, don't miss out on Vol. 39 for some classic upscale cocktails.
What makes Kimpton Gray sustainable
Kimpton Gray is also a leader in Chicago's sustainable lodging ecosystem. The hotel partners with Clean The World, which provides unused bar soap to impoverished communities around the globe. You may also notice that the entire hotel uses energy-efficient lighting, motion sensor HVAC systems, large refillable shampoo bottles, and an active recycling program for all plastic, glass, and paper products. In addition, the Kimpton Gray's restaurants strive to provide locally-sourced ingredients, farmed using primarily sustainable methods.
Hotel details
Address: 
122 West Monroe, Chicago Loop, Chicago, 60603, United States of America.
Guest rating:
4.3 out of 5
Price per night:
From $190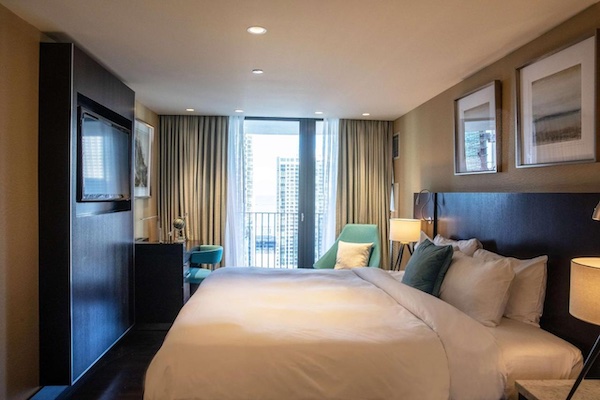 Radisson Blu Aqua
This award-winning hotel in the New Eastside is just steps away from Millenium Park. With its ideal location in the heart of the Financial District, the Radisson Blu Aqua Hotel provides guests with access to tons of incredible nearby attractions. Start your day of sightseeing at Navy Pier, and then tour the Art Institute of Chicago or the Buckingham Fountain before heading downtown to experience the city's nightlife. Be sure to take time to appreciate the calm blue waters of Lake Michigan during your stay also.
The Radisson Blu offers two pools, one indoor, and one on the rooftop, allowing for some extremely spectacular views. They also have a fitness center, an indoor full-sized basketball court, an outdoor jogging track, and a steam and sauna room. The hotel's lifestyle garden additionally provides a perfect oasis amongst the busy city landscape. For guests looking to dine in, you can also take advantage of the incredible FireLake Grill House & Cocktail Bar, serving up some of the most delicious mid-western fares you can find.
What makes Radisson Blu Aqua sustainable
Receiving its LEED certification from Green Key Global Eco-Rating, the Radisson Blu similarly strives to create a happier and healthier environment. The hotel excels at water efficiency, providing guests with water-conserving utilities, as well as the option to opt-out of daily room cleaning. There are also recycle bins located in every room, several electric vehicle charging stations in the garage, and energy-efficient lighting throughout the hotel. For those interested in touring the city by bicycle, guests can also take advantage of the hotel's rentals.
Hotel details
Address: 
221 North Columbus Drive, Chicago Loop, Chicago, IL 60601, United States of America.
Guest rating:
4.0 out of 5
Price per night:
From $188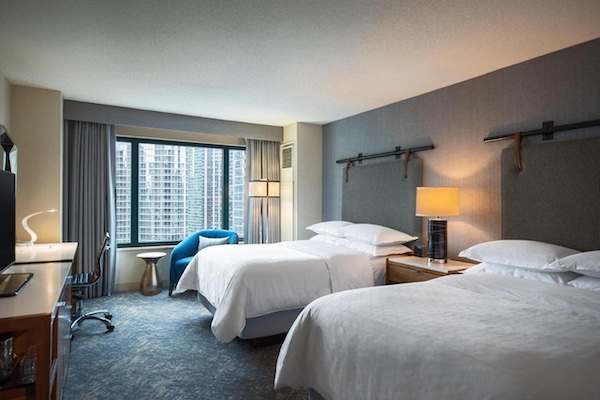 Sheraton Grand Riverwalk
Rounding off our list is the Sheraton Grand Chicago Riverwalk hotel. Located on the other side of the Chicago River from the New Eastside district, the Sheraton Grand is a majestic 4-star hotel overlooking the riverfront as it flows into Lake Michigan. Just to the east, you'll find the famous Navy Pier, and not far north, you'll be just a few blocks away from the Museum of Contemporary Art Chicago as well as the Magnificent Mile.
The lobby of this massive hotel alone is certainly worth taking an extra moment's pause to fully appreciate it. It's also easy to enjoy the fact that every guest room and suite in the hotel has an incredible view, whether it be overlooking the city skyline or Navy Pier stretching out into the waters of Lake Michigan. You'll also want to check out the Chicago Burger Company downstairs, one of the hottest restaurants in Chicago, situated just beside the riverfront. Alternatively, the hotel's other onsite restaurant, Shula's Steak House, serves fresh seafood and steak for dinner each evening.
What makes Sheraton Grand sustainable
When it comes to sustainability, the Sheraton Grand is also doing its part to reduce its eco-footprint. They have removed single-use plastics, provide recycling bins in every room, have water-efficient utilities, and have energy-efficient lighting throughout the hotel. Additionally, the ingredients used in the restaurant cuisine are organic and mostly sourced from local providers. Their double-glazed windows also reduce the amount of energy needed to maintain a comfortable temperature within the building.
Hotel details
Address: 
301 East North Water Street, Streeterville, Chicago, IL 60611, United States of America.
Guest rating:
4.1 out of 5
Price per night:
From $160
How we select the best eco-friendly hotels in Chicago
We are a travel research company. We check a lot of details and guest reviews before making a selection. First, we check which hotels follow eco-travel principles. Are they recycling their waste? Do they work with local communities? Are they using renewable energy? Are they not using single-using plastics?
Secondly, we check guest reviews across multiple websites and only list hotels with an aggregated review rating of at least 4 out of 5. So you can be confident you will stay at an excellent eco-friendly hotel in Chicago.
Sustainable travel is the key to enjoying a responsible and meaningful trip. You can make a difference in the environment and the communities you visit with the right sustainable travel tips. From packing light to choosing eco-friendly transportation and accommodations, there are plenty of ways to reduce your environmental impact.
More Chicago guides
Get to know the city even better by reading our other articles about Chicago: