Chicago is America's third city and a perfect place to visit for music aficionados, sports fans, and foodies alike. While a lot of foreign travelers head to New York, Los Angeles, and Las Vegas, Chicago still attracts its fair share of visitors.
In 2018, the city welcomed 58 million visitors, setting an all-new record. But what draws travelers to Chicago? The city has some of the most iconic tourist attractions in the United States and its cuisine is another top reason people visit the Windy City. If you are looking for a great area to stay in Chicago, then check out these neighborhoods for a brilliant stay.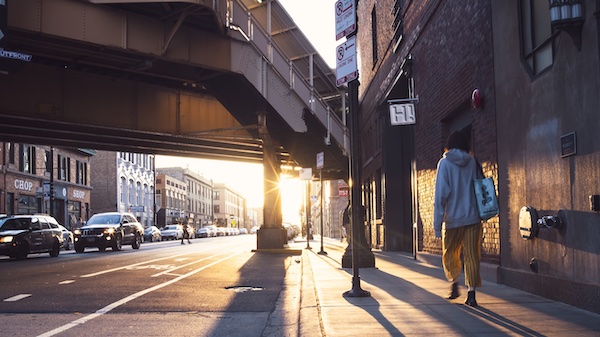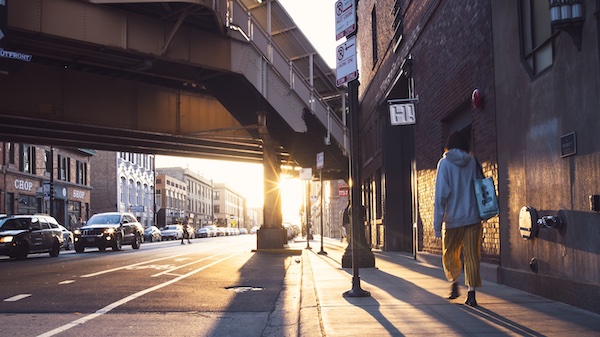 Wicker Park
Wicker Park is to Chicago what Brooklyn is to New York City. It is Chicago's hipster hotspot and tourists visit the area for its eclectic mix of shopping, music, and dining. A lot of Chicago locals will swear they stay away from Wicker Park due to it being a destination for travelers. However, many locals still head to Wicker Park to explore the cool music venues and boutiques found there.
The neighborhood is easy to reach from Chicago's O'Hare Airport. You can fly into the city and reach Wicker Park quickly. It is a hub of Chicago culture thanks to its pubs and the young people that descend on the area making it energetic and vibrant.
If you need a break from Wicker Park's bars and restaurant, try out the 606. Also known as the Bloomingdale Trail, the 606 is an urban walkway that stretches across the surrounding neighborhoods. The trail allows you to enter and exit at multiple points to visit the local shops, bars, parks, and hotels.
Best place to stay in Wicker Park
Hotel The Robey. Address: 2018 W North Avenue, Wicker Park, Chicago, IL 60647, United States of America.

The Loop
The Loop is an incredibly popular area to stay in when visiting Chicago. it is one of the city's three downtown communities and is often favored by newcomers to the Windy City. The neighborhood is bordered on three sides by water. To the north and west is the Chicago River, while to the east lies Lake Michigan.
Chicago's skyline is at its most impressive here. The city's most iconic buildings are located in the neighborhood making it a great place to sightsee. If art and culture is your thing, then there is plenty of it in The Loop. The Art Institute of Chicago is situated in the area and is perfect for a day of exploring. The museum is considered one of the best in the United States for fine and contemporary art.
Locals and tourists flock to Grant Park in The Loop to walk along its beautiful leafy paths. Buckingham Fountain is located in the park and is a popular place to sit and reflect on your day. If you are preparing for your first trip to Chicago, then The Loop is the ideal place to stay. Foodies will love the authentic Chicago-style food served up at local establishments.
Best place to stay in The Loop
Athletic Association Hotel. Address: 12 S Michigan Ave, Chicago, IL 60603, USA.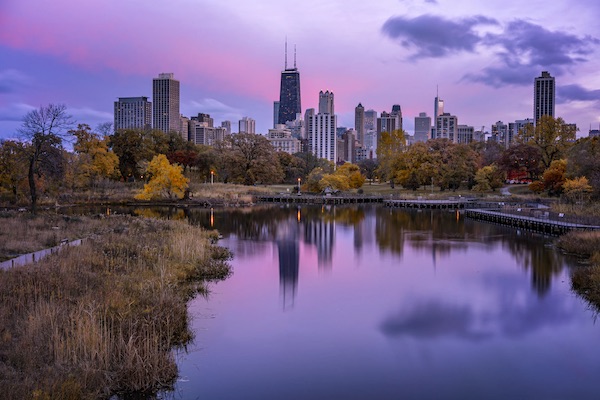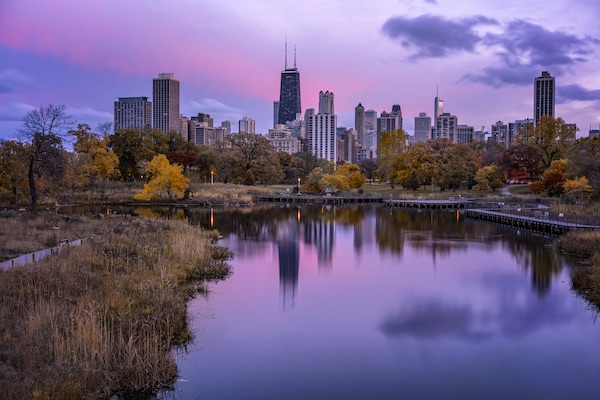 Lincoln Park
Lincoln Park is a mix of individuals from university students to young families to professionals. Its mix of people allows you to rub shoulders with true Chicagoans and taste a true slice of life in the Windy City. One of the reasons people move to Lincoln Park or base their stay at a hotel in the neighborhood is due to the amount of green space. Lincoln Park has 1,200 acres of natural space to discover.
The neighborhood has a wide range of accommodations, from upscale hotels to budget-friendly chains. One of the most popular tourist attractions in the area is Lincoln Park Zoo. The area is near Lake Michigan and walks can be made along the shoreline. The botanical gardens located near Lake Michigan are a must-visit. The Lincoln Park Conservatory is also near the lake and perfect to explore.
Chicago History Museum is situated in Lincoln Park. You can take a dive into local and regional cultures on a visit. When the sun is out and temperatures are warm, North Avenue beach attracts people to its sands.
Best place to stay in Lincoln Park
Hotel Lincoln. Address: 1816 N Clark St, Chicago, IL 60614, USA.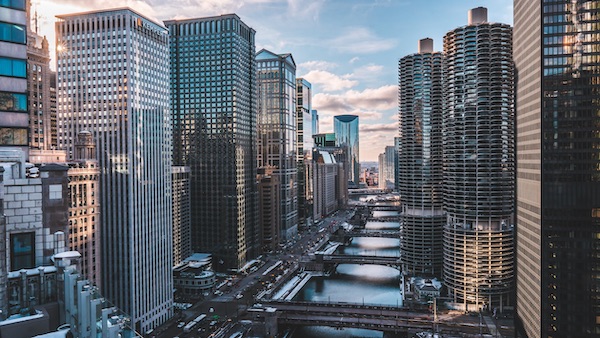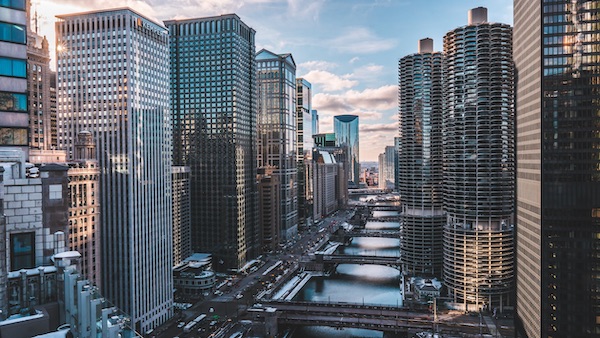 River North
If a night out is high on your list of activities to enjoy in Chicago, then River North is the place to stay in the city. River North isn't just known for its brilliant nights out, however. The area is home to museums, art galleries, and unique places that make Chicago one of the best cities to visit in all of America.
You will find a healthy dose of bars, restaurants, pubs, and cafes scattered throughout River North. It is a popular destination for music lovers due to its venues and you can always find a band playing on the weekend. Chicago's House of Blues is just one of the music venues in the area.
Foodies will fall in love with River North. It has a range of top restaurants with many serving up popular Chicago staples. Fancy true Chicago deep-dish pizza? Then don't miss out on dining at one of the restaurants in the neighborhood.
Best place to stay in River North
Acme Hotel Company. Address: 15 E Ohio St, Chicago, IL 60611, USA.

Wrigleyville
Located on Chicago's northside, Wrigleyville is hipster without being hipster. It has one of the best atmospheres of any neighborhood in Chicago. While Wicker Park and The Loop offer a more touristy version of Chicago, Wrigleyville is authentic, from the people who live there to the bars.
Wrigleyville is synonymous with Major League Baseball club, the Chicago Cubs. The area is named after the Cubs iconic stadium, Wrigley Field, which has been in the Northside neighborhood since 1914. On a game day, hanging out at the sports bars around the stadium is one of the most fun activities you can do. If you happen to get a ticket to a baseball game, you can enjoy the famous Cubs and sample Wrigley Field's great food offerings.
One of the most unique Chicago experiences is to watch a Cubs game from a rooftop apartment that overlooks the stadium. Even if it is difficult to see the game from the rooftop, the atmosphere provided is like no other sports experience.
Wrigleyville's Gallager Way provides free family events throughout the year. You will also find a host of hotels to lay your head when the sun goes down and the party stops.
Best place to stay in Wrigleyville
The Wheelhouse Hotel. Address: 3475 N. Clark St., Lakeview, Chicago, IL 60657, United States of America.

Where travel critics stay in Chicago
Want to know where travel critics from publishers like The New York Times, Frommer's, Fodor's and Lonely Planet stay in Chicago? Check out our overview of all recommended hotels, hostels and B&Bs in Chicago.
Budget
Hampton Inn & Suites Downtown.
"This unique property makes you feel like a road-tripper of yore. The dark-wood-paneled rooms strike the right balance of retro vibe and modern amenities. The central location puts you near the river, Magnificent Mile shops and Millennium Park." — Lonely Planet.
Address: 33 West, Illinois, Chicago, IL 60654, USA.
Mid-range
"The 247-room Thompson Chicago has a Gold Coast address with the casual opulence and views — of both city and lake — to match. A stylish, splurge-worthy hotel with an excellent location, thoughtful perks and destination-style dining without having to leave your room." — New York Times.
Address: 21 E Bellevue Pl, Chicago, IL 60611, USA.
Luxury
"Open since 2013, a Mies van der Rohe-designed skyscraper is now home to the city's hottest stay. The Langham Chicago stands out for its winning mix of impeccable service, sleek style, and outstanding location." — Fodor's.
Address: 330 N Wabash Ave, Chicago, IL 60611, USA.
FAQ: Chicago hotel recommendations
If you're looking for a budget, boutique, or luxury hotel in Chicago, or maybe your travel plans require a splendid hostel? Want to know which hotel serves the best breakfast? Here are all those answers and more about where to stay in Chicago.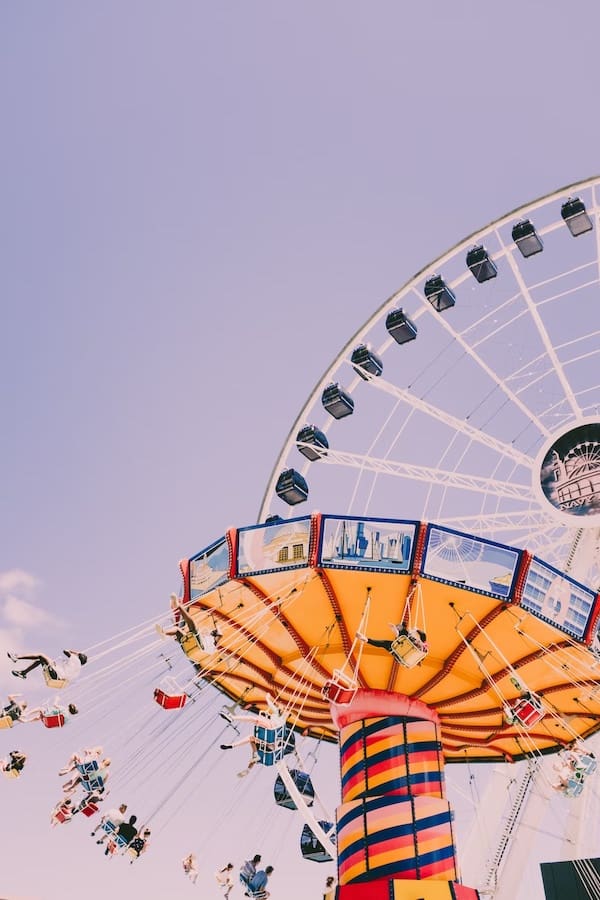 Best time to visit Chicago
The best time to visit Chicago is between March and May and also September and October.
This is the perfect time to visit the city as the temperatures are mild and comfortable. The days are long and the sunsets are beautiful. The city's parks and gardens are in full bloom and the city's iconic architecture becomes even more stunning. During this time, you can also enjoy a variety of outdoor activities like biking, kayaking, and paddle-boarding.
The summer months of June, July and August are also popular times to visit Chicago. During this time, the city is alive with festivals and events. There's something for everyone, from music festivals to food festivals. Plus, the beaches along Lake Michigan come alive with people enjoying the sun and sand.
The winter months of December, January and February are also popular times to visit Chicago. Although the temperatures during this time of year can be freezing, the city is still full of life. Ice skating rinks and outdoor ice sculptures are popular attractions. Plus, the holiday season is a great time to explore the city's Christmas markets, and stunning light displays, and enjoy the many festive events.

Best things to do in Chicago
There are a lot of things to do in Chicago and surrounding areas, including day trips, attractions, museums, sightseeing tours and many other activities. Here's our list of 3 things you should definitely do when you're in and around Chicago:
Chicago River Architecture Cruise: Skip-the-Ticket-Office
Cruise along the Chicago River on a 75-minute tour, and discover hidden architectural gems among the city's renowned landmarks. Led by a docent providing live narration, the tour passes more than 40 structures and sails under historic bridges. Price: $36. More info.
Gangsters and Ghosts Tour in Chicago
With a historian as your guide, you'll step back to the roaring 20s, when the Chicago Loop was a hub for bootleggers, speakeasies, and gangsters like the infamous Al Capone. Price: $27. More info.
Bikes, Bites, and Brews: Chicago's Signature Dishes Bike Tour
Chicago dogs, deep-dish pizza, cupcakes and craft beer are all sampled on this half-day bike tour through the Windy City. Cover about 13 miles (21 km), following an informative guide at a moderate pace. Price $80. More info.
Deciding where to stay in Chicago
In conclusion, this travel guide has covered the best areas and hotels in Chicago and how to get around. Now it is up to you to decide which area suits your needs the most.
Top 5 areas to stay in Chicago
River North
Wrigleyville
Lincoln Park
The Loop
Wicker Park
As you have seen in this travel guide, there are a lot of things to explore, and deciding where to stay in Chicago is important. Whether you stay in River North, Wrigleyville, Lincoln Park, The Loop or Wicker Park, all those neighborhoods are in good locations.
The atmosphere of the area, whether you travel for leisure or business, whether you travel with your family or friends, and proximity to the attractions you prefer to visit should probably be the deciding factors. Whatever your preference is, you'll have a great time in Chicago, Illinois.
Check out our other guides about the best places to stay in Chicago: