Milan, Italy is known for many things, attracting visitors from all over the world each and every year. This northern metropolitan city is not only famed for its high-end fashion and immaculate architecture, it was also the home to Leonardo da Vinci for the majority of his life. The presence of da Vinci can be felt throughout the entire city too. His paintings, including The Last Supper, are housed throughout the city, his inventions have been brought to life throughout several museums, and his architectural accomplishments helped to shape the city into what it is today.
Milan has been given many nicknames over the years, including "The Moral Capital of Italy" and "The Fashion Capital of the World." It has a robust selection of popular attractions too, from the largest church in Italy, known as the Duomo di Milano, the Sforzesco Castle, a towering citadel that used to hold 3000 soldiers, the Galleria Vittorio Emanuele II, a massive shopping plaza built in the 19th century, and the Teatro alla Scala, where some of the world's most famous operas take place.
For guests looking to visit Milan in a sustainable way, fortunately, the city of Milan also has plenty of eco-friendly hotels to offer too. That's why we've put together this comprehensive list, highlighting the five best sustainable hotels in Milan. If you're looking to travel to this remarkable city soon, read on to discover where to stay while remaining energy efficient and environmentally savvy.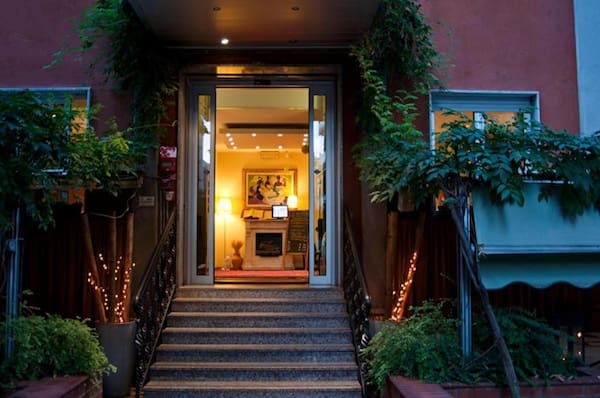 Eco Hotel Milano
The first hotel to make our list is Eco Hotel Milano, also known as Eco-Hotel La Residenza is an affordable 3-star hotel located in the Affori district, just north of the city center. As a landmark, simply look for the Niguarda hospital. Eco Hotel Milano is just beside it across the street. Nearby, you'll also find the historic 17th-century building, the Villa Litta Modignani, as well as the  Spirit de Milan, an indoor-outdoor eatery and dance hall, featuring live music most nights of the week.
The hotel itself is unassuming, yet charming. They include all of the usual amenities of a hotel but do so with passion and commitment. Their staff is always smiling, ready to offer their assistance for whatever you may need. The BioRiso restaurant in the hotel is also well worth visiting, offering everything from mouth-watering risottos to delectable desserts. The BiologicBar also serves everything from morning cocktails to after-dinner aperitifs, along with everything in between.
What makes Eco Hotel Milano sustainable
For its sustainability practices, Eco Hotel Milano strives to be eco-friendly in every aspect of its operations. They document the robust list of their sustainability practices on their website, but to name a few, 95% of the furniture is made in Italy, they use ecological detergents, there are recycling bins throughout the hotel and in every room, their electricity contract comes from a supplier that uses wholly renewable resources, and there are flow reducers on the water utilities.
The restaurant and bar also stock ingredients from short-supply chains, and certified green suppliers. All of this and more make Eco Hotel Milano one of the top eco-certified hotels in Milan.
Hotel details
Address: 
Via Vittorio Scialoia 3, Niguarda – Parco Nord, 20161 Milan, Italy.
Guest rating:
4.0 out of 5
Price per night:
From $60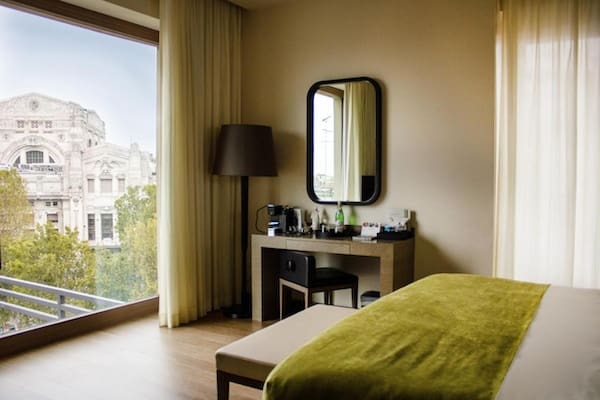 Starhotels E.c.ho.
Just a few blocks northeast of the city center is Starhotels E.c.ho. The hotel is practically within walking distance (about 30 minutes) of one of Milan's top art galleries, the Pinacoteca di Brera. Alternatively, you can head to the Milano Centrale Train Station which is only about 100 meters away to get around the city easier. The hotel is also within close proximity to the Indro Montanelli Garden, an 18th-century public garden, home to the Natural History Museum, Palazzo Dugnani, and a planetarium.
Starhotels E.c.ho. offers 143 guest rooms and suites with 4-star accommodations. Each room is stylish yet comforting, with many of them offering spectacular balcony views of the city. If you're in the mood for some breakfast before venturing out, or if you're just getting back from a long day, be sure to check out the Orto Green Food & Mood Restaurant. The hotel also offers a 24-hour fitness room and free Wi-Fi throughout the hotel. Did we mention that they're also pet-friendly?
What makes Starhotels E.c.ho sustainable
To top things off, Starhotels E.c.ho. is also committed to being the change for a healthier and greener earth. They feature energy-efficient lighting throughout the hotel, along with waste sorting in several public areas and each of the guest rooms. They also draw most of their energy from a solar power plant and have a thermal insulation system built into the external walls. Starhotels E.c.ho. has also obtained the Green Globe certification for the sustainability of travel and tourism with over 90% conformity to eco-friendly practices to meet Green Globe's criteria.
Hotel details
Address: 
Viale Andrea Doria 4, Central Station, 20124 Milan, Italy.
Guest rating:
4.3 out of 5
Price per night:
From $140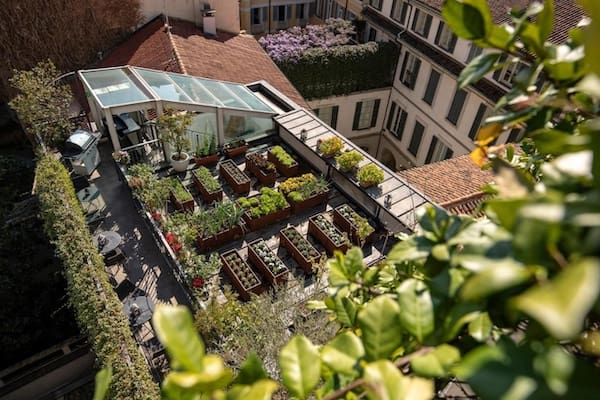 Hotel Milano Scala
Located practically within the heart of downtown Milan, Hotel Milano Scala is another 4-star hotel with a larger-than-life atmosphere. This stylish hotel in the Brera district is a 5-minute walk from Teatro alla Scala and 11 minutes on foot from the Duomo di Milano. The close proximity to many of the major attractions in Milan makes this hotel an ideal location for those looking to see as many famous spots as possible.
The guest rooms are also elaborately adorned with royal red drapery and inviting dark woods. Every guest room also has a marble bath, music-themed murals with images from the historic archives of Teatro alla Scala, and king-sized beds. Upgraded quarters also include whirlpool tubs, Nespresso machines, and separate living rooms. They also have a rooftop garden lounge, a spa room, a fine-dining restaurant, and a luxury bar.
What makes Hotel Milano Scala sustainable
Hotel Milano Scala also holds the title of being the first zero-emissions hotel in the city of Milan. They have dozens of green initiatives and are constantly striving to become more efficient in their conservation efforts. Their rooftop vegetable garden overlooks the district of Brera and yields fresh ingredients for the hotel restaurant. They also use renewable energies to reduce their CO2 emissions, have close attention to waste production, focus on providing 99% biodegradable products, and use electric cars to sustain hotel operations.
Hotel details
Address: 
Via dell'Orso 7, Milan City Center, 20121 Milan, Italy.
Guest rating:
4.3 out of 5
Price per night:
From $185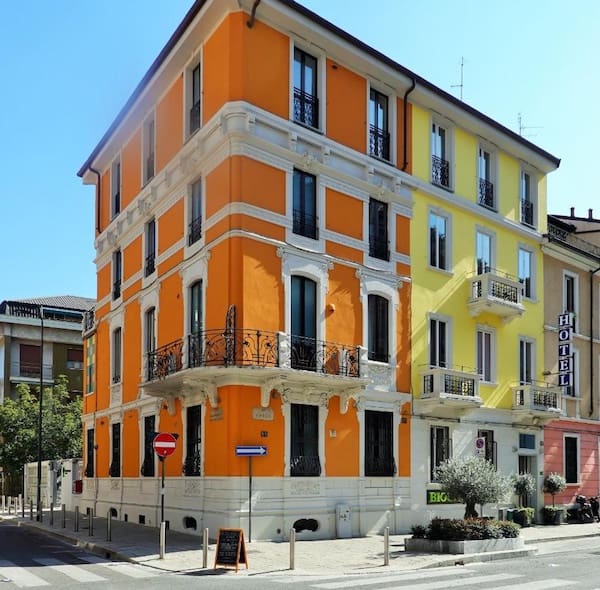 Biocity Hotel
The Biocity Hotel is located northeast of the city center, in a similar location to Starhotels E.c.ho. This prime location is ideal for those who don't mind walking a few blocks to see many of the major attractions in the area. There are also plenty of restaurants and bars in the area, offering everything from gourmet pizza to Japanese sushi. As a 3-star hotel, this more affordable option allows you to stay close to the heart of the city while still being able to save funds for nearby attractions.
This vibrant hotel offers a stay, unlike any other hotel you've been to before. Each room's color scheme and mood pays homage to the wonders of nature, from its furnishings, appliances, and wall art. Many of the rooms are decorated with inspiration from one of these natural landscapes: The Moon Valley, the Paricutin Volcano, the Amazon Forest, Falling Stars, the Burdah Arch, the Reed Flute Cave, the Pamukkale "cotton castle", the Sahara Desert, the Perito Moreno Glacier. They also have a spa that can be rented out to one room at a time, as well as an incredible restaurant called the Biogusto Bistrot.
What makes Biocity Hotel sustainable
In addition to providing a vibrant atmosphere, the hotel also focuses much of its effort on high-quality sustainability practices. They have removed non-renewal plastics from the guestrooms and the bistro, replacing them with recycled glass materials. Biocity Hotel has also implemented LED lighting throughout the premises, along with waste sorting bins in each room. The restaurant additionally features organic, locally sourced food ingredients, ensuring that the food they serve is food that makes you feel your very best.
Hotel details
Address: 
Via Edolo 18, Central Station, 20125 Milan, Italy.
Guest rating:
4.4 out of 5
Price per night:
From $99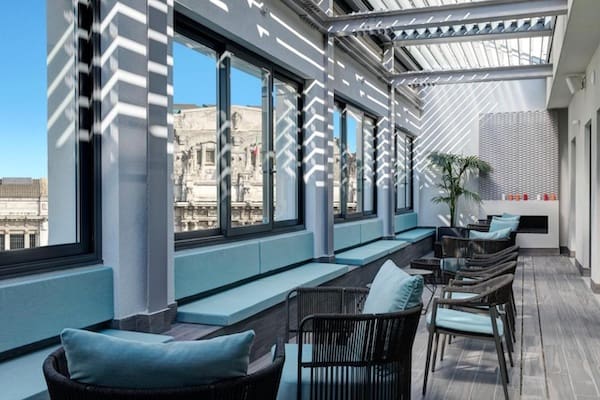 iQ Hotel Milano
Last but not least is iQ Hotel Milano. Similarly located just northeast of the city center, this trendy hotel provides exceptional views of the city. Guests can easily walk downtown or head to the train station to explore some of the further reaches of Milan. Be sure to head to the Piazza Gae Aulenti at night as well for some spectacular photographs of spectacularly colorful water fountains.
iQ Hotel Milano also offers a clean and inviting environment for guests to enjoy. Their rooftop bar, LiQuido, is the heart of what they do. Guests are able to enjoy views of the city while partaking in an incredibly fun atmosphere complete with live music and warm lighting. They also offer a 24-hour fitness center and a complimentary sauna complete with a jacuzzi, ice cascades, and a soothing space to enjoy a steam bath.
What makes iQ Hotel Milano sustainable
Regarding their sustainability practices, iQ Hotel Milano also goes above and beyond. They have several green spaces along with a rooftop garden. Most of the food provided is organic and sourced from local suppliers who also participate in sustainability practices. iQ Hotel Milano also uses water-efficient utilities, LED lighting throughout the hotel, and has removed single-use plastics entirely from its premises. Their eco-friendly initiatives truly rival the pace of other hotels on our list, and for this, they are well worth the eco-minded visitors' time and attention.
Hotel details
Address: 
Via G. B. Pirelli 5, Central Station, 20124 Milan, Italy.
Guest rating:
4.6 out of 5
Price per night:
From $115
How we select the best eco-friendly hotels in Milan
We are a travel research company. We check a lot of details and guest reviews before making a selection. First, we check which hotels follow eco-travel principles. Are they recycling their waste? Do they work with local communities? Are they using renewable energy? Are they not using single-using plastics?
Secondly, we check guest reviews across multiple websites and only list hotels with an aggregated review rating of at least 4 out of 5. So you can be confident you will stay at an excellent eco-friendly hotel in Milan.
More and more people recognize the importance of sustainable travel. Not only is it better for the environment and our planet, but it also often leads to more meaningful experiences. If you're interested in learning more about eco-tourism, here are some eco-friendly travel tips to get you started.
More Milan tips
Check out our other articles about Milan: