Phoenix is a sprawling metropolis located in the Valley of the Sun in Arizona. Its skyline and neighborhoods have jagged mountains as a backdrop. Like many destinations in the western United States, Phoenix is decentralized, with its main attractions scattered throughout the region.
Its year-round warm climate and mild winters make it a favorite destination amongst snowbirds. Phoenix's rich culture has influences from its sizable Hispanic, Asian, and African American populations and Native American Heritage. There are many exciting points of interest to see in Phoenix, ranging from its delicious eateries to its relaxing resorts. Some unique attractions in the area to visit include the Musical Instrument Museum, Heard Museum, Desert Botanical Garden, Zoo, and Taliesen West. All of these exciting places blend stark landscapes with unique cacti and other desert vegetation.
If you're planning a trip to this intriguing place, here are the five best luxury hotels in Phoenix!
Mountain Shadows Resort Scottsdale
Before international jetting and swanky overseas retreats were a thing, Arizona was the resort hotspot of Hollywood stars. The original Mountain Shadows Resort in Scottsdale was one of these "see and be seen" places during the height of the Southwestern glamour days.
Today, the hotel doesn't attract as many Hollywood superstars, but you sure will feel like one when you stay here. The original hotel is now a contemporary, cosmopolitan destination with outstanding mountain views. Each room has floor-to-ceiling windows so that guests can fully appreciate the local landscape. Outside, there are twin 75-foot swimming pools, a restaurant, lounge, and cocktail bar. Other amenities include an 18-hole golf course and spa.
Travelers admire its modern vibe, refreshing pools, and outdoor experience.
Hotel details
Address: 
5445 East Lincoln Drive, Scottsdale, AZ 85253, United States of America.
Guest rating:
4.7 out of 5
Price per night:
From $135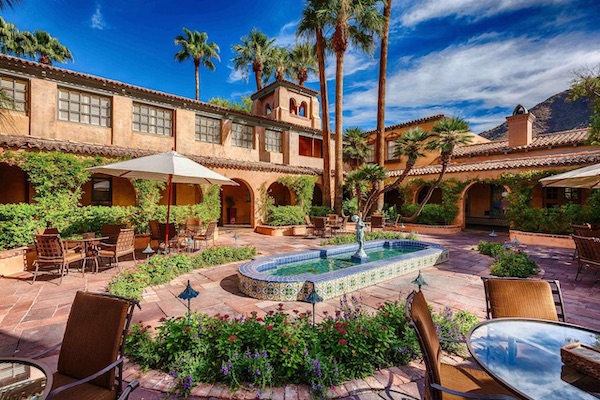 Royal Palms Resort and Spa
The Royal Palms Resort and Spa is a romantic getaway that started as a gesture of love. Legend has it that cruise line tycoon Delos Cooke built it as a winter desert retreat for his sick wife. Today, it is a spectacular 119 room Mediterranean-style hotel facing Camelback Mountain.
This hotel is everything you would want a romantic desert escape to be and more. Its rooms have touches of inspiration drawn from the couple's European travels. The Valley of the Sun offers a lot of outdoor appeal, and Royal Palms takes advantage of this. There are private cabanas, gardens, fireplaces, and daily classes visitors can enjoy in the open air.
Highlights are its beautiful architecture, outdoor spaces, and relaxed atmosphere.
Hotel details
Address: 
5200 East Camelback Road, Camelback East, Phoenix, AZ 85018, United States of America.
Guest rating:
4.6 out of 5
Price per night:
From $130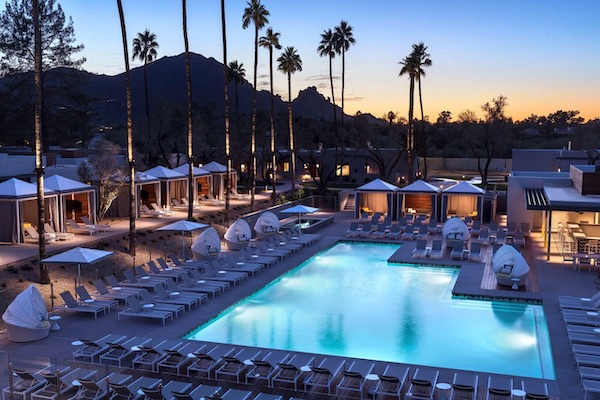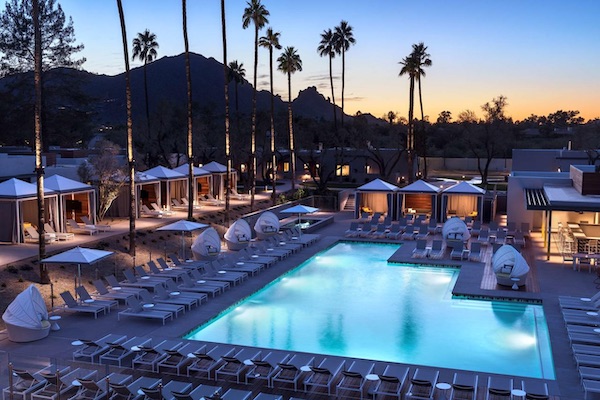 Andaz Scottsdale Resort and Bungalows
There aren't many places in the Scottsdale area that have a youthful, energetic vibe. Hotels in this area tend to skew towards a more traditional resort experience, complete with golf and galleries. Innovative accommodations are few and far between.
Andaz Scottsdale Resort and Bungalows fill the need for something fresh and energetic. While it is something a little different for Scottsdale, it is by no means avant-garde. The hotel pairs sleek modern lines with bungalow-style guest rooms, a warm color scheme, and folk-art inspiration. It fits perfectly into its surroundings while being a tad unconventional. This hotel offers the unique opportunity to mix-and-mingle with Scottsdale's art community.
Guests loved the bungalow rooms, landscaping, and its commitment to the local community.
Hotel details
Address: 
6114 N Scottsdale Rd, Scottsdale, 85253, United States of America.
Guest rating:
4.5 out of 5
Price per night:
From $470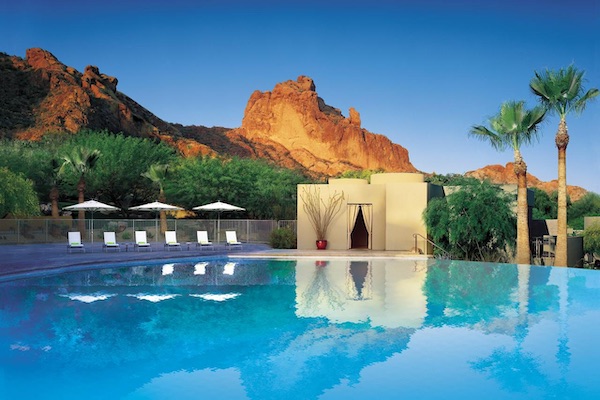 Sanctuary on Camelback Mountain
Another Phoenix-area spot leading the charge for change is Sanctuary on Camelback Mountain. Like Andaz, it shies away from the racquet club crowd and leans towards a more hipster vibe. It is a bit younger and hipper than the surrounding resorts, but no less luxurious.
Almost every space in this hotel provides picturesque views of Camelback Mountain. The hotel has a design that perfectly complements this natural wonder, highlighting it rather than stealing its thunder. Its casita-style rooms and suites have a natural and elegant feel. The hotel's grounds are perfectly manicured and spread out, creating an environment that isn't overly crowded. Guests can also enjoy the delicious restaurant that serves meals with panoramic views.
Visitors enjoyed the restaurant, atmosphere, and service.
Hotel details
Address: 
5700 East McDonald Drive, Scottsdale, AZ 85253, United States of America.
Guest rating:
4.5 out of 5
Price per night:
From $600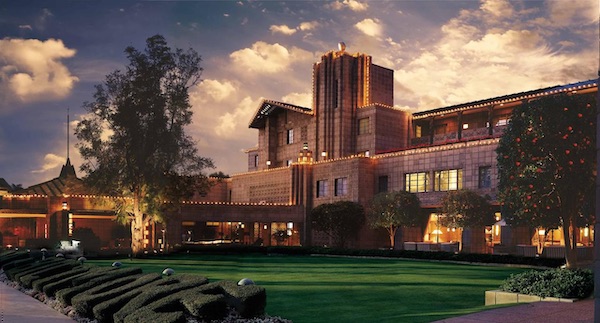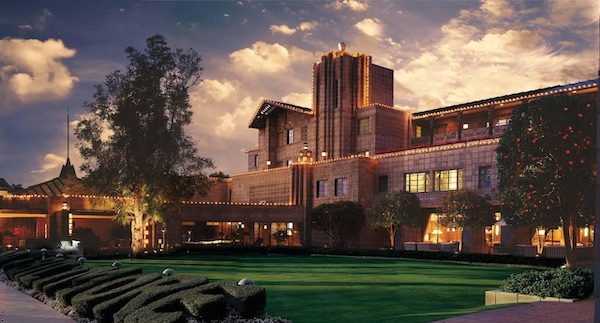 Arizona Biltmore Resort
The Biltmore Resort is the epitome of luxurious retreats in the Phoenix area. It has built an extraordinary reputation over the years and has become an integral part of Phoenix history. The hotel is so famous that the district around it bears its name.
This hotel has some impressive architectural credit backing it up. Albert Chase McArthur and Frank Lloyd Wright crafted the Arizona Biltmore's design. It is a landmark in the region and a classic within American hotel culture. Everything is massive here. There are eight swimming pools, seven tennis courts, five restaurants, and over seven-hundred rooms and villas. Its accommodations are generous in size and very lavish.
People rave about the spectacular grounds, outstanding architecture, and excellent amenities.
Hotel details
Address: 
2400 East Missouri Avenue, Camelback East, Phoenix, AZ 85016, United States of America.
Guest rating:
4.5 out of 5
Price per night:
From $125
About our luxury hotel recommendations in Phoenix
We are a travel research company. Our team helps you discover the best luxury hotels in Phoenix by researching the internet for you. We have also visited some of these places. Hence, it's not just our opinion, it's the opinion of many travelers who have been there before you. We make it easy for you to find out about the most luxurious and exclusive 5-star hotels in the city.
Please note, we only list hotels that have an aggregated guest review rating of at least 4.0 out of 5. We aggregate all reviews from different booking sites and other unbiased review websites. Hence, you can be certain all hotels listed above offer you a great stay in Phoenix.
Best price guarantee
We have partnered with Booking.com and Hotels.com to offer the best price for your stay in Phoenix! Both sites offer price matching, so you can be sure that you are getting the cheapest rates possible for a luxury hotel in Phoenix. If you find an even lower rate on another site at least 24 hours before check-in, contact them to claim a refund of the difference!
Top 5 luxury hotels in Phoenix
Having read this guide, now let's summarize what we learned. We found the best 5-star hotels in Phoenix thanks to reviews and tips from thousands of guests and travel experts:
More Phoenix recommendations
We hope you enjoy the advice we've given to you above. If so, be sure to check out some of our other articles about Phoenix: